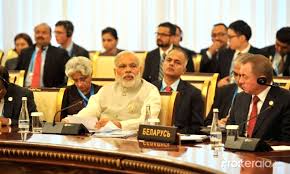 The ball for the expansion of the Shanghai Cooperation Organization (SCO) was set rolling at its Summit in Ufa, Russia, in July 2015, with the acceptance of applications by India and Pakistan. The process was taken forward at the recent Summit in Tashkent, Uzbekistan on 23-24 June, with the two countries signing the SCO's "Memorandum of Obligations". Over the coming year India will sign around 30 documents, and join as a full Member at the next Summit in Astana, Kazakhstan in June 2017.
India's membership of the SCO is a win-win proposition for the Organization, for Central Asia, for Russia, for China as well as for India. Members will reap huge benefits if they conduct themselves with responsibility.

Placing youth at the centre of its vision of a people-centric youth, India, the current chair of the five-nation grouping of emerging powers, has pushed for fast-tracking reform of the UN Security Council and collective response to tackling global terror.Ahead of the 8th BRICS summit in Goa on October 15-16, India hosted the second BRICS Youth Summit, which brought together young people from China, Russia, Brazil and South Africa, to brainstorm on a slew of global challenges and enhance people-to-people connect between the five countries.
The minister also seized the occasion to send a message to "those countries which sponsor and harbour terrorists" and underlined the need to "work and fight together to eliminate international terrorism."

Nearly eight years after the savage terror spree in Mumbai, unleashed by Pakistani militants, Islamabad has yet again asked New Delhi to provide "more evidence" for the early completion of the 26/11 attack trial. In New Delhi, it's seen as a stalling tactic, with sceptics saying that with this attitude the Mumbai trial will never to its logical conclusion, with punishment for LeT operations commander Zaki-ur Rehman Lakhvi and six other accused.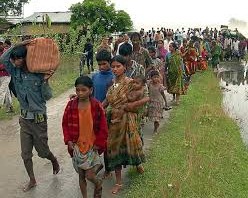 The electoral victory of the Bharatiya Janata Party (BJP) and its allies in Assam has brought the focus back on the issue of illegal immigration.⋅⋅⋅
READ MORE
"
"Good friends, good books, and a sleepy conscience: this is the ideal life." ―
Mark Twain
"

At 72, Jack Makani defies his age. He is the epitome of fitness. He stands tall and looks suave, attired in his signature blue shirt⋅⋅⋅
READ MORE

South-South Cooperation has acquired a new salience in the international development cooperation calculus. In this wide-ranging conversation with Manish Chand, Editor-in-Chief, India Writes Network, Dr⋅⋅⋅
READ MORE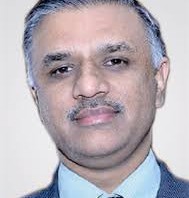 In this wide-ranging conversation with Manish Chand, Editor-in-Chief, India Writes Network, Prof. Sachin Chaturvedi, Director General of RIS, a preeminent think tank for developing countries, speaks about varied strands of the evolving South-South cooperation.

Amid criticism from some sections about Prime Minister Narendra Modi's travels to foreign countries, External Affairs Minister Sushma Swaraj has said that the last two⋅⋅⋅
READ MORE

In a significant boost for India's internet usage, the user growth rate in the world's fastest growing economy is four times the global user growth⋅⋅⋅
READ MORE

As you may recall, at the Inaugural meeting of 54th Annual Session of the Asian-African Legal Consultative Organization (AALCO) held in Beijing in spring⋅⋅⋅
READ MORE

China has condemned a report  by the Pentagon, which said that it has increased its defence capabilities and added more troops along the border with⋅⋅⋅
READ MORE

The attacks on African nationals in Delhi and other parts of India has come as a shock to the government which has made Africa an⋅⋅⋅
READ MORE

Around 20 people were killed and others were taken hostage when Islamist gunmen stormed a hotel in Ouagadougou, the capital city of Burkina Faso,  on⋅⋅⋅
READ MORE
The third India-Africa Forum Summit (IAFS) was undoubtedly the biggest diplomatic event hosted by India in the recent times. The summit stood out in many⋅⋅⋅
READ MORE

Hailing the Indian Muslims who have lived in a religiously pluralistic society over the years and for intermingling with the local culture, India's Vice President⋅⋅⋅
READ MORE

On May 10, London's first Muslim Mayor Sadiq Khan hit out at Republican presidential candidate Donald Trump for saying that he would exempt him from⋅⋅⋅
READ MORE

The World Culture Festival, being organized in Delhi by spiritual guru Sri Sri Ravi Shankar, seems to be hogging headlines for the wrong reasons. Against⋅⋅⋅
READ MORE
Naseeruddin Shah comes across as an actor who knows his craft but does not take filmdom or stardom with any degree of seriousness.
"Turning and turning in the widening gyre The falcon cannot hear the falconer; Things fall apart; the centre cannot hold; Mere anarchy is loosed upon⋅⋅⋅
READ MORE
The Booker glory beckons Indian novelist and essayist Amitav Ghosh yet again. Having narrowly missed the Anglophone world's most coveted literary honour in 2008, the⋅⋅⋅
READ MORE
If you're a singer you lose your voice. A baseball player loses his arm. A writer gets more knowledge, and if he's good, the older⋅⋅⋅
READ MORE
The greatest part of a writer's time is spent in reading, in order to write; a man will turn over half a library to make⋅⋅⋅
READ MORE
"The writing of a novel is taking life as it already exists, not to report it but to make an object, toward the end that⋅⋅⋅
READ MORE

Nevada, the US' western state known for casinos and picturesque landscape, is betting big on luring more tourists from India. Nevada Lt Governor Thomas Hutchinson⋅⋅⋅
READ MORE
For those of us living in India, crossing over casually is a distant dream. Even though India and Pakistan were one over six decades ago,⋅⋅⋅
READ MORE