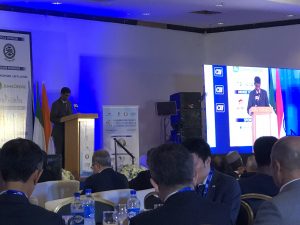 ABUJA: The India-West Africa conclave began in the Nigerian capital Abuja with senior officials of West African countries and EOWAS expressing optimism about stronger economic partnership with India in the region's drive for diversifying economies and spurring value addition.
The opening session of the CII-EXIM Bank Conclave on India-West Africa partnership outlined "new vistas and opportunities" in economic collaboration between the two emerging regions in diverse sectors.
India's High Commissioner to Nigeria B.N. Reddy set the tone for the two-day conclave by underlining that the conclave will help to add more economic content and substance to this growing partnership.
Outlining India's approach to partnership with Africa, Mr Reddy cited Prime Minister Narendra Modi's ten principles of engagement with Africa, which includes demand-driven, development partnership with the resurgent African continent. He also informed the audience of India's plan to open 18 resident missions across Africa, which also includes many West African countries.
"Prime Minister Nerendra Modi, during his three-nation tour in July this year, laid emphasis on deepening India's relations with Africa and diversifying relation," he said in Abuja on October 8. "The India High Commission is working with local enterprises to make this vision a concrete reality," he added.
Ms Yewande Sadiku, Executive Secretary & CEO, Nigerian Investment Promotion Commission, focused on prospects of India's assistance in diversification of economies of West African countries and in promoting industrialization in the region.
Brand India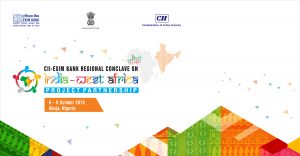 The conclave has also put the spotlight on the emergence of Brand India in the region.
Ms. Sadiku laid emphasis on the need for relations between India and West Africa to be more visible in the area of trade and investment. "Brand India is more visible in the area of tourism.
"India is renowned for its innovation and technology and it is useful to develop this area on how incredible India is from a perspective of business and technology innovation."
She also recommended the that both parties collaborate to identify sectors to build partnerships and "take a fresh look to what is an old relationship".
The opening session threw up many suggestions and recommendations for upscaling India-West Africa trade and investment in crucial areas such as infrastructure, agriculture and renewable energy.
Mr Gurjit Singh, a former ambassador of India to Ethiopia and Germany, who led a panel discussion, outlined new opportunities in the area of new technologies, innovation and start-ups.
"It is time to set up a new viable partnership between India and West Africa," he said.
He asked participants in the conclave to identify specific projects and new areas of partnership, identify constraints to India's visibility in West Africa and promote governments' participation to maximise cooperation across the spectrum.
Focus on SMEs
Forging closer tie-ups in Small and Medium Enterprises (SMEs) figured prominently in discussions. Mr Muhammad Jegana, President, Gambia Chamber of Commerce and Industry, said it was pertinent to harness technology platforms to promote Small and Medium Enterprises (SMEs).
He underlined that SMEs contributed greatly to most economies but were not adequately accounted for. "We need to look at how to bring India and West Africa together to Foster FinTech and digital economy."
He added that there was a huge potential of small businesses being promoted through e-commerce and urged that such digital platforms be exploited.
Mr Peter Oluonye, Principal Programme Officer, Investment Promotion Services, ECOWAS Commission, recommended the need for both parties to promote value addition in goods and services.
Mr Oluonye stressed that West African governments needed to address barriers to trade and ensure implementation of various ECOWAS protocols that promote trade and integration.