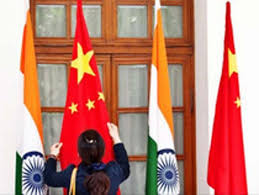 The last time Prime Minister Modi and President Xi met in Astana in June 2017, the outcome was a milestone in the relationship. Will their next meeting at the Xiamen BRICS Summit lead to what Foreign Secretary Jaishankar has described as a new equilibrium?
At Astana, India and China recognized that "their relations are a factor of stability" in a "multipolar world, and at a time of global instability" and that "differences should not become disputes". China's official news agency Xinhua later called for the ancient civilizations to become "cooperative partners", "develop complementary industries and cooperate in protecting common security" for "achieving the dream of an Asian century."
China's keenness for a partnership with India is because demography is its Achilles heel, with the Chinese population aging at an unprecedented pace. China's working age population peaked in 2012, the median age will rise rather abruptly to 49 by 2050, and with national debt at 300 percent of GDP it has only a small window to achieve the 'national dream' of becoming rich before getting old. In contrast, India's working age population will increase till 2050, enabling higher growth rates and eventually overtaking the United States in terms of GDP. For India, the fundamental question is that it cannot be a USD 10 trillion economy without integration into the growing Asian market and benefiting from Chinese investment, given the rise of protectionism in the United States. India-China strategic convergence will need recognition of the Asian century composed of two nodes.
Because of the symbiotic relation between these economic trends, think tanks in China recognize India's role in making timely success of infrastructure based connectivity by enabling the digital economy. The digital economy is expected to be the biggest generator of new market growth opportunities and jobs in the next 30 to 40 years. Knowledge-intensive flows, rather than labour, capital, or resource-intensive flows, already account for half of global flows and are gaining further share. Building on "Digital India" could add a value of about a trillion dollars over the next five years in India, and the experience of operating in a linguistically and culturally diverse environment will be indispensable as global growth shifts to Asian cities.
Global trends support a partnership between India and China in shaping the rules of the emerging Asia-centred order, and such a framework is also best suited for settling the boundary question. The Indian Ocean Naval symposium, promoted by India since 2008, is an example of the two navies continuing to work together on maritime security in the Indian Ocean despite the stand-off between the armies in Doklam.
China is India's largest trading partner and its investment is deepening in India. In partnership, the combined GDP of the Asian giants will soon surpass that of the G7, thus providing the capacity to set the new rules in Asia. In 2050 there will be a global economic triumvirate of the United States, China and India. A re-emerging Asia gains more from a common market, while a declining West benefits from a security focused balance–of-power rivalry in the Asian continent.
Should the re-emergence of China and India be seen through the prism of the rise of the West 200 years ago or a reversal of their cooperative coexistence for 2000 years?
Until the mid-18th century, textiles from India were the largest globally traded commodity, with Chinese silk and porcelain as the most important luxury items. Both only wanted silver in exchange. Contrary to their peaceful co-existence with two-thirds of global wealth in these civilizational states, the West grew rich through monopoly trade, expropriation, war and even military-driven innovation.
President Obama kept out of the China-led Asia Infrastructure Investment Bank in 2016. But President Trump sent a high-level delegation to China's Belt and Road Initiative (BRI) Forum in May 2017, recognizing that new institutions will not be led by the United States. Trump has also withdrawn from the Trans-Pacific Partnership, and his trade policy statement makes clear that "these (new) goals can be best accomplished by focusing on bilateral negotiations rather than multilateral negotiations". As a reaction, the European Union and Japan have announced a free-trade pact without the United States. The China-India backed Regional Comprehensive Economic Partnership, the largest free trade agreement in the world, also excludes the United States. The European Union, Russia, Iran, Australia and Japan back the BRI seeking access to markets, and Japan is mending ties with China. There is widespread challenge to the primacy of the United States and acceptance of China as a global power.
In a multipolar world, countries are gaining in influence more because of the strength of their economy than the might of their military. Emerging economies, both as exporters and importers, now account for 40 per cent of goods flows, with 60 per cent of these going to other emerging economies, most of them in Asia. One-third of the world's economic activity involves cross-border flows. Countries that are more connected within global networks can expect to increase GDP growth from flows up to 40 per cent more than the least connected countries, and that is why, despite misgivings, BRI-enabled connectivity has been widely welcomed in Asia and in the West.
India has to find creative ways of raising its concerns on the BRI, rather than staying away. For example, the United States Navy sails through the South China Sea as 'innocent passage' emphasizing freedom of navigation but skirting the issue of territorial claims. India could work with China to widen the scope of the Kashgar-Gwadar portion of BRI to Chabahar, 72 miles away, in Iran, recognizing the territorial dispute and skirting the issue of sovereignty. In light of China's keenness for partnership in the BRI, India should really 'Act East', not West, for linkages with projects in other South-East Asian countries and with India's connectivity initiatives in Africa.
The future will be extremely challenging for India, needing thought leadership in the new institutions and in the United Nations on revisiting sustainability for late developers, becoming a global knowledge-biotech-cyber power with clear goals and opportunities for business and developing a better understanding of China and Asia.
Courtesy:IDSA