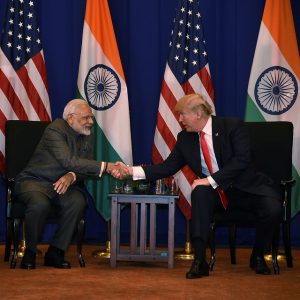 MANILA: With the new geostrategic alphabet of Quadrilateral shaping up as a backdrop, India's Prime Minister Narendra Modi met US President Donald Trump at a glitzy hotel in Manila to map an ambitious agenda for enhanced India-US strategic partnership in the Indo-Pacific region.
The Modi-Trump meeting is easily the show-stealer at the ASEAN summit in Manila as the region, specially China, will be watching closely how the world's two largest democracies plan to deepen their connect in this strategically located region.
With paparazzi frenziedly clicking away, a beaming Mr Modi, with Mr Trump seated by his side at the Sofitel Plaza hotel, struck an upbeat note on the future of India-US relationship, which has acquired a new bounce under the Trump presidency.
In his opening remarks before he began talks with Mr Trump, Mr Modi spoke about deepening and expanding India-US relations and underlined that the two countries can work together not just bilaterally, but on an entire spectrum of cross-cutting issues for the benefit of the region, the world and the mankind.
He lauded Mr Trump for speaking glowingly and hopefully about India-US relations at various for and stressed that India will try to live up to high expectations placed on this strategic partnership.
The two leaders are expected to discuss a host of bilateral, regional and global issues, but the focus will be on their joint plans to forge bilateral maritime cooperation and the quadrilateral dialogue between India, Japan, the US and Australia.
From being a problematic and contested proposal a decade ago, the notion of Quadrilateral dialogue among leading maritime democracies of the region has gathered pace in the last few days, and translated into the first meeting of officials of the quad nations in Manila on November 12.
(Manish Chand is CEO and Editor-in-Chief of India Writes Network and India and World, a pioneering magazine focused on international affairs. He is in Manila for the 31st ASEAN and related summits)