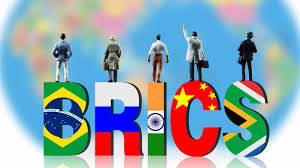 JOHANNESBURG: The 10th BRICS summit is set to open at the Sandton Convention Centre in Johannesburg on July 25, with the five emerging economies of India, China, Russia, Brazil and South Africa joining hands to defend global free trade, which has been challenged by capricious US' unilateralism, and advance the long-delayed reform of global financial architecture.
The summit will kick off with a dinner South African President Cyril Ramaphosa will host for the visiting leaders, including China's President Xi Jinping, India's Prime Minister Narendra Modi, Russian President Vladimir Putin and Brazilian President Michel Temer. Besides the leaders of the BRICC countries, South Africa has also invited a host of African leaders as part of the BRICS outreach to Africa.
Against the backdrop of a mutating international environment, the summit will focus on enhanced cooperation among the five emerging economies on a cluster of interlinked issues, including promoting free trade, reform of global governance architecture, enhanced counter-terror cooperation and promoting inclusive solutions to regional and global crises.
The 10th BRICS summit is themed, "BRICS in Africa: Collaboration for Inclusive Growth and Shared Prosperity in the 4th Industrial Revolution." In syn with this master-theme, the BRICS countries are expected to join hands to promote infrastructure development and spur the ongoing economic resurgence of the African continent.
"The BRICS Forum has committed itself for the creation of inclusive development, by advancing global cooperation based on mutual benefit and benefit that are reflective of the need to address common challenges that will bring prosperity to all mankind," said Mr Ramaphosa in an article entitled, "Towards a second decade of strategic cooperation."