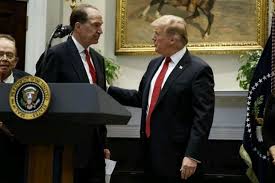 US President Donald Trump's choice of World Bank critic and senior Treasury official David Malpass to head the world's top lender has sparked concerns among the international financial community. Mr Trump announced the appointment of Mr. Malpass on February 7 after the sudden resignation of former Jim Yong Kim before his term ends in 2022.As the news of Kim's resignation spread, advocacy groups were quick to demand the selection process to be more "open, transparent, and merit-based" than in previous years. They called for the bank's board to shake off the historic US stranglehold over the appointment process over Bretton Woods institutions.
Mr Malpass was appointed after the search team led by Mr. Trump's daughter Ivanka Trump and Financial Secretary Steven Mnuchin zeroed in on him as the right candidate to lead the World Bank.He had served under Mr Trump and Treasury Secretary Steve Mnuchin since August 2017 and previously worked for the investment bank Bear Stearns as its chief economist for 15 years until its collapse following the 2008 recession.Senior US officials said that Mr. Mnuchin has been "actively engaged" with his counterparts from other Bank shareholder countries on Mr Malpass' candidacy for the Bank. They added that his discussions have been taken into account in deciding to nominate Mr. Malpass, and outreach will continue with key stakeholders.
Mr Trump has been a known admirer of Mr Malpass, and even described him as "a very extraordinary man." "He's been with me for a long time, he's been a supporter for a long time, a supporter in a financial sense, even before I ran, he liked the job I did. I like those people somehow," Mr Trump said.Critics are, however, not impressed by all this feel-good talk circulated by the US President and his aides. Given Mr Malpass' background as a vocal critic of World Bank and multilateralism, many critics have questioned Mr Trump's decision to name him as the next World Bank chief. They have latched on to an op-ed Mr Malpass wrote for the Wall Street Journal in 2007 where he said the US economy was "sturdy and will grow solidly in coming months, and perhaps years.
Mr. Malpass is known to be an ardent advocate of a smaller, more focused World Bank, arguing that countries can raise capital in private markets. He has also been critical of China's Belt & Road Initiative (BRI).  In his role in the Treasury, Mr. Malpass has tried to slow the Bank's ability down to raise capital, pushing the bank to adopt a new financial sustainability framework."This new framework is aimed at achieving financial discipline and avoiding future capital increase requests," Mr. Malpass testified before the US Congress in November 2018.