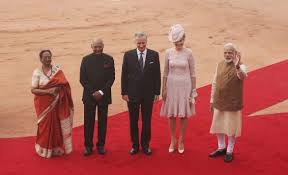 Celebrating 70 years of diplomatic ties with India, Belgian King Philippe and Queen Mathilde, along with a high-profile business and academic delegation, have begun a week-long visit to India, which seek to upscale economic and strategic partnership between New Delhi and Brussels.
A nation steeped in mediaeval history and known for its splendid Renaissance architecture, Belgium is today the seat of the European Union and the NATO. As India's second largest export destination and third largest trading partner outside the European Union, Belgium has been a key supporter for a free trade agreement (FTA) between India and EU, which has been deadlocked over a host of contentious issues. The chief negotiators of India and EU for FTA are set to meet in New Delhi next month to explore resumption of negotiations that have been stalled since 2013.
"Don't forget that lot of the things that we do with the world, we do via the EU… That's why the EU-India relationship is very important [for us]", Belgium's ambassador to India Jan Luykx said. Setting the theme of the royal visit 'Towards an innovative partnership for the 21st century', the ambassador expressed the need to further economic ties beyond the traditional diamond trade. "We are very happy with our relationship with India…However, given the 70th year of our diplomatic relations, we want to intensify our exchanges. Honouring the Indian soldiers who defended Belgium during World War I is our way of showing that we haven't forgotten history", he added.
The third Belgian monarch to visit India after previous such visits in 1970 and 2008, King Phillipe chose India for the one state visit that he is required to make during the course of his reign. The itinerary of the Belgian delegation headed by the royal couple include a visit to the Taj Mahal, attending India-Belgium Business Forum meeting and a two day visit to Mumbai.
The visit of the dignitaries, along with a group of CEOs from 90 Belgian companies, university heads and media professionals will be an opportune moment for the two nations to diversify their cooperation in areas like climate change and clean tech, sustainable and smart, innovations in health care, food processing, steel, cement, and railways and academic partnerships.
Bilateral trade between India and Belgium surpassed $13.28 billion in 2016-17. While exports from India to Belgium amounted to USD 5.65 billion, imports from Belgium accounted for USD 6.62 billion. Seventy-five percent of the overall trade is dominated by gems and jewellery, especially diamond. Belgium is home to a sizable Indian population of 20,000 and is a major IT hub. Both countries are expected to ink 18 pacts in the Indian capital and 23 agreements in Mumbai, India's financial hub.