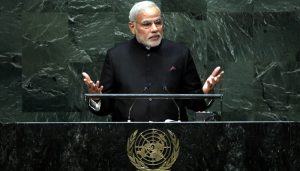 NEW YORK: In a sign of India's growing global profile, 55 nations of the Asia-Pacific group have unanimously supported India's candidature for a non-permanent seat at the UN Security Council for a two-year term for 2021-22.
"A unanimous step. Asia-Pacific Group @UN unanimously endorses India's candidature for a non-permanent seat of the Security Council for two-year term in 2021/22. Thanks to all 55 members for their support," India's Permanent Representative to the UN Ambassador Syed Akbaruddin tweeted.
Elections for five non-permanent members of the 15-nation Council for the 2021-22 term will be held around June next year.
Previously, India was elected as a non-permanent member of the Council for the years 1950-1951, 1967-1968, 1972-1973, 1977-1978, 1984-1985, 1991-1992 and 2011-2012.
Each year the 193-member General Assembly elects five non-permanent members for a two-year term at the UN high-table. The five permanent members of the Council are China, France, Russia, UK and the US.