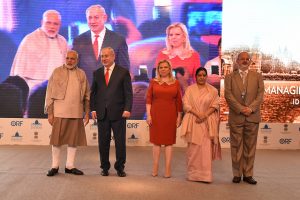 Underlining the civilizational and democratic connects between India and Israel, Benjamin Netanyahu, in his speech at the third edition of the Raisina Dialogue talked about the need to build power in an increasingly insecure world."The weak don't survive. The strong survive. You make peace with the strong. You ally with the strong", he said like a true realist.
The Israeli leader outlined four types of power- military, economic, political and the power of values- that democracies like India and Israel should focus on. Therefore, building submarines, cyber capabilities, science and technology, interceptors are an essential component of the developmental goals.
An alliance of strong and powerful democracies, according to him, would be able to provide a fitting counter to the menace of radical Islam that is the biggest roadblock top peace and prosperity in the world today. "Our way of life is being challenged — most notably, the quest for modernity (and) the quest for innovation (are) being challenged by radical Islam and its terrorist offshoots from a variety of corners," he said. Strengthening security and defence cooperation remains a major agenda in the dialogues during the on-going visit of the Israeli Prime Minister.
Mr Netanyahu had generous compliments for the Indian Prime Minister and his good friend Mr Modi for the economic revolution spearheaded by him especially the tax reforms. He mentioned that he was 'astounded to know' that India had moved up 42 places in the Ease of Doing Business rankings in the past three years. "If you want to have economic power, you must reduce and simplify taxes" Mr Netanyahu said acknowledging the government's roll out of the GST.
On his TajMahal visit earlier in the day the Israeli Prime Minister harped on the democratic qualities that bind the peoples of two nations. "Democracies bind and connect to each other in natural ways. I saw sympathy and friendship of people. When I walked in streets of India, just like in Agra, someone said to me, we are so happy that you are friends with our PM, we are friends with you & Israel".
Also present at the event were Prime Minister Modi and External Affairs Minister SushmaSwaraj. Organized jointly by the Ministry of External Affairs and Observer Research Foundation, the three day foreign policy conference began on January 16 with more than 150 speakers and over 550 delegates participating in it.The theme of this year is "Managing Disruptive Transitions: Ideas, Institutions and Idioms"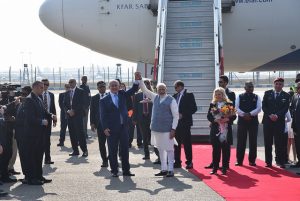 Moving beyond intricate chessboard of geopolitics in West Asia, India and Israel are set to fashion a robust partnership of the future, revolving around technology and innovation during Israeli Prime Minister Benjamin Netanyahu's maiden trip to the Asian country.
Days before Mr Netanyahu's visit, India had voted against the unilateral declaration of Jerusalem by the US in the UN, triggering speculation about New Delhi's commitment to taking the India-Israeli relationship forward. Now these apprehensions have been dispelled as the Israeli leader began his six-day visit to India on January 14, with Prime Minister Narendra Modi personally receiving his "friend" at the airport. Ahead of his visit, Mr Netanyahu had clarified that although he was disappointed, one vote won't affect this relationship of the future.
Setting an upbeat tone for the visit, Mr Netanyahu, who is fond of calling Mr Modi "mere dost" (my friend), described India-Israel relations as "a marriage made in heaven, but consecrated on earth."These warm sentiments, underpinned by a soaring vision of India-Israel relationship, were reaffirmed eloquently during the conversation between the two leaders at the private dinner hosted by Mr Modi at his official residence.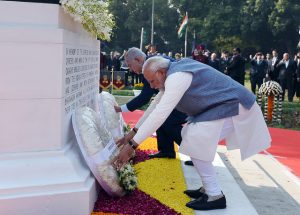 "Together, we will bring the relations between our two countries to new heights," Mr Netanyahu tweeted after his arrival, the first visit by an Israeli prime minister in 14 years.India and Israel are set to sign at least 10 business and industry-related pacts, besides several inter-governmental pacts in diverse areas, including agriculture, technology and innovation.
Innovation will be the guiding framework for the Israeli prime minister's visit and the future of India-Israel relations, said Israeli ambassador to India Daniel Carmon.Israel plans to invest around $68 million over the next four years to upscale cooperation in trade, technology, tourism, agriculture and innovation.
Moving ahead, the overarching thrust of India-Israel relations will be on diversifying a defence and security-focused relationship into a more vibrant and multi-faceted strategic partnership, which will be driven by technology, innovation and start-up ecosystems.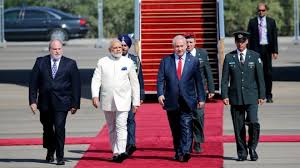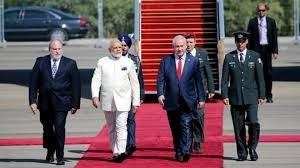 Building on the first-ever visit by an Indian prime minister to the Jewish nation, Israeli Prime Minister Benjamin Netanyahu's six-day trip to India (January 14-19) signals an accelerated transformation and upgrade of India-Israeli partnership. The Israeli leader's first visit to India will focus on diversifying a defence-focused relationship to a more broad-based partnership, driven by technology and innovation.
In this wide-ranging conversation with Manish Chand, Editor-in-Chief, India and World and India Writes Network, Israel's Ambassador to India Daniel Carmon maps the way ahead for this crucial partnership in key sectors of agriculture, water, innovation, technology and start-ups. Echoing Israeli Prime Minister Benjamin Netanyahu's words, the envoy says, "Even the sky is not the limit" for India-Israel relations.   
Q) Looking back and looking ahead, what will be major focus areas that will shape India-Israel relations in months to come?
A) PM Modi's visit to Israel was really the culmination of this surge in relations that we have been witnessing for the last few years. We have seen more visits during these years. Defence ministers, agriculture ministers, science ministers, home affairs ministers are visiting each other.
The President of India's visit to Israel was a really big development, but when it comes to the Prime Minister of India visiting Israel, anyone who knows a bit about India-Israel relations says wow, this has happened! This is not only historical, not only unprecedented, not only is it the first time an Indian PM visited Israel. This is a huge message. A message to India and Israel, to the systems, to the governments, to the ministries, to the practitioners, to the businessmen, to the people.
In India they say that this was one of the most important, if not the most important visit, by Prime Minister Modi outside of India during 2017, but in Israel it definitely was the most important visit. It was appreciated and received as such.
Anyone who reads the joint statement can see some very clear messages. First of all, the two countries have elevated their relationship to the level of a strategic partnership. This is something that is to be not only noted and appreciated, but analyzed and understood again; look back at the last 25 years and what does it mean? What is the message to our own people? What is the message to the world? To other countries? The fact that this visit not only received attention from the media in India more than anywhere else, but also in Europe and the US. Do they do that on any other visit that Prime Minister Modi does anywhere in the world? This really was an unprecedented,landmark visit.
Q) Going forward, what areas of bilateral cooperation will see major progress?
A) I would define them as the ones that are already on our joint table and will be upgraded, and the ones that we have not explored yet. We are talking about a process which received a big boost during Indian PM's visit. For example, it was the first time that a CEOs meet was initiated in which CEOs of very important companies from both sides were represented. They deliberated amongst themselves and signed quite a few MoUs amounting to billions of dollars. They exchanged views on how to do business with each other. They saw the India Innovation Bridge, which was a showcase of eight or nine companies from both sides with solutions to all sorts of challenges. These established companies on both sides committed themselves to a dialogue of CEOs where all sorts of disciplines met. You see defence meeting irrigation. There was one particular company that uses the success story of defence technology, cut and pasted into irrigation. It's an important forum for engagement and the visit will undoubtedly enhance its activity.
On the social side also, there are more exchanges and activities now. We have so many people from India who are visiting Israel. There is more interest from academia and even NGOs are showing interest in India.
There are specific areas of cooperation like water and agriculture, which will be upgraded. The two MoUs were signed in these areas during PM's visit. A water project will be operational within a few weeks, bringing more Israeli technologies under a governmental umbrella from both sides.
We have set up a $40 million India-Israel Industrial R&D and Innovation Fund (I4F),which would encourage entrepreneurs and researchers on both sides to collaborate. $40 million for five years is a big thing. For Israel, it's definitely a big thing!
Another area is agriculture where we are already doing wonders together. The third crucial area would be more engagement in innovation. Innovation Bridge was a good start. Recently, I had a very good conversation with the head of NITI Aayog and his innovation team. It's called the Innovation Mission, where we explored how to use the visit as a platform for more activities. We have set up a $40 million India-Israel Industrial R&D and Innovation Fund (I4F), which would encourage entrepreneurs and researchers on both sides to collaborate. $40 million for five years is a big thing. For Israel, it's definitely a big thing!
Q) How will this fund be operationalized?
A) The MoUs have to be ratified in both countries and it takes a bit of time. The idea is not to have the governments work on those, but rather researchers of both countries should decide on a joint research project and then apply for the fund.
There will be a common board, which will have people from both sides, which will invite and analyze the applications. The Department of Science and Technology (DST), from the Indian side, and GITA (Global Innovation and Technology Alliance) and Innovation Authority from Israel will be involved in this process.Israel is among the top countries that allocates a sizeable percentage of its GDP (around 3.9%) to science and technology, R&D, which is more than any other country in the world. It is probably a part of the success story of the science community in Israel.
There are now three plants in India, which are the result of Indian-Israeli collaboration and are part of 'Make in India.' These will bring employment, modernization and boost the economy.
Q) Israel is famously called The Start-up Nation. How do you look at prospects of collaboration between Indian and Israeli start-ups?
A) We will see more activities with start-ups. The spirit of the Prime Minister's visit opens the door for more activities by helping facilitate Indian companies that are scouting for Israeli start-ups and deciding to grow with them, or are looking for technology transfer companies that each university has in Israel. Israel is a supermarket of ideas and innovations. There are various shelves in this supermarket. In a university, you have a R&D center and a technology transfer company that is the touching point between the university and the industry. There are many channels that have been opened in the last few months. We hope that PM Modi's visit will serve as a catalyst and an accelerator of more collaborations between start-ups in India and Israel.
Q) How do you see Make in India collaboration between India and Israel progressing?
A) I have always stressed that 'Make in India' for Israeli companies is not an easy decision to make because we launched our own "Made in Israel" campaign many years ago. For years we have been buying only Israeli products. Now we have changed. We have evolved and we are much more engaged with the European Union. You see more consumer goods and services that come from abroad. Given this history, this is not an easy decision for Israeli companies to move production lines to India. However, we are flexible to be engaged with Make in India. There are now three plants in India, which are the result of Indian-Israeli collaboration and are part of 'Make in India.' These will bring employment, modernization and boost the economy. Therefore, you have a product researched and developed in Israel, which is being manufactured in India as a joint venture with Israeli companies.
Q) Can you share a few examples?
A) There is a plant that was inaugurated two months ago in Madhya Pradesh and there is a plant in Gurgaon, which are manufacturing as a joint venture. One more plant will be set up in Hyderabad. This is Make in India.
Q) In practical terms, going forward, how will India-Israel strategic partnership manifest in concrete actions on the ground? We already have extensive defence and counter-terror cooperation.
A) It will be more in the areas in which we already excel. A week before the PM's visit, there was a resolution by the Israeli government, which set a roadmap and allocated funds amounting to more than almost 300 million shekels for focus areas in India-Israel partnership. The scope of this resolution is unprecedented despite the fact that Israel has adopted 3-4 resolutions like that in the past few years. This is an instrument and a roadmap that the government has given to its ministries in various sectors – finance, agriculture, science and technology, health. We in the government worked pretty hard on it for a few months. The actual activity will be done by the business sector, and here we are not talking about defence. Defense cooperation will be on a separate track.
Q) The setting up of a CEOs forum was an important step, but given the huge potential in the economic arena bilateral trade at $3-4 billion is still way below the potential. Compared to that, Israel-China bilateral trade is around $13 billion. What more can be done to enhance economic relationship?
A) We'll meet in a year or two and we will see the results of this. We are permanently in the middle of processes. We are still trying to move beyond circumspection and complexes of the past. We didn't have it right during all those years and the lack of visibility was a part of it. But nowadays, we talk about strategic partnership and we have visits. Now, it will become a routine to see our leaders visiting each other. You see thousands of people from India attending conferences on water technology, agriculture, health, smart mobility and cyber security. The Indian people, government, businessmen, entrepreneurs are visiting Israel like never before because they know that they have this supermarket of innovations there and it's good to do business with Israel, and the other way around.
We have very limited connectivity– we should have direct flights so that you don't have to go through Hong Kong or Bangkok. One central part of the visit was to get to know each other better and to deepen this people-to-people connect. Not only did Prime Minister Modi see Israeli capabilities in technology first-hand, but we also had this community event which was so important. The Jewish community or the Israelis of Indian origin are an important bridge between our countries.
To sum up, it's something very deep that is happening between us and this is the success of the visit. And now when we talk about India today in Israel or about Israel in India, things have dramatically changed and they haven't changed in a day or two. It's a culmination of processes. Not only are we celebrating 25 years of diplomatic relations, but something big is happening between us.
Q) Looking ahead, can one expect an acceleration of visits and activities across the spectrum?
A) Across the spectrum – it's a nice way to put it. Parliamentarians, ministers, businessmen. More cultural exchanges, more connectivity and more tourism. It will now become routine. Earlier, there always was something very dramatic or exceptional in anything that had to do with India and Israel. Going forward, even the sky is not the limit!
Now when we talk about India today in Israel or about Israel in India, things have dramatically changed and they haven't changed in a day or two. It's a culmination of processes. Not only are we celebrating 25 years of diplomatic relations, but something big is happening between us.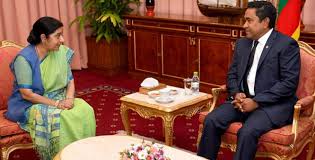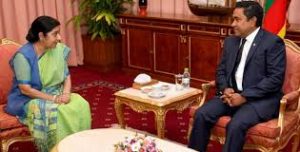 India's relations with the Maldives, the picturesque atoll nation in the Indian Ocean, has been in rough waters for some time now. The ongoing visit of Maldivian Foreign Minister Dr Mohamed Asim as a special envoy of President Yameen Abdul Gayoom to Delhi is seen as an attempt to reset this crucial relationship, underpinned by close geographical proximity, strategic calculations and development partnership.
"While there is no specific agenda for the visit, we expect close bilateral consultations," Mr Asim said. He added that the focus would be on advancing bilateral ties on the basis on pacts signed during President Abdulla Yameen's visit to Delhi in April 2016. He is accompanied by Foreign Secretary Ahmed Sareer and Aishath Azeema, joint secretary in Maldives foreign ministry.
India's External Affairs Minister Sushma Swaraj held wide-ranging talks with her Maldivian counterpart in New Delhi on January 11. The two ministers focused on resetting relations in view of a spate of negative reports suggesting a deepening chill in India-Maldives ties.
The thorn in the bilateral ties has been the Free Trade Agreement with China that Maldives had hurriedly signed in November last year, which was perceived by India as going against its "India first" policy, and the island nation's endorsement of the Belt and Road initiative that New Delhi has been opposing. Moreover, the media loyal to President Gayoom has been critical of the present Indian government and Prime Minister Modi in particular, accusing them of promoting a hard-line Hindutva agenda.
Restrictions were also placed on the movements of India's ambassador to the Maldives Akhilesh Mishra. In addition, India's support for the former ousted President Mohammed Nasheed, who is presently under a jail term and New Delhi's official invitation to him, has only sharpened tensions between New Delhi and Male. Mr Modi has not visited the Maldives ever since he took office after planned visit in March 2015 was cancelled in the aftermath of the clampdown on political protests in Male.
The opposition in Maldives has already been critical of the President's decision to send a special envoy saying that it is to "avoid direct interaction with his Indian counterpart, either forced by China not to, or he is too proud and big".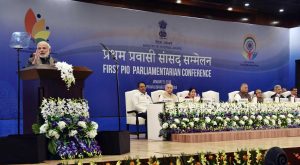 Hailing the 31.2-million strong Indian diaspora spread around the world as the indispensable component in India's growth story, the prime minister and president of India have  exhorted the overseas Indian community to spur India's development and economic renaissance.
"We are also at the cusp of New India – an India that will achieve certain milestones for our people by 2022, when we celebrate the 75th year of our Independence," President Ram Nath Kovind said at the People of India Origin (PIO) Parliamentarian Conference in New Delhi on January 10. The conference was organised by Antar Rashtriya Sahayog Parishad in association with the PIO Chamber of Commerce and Industry and India's Ministry of External Affairs.
In his address at PIO conference on January 9, India's Prime Minister Narendra Modi outlined some of the initiatives and achievements of this government in recent times, including the implementation of the Goods and Services Tax (GST) and the improvement in India's ranking in the 'Ease of Doing Business' index. The record $60 billion foreign direct investment (FDI) inflow in India in 2016-17 was also held up as an example of the success of India's development initiatives.
"You must have felt a major transformation in India in the last three-four years. The outlook towards India has changed. The focus on us has increased, perception of the world towards us is also changing. India has come far ahead of that era when the thinking was nothing will change in India," the prime minister said. He also mentioned the important position of the NRIs in the Action Agenda till 2020, drafted by the NITI Aayog.
The two events were held to mark the celebration of the Pravasi Bharatiya Divas or the Indian Diaspora Day, commemorating the return of Mahatma Gandhi to India from South Africa on January 9, 1915. The conference is being attended by 124 parliamentarians and 17 Mayors of Indian origin from 23 countries. With the world's second largest diaspora, enhancing engagement with the Indian diaspora has been a major foreign policy focus of the Modi government. There are about 13 million PIOs and some 17 million Non-Resident Indians or NRIs.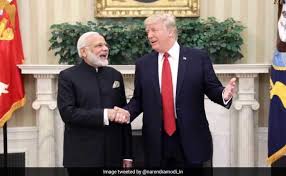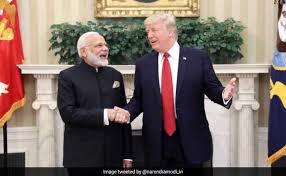 Initial anxieties about how President Donald Trump's volatile policy postures and nationalist agenda will impact the India-US relations have now become muted. PM Modi's visit to the US, followed by Washington's greater receptivity towards New Delhi's concerns on terrorism and Afghanistan, has infused a new dynamism in India-US relations, says Meera Shankar, India's former ambassador to the US in an article written exclusively for India and World, a pioneering magazine focused on international relations
The election of Donald Trump as President of America brought new uncertainties in India-US relations. His "America First" approach and call for strong trade action to protect American jobs from being shipped overseas promised fresh trade frictions and the lack of clarity on the US's role in the Asia-Pacific raised questions whether the Strategic Partnership would be diluted in favour of a more transactional approach. Today, eight months down the road and following Prime Minister Modi's visit to the US in June, 2017, the India-US Partnership is on course, centred on shared interests in countering terrorism, managing a more assertive China and shaping a balance conducive to peace and stability in the broader Asia-Pacific region.
Today, months down the road and following Prime Minister Modi's visit to the US in June, 2017, the India-US Partnership is on course, centred on shared interests in countering terrorism, managing a more assertive China and shaping a balance conducive to peace and stability in the broader Asia-Pacific region.
Afghanistan Connect
This was dramatically underlined in President Trump's articulation of his new policy on Afghanistan and South Asia in which he agreed to (reluctantly) increase US troops in Afghanistan. He also made it clear that the US policy would not be based on timelines for withdrawal but on conditions on the ground and vowed to remove operating restrictions on US troops and expand authority for counter-terrorist operations. He reaffirmed the continued commitment to build Afghan capabilities and warned Pakistan to act against terrorist safe havens there, cautioning that "no partnership can survive a country's harbouring of militants and terrorists who target US Service members". There were, however, few details on how the US will concretise its new approach to Pakistan and what instruments it will use.
Strengthening the US' strategic partnership with India would be a key element of the new policy. Trump called on India to play a bigger role in Afghanistan, especially in the field of economic assistance and development. He declared the US commitment to work together with India for "pursuing their shared objectives for peace and security in South Asia and the broader Indo-Pacific region". Coming, as this did, after prolonged silence on Afghanistan and President Trump's declared scepticism on military entanglements abroad, the policy brought new clarity in the Trump Administration's approach. This has been welcomed by the Indian government which has been concerned that a vacuum in Afghanistan, and the resultant chaos, could lead to a sharp resurgence in jihadi forces there.
New Vistas: 2+2 Dialogue
The Afghan policy followed the announcement that India and the US would enhance their Strategic Dialogue through a new 2+2 format, possibly hiving off the Commercial Dialogue as a separate forum.
Counter-terrorism cooperation has strengthened in recent years, focussing on better sharing of information and intelligence cooperation, capacity building and technology up-gradation. A process of consultations on designation of terrorist organisations has been put in place. The Trump administration has been far more forthcoming on India's concerns. The US has, for the first time, designated a Kashmir centric group, Hizb-ul-Mujahideen, and its leader, Syed Salahuddin, as a foreign terrorist organisation. Apart from the financial sanctions that this would entail on the part of the US, of significance is the removal of the cloak of political legitimacy which the Hizb claimed for its acts of terrorism in Jammu and Kashmir.
Defence Ties Phase II
The defence sector has emerged as one of the most promising areas of cooperation. The Indian defence forces undertake more military exercises with the US than with any other country. This year's Malabar naval exercise was more complex and involved the navies of three countries: India, the US and Japan. India's defence purchases from the US have been growing and are around $14 billion. As orders in the pipeline fructify this is poised to touch $19 billion. Indeed, India is now one of the largest purchasers of US equipment.
Strengthening the US' strategic partnership with India would be a key element of the new policy. Trump called on India to play a bigger role in Afghanistan, especially in the field of economic assistance and development. He declared the US commitment to work together with India for "pursuing their shared objectives for peace and security in South Asia and the broader Indo-Pacific region".
More important, from India's point of view, is the US willingness to look beyond a buyer-seller relationship to a partnership for joint development and joint production under the Defence Technology and Trade Initiative (DTTI).
Maritime Security
India and the US share the objective of keeping open the sea-lanes which are the arteries of trade. The conclusion, in 2016, of a White Shipping Agreement between India and the US and the Memorandum on Logistics Exchange (LEMOA) provide a framework for strengthening their cooperation. A Maritime Security Dialogue has been initiated with counter piracy, counter terrorism, counter proliferation, humanitarian assistance and disaster relief identified as potential areas of cooperation.
The Trump administration has been far more forthcoming on India's concerns. The US has, for the first time, designated a Kashmir centric group, Hizb-ul-Mujahideen, and its leader, Syed Salahuddin, as a foreign terrorist organisation.
Protectionist anxieties
Trade and economic cooperation have been key drivers of India-US relations. The US is India's largest trading partner with trade in goods and services touching $114 billion in 2016. The US is one of the major investors in India with cumulative investment of US $28 billion, according to US data. Investment from Indian companies in the US has been growing at a fast pace, touching $17 billion, according to Indian data. The US is also the largest source of financial and technical collaborations for Indian companies.
The Trump Administration has upended the Republican Party's traditional commitment to free trade in favour of a more nationalist and protectionist approach and this is an area of potential friction. There are differences over market access, intellectual property and movement of skilled personnel.
India and the US have divergent approaches on several global issues flowing from their different levels of economic and social development. President Trump has walked out of the Paris Accord on Climate Change. Ironically, however, given the Trump Administration's more inward focus, the salience of differences over several of these issues should reduce. President Trump has reiterated the US support for India's permanent membership of the UN Security Council which President Obama had declared in 2010. The US also continues to support India's membership of the NSG, Australia Group and Wassenaar Arrangement. India has already become a member of the Missile Technology Control Regime with the US support. These processes should be taken to conclusion to facilitate India's full integration in global security systems.
The India-US relationship is not limited to the two governments, but is people-centric with the 4 million Indian American community providing a vital bridge in widening the links between the two countries. Talented Indian Americans are not only contributing to innovation and economic growth in America, but are increasingly playing a larger role in US public life.
Convergent Interests
Broadly, President Trump is carrying forward the India-US Strategic Partnership. Initial concerns about how his nationalistic and often unorthodox agenda would impact on bilateral relations have been quietened. Prime Minister Modi and President Trump have established a good personal equation. Increasingly convergent interests in peace and security in Asia and shared democratic values shape this relationship which enjoys support across the political spectrum in the US and broad political support in India. This should help to cushion and steady the relationship as the US confronts increasing political divisions at home.
The Trump administration has reaffirmed this decision as also the continuation of the DTTI. However, progress under the DTTI has so far been hamstrung in the absence of appointment of officials on the US side to carry it forward. Helping to build India's domestic defence manufacturing capabilities is a win-win proposition for both countries and needs to be pursued with greater energy and focus.
Prime Minister Modi and President Trump have established a good personal equation. Increasingly convergent interests in peace and security in Asia and shared democratic values shape this relationship which enjoys support across the political spectrum in the US and broad political support in India. This should help to cushion and steady the relationship as the US confronts increasing political divisions at home.
(Meera Shankar served as India's Ambassador to the US and Germany. She was India's second female ambassador to the US).
To read the full article, subscribe to India and World magazine, write to editor@indiawrites.org, indiaandworld@hotmail.com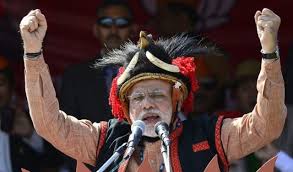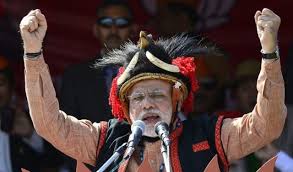 Advancing India's Act East policy, Prime Minister Narendra Modi announced his government's package of 90,000 crore for the Northeast that will be used to spur better connectivity and infrastructure in the region. The decision comes ahead of the India-ASEAN Summit that is scheduled for January 25, 2018 and the state elections in Meghalaya, Nagaland, Tripura and Mizoram next year.
Addressing a public rally in Shillong, Mr Modi spelt out the government's proposed initiatives in the region. "Over the next 2-3 years, an investment of about Rs 60,000 crore is proposed under the Special Accelerated Road Development Project (SARDP) in the North-East and an investment of Rs 30,000 crore under Bharatmala is proposed for development of national highways in North-Eastern States," he said. He also declared a 271-km two-lane national highway that will connect the East and West Khasi and Garo Hills to the hilly capital.
A 60-MW Tuirial hydropower project was inaugurated by the PM in Mizoram, which, according to the PM, would soon emerge to be the third power surplus state in the North-East after Sikkim and Tripura. "The Northeast, including Mizoram, can become carbon-neutral like neighbouring Bhutan. We must take a pledge to make Mizoram carbon-negative by 2022, when the country celebrates its 75th Independence Day. It can become the new identity of the Northeast. The states can also follow the example of Sikkim, which is fully organic. The Centre will provide all help," Mr Modi said at the inauguration.
ASEAN Connect
A better integrated Northeast is a prerequisite for the success of India's ambitious connectivity projects with Southeast Asian states. In the recently concluded India ASEAN Connectivity Summit in New Delhi the focus was on transforming the links between the North East and ASEAN region by changing the transport corridors into economic corridors by developing manufacturing zones around them.
With its government installed in Assam, Manipur and Arunachal Pradesh, the BJP has an enormous task in rescuing the region from its glaring infrastructural deficit. Around 4,000 kilometers of national highways, for an amount of over Rs 32,000 crore and 15 new rail line projects of nearly 1,400 kilometers length for about 47,000 crore are lined up.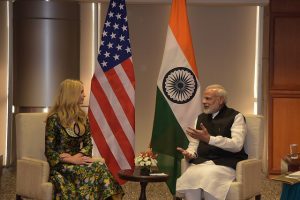 HYDERABAD: Celebrating India as the land of entrepreneurs and the incubator of innovations, India's Prime Minister Narendra Modi has exhorted the international community to invest in India and showcased the burgeoning entrepreneurial culture in the world's fastest growing major economy.Highlighting India's recent economic achievements and the government's successful efforts at promoting an investor friendly environment, Prime Minister Narendra Modi addressed the world's top innovators and entrepreneurs at the 8th edition of the Global Entrepreneurship Summit (GES-2017) in Hyderabad on November 28. Inaugurating the show with United States President Donald Trump's Adviser Ivanka Trump, Mr Modi underscored the them of "Women First, Prosperity for All", and pointed out a growing number of women entrepreneurs in India. This is the first time India is hosting the GSE, which has brought together over 1500 investors, entrepreneurs, academicians, think-tanks and other stakeholders to propel the global entrepreneurship ecosystem.
(Full text of Prime Minister Narendra Modi's speech at the Global Entrepreneurship Summit in Hyderabad on November 28, 2017).
We are happy to host the 2017 Global Entrepreneurship Summit in partnership with the Government of the United States of America.The Summit is being held in South Asia for the first time. It brings together leading investors, entrepreneurs, academicians, think-tanks and other stakeholders to propel the global entrepreneurship ecosystem.This event not only connects the Silicon Valley with Hyderabad but also show-cases the close ties between the United States of America and India. It underlines our shared commitment towards encouraging entrepreneurship and innovation.The topics picked for this year's summit include healthcare and life sciences; digital economy and financial technology; energy and infrastructure; and media and entertainment. These are all important issues, relevant to the well-being and prosperity of mankind.
Women First: Celebrating Shakti
The theme "Women First, Prosperity for All" makes this edition of GES stand out. In Indian mythology, woman is an incarnation of Shakti – the Goddess of power. We believe women empowerment is vital to our development.Our history has references to women of remarkable talent and determination. Gargi, an ancient philosopher, around the seventh century BC, challenged a male sage to a philosophical discourse – something unheard of in those times. Our warrior queens like Rani Ahilyabai Holkar and Rani Lakshmibai fought bravely to defend their kingdoms. Our freedom struggle too is replete with such inspirational instances.
Indian women continue to lead in different walks of life. Our space programmes, including the Mars Orbiter Mission, have had immense contribution from our women scientists. Kalpana Chawla and Sunita Williams, both of Indian origin, have been part of US space missions.Three out of four oldest High Courts in India are now headed by women judges. Our sportswomen have done the country proud. This very city of Hyderabad is home to Saina Nehwal, PV Sindhu, and Sania Mirza, who have brought laurels to India.
In India, we have provided for not less than one third of women representation in rural and urban local bodies, ensuring women's participation in grass-root level decision-making.More than sixty percent of workers in our agriculture and allied sectors are women. Our milk co-operatives in Gujarat and the Shri Mahila Griha Udyog Lijjat Papad, are examples of highly successful and globally acclaimed women-led co-operative movements.
Here at the GES, more than 50 percent of the delegates are women. Over the next two days, you will meet many women who have dared to be different, in their own walks of life. They now inspire a new generation of women entrepreneurs. I hope the deliberations in the summit would focus on how women entrepreneurship can be further supported.
India, Incubator of innovations
India has been an incubator for innovations and entrepreneurship over the ages. The ancient Indian treatise, Charaka Samhita, introduced the world to Ayurveda. Yoga is another ancient Indian innovation. The entire world now comes together, to celebrate Yoga Day on 21st June every year. Many entrepreneurs are involved in promoting Yoga, spirituality, and traditional Ayurvedic products.The digital world we live in today is based on the binary system. The invention of zero, foundation of this binary system happened with Aryabhatta's work in India. Similarly, many nuances of modern day economic policy, taxation system, and public finance policies are outlined in our ancient treatise Arthashastra by Kautilya.
Ancient India's expertise in metallurgy is also well known. Our many ports and harbours and the world's oldest dockyard at Lothal bear evidence to vibrant trade linkages. The tales of Indian voyagers travelling to foreign lands reflect the entrepreneurial character and spirit of our forefathers.
Who is an entrepreneur?
What are the core qualities that distinguish an entrepreneur?
An entrepreneur uses knowledge and skills to fulfil a motive. Entrepreneurs see opportunity in adversity. They try to meet felt needs by making processes more convenient and comfortable for the end user. They are patient and determined. Swami Vivekananda had said Each work has to pass through three stages – ridicule, opposition, and then acceptance. Those who think ahead of their time are sure to be misunderstood. Most entrepreneurs would be familiar with this.The power to think differently and ahead of the times for the betterment of mankind is what sets entrepreneurs apart. I see that power in India's young generation today. I see 800 million potential entrepreneurs who can work towards making the world a better place.The number of smartphone users in India is projected to grow to over 500 million by 2018. This offers immense potential for the growth of any venture, in terms of outreach and job creation.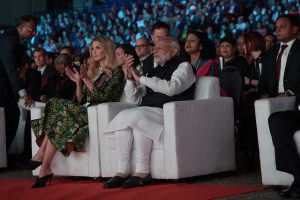 Start-up India
Our Start-Up India programme is a comprehensive action plan to foster entrepreneurship and promote innovation. It aims to minimize the regulatory burden and provide support to startups. Over 1200 redundant laws have been scrapped, 87 rules for FDI have been eased in 21 sectors, and several government processes have been taken online.
Ease of Doing Business
Our government has taken several steps to improve the business environment. The jump in India's ranking in the World Bank's Ease of Doing Business Report, from 142 to 100, in three years, is a result of this.We have improved on indicators like dealing with construction permits, getting credit, protecting minority investors, paying taxes, enforcing contracts and resolving insolvency.
The process is not yet complete. This is an area where we are not satisfied with 100th rank. We would strive towards 50th rank.We have launched the MUDRA scheme to provide easy finance of up to one million rupees to entrepreneurs. Since its launch in 2015, over 90 million loans worth 4.28 trillion rupees have been sanctioned. Of these, more than 70 million loans have been sanctioned to women entrepreneurs.
My government has launched the "Atal Innovation Mission". We are opening Tinkering Labs in more than 900 schools to promote a culture of innovation and entrepreneurship among children. Our "Mentor India" initiative engages leaders to guide and mentor students through these tinkering labs. In addition, 19 incubation centers have been created in various universities and research institutions. These will nurture innovative start-up businesses to become scalable and sustainable.
Financial Inclusion
We have created Aadhaar – the world's largest biometric based digital database. This currently covers over 1.15 billion people and digitally authenticates over 40 million transactions daily. We now digitally provide monetary benefits of various government schemes to the beneficiaries through Direct Benefit Transfer using Aadhaar.Almost 300 million bank accounts with deposits of over 685 billion rupees, or over 10 billion dollars, have been opened through the Jan Dhan Yojana. These bring previously un-banked sections of society into the formal financial system. Of these, 53 per cent accounts are of women.
We are steadily working towards a less cash economy and have launched a Unified Payment Interface App called BHIM. In less than a year, this platform is processing almost 280 thousand transactions daily.Having almost completed our programme to connect all villages with electricity, we have launched the Saubhagya scheme. This will provide electricity connections to all families by December 2018.
We have launched a programme to provide high-speed broad-band internet to all rural areas by March 2019.Under our clean energy programme, in just 3 years, we have doubled the renewables capacity from 30 thousand Megawatts to about 60 thousand Megawatts. Solar energy generation has increased over 80 percent in the last year. We are working on developing a national gas grid. A comprehensive national energy policy is also in the pipeline.
Our Swachh Bharat Mission to improve sanitation and cleanliness, and the rural and urban housing missions underline our commitment towards dignity of life.Our infrastructure and connectivity programmes like Sagarmala and Bharatmala offer entrepreneurs many business opportunities for investment.Our recent World Food India initiative helped us engage with entrepreneurs in the food processing industry and agricultural waste sectors.My government understands that an environment of transparent policies and a rule of law providing a level-playing field are necessary for entrepreneurship to flourish.
A historic overhaul of the taxation system has been recently undertaken, bringing in the Goods and Services Tax across the country. Our Insolvency and Bankruptcy Code introduced in 2016 is a step towards ensuring timely resolution for stressed ventures. We have recently improved this further, preventing wilful defaulters from bidding for stressed assets.
Tough measures have been adopted to tackle the parallel economy, check tax evasion and control black money.Our efforts have been recognized by Moody's recent upgrade of India's government bond ratings. This upgrade comes after a gap of almost 14 years.India has improved its rank from 54 in 2014 to 35 in 2016 on the World Bank's Logistics Performance Index. This signifies the relative ease and efficiency with which products can be moved into and from a country.
An investment-friendly environment needs to be stable from the macro-economic perspective. We have succeeded in containing the fiscal and current account deficits, and curbing inflation. Our foreign exchange reserves have crossed 400 billion dollars, and we continue to attract large foreign capital flows.
New India
To my young entrepreneur friends from India, I would like to say: each of you has something valuable to contribute towards creating a New India by 2022. You are vehicles of change and instruments of India's transformation.To my entrepreneur friends from across the globe, I would like to say: Come, Make in India, Invest in India – for India, and for the world. I invite each one of you to become a partner in India's growth story. And once again assure you of our whole-hearted support.
I am informed that President Trump has declared November 2017 as National Entrepreneurship Month. America has also observed National Entrepreneurs' Day on November 21st. This summit will certainly resonate with those themes. Let me conclude by wishing you fruitful, engaging and rewarding deliberations at this summit.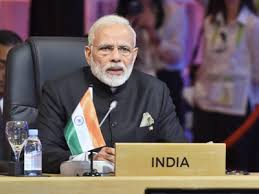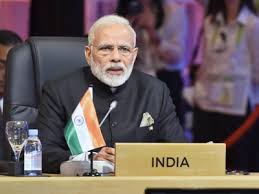 ASEAN's remarkable journey is indeed worthy of reflection as much as it is of celebration.On this historic occasion, I am confident that ASEAN will further resolve to work together with one vision, one identity and as one independent community.India's Act East Policy is shaped around the ASEAN, and its centrality in the regional security architecture of the Indo-Pacific region is evident.
Our wide-ranging agenda of cooperation under the 3rd ASEAN-India Plan of Action has progressed well covering the three crucial pillars of politico-security, economic and cultural partnership.Maritime links established thousands of years ago between India and ASEAN countries have enabled our trade relations in the past and we have to work closely to further strengthen them.
India assures the ASEAN of its steady support towards achieving a rules-based regional security architecture that best attests to the region's interests and its peaceful development.We have individually strived very hard to fight terrorism and violent extremism. It is time that we jointly address this challenge by intensifying cooperation in this crucial area.The befitting theme of 'Shared Values, Common Destiny' for our 25th anniversary celebrations has been jointly celebrated with a number of commemorative activities.
I look forward to a befitting culmination of the commemorative year and receiving you at the India-ASEAN Special Commemorative Summit on 25 January 2018 in New Delhi.The 1.25 billion people of India are keen to welcome the ASEAN Leaders as our Chief Guests at India's 69th Republic Day Celebrations.
I am committed to working with you to realize our common destiny.
(These are excerpts from India's Prime Minister Narendra Modi's speech at the 15th India-ASEAN summit in Manila)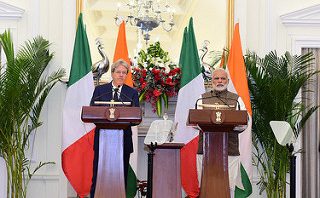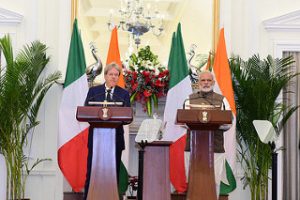 Resetting their bilateral ties on an upward trajectory after a prolonged chill following the Marines incident, India and Italy have decided to enhance counter-terror cooperation and upscale their economic relationship.
The first visit by an Italian prime minister in a decade by Paolo Gentiloni October 30 ended a hiatus of 10 years and firmed up a template for accelerating India-Italy partnership across the spectrum.  Mr Gentiloni's visit marks significant step forward since the two countries were embroiled in a crisis involving two Italian marines accused of killing two Indian fishermen in sea in 2012. The visit paves the way for a series of high-level Italian delegations that are scheduled to visit India in the coming days.
While the joint statement by the two countries emphasized convergence on a number of international issues like terrorism, climate change, UN reforms and non-proliferation efforts, there was a careful avoidance of the international legal dispute of the marines' case. India's deepening ties with the European Union has necessitated a close cooperation with the member states who are looking at India for political support at a time when the credibility of the EU has been challenged by secessionist forces.
Both the leaders expressed the need to widen the trade ties between the two large economies, taking it much beyond the current figure of USD 8.8 billion. While Mr. Modi called upon the Italian industry to explore India's untapped business opportunities in the infrastructure, food processing, renewable energy, and high-tech manufacturing sectors, the Italian PM invited Indian business interest in Italy's textile, automotive, leather, machinery and chemical sectors. The "Make in India" initiative has been a popular selling point of India's engagement with its foreign partners and Mr. Gentiloni expressed his commitment to the initiative by highlighting the role of 628 Italian companies with an investment of over $2.4 billion providing employment to over 23,000 people in India. An 'Indo-Italian High Level Forum on Design' is to be established focussing on industrial design, auto design, architecture, interior design, and fashion. Its first meeting has been scheduled for March 2018. Mr Modi also sought Italy's cooperation in the government's launch of the Smart Cities programme and in areas like food processing, pharma and infrastructure.
Six MoUs were signed by the two countries in renewable energy sector, trade, investment, agriculture, railway safety and culture. On terrorism, both countries agreed to boost the consultation mechanism by exchanging assessments and information and training and capacity building on a regular basis. Italy's successful de-radicalization programme is a lesson for India and the rest of Europe grappling with the treat of rising extremist forces.
The two countries also decided to deepen the cultural ties and people-to-people contact to reinforce their growing partnership. Educational engagement, investment in science and technology and space research and conservation efforts will be explored in the joint partnership plans.
(Pritha Mahanti contributed inputs for this article)