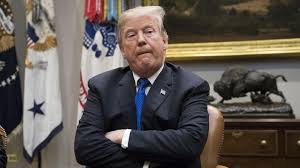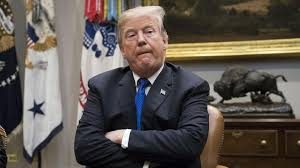 After months of threats and warnings to Pakistan for failing to act against terror groups like the Afghan Taliban and the Haqqani Network, the US administration has finally acted and suspended around USD 1.15 billion security assistance to its long-time ally. This follows President Donald Trump's tweet on the New Year to hold up $255 million in foreign military aid to Islamabad.The suspension of US aid to Pakistan is a vindication of the long-standing stance of India, which has repeatedly argued that the US aid has been diverted by Pakistan to support and nurture terrorism in the region. "Today we can confirm that we are suspending national security assistance only, to Pakistan at this time until the Pakistani government takes decisive action against groups, including the Afghan Taliban and the Haqqani Network. We consider them to be destabilising the region and also targeting US personnel. The US will suspend that kind of security assistance to Pakistan," State Department Spokesperson Heather Nauert told reporters.
The suspension includes foreign military financing (FMF) and the coalition support fund (CSF). While civilian aid assistance will not be blocked, no military equipment or security-related fund transfer will be made. However, exceptions could be made in case of critical US national security priorities."At this stage all Fiscal Year 17 CSF have been suspended, so that's the entire amount of USD 900 million," Department of Defense Spokesperson Lt Col Mike Andrews said.
On the question of cutting off the aid to Pakistan, Defense Secretary Jim Mattis said: "I prefer not to address that right now because it's obviously still being formulated as policy. But I'll give my advice on it to the president. I also agree on some confidentiality there".
"People have long asked, why don't you do more about Pakistan, and I think this sort of answers that question. Obviously, Pakistan is important, an important relationship to the US, because together we can work hard to combat terrorism. Perhaps no other country has suffered more from terrorism than Pakistan and many other countries in that part of the region… They understand that, but still they aren't taking the steps that they need to take in order to fight terrorism," Spokesperson for the US State Department Heather Nauert said.
Pakistan could hit back by denying crucial access routes to Afghanistan, which would lead to further deterioration of bilateral ties. There have already been protests against Mr Trump's aggressive attacks on twitter and the Pakistan establishment has accused the US of grossly distorting facts.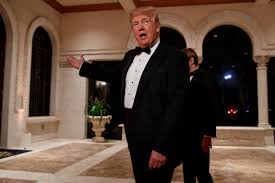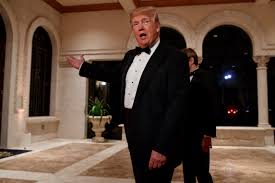 US President Donald Trump's tweets have set off fireworks of a different kind in Pakistan than those that greeted the New Year. In a blistering attack, Mr Trump lashed out at Pakistan for hoodwinking the world, especially the US with its counter-terrorism masquerade, and threated to hold up $255 million in foreign military aid to Islamabad.
If Trump's dire warnings have rattled Pakistan's powerful civilian-military establishment, they have brought much cheer in India, which will be monitoring closely whether a beleaguered Islamabad will now walk the talk on terror. While there has been no official response from New Delhi to Mr Trump's recent tweets, it is quite certain that the tightening of the noose around Pakistan will help India in intensifying its pressure on Pakistan to take concrete actions against terror outfits operating from its territory.
"The United States has foolishly given Pakistan more than 33 billion dollars in aid over the last 15 years, and they have given us nothing but lies and deceit, thinking of our leaders as fools. They give safe haven to the terrorists we hunt in Afghanistan, with little help. No more!" an angry Trump tweeted, dampening New Year festivities for Pakistan's rulers.
US mounting pressure on Pakistan
Since announcing the Afghan policy last August, the US has stepped up its rhetorical attack on Pakistan, revealing its growing frustration with its long- time problematic ally. The outburst is seen as reaction to the consistent thwarting of US interests and demands by the Pakistani establishment in the fight against terror. The continued support provided to the Taliban leaders inside Pakistan was pointed out by Gen. John Nicholson, commander of the NATO coalition in Afghanistan in November, when he accused Islamabad of sheltering drug-lords.
The US Congress's removal of Lashkar-e-Taiba (LeT) from the list of groups against which Pakistan was required to act in exchange for aid bore little fruit. Islamabad's covert support for the Haqqani network was evident when it denied America the access to the operative who was captured during the rescue of an American-Canadian couple last October. The release of 26/11 mastermind Hafiz Saeed by a Pakistani court in November drew a sharp response from the US administration that demanded "immediate re-arrest and prosecution" of the LeT mastermind.
"The president has made clear the US expects Pakistan to take decisive action against terrorists and militants on its soil, and that Pakistan's actions in support of the South Asia strategy will ultimately determine the trajectory of our relationship, including future security assistance," a White House national security council spokesman said.
Pakistan's retort
Pakistan has predictably fallen back on its victim card. Pakistan's Defence Minister Khwaja Asif tweeted, "Pak as anti-terror ally has given free to US: land & air communication, military bases & intel cooperation that decimated Al-Qaeda over last 16yrs, but they have given us nothing but invective & mistrust. They overlook cross-border safe havens of terrorists who murder Pakistanis". The establishment's first response was to officially summon US ambassador in Islamabad David Hale to demand an explanation. While the details of the discussion have not emerged, the streets in Karachi saw protests by a group of religious-political parties. The statement that came out after the meeting of Pakistan's National Security Committee denounced Trump's remarks as "completely incomprehensible". "They contradicted facts manifestly, struck with great insensitivity at the trust between two nations built over generations," the statement said.
Pakistan's former ambassador to the US Husain Haqqani observed quite perceptively that "It's the first time a US president has put his own name and reputation behind the pressure on Pakistan. George [W] Bush never said anything directly and Barack Obama, even after the discovery of Osama bin Laden, left it to officials to deliver the message of displeasure."
China springs to Pakistan's defence
Isolated for its consistent use of terrorism as an instrument of state policy, Pakistan found some solace from its all-weather mentor. Expressing China's foreign ministry spokesman Geng Shuang dismissed Trump's allegations saying "Pakistan has made enormous efforts and sacrifice for the fight against terrorism and has made very outstanding contribution to the global cause of counter terrorism. The international community should acknowledge that"."China and Pakistan are all weather partners. We stand ready to promote and deepen our all-round cooperation so as to bring benefits to the two sides," he added.
The China-Pakistan Economic Corridor has deepened Beijing's stakes in promoting Pakistan's interests. In the first trilateral meeting of the foreign ministers of China, Pakistan and Afghanistan last week, Beijing declared its plan to extend the CPEC to Afghanistan. Denying that the tweets from the American President would affect its commitment to the Af-Pak peace process, Mr Geng said "We believe as neighbours China, Pakistan and Afghanistan are closely linked not only geographically but also in terms of common interests. It is natural for us to enhance communication and exchanges".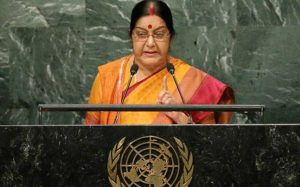 Two nations, two narratives – "India sets up IITs and IIMs and Pakistan produces jihadis and set up terror organisations like Lashkar-e-Taiba and Jaish-e-Mohamed." Taking an expose of Pakistan to a new level on the global stage at the annual UNGA jamboree, India's External Affairs Minister Sushma Swaraj launched a savage indictment of Pakistan for sponsoring and supporting terror against India and the region.
In her hard-hitting speech at the United Nations General Assembly in New York on September 23, Sushma Swaraj was at her acerbic best, launching a scathing criticism of Pakistan's Prime Minister Shahid Abbasi's address where he had accused India of perpetuating state-sponsored terrorism and human rights violations.
Look who's talking?
"Those listening had only one observation: "Look who's talking!" A country that has been the world's greatest exporter of havoc, death and inhumanity became a champion of hypocrisy by preaching about humanity and Human Rights from this podium," she said at the 72nd United Nations General Assembly.
Intensifying her verbal assault on Pakistan's double-speak and drawing the attention of the international community to two distinct narratives of India and Pakistan, Mrs Swaraj underlined that India has "marched ahead consistently without pause creating IIMs, IITs, AIIMS and in the fields of education, health, space and across the range of human welfare.
"Why is it that today India is a recognised IT superpower in the world, and Pakistan is recognised only as the pre-eminent export factory for terror? What is the reason for this have they ever thought? There is only one reason. India has risen despite the principle destination of Pakistan's nefarious export of terrorism," she said.
Terror versus Tech & Innovation
"We have marched ahead consistently without pause creatingIIMs, IITs, AIIMS and in the fields of education, health, space and across the range of human welfare."
"We established scientific and technical institutions which are the pride of the world. But what has Pakistan offered to the world and indeed to its own people apart from terrorism? We produced scholars, doctors, engineers," she said.
"They have produced terrorists and terrorist camps. Lashkar-e-Taiba, Jaish-e-Mohammad, Hijbul Mujahideen, Haqqani Network. We produce scholars, doctors, engineers, scientists. What did you make Pakistan? You created terrorists and Jihadis. And you know, Doctors save people from death; terrorists send them to death. Your terrorist organisations are not only attacking India but are also affecting our two neighbours, Afghanistan and Bangladesh."
She hailed the "Right of Reply" that India exercised at the UNGA this year as a rare occasion that depicts India's growing impatience with its neighbour. "If Pakistan had spent on its development what it has spent on developing terror, both Pakistan and the world would be safer and better-off today", she said.
Going back to history, she questioned the legitimacy of the claim that Pakistan's founder Mohammad Ali Jinnah's foreign policy was based on "peace and friendship". Referring to the Shimla Agreement and Lahore Declaration, the minister attacked the selective amnesia of the Pakistani establishment. "The reality is that Pakistan's politicians remember everything, manipulate memory into a convenience. They are masters at "forgetting" facts that destroy their version".
Pakistan's deliberate attempt to stall the "Comprehensive Bilateral Dialogue" at the 2015 Heart of Asia conference in Islamabad had received considerable flak and Mrs Swaraj made sure that she reminded the international community of Pakistan's persistent attempts to abort the peace process.
Rattled Pakistan hits back
Predictably, Pakistan rebutted India's allegations with vehemence. Pakistan's Ambassador to the UN Maheela Lodhi accused India of being a "predator" in South Asia. "If the international community wishes to avoid a dangerous escalation between India and Pakistan, it must call on India to halt its provocations and aggressive actions. It must end the ceasefire violations along the Line of Control. It must halt its sponsorship of terrorist groups against Pakistan," Ms. Lodhi said.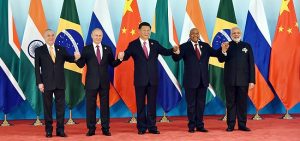 In a triumph of Indian diplomacy and a sign of an evolving entente with China, BRICS countries have collectively backed India's concerns over cross-border terrorism, with a BRICS joint declaration naming for the first time Pakistan-based anti-India terror groups, including LeT, JeM and the Haqqani Network.
The leaders of India, China, Brazil, Russia and South Africa held discussions on a wide array of cross-cutting threats in the coastal city of Xiamen. Jointly combating terror figured prominently in the talks.
At the end of the meeting, the BRICS leaders came out with a joint declaration, which addresses India's concerns over cross-border terrorism.
We deplore all terrorist attacks worldwide, including attacks in BRICS countries, and condemn terrorism in all its forms and manifestations wherever committed and by whomsoever and stress that there can be no justification whatsoever for any act of terrorism," the Xiamen Declaration said.
Alluding to the fragile and deteriorating security situation in Afghanistan, the declaration said: "We, in this regard, express concern on the security situation in the region and violence caused by the Taliban, ISIL/DAISH, Al-Qaida and its affiliates including Eastern Turkistan Islamic Movement, Islamic Movement of Uzbekistan, the Haqqani network, Lashkar-e-Taiba, Jaish-e-Mohammad, TTP and Hizb ut-Tahrir."
The explicit mention of anti-India terror outfits, supported by Pakistan, in the Xiamen joint declaration is significant as China is understood to have opposed the inclusion of these terror organisations in the Goa summit declaration last year.
The inclusion of Pakistan-based terror groups has come as a surprise to analysts and BRICS observers here as Beijing had cautioned that Pakistan's role in terrorism was not an appropriate subject for the BRICS summit.
The reasons for China supporting India's concerns over terror emanating from these outfits are not clear, but informed sources indicated that it was part of a broader post-Doklam understanding between India and China.
US National Security Adviser H. R. McMaster is known for his plain-speak. And he did precisely that by sending out a tough message to Pakistan for its sponsorship of cross-border terror, ahead of his visit to New Delhi during which he focused on expanding counter-terror and defence cooperation with India.
In New Delhi, Lieutenant General McMaster held a series of meetings with the top leadership, including Prime Minister Narendra Modi, National Security Advisor Ajit Doval, and Foreign Secretary Subrahmanyam Jaishankar. "NSA McMaster emphasized the importance of the U.S.-India strategic relationship and reaffirmed India's designation as a Major Defense Partner," said a statement from the US embassy. "The two sides discussed a range of bilateral and regional issues, including their shared interest in increasing defense and counterterrorism cooperation."
In Kabul, just before he reached Islamabad, McMaster had some blunt talk for Pakistan. "As all of us have hoped for many, many years, we have hoped that Pakistani leaders will understand that it is in their interest to go after (militant) groups less selectively than they have in the past and the best way to pursue their interest in Afghanistan and elsewhere is through diplomacy and not through the use of proxies that engage in violence," Mr McMaster told an Afghan news channel in Kabul.
What is equally significant is that he nudged Pakistan to abandon the path of selectively targeting terrorists, a blunt message which found resonance in both New Delhi.  The US Embassy in Pakistan said as much in a statement that Mr McMaster "stressed the need to confront terrorism in all its forms."
In Islamabad, Mr McMaster held talks with Pakistan's civilian and military top brass, including Prime Minister Nawaz Sharif, Army Chief Gen Qamar Javed Bajwa, Special Adviser to the Prime Minister Sartaj Aziz, and his Pakistani counterpart Nasser Khan Janjua, on a range of bilateral and regional issues. A statement from Pakistan Prime Minister Nawaz Sharif's office said he "reiterated his firm conviction on sustained dialogue and meaningful engagement as the only way forward to resolve all outstanding issues between India and Pakistan, including the Kashmir dispute" and that "he welcomed President Trump's willingness to help India and Pakistan resolve their differences particularly on Kashmir." While US President Donald Trump has at times spoken about helping India and Pakistan to live in peace, US Ambassador to the UN Nikki Haley had recently said the president could play a pro-active role between the two countries. New Delhi, has, however, consistently rejected American or any other third party mediation in matters involving India and Pakistan.
The tone and tenor of Mr McMaster's tough-talking in Kabul against Pakistan was a tad different from the previous Barack Obama administration's path of strategic patience with Pakistan. He underlined that Washington's response to Pakistan's duplicity on terrorism will be more action-oriented, with less restraint. It is not without reason that his visit to Afghanistan and Pakistan came within days of the US using its most lethal non-nuclear bomb, the Mother of All Bombs", in Nangarhar province of eastern Afghanistan that left nearly 100 suspected terrorists, including an Indian member of Islamic State, dead.
McMaster's was the first visit by a top member of President Donald Trump's administration to the region and his trip to Kabul and Islamabad was watched for clues as to Washington's future course of action in the region. Pakistan has since long been benefitting from American economic aid running into billions of dollars even while targeting some terror groups and looking away from activities of others outfits like Lashkar-e-Taiba and Jaish-e-Mohammed that target India. The American NSA's team to Afghanistan and Pakistan included Lisa Curtis, the National Security Council's senior director for South Asia, who recently co-authored a paper calling on the US to stop treating Pakistan as an ally and instead to "focus on diplomatically isolating" it if it continues to support terror groups.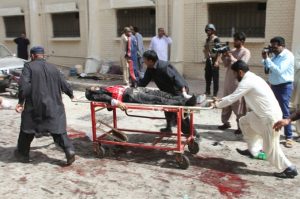 In one of the deadliest terror attacks in Pakistan, militants opened targeted the Police Academy in Quetta, the capital of the volatile southwestern province of Baluchistan, killing at least 60  people and injuring over 120.
Two of the terrorists blew themselves up, and one terrorist was gunned down by the Pakistani troops, said reports from Pakistan.
Armed militants burst into the academy late Monday night (October 24), targeting the sleeping quarters, which are home to nearly 700 cadets. The Lashkar-e-Jhangvi militant group has claimed responsibility for the attack. Lashkar-e-Jhangvi is based in Pakistan with limited operations in nearby Afghanistan. "The "terrorists were communicating with their handlers in Afghanistan" and all three had suicide vests on," said Maj. Gen. Sher Afgan, chief of the paramilitary Frontier Corps in Baluchistan.
Quetta, the capital of insurgency-infested Baluchistan province, is not new to such attacks. In a separate incident in August this year, 80 people were killed in a terror attack. There is a low intensity insurgency going on in Baluchistan, spearheaded by the Baloch separatists who in the past have claimed responsibility for attacks on Pakistani security forces and government officials. The Islamic militants have also been able to penetrate in the province which shares a border with Afghanistan.
The attack took place amid growing international pressure on Pakistan to act against terrorist hideouts and to stop providing safe haven to terror groups. The Pakistan government started an operation in 2014 called Zarb-e-Azb, a joint military offensive conducted by the Pakistani armed forces against various militant organizations. This new policy seems to be backfiring, with Pakistan facing a severe internal terror threat from these homegrown terrorists.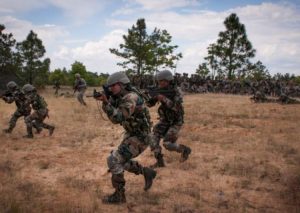 The surgical strikes by India's Special Forces on seven terrorist camps in Pakistan-occupied Kashmir have sparked fears of an escalation in India-Pakistan tensions which could spiral out of control. The reactions ranged from expressions of support and solidarity to concern and the need for restraint to deescalate tensions.
Reacting to the Uri terror strike by Pakistani militants that killed 18 Indian soldiers, the world had rallied strongly behind India on the issue of cross-border terror and supported New Delhi's call for a united global response to terrorism.
Global Reactions: Highlights
US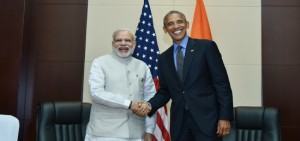 US National Security Advisor Susan Rice called on Pakistan "to combat and delegitimise" terror groups operating from its soil, including Jaish-e-Muhammad," which Indian blamed for the attack in Uri that killed 18 soldiers. In a conversation with her Indian counterpart Ajit Doval, Ms Rice not only condemned the terrorist strike in Uri but also highlighted the dangers to peace from cross border terrorism in this region. She hoped that Pakistan will take an "effective action to combat and delegitimise United Nations-designated terrorist individuals and entities, including Lashkar-e-Taiba, Jaish-e-Muhammad, and their affiliates".
Britain
With tensions escalating between the two neighboring countries, Britain asked India and Pakistan to "exercise restraint in the wake of surgical strikes by Indian troops across the Line of Control'.  A spokesperson from Britain's Foreign Office said: "We are monitoring the situation closely following reports of strikes carried out by the Indian Army over the LoC in Kashmir. We call on both sides to exercise restraint and to open dialogue."
China
China has said it is in 'constant touch with both countries to reduce tensions'. Geng Shuang, a spokesperson of China's Foreign Office, said:  "China was in communication with both sides through different channels and hoped that Indian and Pakistan can enhance communication, properly deal with differences and work jointly to maintain peace and security." China expressed hope that "Islamabad and New Delhi will resolve the issue through dialogue and maintain regional peace and stability by joint efforts".
Bangladesh
Bangladesh backed India's strong steps to deal with Pakistan-sponsored terror.
"India has all legal and internationally accepted rights to respond to any attack on her sovereignty and territory," said Iqbal Chowdhury, adviser to Bangladesh Prime Minister Sheik Hasina.
Russia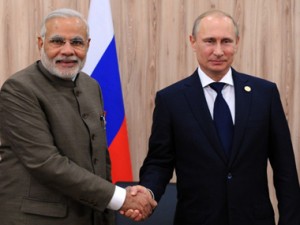 The Russian Foreign Ministry issued a strong statement after the surgical strikes conducted by Indian troops. "We are concerned with the aggravation lately of the situation along the Line of Control between India and Pakistan. We are calling on the parties not to allow any escalation of tension and to settle the existing problems by political and diplomatic means through negotiations. We stand for decisive struggle against terrorism in all its manifestations. We expect the government of Pakistan to take effective steps in order to stop the activities of terrorists' groups in the territory of the country."
Afghanistan
Afghanistan's Ambassador to India Shaida Mohammad Abdali applauded New Delhi for taking concrete steps to counter terrorism. "I applaud Prime Minister Modi for his boldness and his seriousness to fight terrorism more effectively, and all other countries should support him, so that we can be free from terrorism," said the Afghan envoy.
South Korea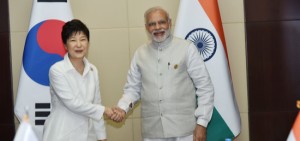 South Korea supported India's stand on Pakistan-sponsored terrorism and underlined that the two countries stand united on the issue. This was conveyed by South Korea's President Park Geun-hye to Lok Sabha Speaker Sumitra Mahajan during the latter's visit to Seoul.
United Nations
Stephane Dujarric, spokesperson for UN Secretary-General, urged both India and Pakistan to exercise restraint and resolve differences through dialogue. He added that officials were following the increase in tensions in Kashmir with great concern. "UN military observers were in contact with both sides to try to obtain further information," he said.
(Mrittika Nandy contributed inputs for this article)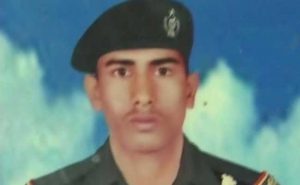 Amid the escalating tensions between India and Pakistan in the aftermath of the surgical strikes launched by Indian troops on Pakistani terrorists, an innocent Indian solider inadvertently crossed the Line of Control, leaving his family in a shock. Responding to the soldier's plight, the Indian government has assured that all efforts are being made to free Chandu Babulal Chavan, an army soldier from 37 Rashtriya Rifles, from Pakistan's activity.
Defence Minister Manohar Parrikar, however, said that "it will take some time" to bring the soldier back as the "situation is tense right now." "There is a well-established mechanism through DGMO (Director General of Military Operations) which has been activated," Mr Parrikar said on October 2. He ruled out any relation between "the surgical strikes carried out by the Army in Pakistan-occupied Kashmir and the soldier crossing the border inadvertently."
Earlier, Home Minister Rajnath Singh had assured that 'all attempts' were being made to free the soldier from Pakistan's captivity. The Indian army has informed the Pakistan about this incident. However, no official confirmation has been made by Pakistan related to the soldier's captivity.
Minister of State for Defence Subhash Bhamre visited the family of the soldier and comforted them. "No one can trust them (Pakistan). We are worried they will torture him, and tell him lies that the army doesn't care about him. That could drive him to take his own life," he said.
The 22-year-old soldier's plight has proved to be tragic for his family as his grandmother died of heart attack after hearing the news.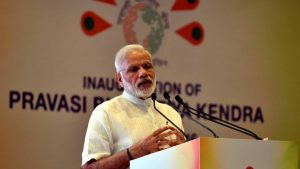 Days after Indian troops carried out special strikes targeting Pakistani terrorists across LoC, Prime Minister Narendra Modi has underlined that India has never coveted any territory or attacked another country though it made sacrifices for the freedom of others.
"…It is neither hungry for land. But in the two World Wars (in which India had no direct stake), 1.5 lakh Indian soldiers had laid down their lives," Modi said after inaugurating the Pravasi Bharatiya Kendra, a majestic complex dedicated to nearly 27 million Indians living abroad.
"In the last two years, you have seen how the government rescued people from conflict situations, not just Indians but foreigners too," Mr Modi said while alluding to his government's rescue missions in conflict zones, including Libya, Iraq, Yemen and Ukraine.
Mr Modi's remarks were aimed at the international community which has expressed concerns over escalation of tensions between India and Pakistan following the Indian Army's special operation to target seven terror launch pads across Line of Control, in response to the Uri terror strike perpetrated by Pakistani militants. Mr Modi had vowed that those behind the Uri terror attack will not go unpunished. To call Pakistan to account for the Uri assault, India has combined both diplomatic strategy as well as focused military action as seen in cross-border strikes at Pakistani terrorists trying to infiltrate the LOC.
The international community has robustly rallied in support of India in the aftermath of the Uri attack and condemned terrorism emanating from Pakistan.
A defensive Pakistan has accused India of war-mongering in the wake of the Uri attack in north Kashmir.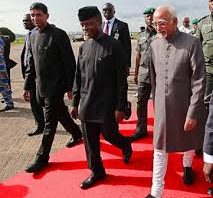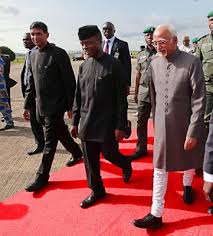 ABOARD AIR INDIA ONE/ABUJA: India is looking to step up its outreach to Organisation of Islamic Cooperation (OIC) countries to muster their support against Pakistan-sponsored terror, with Vice-President Hamid Ansari set to take up the issue with the leaders of Nigeria and Mali. However, even as India ratchets up its ongoing diplomatic campaign to isolate Pakistan in the wake of the Uri terror attack, Mr Ansari sent a subtle but strong message across by underlining that one should not exaggerate the significance of OIC.
Mr Ansari touched down in Abuja on September 26 on a three-day visit to Nigeria, Africa's largest economy and most populous country. Nigeria rolled out the red carpet to welcome Mr Ansari, with Nigeria's vice-president Yemi Osinbajo personally receiving him at the Abuja International Airport. Dancers dressed in colourful attire welcomed the Vice-President, the first high-level visit from India in the last nine years since then Prime Minister Manmohan Singh visited Nigeria in 2007.
Intensifying counter-terror cooperation will be a major priority for the vice-president during his talks in Abuja and Bamako. In both Nigeria and Mali, Mr Ansari will be highlighting the terror attack at the Army camp in Uri and seek their support in India's ongoing campaign to isolate Pakistan for its continued use of terrorism as an instrument of state policy.
"Terrorism is an international phenomenon and comes in different forms and shapes. It may be in one form in India and another in Nigeria or any other country. But wherever there is terrorism, social peace is disturbed. And this hampers social progress and development. So everyone has to fight terrorism," he said.
"The facts of the case are clear. Cross-border terrorism activities are encouraged by state agencies or state agencies- groups sponsored and that is detrimental to peace anywhere in the world," Mr Ansari in a veiled but obvious reference to Pakistan's suspected role in the terror attack in Uri in north Kashmir, which killed 18 Indian soldiers.
But in this process to isolate Pakistan, the influential 57-nation OIC remains a hindrance as it has consistently supported Pakistan on the Kashmir issue and routinely comes out with resolutions endorsing Islamabad's position.
"You talk to OIC members individually and they say they know about it (the issue)," he said in response to a question on whether he will take up the issue of Pakistan-sponsored terrorism with the two OIC states.
Rallying the support of the OIC is proving to be a major diplomatic challenge for India as the 57-nation grouping has been cleverly manipulated by Pakistan for years on the Kashmir issue. India is appalled that the OIC, instead of focusing on real issues concerning the member nations, has become a vehicle for anti-India propaganda for Pakistan, said official sources.
Mr Ansari subtly underscored India's exasperation with the OIC by downgrading its importance, saying it's just another multilateral club. "OIC is a strange kind of organisation where everything is done by consensus. You can't exaggerate its significance. It's another club," said Mr Ansari.
The OIC's posture on the Kashmir issue has been galling for India, with New Delhi sceptical of the grouping's provenance and politics. Home to the world's third largest Muslim population, India has legitimate claims to be a member of the OIC, but its bid to become a member of the OIC was scuttled under pressure from Pakistan.
Against this backdrop, Indian strategists are looking to bypass the OIC and concentrate on individual member states as part of its larger mission to mobilise the world against Pakistan-sponsored terror. This strategy has yielded partial results, with Saudi Arabia, UAE, Qatar and Bahrain condemning the Uri terror attack.