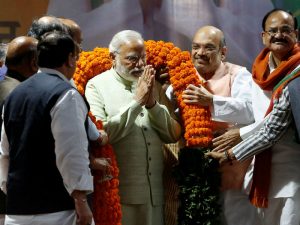 "I am seeing a new India, the India of the dreams of the youth. A new India that fulfils the aspirations of our women. A new India that is about opportunities for the poor… The poor are saying, I want to progress and I seek the opportunity from you."
India's Prime Minister Narendra Modi, in his thank-you address to the nation and the BJP cadre, after the BJP's historic victory in elections in India's most populous state.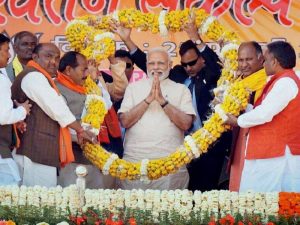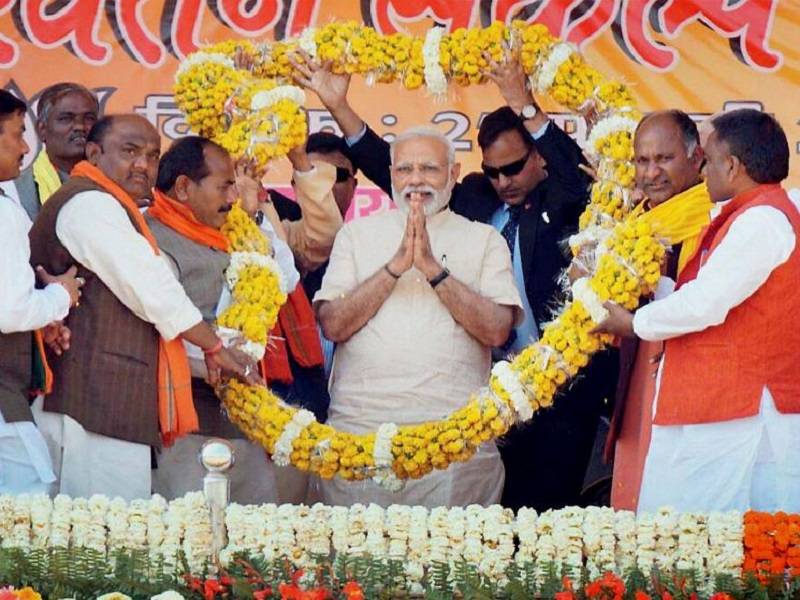 Call it the Modi tsunami or the strong desire of voters for a new political and development narrative in one of India's most impoverished and caste-fragmented state of Uttar Pradesh. Either way, it is historic, as Mr Modi himself termed the spectacular show by India's ruling Hindu nationalist Bharatiya Janata Party in legislative assembly elections in the key political battleground state of Uttar Pradesh.
More than anything else, it reflects a huge consolidation of votes cutting across caste and religion affiliations. The BJP and its minor allies have won 312 of 403 state legislative assembly seats — a stunning mandate that even BJP chief Amit Shah acknowledged was "unexpected."
The result mirrors the 2014 parliamentary poll battle when the BJP won 73 of the 80 Lok Sabha seats in UP. If analysts today are talking about a 'Modi win' rather than 'BJP win' in the state, there is a reason for this. Two and half years ago, it was Modi and Modi alone on whom the BJP had relied on heavily to sail through and the same was repeated in the assembly elections this time. Unlike its rivals, the BJP went to the poll in UP without projecting a chief ministerial candidate simply because none has the charisma or vote-catching ability of Modi.
Shah's poll maths
A major part of the credit for BJP's success in UP goes to Shah who crafted the election strategy of building a broad coalition of castes in UP. Interestingly, the party did not field a single Muslim candidate in the just-concluded elections in UP where Muslims have a sizable presence.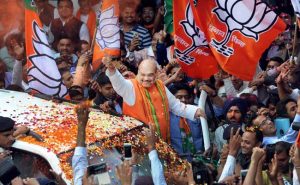 Mr Shah appointed BJP veteran Kesav Prasad Maurya as the head of the party's state unit and inducted Swami Prasad Maurya who defected from Bahujan Samaj Party as part of efforts to changing the caste arithmetic which, along with Muslim votes, has traditionally played a key role in shaping the electoral outcome in the state. BJP's attempts were aimed at reworking the caste and religious fault lines. It took care not to antagonize any particular caste. In fact, the UP election was projected by Shah as a battle among SP's Muslim-Yadav (a backward caste) support base and BSP's Jatavs (the lowest rung in caste hierarchy) vs other Dalits which were supposed to vote for the saffron party.
Accordingly, BJP allocated around 150 seats to non-Yadav Other Backward Caste candidates in UP. This, along with its tie-ups with sub-regional parties like Apna Dal and Suheldev Bharatiya Samaj Party (SBSP) helped it consolidate non-Yadav backward caste groups like Patels, Kurmis and Rajbhars.
All political parties in UP resorted in some degree to attempts to polarise voters: SP and BSP sought to woo Muslim voters by asking them to vote "en bloc" for them. The BSP fielded nearly 100 Muslim candidates and a key reason behind the SP's alliance with Congress was to get maximum votes from the minority community. Responding to rivals' strong push to win over Muslim votes, the BJP too played the Hindutva card during the campaign through Mr Modi's reference to 'Kabristan' (graveyard) vs 'Shamshan" (crematorium) remarks. Amit Shah coined "Kasab" – one of the terrorists who perpetrated the November 2008 terror attack in Mumbai – to denote Congress, SP and BSP as part of one alliance pitted against the BJP.
Secondly, a key feature of Mr Shah's strategy for UP was that even as BJP depended heavily on Mr Modi's image, it was careful to ensure that local leaders are given due weight during campaigning. This was a lesson that the party seemed to have learnt from its electoral debacle in the assembly poll in Bihar a few years ago.
At the same time, Mr Shah and BJP's other poll managers did not fall back just on local leaders and made full use of Mr Modi's charisma. The prime minister was initially supposed to address around 10 rallies but ultimately spoke at around 30 rallies. Mr Modi stayed put in his parliamentary constituency of Varanasi for nearly three days, something he didn't do even during the Lok Sabha polls. Both showed the high stakes Mr Modi and BJP had in UP assembly elections, especially in eastern part of the state (including Varanasi) which has 133 assembly seats.
Thirdly, in choosing candidates for UP poll, the BJP appeared to believe that "at the end of the day it is the winnability of a candidate that matters." The party welcomed in its fold candidates from other parties and it is estimated that about 100 seats were allocated to candidates who switched over from other parties because they were supposed to have better chances of winning than the BJP's own candidates.
Thumbs-up for demonetisation
The elections in UP and the other states were the first major test of Modi's popularity in the wake of the banning of high-denomination currency notes in November-December last year in a bid to cleanse the country's financial from the menace of black money. The demonetization saw serpentine queues in front of banks and post offices as people rushed to return or exchange their old notes for several weeks.
Mr Modi called the massive demonetization drive, which withdrew 86 percent of the country's currency bills from the system, to cleanse the system of tax evasion and corruption. There was a perception that ordinary people were angered for having to stand for long hours in queues in banks and post offices. The opposition parties campaigned aggressively against demonetization as bad for the economy and wanted to tap into the temporary inconvenience caused by scrapping of high-denomination currency notes. However, as the election results show, demonetisation got a ringing endorsement. That this was on the cards in UP was evident in civic polls which took place a few weeks earlier in Chandigarh and in states like Gujarat and Maharashtra and panchayat polls in Odisha state where the BJP emerged as hands-down winner. In fact, Mr Modi repeatedly hit back at the opposition's criticism of note ban by painting them black on the issue of black money.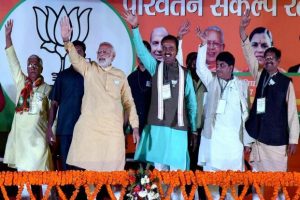 Analysts said the poll results in UP, which is largely an agrarian state, showed Mr Modi had succeeded in tapping into popular anger over corruption and black money with the demonetization move in a country where most transactions are cash-based. Clearly, people were more struck by the act of Mr Modi itself than by its consequences. It was a move that went beyond party and caste and affected everyone equally, especially the rich.
Since taking office in May 2014, Mr Modi's government has been pumping funds into boosting education, while increasing spending on roads, irrigation and other infrastructure. It has also been reforming India's complicated tax regime. But the two biggest setbacks of his premiership came when the BJP was roundly beaten in elections for Delhi's local assembly and the assembly in the eastern state of Bihar in 2015. The unprecedented victory in UP this time has put all that behind Mr Modi who will now seek to further tighten his grip on power.
Reacting to the victory, Mr Modi tweeted "Am overjoyed that BJP has received unprecedented support from all sections of society. Huge support from the youth is gladdening." His cabinet colleague and Home Minister Mr Rajnath Singh said "BJP has reached new heights in Uttarakhand and Uttar Pradesh states and changed the political picture of the country."
Overall, the BJP's victory in UP signals a new kind of politics that go beyond traditional poll arithmetic. Mr Shah called the win in UP a "historic mandate" for BJP. "These results will set Indian politics in a new direction," he said at a press conference at the party's New Delhi headquarters, adding "the faith that people have placed in BJP and in Shri Narendra Modi will pay off."

Prime Minister Narendra Modi has described his Bharatiya Janata Party's stunning victory in assembly elections in India's biggest state Uttar Pradesh as historic and underlined that it's a mandate for "development and good governance."
In a series of tweets on March 11, he said: "I thank the people of Uttar Pradesh from the core of my heart. This victory of Bharatiya Janata Party is a victory for development and good governance."
"Gratitude to the people of India for the continued faith, support and affection for the BJP. This is very humbling & overwhelming," Mr Modi said.
"Am overjoyed that BJP has received unprecedented support from all sections of society. Huge support from the youth is gladdening," he said in a separate post on the micro-blogging site.
Mr Modi said "every moment of our time, everything we do is for welfare & wellbeing of the people of India. We believe in the power of 125 crore Indians."
Congress Vice President Rahul Gandhi's office said in a post on the PM's Twitter handle that he congratulated Modi and BJP on the election victory in UP and Uttarakhand.
Mr Modi replied by posting "Thank you. Long Live Democracy."
Mr Modi termed as "very special" BJP's emphatic win in the elections in Uttarakhand state also and assured the people of the state that his party's government would "work with full alacrity assiduousness to serve the people."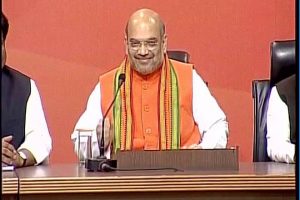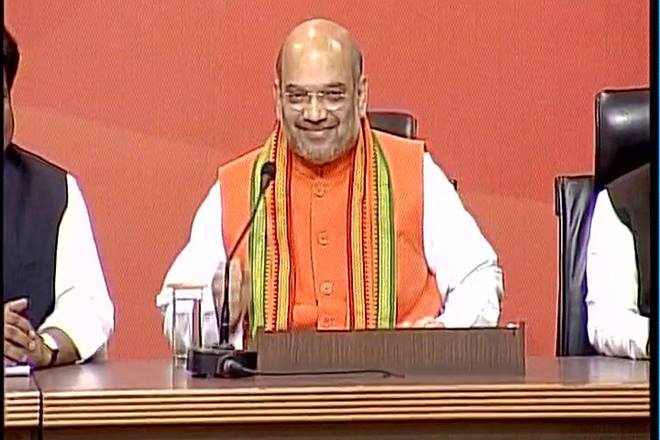 Basking in the glory of astounding electoral victory in India's largest state of Uttar Pradesh, the head of India's Hindu nationalist Bharatiya Janata Party Amit Shah has underlined that the poll mandate is a boost for the politics of development and performance. The BJP's victory, Mr Shah said, signalled a clear rejection of politics of dynasty and caste, a dig at main rivals Congress, Samajwadi Party and Bahujan Samaj Party.
Addressing the media at the BJP national headquarters in New Delhi on March 11, the BJP chief, the chief strategist of the party's victory in UP, and also said the electoral verdicts in UP three other states of Uttarakhand, Manipur and Goa have positioned Prime Minister Narendra Modi as the "most popular" leader in independent India.
Mr Shah underscored that the election results "have further given a boost to our party's development agenda." "BJP's win will end dynasty politics and casteism in national politics. This victory will open a new era of politics in our country. It would be the politics of performance," he observed in his opening remarks.
"This is the biggest win for a party in these two states ever since the bifurcation of Uttarakhand and Uttar Pradesh," he added.
Mr Shah, a key aide of Prime Minister Narendra Modi, said "Shri Narendra Modi has emerged as the most popular leader in the history of independent India and even BJP's political rivals have to admit it."
He declined to react to the BSP supremo Mayawati's allegation earlier at a media conference in Lucknow, the capital city of Uttar Pradesh, hinting that electronic voting machines were tampered with as the BJP swept most of the votes in several Muslim-dominated constituencies in the state.
"I don't want to comment on Mayawatiji's remarks because I can understand her state of mind now," Mr Shah said. Mayawati-led BSP finished a distant third in UP behind BJP and Samajwadi Party.
The BJP chief said "move past Hindu-Muslim, a voter is a voter; politics of development should take place.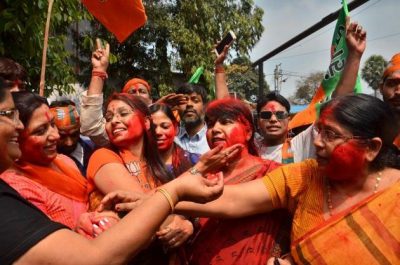 It's set to be a special 'Holi' for India's Prime Minister Narendra Modi and the Bharatiya Janata Party he leads. Saffron is the reigning colour as wild celebrations erupted outside the BJP's national headquarters in Delhi and UP's capital city of Lucknow. Swamped by fervour of this huge victory, party activists splashed a rainbow of colours, distributed sweets and set off crackers.
Riding the crest of a spectacular Modi wave, the party is poised for an unprecedented landslide victory in the elections to the legislature in the politically key state of Uttar Pradesh. This is the first major test of Mr Modi's popularity since last year's demonetization aimed at curbing black money.
As trends emerged from the counting of ballots in legislative elections in UP and four other states, the BJP is also set to return to power with a thumping majority in the adjacent northern Himalayan state of Uttarakhand after a break of five years, voting out the Congress party led by Sonia Gandhi and her son Rahul Gandhi.
However, the Congress is all set to roar back to power in Punjab state and coastal state of Goa after hiatus of a decade and is locked in a close battle with the BJP in the north eastern state of Manipur.
Polling in the five states were held between February and March this year.
The overarching focus of the March 11 vote-count was UP where the BJP's stupendous sweep, spearheaded by none other than Mr Modi himself, saw the party positioning itself to win around 310 seats in the state legislative assembly out of the total of 403 seats. Latest trends indicate that Chief Minister Akhilesh Yadav-led ruling Samajwadi Party, which fought the poll in alliance with Congress, could get around 60 seats while Mayawati-headed Bahujan Samaj Party is far behind, leading in around 20 seats. The majority mark in the assembly is 202.
If the trend is converted into actual seats, it will mean a huge win for the BJP as no party has ever won 300-plus seats in UP before. This will be the first time that the BJP will grab stomp to power in the state on its own.
The victory in UP is crucial for prospects of Mr Modi and BJP in the 2019 parliamentary elections for a second successive five-year tenure as the northern state has the largest number of Lok Sabha seats – 80 out of the total 543 seats in the Lower House of Parliament.
"Tectonic Shift"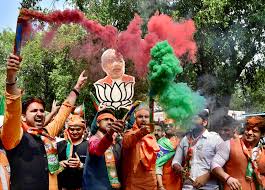 Senior BJP leader and federal minister Ravi Shankar Prasad, a key aide of Prime Minister Modi, described the election result in UP as "a tectonic shift in the country's politics" and said the first message is that this indicates "it is a bigger wave than 2014 (parliamentary) elections and that too after two and a half year of Modi government.
"I am very proud of my PM's leadership and I am also very proud of the bold leadership of the party president Amit Shah and the kind of hard work he has put in the last 3-6 months with his team," he added. "Uttar Pradesh is the "laboratory of India" and the Bharatiya Janata Party's "super win has proven Modiji's vision," Mr Prasad added.
The BJP's spectacular victory in assembly polls in UP reinforced its historic performance in the parliamentary elections in the state two and half years ago when the party swept 72 of the 80 seats.
Akhilesh Yadav paid dearly primarily for two reasons: a bitter war in the family between him and his father and former Samajwadi Party chief Mulayam Singh Yadav and a huge anti-incumbency of five years.
The BJP also said its stupendous victory in UP is a ringing endorsement of Mr Modi's decision in last November to scrap high-denomination currency notes in a bid to curb black money. The month-long demonetization drive had seen serpentine queues in front of banks and post offices across India as people rushed to deposit and exchange banned notes. The demonetization had come under fire from BJP's rival parties.
Congress scores in Punjab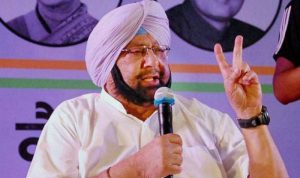 In another northern state of Punjab, where the assembly has a total of 117 seats, the Congress party is set to come back to power, toppling ruling Shiromani Akal Dal and its junior partner in the state BJP. The result is a perfect birthday gift for Congress' top leader in the state Amarinder Singh who turned 75 on March 11/
The elections in Punjab saw Delhi chief minister Arvind Kejriwal-led Aam Aadmi Party surging to no second spot with 22 seats in its debut in the battle of ballots in the state, pushing SAD-BJP down to third spot with 19 seats.
In Uttarakhand, the BJP is poised to return to power with three-fourth majority leading in 54 of the total of 70 seats while the state's ruling Congress was far behind, ahead in 16 seats.

In a spectacular saffron sweep, the Bharatiya Janata Party is heading for a landslide victory in assembly elections in Uttar Pradesh, India's largest state and the epicentre of the countr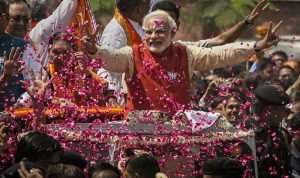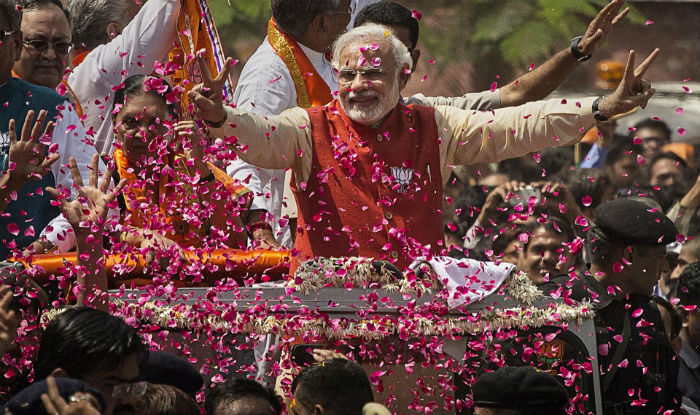 y's politics.
Latest trends indicate that the BJP, which heads the ruling coalition at the Centre, looks set to gain over 300 seats in the 403-seat assembly in UP.
It's clearly a big moment for Prime Minister Narendra Modi who campaigned extensively across the seat and staked his personal reputation in the UP elections. Mr Modi's charisma and his rallying slogan of "Sabka Saath, Sabka Vikas" (inclusive development) seems to have smashed the entrenched caste arithmetic that had traditionally worked in favour of regional parties like Samajwadi Party and BSP in the past. The electoral victory in Uttar Pradesh bears the Modi stamp, but it could not have been possible without 24×7 strategizing and organisational skills of BJP president Amit Shah. Shah was widely considered as the architect of the BJP's best ever performance in Lok Sabha elections in 2014, in which the party won 71 out of 80 seats.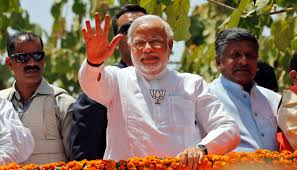 The BJP's victory is also seen as a big endorsement for Mr Modi's controversial demonetisation, which was aimed at cleansing black money out of the system. Demonetisation was widely criticised by some opposition parties, but the BJP's victory in India's most populous state is expected to silence all critics.
Besides UP, the BJP is also headed for a landslide victory in Uttarakhand, the party's traditional stronghold.
In Punjab, latest trends indicate that the Congress is set to emerge as the winner – the only consolation for the winning party.