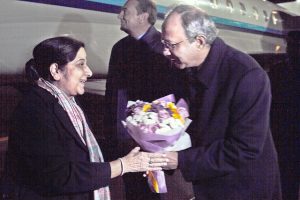 Against the backdrop of the growing scourge of terrorism in the region and the release of 26/11 terror mastermind Hafiz Saeed by a Pakistani court, India's External Affairs Minister Sushma Swaraj is set to press for enhanced counter-terror cooperation at the SCO summit in the Russian city of Sochi.Representing India for the first time since it became a permanent member of the annual SCO (Shanghai Cooperation Organization), Mrs Swaraj is also expected to hold bilateral meetings on the sidelines of the SCO summit in the Russian picturesque city of Sochi. In June this year, India and Pakistan were elevated from being observer nations to full-fledged members of this regional grouping, which is currently dominated by China and Russia.
With regional security and terrorism expected to dominate the talks, it remains to be seen if India raises the issue of the recent release of Hafiz Saeed by a Pakistani court. The situation in the Gulf and Afghanistan are also likely to figure prominently in the talks. India's membership gives it an added leverage to push for more intensive efforts at tackling regional and global terrorism and other security matters."We attach special significance to the SCO in promoting political, economic and people-to-people contacts," external affairs ministry spokesperson Raveesh Kumar said.
The efforts to include India as a permanent member of the bloc had begun in Ufa in July 2015. While Russia was India's main supporter, China had thrown its weight behind Pakistan.  The SCO now has eight full members — India, Kazakhstan, China, Kyrgyzstan, Pakistan, Russia, Tajikistan and Uzbekistan — and six dialogue partners and four observers.
While there is no confirmation yet on whether Ms Swaraj will have bilateral meetings with Chinese Premier Li Keqiang or Pakistan's Prime Minister Shahid Khaqan Abbasi, she will be attending restricted meeting of the heads of delegations on December 1, which will be followed by the preliminary sessions of the SCO.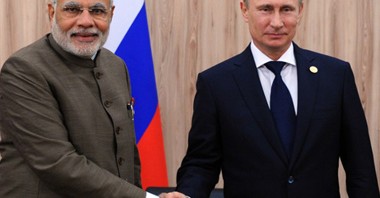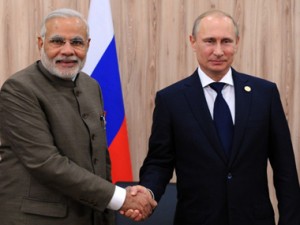 What does SCO membership actually hold for India? Pursuing the goal of multi-polarity apart, are there direct potential gains for India?
For India, the SCO has been about increasing its political, economic and security stakes in Central Asia – a reason why New Delhi keenly pursued its formal entry into the grouping despite critics at home challenging the wisdom of joining a Chinese-led body as a junior member with a lesser political voice.
From India's perspective, SCO membership would open a new opportunity to reconnect with Eurasia after a century of disruption. Prime Minister Modi said at the Ufa summit that membership of SCO would be "a natural extension of India's ties with member countries."
SCO could offer India with some unique opportunities to get constructively engaged with Eurasia to address shared security concerns, especially for combating terrorism and containing threats posed by ISIS and the Taliban.
SCO aims to focus on combating terrorism, separatism and extremism. The measures undertaken by the grouping may have served China's fight against its 'three evils', as also effectively dealt with imminent threats being posed to the Central Asian states as well.
India could benefit from stepping up cooperation especially by tapping into the existing SCO processes such as the Regional Anti-Terrorist Structure (RATS) that shares key information and intelligence on movements of terrorists and drug-trafficking. Similarly, participation in the SCO's counter-terror exercises and annually conducted military drills could benefit our armed forces understand the operational tactics of other militaries which could also instil greater confidence at the regional level.
More critically, a presence in the forum is essential to ensure that inimical forces do not manipulate the body to drum up anti-India stands in this critical region comprising of Muslim populated states.
Direct stakes are also in gaining information such as on drug-trafficking control, cyber security threats, public information, mass media, educational, environmental, disaster management and water related issues of Eurasia that we know little about.
It provides additional latitude for securing India's energy interests – to invest in oilfields with an eye to get its way on the pipeline routes. SCO could also change the way for TAPI to see the light at the end of the tunnel, the viability of which has been threatened so far by a host of reasons.
Further, India would be able to seek mutually beneficial partnerships with SCO members in human capacity building, technology, education, health and policy convergence in regional trade and financial institutions. India could bring to the SCO its techno-economic expertise, markets and financial commitment.
India's experience in dealing with multi-cultural settings is an attraction among many sections in Central Asia. India has evidently demonstrated its ability to render value addition in terms of contributing towards the civilian reconstruction process in Afghanistan, which may also ultimately help generate a positive political environment for peace building – most critical for ensuring sustainable peace and stability in the SCO region.
On the connectivity front, China's OBOR has certainly put India in a quandary. In fact, the decision to expand the SCO seems to be spurred mainly by economic factors. To allay any misgivings, Beijing has taken a grandstanding position on OBOR/CPEC suggesting that these would prove conducive for the development and prosperity of the "whole region".
China has separately pushed its own USD 46 billion worth "China Pakistan Economic Corridor" (CPEC) overland project to link Western China with Gwadar Port in Pakistan. India resented China's plan of building the corridor through its sovereign territory of Gilgit-Baltistan illegally held by Pakistan. Beijing considers CPEC an economic "livelihood project" that is not aimed at a third country. There is no way that India will compromise on the sovereignty issue of Pakistan-occupied Kashmir (PoK). However, rhetoric aside, a set of projects envisaged under OBOR and CPEC could transform the region flanking the north of India into a new economic hub and a zone of joint projects having implications for India.
For its part, Russia has already found a way to reconcile its own transport connectivity plans with that of OBOR. To seek mutual benefits, Putin and Xi had decided last year to bring greater synergy between projects under the Eurasian Economic Union (EAEU) and OBOR. Similarly, all the five Central Asian states view the OBOR and EAEU as having the potential to transform the region into a major hub of transcontinental transportation networks.
While most countries are unwilling to openly articulate their concerns, but a country like Iran also probably believes that China's OBOR plan is not convincingly transparent. Iranian policy thinkers, while interacting with this author and other Indian analysts – during Prime Minister Modi's visit to Tehran on 22-23 May 2016 – admitted that OBOR is definitely geopolitically driven.
The same may be also true about China's other projects undertaken across the Eurasian space and along the maritime route across the Indian Ocean. Chinese investment in Gwadar, port building in Sri Lanka, a military base in Djibouti and now the development of port and industrial facilities in Oman are underpinned by geopolitical and military objectives.
These have been a source of concern for India. Quite clearly, others will also eventually feel the need to challenge China's aggressive posturing. The countries in Southeast Asia are already questioning China's real motives.
India certainly cannot be indifferent and stay outside the infrastructure and connectivity being built on such a scale. By joining SCO, India should be able to think more sharply on how to respond to OBOR and find ways to join both the Russian and Chinese built transport network.
In fact, India should be consulting Iran, Russia and the states of the Caucasus to coordinate on respective connectivity projects under consideration. The International North South Transportation Corridor (INSTC) on which a lot of work is being done requires urgent implementation.
India has already undertaken steps to find alternate ways. By committing investments for the development of Chabahar port, India has indicated its seriousness about enhancing regional connectivity. In fact, the ground-breaking events of Chabahar (Iran) and Salma Dam (Afghanistan) projects – weeks ahead of the Tashkent Summit – were seemingly meant to signal India's strong commitment for the regional integration process.
India has never been opposed to working with Pakistan or China on connectivity or exploring opportunities for undertaking joint energy projects like TAPI. But lack of transparency and perpetual hostility by Pakistan has virtually led to India being cut off from accessing Eurasia to connect with China's Silk Road projects. Therefore, the Chabahar project is the only way to overcome both Pakistani geopolitical hostility and the ring of Chinese encirclement that impede India's Eurasia access. Hopefully, the Chabahar port will not only provide India access to Central Asian, Caspian, Iranian and Western Siberian gas fields but would also pave the way for tapping the vast deposits of high value rare earth minerals in Central Asia and Afghanistan.
It is evident that any policy based on rivalry is not likely to succeed. Iran has sought Indian collaboration on the Chabahar project but Tehran has also indicated that it would like to keep its options open on Chabahar. Top Iranian officials have already denied that Chabahar is meant as a rival to Gwadar. Instead, Tehran seems to be looking for partnership with Pakistan and China with also an eye to join China's OBOR initiative as well as to tap into CPEC. Clearly, Iran is keen to push its own gas pipeline along the same route to reach China's Western province.
Similarly, the Afghan Ambassador to China Janan Mosazai also stated that his country has an "extraordinarily" close relationship with India but supports the China-Pakistan Economic Corridor (CPEC). As stated earlier, Russia and the Central Asian states have applauded China's OBOR as an initiative to bridge East and West. Surprisingly, China too is seeing Chabahar in a positive perspective. Chinese media close to the Communist Party has lauded India in an editorial for contributing to 'regional connectivity'.
Against these regional perspectives, India cannot be taking a position other than a cooperative one if it wants to genuinely exploit opportunities that SCO processes may offer. Any policy on connectivity underpinned by a spirit of rivalry is going to make India an odd one out. India should certainly join SCO with a fresh mind without any ambiguity. But at the same time, India should be mindful of the geopolitical calculations that underpin these connectivity projects.
(The views expressed in this column are solely of the author)
Courtesy: IDSA
India and Uzbekistan, the strategically-located resource-rich country, have decided to step up their counter-terror cooperation against the backdrop of the unfolding transition in Afghanistan and to fast-track the implementation of their uranium deal.
India's Prime Minister Narendra Modi held wide-ranging talks with Uzbekistan President Islam Karimov. The two leaders discussed a host of regional and international issues, including the current situation in Afghanistan. They underlined the importance of creating peace and stability in the country.
They also discussed ways to implement the contract, which was signed last year for the supply of 2,000 metric tonnes uranium to India from the mineral-rich Uzbekistan. In addition, they also looked to enhance cooperation in the areas of agriculture, information technology and energy, as well as further enhance connectivity between both countries.
The festering instability in Afghanistan against the backdrop of the ongoing transition figured prominently in the discussions. The two countries agreed to further intensify security cooperation and exchanges, through the bilateral Joint Working Group on Counter Terrorism, which is scheduled to meet later this year. They also agreed to strengthen cooperation in defence and cyber security. With India's membership of the Shanghai Cooperation Organisation (SCO) expected to be confirmed at the Ufa summit, the two leaders underscored that they looked forward to working together within the framework of the Eurasian grouping.
Injecting economic content into the relationship figured in the delegation-level talks. To improve the volume of trade between both countries, the two countries have decided to expand and diversify the trade basket. They have agreed to promote long-term, mutually beneficial partnerships among their business communities and called for promotion of investment cooperation between both countries.
The Uzbek side expressed its thanks to India for its assistance in training, education and development partnership. Many Uzbek specialists have been trained at specialized training centers in India under the ITEC programme.
Bound by centuries-old cultural linkages and home to stunning diversity and picturesque beauty, the two sides also focused their attention on promoting tourism.
The biggest takeaway from Mr Modi's maiden visit to Uzbekistan, the first leg of his five-nation tour to Central Asia,  is  the increasing importance given to cooperation in security areas, which underlines the importance both countries give to rising global terror threats.
India hopes to become a member the Shanghai Cooperation Organization (SCO) at its Ufa Summit on 9-10 July 2015. A formal application was put in last year when all legal hurdles were removed – short of ratifying a lengthy 28 draft documents of the grouping.
A recent statement coming from Moscow suggests, however, that the accession of India and Pakistan to the SCO is still being examined. Is there a new hitch?
Until now, the delay was caused by the lack of criteria, procedures and timeline. Only Mongolia was welcomed but it hesitated to join the outfit. In 2010, UN sanctions obstructed Iran's entry.
Despite Russia pushing India's case and China for Pakistani entry, the SCO remained reticent that fearing it would get mired into the South Asian conflict. Some cited SAARC's failure as an alibi. Others saw India's proclivity as being towards the West and East rather than Eurasia.
New Imperatives
In spite of its high visibility, the SCO has found real progress elusive.  In fact, only Chinese funding has kept it alive, with Beijing actively using the forum for enlarging its own footprints in Central Asia.
The tricky aspects of 'regime security' have also impeded the SCO's growth. In fact, the frequently held anti-terror drills under SCO auspices were tied to curbing potential domestic upsurge as much as to guarding against external threats.
But fresh imperatives have hit Central Asian states lately. Importantly, their key mentor, Russia, is in deep crisis. Sanctions apart, the whopping fall in oil prices and the value of the rouble are having ripple effects on Central Asian states as well. At the same time, they also fear Russia's renewed nationalistic and economic assertion. Then there is the impact of growing Sino-Russian proximity, which is compelling Kazakhstan and even Uzbekistan to seek diversification beyond the immediate region. Security challenges also loom large. The Afghan fallout apart, the ISIS is heavily recruiting in Central Asia – an additional cause of concern.
In the light of all this, bringing India, Iran and others into the SCO would mean gaining greater voice and cachet for the SCO. Some also fear that not doing so would make Iran and India slip out and join the US regional game.
New Strategic Axis
Nevertheless, the coming prospects at SCO are unlikely to be delinked from the current rebalancing games that are underway in the global arena.
Clearly, the Sino-Russian strategic propinquity in Eurasia and elsewhere has now become explicit. There is little scope for altering that equation for now. Despite talk about the undercurrents of Sino-Russian competition in Eurasia, Putin has recently made it clear that the SCO will operate "actively on convergence between two big projects" – the China-led Belt and Road, and the Moscow-led Eurasian Economic Union (EEU). This reflects strategic clarity and the two projects may become the main driving force for Euro-Asian connectivity and integration; a top strategic priority for dealing with regional security threats. At the Ufa Summit, this could become a key to "SCO Development Strategy Towards 2015".
From India's perspective, such a vision for Eurasia is likely to be at odds with Modi's foreign policy texture, especially his shared vision with Obama for the Asia-Pacific and Indian Ocean Region that are ostensibly meant to contain China. While India has expressed its desire to cooperate with the Moscow-led EEU, it hasn't quite approved Beijing's Belt and Road idea. Instead, it has expressed its resentment towards China's plans for the USD 46 billion economic corridor through Pakistan-occupied Kashmir. Here lies a potential problem. Beijing has already turned down India's objection in this regard, saying it is a "livelihood project". The differences it seems will only enlarge and for India navigating the evolving contradictions in SCO may remain less than a smooth one.
India's Stakes
Sceptics at home oppose India joining a Chinese-led body as a junior member. But for India, SCO is about increasing its stakes in Central Asia – the next emerging Muslim region with close proximity to Afghanistan. Clearly, India's concerns seem essentially security driven, fearing that SCO could possibly be used as a smokescreen by inimical forces including Pakistan to drum up support for anti-India activities. Thus, staying outside cannot be to India's advantage.
Security concerns also drive Russian and Chinese actions in Eurasia but the approaches they follow are economic in orientation. Clearly, joining SCO could help India get out of the current tight geopolitical spot – wedged between a wall of Pakistani hostility and fear of cooperating with China.
Stakes are also high for securing energy and connectivity interests – to invest in oilfields also with an eye to get its way on the pipeline route. SCO could change the way for energy projects, including the TAPI which may finally see the light of day.
India could benefit from SCO's Regional Anti-Terrorist Structure (RATS) and also learn from its counter-terror exercises. India could also gain from cooperating in soft-political areas of the region that it knows little about.
Conversely, India could bring to the SCO table its techno-economic expertise, markets and financial commitment. India's experience in dealing with multi-cultural settings is an attraction among many sections in Central Asia.
Ironically, Pakistan has quite successfully inserted itself into this new alignment.  Even Russia's confidence in Pakistan seems to have increased though it may have an opportunistic aspect. Clearly, the acceptance of Pakistan in Eurasia would grow henceforth. Pakistan has its geographical advantage unless Afghanistan continues to remain a thorn.
Option for India
For India the issue is quite clearly about its strategic ambivalence and lack of clarity. The SCO is more often than not used as a counterweight against the West. For Modi to play an ancillary role of offsetting the US is tricky.
Earlier Pakistan used to run with the hare and hunt with the hounds for the US. It seems this role is being passed on to India now.
For Prime Minister Modi, it would be prudent not only to display pragmatism but also clarity. Surely, any attempt at matching the Russian or Chinese leverages in Eurasia would be unrealistic. He should instead use the SCO for building greater convergences with China and Russia.
For sure, Moscow and Beijing and even Astana possibly relish the idea of using the SCO forum to beget a serious India-Pakistan thaw. But creative diplomacy by Modi could minimize the impact of the China-Pakistan alignment, which has tended to undercut India's direct access to Central Asia.
Modi should also know the fragile nature of the SCO. Central Asians especially carry varied expectations; they remain sensitive to ties with Russia and China, but their positions fluctuate regularly in line with their interests, even opting for bilateralism with the US. They ably play the suitors off one against the other to extract economic benefits and reinforce political control at home.
Clarity is also necessary to avoid the risk of India becoming a focal point of criticism by Central Asia States, like the way it happens in SAARC, of course for different reasons. So long as India was not a full member, expectations from it were less. But once India is in, the regional countries are going to compare India with China.
(Courtesy : IDSA)
Seeking a bigger role in the six-nation Shanghai Corporation Organisation (SCO), India has underlined its intent to step up counter-terror cooperation with the SCO and warned against the globalisation of the supply chain of terrorism and extremism.
"We are acutely aware of the threat that its perpetrators pose to our people, as also to our common region. We are seeing different theaters getting interconnected through terror networks and a globalisation of the supply chain of ideology, radicalisation, recruitment, training and financing of terrorism," said India's External Affairs Minister Sushma Swaraj.
Speaking at the annual summit of the SCO on September 12, Swaraj said India had long been a victim of this global problem, and that it was time for the global leadership to join hands in countering terrorism and other evils including drug trafficking and small arms proliferation.
"In this context, we are keen to deepen our security- related cooperation with the SCO in general and with the Regional Counter Terrorism Structure, in particular," said Swaraj.
India is leveraging its position and strategic importance to counter terrorism to push for full membership in the group.
"We have submitted our formal application for the full membership of the SCO to the current SCO chair. We hope to lay the foundation of a new relationship with the SCO region which will draw strength from our ancient links while preparing together to address the opportunities and challenges of the 21st century," said Swaraj said in Dushambe (Tajikistan).
The SCO too is keen to take India on as a full member as it cleared major administrative hurdles to initiate the process. Russia has declared support for  India's full membership of the SCO, but China is ambivalent towards it.
"We stand ready to assume greater responsibility in terms of SCO. We will be able to contribute in better capacity once it (SCO) opens its membership to others," said Syed Akbaruddin, spokesperson for India's external affairs ministry in New Delhi.
India, Afghanistan, Iran and Pakistan are currently observers at the SCO.  The process to grant SCO membership to India and two other countries is expected to be completed within one year.
This annual summit of the SCO focused on regional security issues following the planned drawdown of NATO forces in Afghanistan by end of 2014.
Russian President Vladimir Putin, Chinese President Xi Jinping, Afghan President Hamid Karzai, Iranian President Hassan Rouhani were among heads of states who participated in the summit.
Swaraj who had visited Afghanistan just days earlier reiterated India's support for Afghanistan's reconstruction amid the unfolding transition.
"India strongly believes that Afghanistan can successfully complete the security, political and economic transitions and regain its historical place as a hub for regional trade and transit routes," the Minister said.
She added: "However, at this time of delicate transition, the international community must stand united to support Afghanistan to preserve the progress it has made in the last decade against terrorism and related threats to its national well-being.
In her interaction with Tajik President and host of the SCO Summit Emomali Rahmon on September 11 she spoke of how all countries at the SCO had a common enemy in Islamic fundamentalism.
India's Prime Minister Narendra Modi has made a good start by displaying foreign policy focus on the country's immediate neighbourhood. He has also shown foresight by linking his South Asia diplomacy with the drive for economic prosperity of India and the region. His recent bilateral visits to Bhutan and Nepal have been marked out as successes and signal his intention to deliver on his vision of regional integration. Prime Minister Modi's call to develop a satellite by the Indian Space Research Organization (ISRO) to serve civilian purposes for the South Asian Association for Regional Cooperation (SAARC) nations is an imaginative step that further consolidates the government's commitment to play a role in the development of the region.
While the Modi government's focus on SAARC and Association of Southeast Asian Nation (ASEAN) countries is important,  it should also include Central Asia within its matrix of co-development. Geo-strategically, Central Asia constitutes a part of India's extended neighbourhood and it is, therefore, necessary to safeguard our legitimate national interests in the region. Central Asia is strategically located and without a doubt, its strategic importance in international affairs has been steadily growing. For India, Central Asia is important because of old cultural and civilizational linkages, the region's strategic location, energy resources and trade opportunities. Central Asia's energy reserves will be vital to the global economy over the coming decades. In the post-cold war world order, Central Asian countries continue to share strong cultural identity and linkages with Russia. On the other hand, these countries are heavily dependent on China for trade. India's role in Central Asia has been nebulous; however, due to changed geo-politics and geo-economics, it has become imperative for India to play a role of a balancing power in the region.
The discourse on the Shanghai Cooperation Organization (SCO) and its role in Eurasia has been fragmented by two opposing views. The Chinese and the Russian scholars view that the SCO has evolved from being merely a mechanism engaged in settling the border issues to becoming a regional organization, addressing the security problems and enhancing economic cooperation in the region. The Western discourse, however, has tended to see the SCO as a mechanism to counter-balance the influence of the United States in the region. Some scholars have even questioned the value of the organisation by calling it "nothing more than window dressing". However, through the years, the SCO's effectiveness has become prominent as a security manager and a forum for economic cooperation. Doubts regarding the viability of the SCO have given way to an acknowledgement of its increasing influence and tangible presence on the ground. Presently, the Central Asian Republics (CARs) are over dependent on China for trade and investment, along with a tendency to balance China by shifting towards Russia. The lack of a multipolar security order in Central Asia necessitates the role of India as a full-member state in the organization that will bolster the SCO's effectiveness towards maintaining a multi-polar order.
Connect Central Asia Policy
The new government should give fresh impetus and flesh to 'Connect Central Asia Policy' with resources and effective implementation processes. After the disintegration of the USSR, the Central Asian countries have focused on nation building and statehood and have made significant economic progress. However, these countries continue to face challenges of rivalries and competition due to water scarcity, border disputes, extremism and fundamentalism, drug trafficking, environmental degradation and migration. As India places a strong emphasis of securing a safer Indian subcontinent, collaboration with CARs nations on key areas of security, energy, economics and trade has become imperative. The SCO is an increasingly relevant institution due to the deepening mutual interests of its member states.
Central Asia is also a theatre of cooperation and competition between China and Russia. Both these counties share immense common interests in maintaining the political status quo in Central Asia and thus, allowing mutual access to the region's energy reserves. Recently, Russia and China inked a multi-billion dollar oil pipeline deal. Combating forces of international terrorism in this region has also cemented their relationship. In the backdrop of the withdrawal of the Allied forces from Central Asia, India remains concerned with the security and stability of Afghanistan and the ambient Af-Pak region. India has vital stakes in maintaining peace and stability in Afghanistan which often reels from the nefarious drug trafficking and terrorist activities emanating from Central Asia. Since India has long been a victim of terrorism, India holds a firm position that only multilateral efforts and integrated actions can help effectively counter these negative forces including the related evils of drug trafficking and small arms proliferation. This has prodded India to deepen security-related cooperation with the SCO in general and with the Regional Anti-Terrorism Structure (RATS), in particular.
Visit of SCO's Secretary General  to India
The visit of the Secretary General of the SCO, Mr. Dmitry Fedorovich, to New Delhi on February 23-24, 2014 was significant as it vindicated the growing importance of India in the SCO and also acknowledged that India is mandated to play an important role post the withdrawal of the US-led NATO troops. The Secretary General's visit provided an impetus to further strengthen the institutional linkages between India and the SCO and both the sides held comprehensive discussions on the various dimensions of India's current and prospective association with the organisation.  During the visit, the SCO's Secretary-General held comprehensive discussions with Foreign Secretary Sujatha Singh on ways to tackle counter-terrorism and narco-trafficking in the region, in the context of the evolving situation in Afghanistan.[1] The visit was significant as it highlighted the importance of the SCO in India's larger relations with Central Asia and South Asia. The trip came against the backdrop of momentous changes unfolding in Afghanistan, a nascent democracy. New Delhi is keen to become a full member of the six-nation group and the visit of the SCO secretary general was an important step, indicating the importance the organisation attached to India post-2014. Including India in the SCO as a full member would help make the organization attain tenable security architecture in the region.
Cooperation on Trade and Energy
Central Asian countries, being rich in hydrocarbons and uranium, see a huge market base in India – an energy deficient country. India has been unable to exploit the full potential of its relations with the Central Asian nations and there is scope for Indian and Central Asian economies to be economically more integrated. Greater engagement of India and CARs will undoubtedly add to the SCO's capability to enhance regional economic prosperity and security.
Sustaining India's interest to engage with the Central Asian and Russian markets, an Indian organisation, Federation of Freight Forwarders of India (FFFAI), has been investing in the International North-South Transport Corridor (INSTC) – a multi-modal network which would connect India to Central Asia through Iran: Nhava Sheva (Mumbai)-Bandar Abbas (Iran)-Tehran-Bandar Anzali (Iran)-Astrakhan (Russia).[2] This route will help India to bypass Pakistan to reach Central Asia- a challenge India has been long grappling. India's state owned oil and gas company, OVL-Videsh, negotiated an acquisition of a stake in the Satpayev oilfield in Kazakhstan's Caspian Sea in 2005. State enterprises of India and Kazakhstan entered into an agreement for the supply of uranium for India's civilian nuclear energy programme in 2009. India's state-owned ONGC entered into exploration agreements with Uzbekistan for gas in 2011.[3]
India has also been looking at newer vistas of energy cooperation in the region with Turkmenistan — a Caspian Sea littoral state located in India's strategic neighbourhood and rich in natural gas. Four countries, Turkmenistan, Afghanistan, Pakistan and India (TAPI), are working together on a proposed gas pipeline 1735 kms long which will begin from the Doveletabad gasfield and end in Fazilka on the Punjab border. The oil pipeline is expected to be operational by 2017 and at its peak the oil pipeline is expected to pump 33 billion cubic metres of gas a year to Afghanistan, Pakistan and India.[4]  Tajikistan President Emomali Rakhmonov had requested the Government of India to establish a hospital in southern Tajikistan (Farkhor) that would treat both the military as well as civilians. The Indian Army doctors and their support staff established a full-fledged 25-bed field hospital, with medical and surgical facilities, and ran it efficiently for several years.[5] These goodwill gestures have helped consolidate India's strategic footprints in Central Asia.
China has been following a strategic approach to Central Asia focused on trade, infrastructure and energy cooperation and has offered $10 billion grant and aid to SCO members. China has linked Central Asia with China's western regions which could benefit from the Central Asian energy resources and thereby, launched on August 1, 2012, China Central Asia Gas Pipeline Project.[6] Even though China has been more successful in engaging with the CARs expansively, India's presence in Central Asia as a "knowledge economy" has generated immense goodwill in the region. India's role in rolling out development courses of information technology across the Central Asian Universities has been widely acknowledged. Indian assisted IT projects in Central Asia include the opening of the Jawaharlal Nehru IT Centre in Tashkent in 2006, the Bedil India-Tajikistan Centre for IT in Dushanbe in July 2006, a NIIT centre in Almaty, Kazakhstan in 2006 and the India-Kyrgyz Centre for IT in Bishkek in August 2007.[7]
Afghanistan
India sees the SCO as a useful platform to discuss Afghanistan. Afghanistan lies in the heart of Asia and acts as a bridge, connecting not just Central and South Asia but also Eurasia and the Middle East. Afghanistan has historical and cultural linkages and shares close geographical proximity to the Central Asian nations. Post the withdrawal of the Allied forces, there are concerns if Afghanistan reels back into scourge of another civil war it would have a serious impact on the regional security situation. The SCO has closely cooperated with Afghanistan, providing economic assistance and has supported Afghanistan's national reconciliation through multilateral channels. The Central Asian states are keen to play a more positive role in the Afghan state building process towards a more just and an equitable international order. The Central Asian nations have sought the platform of the SCO to help Afghanistan combat security challenges — one of the most serious threats which Afghanistan with a brittle democracy faces today.
I
ndia remains concerned about Afghanistan's future and has supported the war-torn country to integrate into the regional economy. India recognises that with the development of Afghanistan's road connectivity and trade links to Central Asian countries, there is a possibility of Afghanistan becoming a hub for trade, transportation and energy in the region. India holds the view that the SCO would be a useful platform to expand India's developmental assistance to Afghanistan and has called for its greater role. By the year 2012, India spent USD 1.2 billion in Afghanistan and has pledged a total of USD 2 billion in developmental assistance.[8] India's key projects in humanitarian assistance (such as food aid), infrastructure projects and capacity building in Afghanistan have been varied. These include  food assistance to primary school children and construction and rehabilitation of schools ($321 million disbursed); supply of 250,000 tonnes of wheat; construction of a power line from Pul-i-Khumri to Kabul ($120 million); construction of the Salma Dam Power Project ($130 million); construction of the parliament building ($27 million disbursed; budget $178 million); and rehabilitation of Delaram-Zaranj road ($150 million).[9] To address security challenges, the SCO members have a significant role to play in setting up security belts around Afghanistan to prevent spreading of terrorism and curtail proliferation of drug trafficking networks. Both India and Central Asian countries are hoping to closely cooperate on the SCO platform to maintain peace and stability in Afghanistan, which is essential for both.
A Multilateral Approach to Climate Change Initiatives
The Central Asian nations also suffer from water scarcity. Water distribution is a central question in the region. Central Asia has a growing population and water hungry resources extraction industry has complicated the situation even more. The region is divided into water rich upstream states and water poor downstream ones and disagreements over division of water leads to conflicts. For instance, lawmakers in Kyrgyzstan have threatened to cut water flow to semi-arid Uzbekistan in retaliation to Uzbekistan's move to cut gas supplies to the Kyrgyz city of Osh in April.[10] Water scarcity has led to a delicate security fabric among the Central Asian countries.
In an expedition to Central Asian countries of Kazakhstan, Kyrgyzstan and Uzbekistan, (organised with the support of India's Ministry of External Affairs), an Indian delegation to Urugench University in Uzbekistan was briefed about the critical levels of drying of the Amu Darya and Syr Darya rivers. The drying of the rivers and the Ural Sea has proved as a challenge to Uzbekistan, one of the world's largest exporters of cotton, as cotton plantation requires huge amounts of water. Addressing climate change challenges would require multilateral efforts and India can play a pivotal role in aiding Central Asian countries to develop resilience with sophisticated satellite based data to adapt to climate changes. India and the Central Asian countries should hold a strategic dialogue and cooperate in the fields of education, medicine, IT, joint expeditions in archaeology and joint mineral explorations. These initiatives could be rolled out in a full-fledged manner within the institutional framework of the SCO. However, this also calls for a more comprehensive and expanded role of India as a full member in the SCO.
To conclude, even though the reforms of the SCO members' states have been unmistakably slow, one could be optimistic about the SCO slowly yet steadily readjusting its principles and vision to become a more effective body to address the numerous security and developmental challenges. India stands ready to play a larger role in the SCO as a full member. India, under the leadership of the new government, is poised to pursue a dynamic and an economics-driven diplomacy to bolster India's standing in the international arena, which is witnessing a seismic shift in power from the West to the rest.
(
Sylvia Mishra is a Researcher at ICRIER Wadhwani Chair in India US Policy Studies. An excerpt of this article was presented by her at the John Hopkins Nanjing University Conference on Building an East Asian Regional Community on May 9, 2014. She has been a member of an expedition to Central Asia to promote Track II Diplomacy supported by Ministry of External Affairs and India Central Asia Foundation).
---