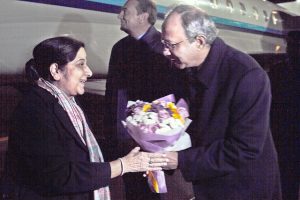 Against the backdrop of the growing scourge of terrorism in the region and the release of 26/11 terror mastermind Hafiz Saeed by a Pakistani court, India's External Affairs Minister Sushma Swaraj is set to press for enhanced counter-terror cooperation at the SCO summit in the Russian city of Sochi.Representing India for the first time since it became a permanent member of the annual SCO (Shanghai Cooperation Organization), Mrs Swaraj is also expected to hold bilateral meetings on the sidelines of the SCO summit in the Russian picturesque city of Sochi. In June this year, India and Pakistan were elevated from being observer nations to full-fledged members of this regional grouping, which is currently dominated by China and Russia.
With regional security and terrorism expected to dominate the talks, it remains to be seen if India raises the issue of the recent release of Hafiz Saeed by a Pakistani court. The situation in the Gulf and Afghanistan are also likely to figure prominently in the talks. India's membership gives it an added leverage to push for more intensive efforts at tackling regional and global terrorism and other security matters."We attach special significance to the SCO in promoting political, economic and people-to-people contacts," external affairs ministry spokesperson Raveesh Kumar said.
The efforts to include India as a permanent member of the bloc had begun in Ufa in July 2015. While Russia was India's main supporter, China had thrown its weight behind Pakistan.  The SCO now has eight full members — India, Kazakhstan, China, Kyrgyzstan, Pakistan, Russia, Tajikistan and Uzbekistan — and six dialogue partners and four observers.
While there is no confirmation yet on whether Ms Swaraj will have bilateral meetings with Chinese Premier Li Keqiang or Pakistan's Prime Minister Shahid Khaqan Abbasi, she will be attending restricted meeting of the heads of delegations on December 1, which will be followed by the preliminary sessions of the SCO.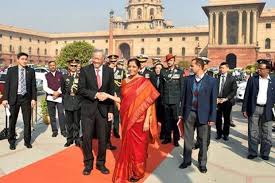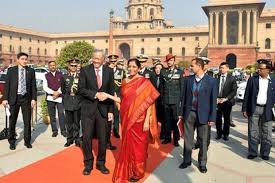 Amid China's growing assertion in the maritime space, India and Singapore have concluded a crucial pact on enhancing naval cooperation. The bilateral Agreement for Navy Cooperation, signed on November 29, is aimed at expanding India-Singapore cooperation in ensuring freedom of navigation, right of passage and over-flight, unimpeded commerce and access to resources and fighting a host of other security challenges.India's Defence Minister Nirmala Sitharaman and her Singaporean counterpart Ng Eng Hen held talks in New Delhi to finalise the deals.
The agreements come at an important moment when India is trying to assert its presence in the Indian Ocean amidst increasing Chinese forays in the maritime space."The conclusion of the India-Singapore Bilateral Agreement for Navy Cooperation…will lead to increased cooperation in maritime security, joint exercises, temporary deployments from each other's naval facilities and mutual logistics support," India's Defence Ministry said in a statement.
In a joint press conference after their meeting, the ministers expressed their commitment to bolstering India-Singapore defence partnership. "India and Singapore remain strongly committed to tackle the transnational security threats," Ms Sitharaman said. "I not only support but I would also encourage the Indian Navy to visit the Changi naval base more often. The bilateral naval agreement has provision for mutual logistical support," Dr. Ng said.
Strategic Connect
Singapore has been India's major partner in ASEAN and has played an important role in spurring India's engagement with Southeast Asia. Apart from the naval agreement, the two sides signed the revised Defence Cooperation Agreement relationship between the Singapore Armed Forces and the Indian Armed Forces. There was also a renewal of the air force agreement earlier this year.The talks included discussions on Singapore's proposal to expand the Code of Unplanned Encounters at Sea to all ADMM (ASEAN Defence Ministers' Meeting)-Plus countries and to put in place the procedures of air encounters between military aircrafts.
Access to port facilities was an important aspect of the discussions. Refuelling and berthing facilities at the Singapore port will be critical in expanding the reach of Indian warships and aircraft east of the Malacca Strait, a crucial point of China's energy supplies. The Indian Navy has a permanent deployment of a frontline warship at the mouth of the Malacca strait to keep an eye on the increasing Chinese movements in the Indian Ocean as part of its mission-based deployment.
India's assistance to Singapore will include live firing drills in the Andaman Sea. The two countries are also expected to renew the bilateral army pact, under which facilities are provided to Singapore for exercises of mechanized forces at Babina and artillery at Deolali ranges, and the when it ends next year.These agreements will deepen strategic content of India's Act East Policy, which seeks to enhance India's economic and defence cooperation with ASEAN countries like Singapore, Vietnam, Myanmar, Malaysia and Indonesia to curtail Chinese influence.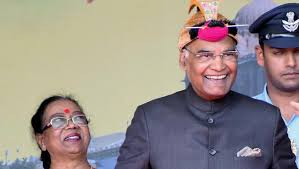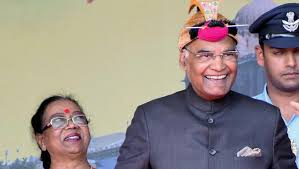 Ahead of the visit by China's Foreign Minister Wang Yi to India, China has renewed its claims over Arunachal Pradesh. The visits by Indian leaders to Arunachal Pradesh, which is claimed in entirety by Beijing, has consistently elicited protests from China, and this time it was not different when President Ram Nath Kovind visited India's easternmost state."Before the border issue is resolved, both sides should jointly work hard to protect the peace and tranquillity of the border region. China resolutely opposes Indian leaders' activities in disputed regions", Chinese Foreign Ministry spokesperson Lu Kang said in a media briefing. Calling it a "crucial moment" in India-China relations, Beijing has warned the Indian establishment against any attempt to complicate matters. "The Chinese government (has) never acknowledged the so-called Arunachal Pradesh", Mr Lu added.
In his speech to the state assembly, President Kovind glowingly described Arunachal as "the jewel in the crown" of India's northeast and outlined the initiatives undertaken by the government to improve connectivity by advancing the state's transport links. India has consistently maintained that Arunachal Pradesh is an integral part of India and therefore it sees the visits by Indian leaders as perfectly legitimate.In April this year China expressed unhappiness with India's decision to host Tibetan spiritual leader Dalai Lama in the region. More recently, while there was a friendly exchange between India's Defence Minister Nirmala Sitharaman and Chinese soldiers during her visit to Sikkim, China was quick to object to her visit to the border district of Anjaw in Arunachal Pradesh.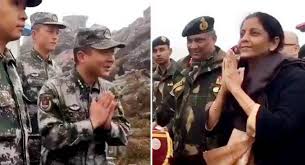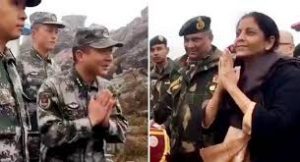 Namaste, Ni Hao! It's time for bonhomie and friendly gestures between India and China, who are trying to put the bitterness of the Doklam standoff behind. India's Defence Minister Nirmala Sitharaman's visit to Nathu La in Sikkim and her informal interaction with the Chinese troops across the border has been hailed in China as a warming signal for better India-China relations.
A video clip showing Ms. Sitharaman teaching the meaning of 'namaste' to the People's Liberation Army soldiers has gone viral with several Chinese media groups sharing it widely as a positive gesture from the Indian side. "Do you know what 'Namaste' means?," Mrs Sitharaman is seen asking in the clip to which one Chinese soldier responds saying: "Namaste means nice to meet you" before greeting her with a "Ni hao" in Chinese. Soon after the exchange of greetings, Ms. Sitharaman tweeted saying, "Acknowledged a row of Chinese soldiers from across the fence who were taking pictures on my reaching Nathu La." Nathu La border post is around 30 km from Doklam where the two countries were engaged in a prolonged 73-day standoff.
Speaking to The Global Times, Qian Feng, an expert at the Chinese Association for South Asian Studies, said, "It sent a goodwill signal towards mending bilateral ties and putting relations back on track toward normality." Many analysts and social media users from both the countries have hailed the exchange as a goodwill gesture citing the need for rebuilding trust, especially at a time when there has been a lot of bad blood between the two countries following the Doklam standoff.
In an editorial in The Global Times, the mouthpiece of the CPC, welcomed Ms Sitharaman's "friendly interactions with Chinese soldiers," but at the same time termed her border inspection as an "aggressive posture" and cautioned New Delhi to exercise restraint."New Delhi needs to exercise restraint. It can only strengthen military infrastructure on its own soil when and where international law permits. It should consider deepening strategic security communication with China, which can enhance mutual trust between China and India," said the Global Times in an editorial entitled, 'Sitharaman greeting sends warm signal'.
Sitharaman's traditional Namaste greeting to the Chinese soldiers sent another signal to the public that might not erase the first impression but may at least balance things out," Global Times wrote in an editorial titled."This is a realistic and responsible attitude for the country and its people. Both before and after the Dokalam crisis, the Chinese government hopes for border peace with the broad support of the Chinese people. But Indian society's understanding of their country's border policy seems ambiguous and chaotic. Some Indians believe New Delhi will take tough measures to crush Beijing's will," the influential Chinese publication said.
The hawkish publication also cautioned India against forming alliances with US and Japan. "Indians must overcome the paranoia that suggests their country is strategically thwarted and threatened by Beijing. New Delhi also needs to give up its pursuit of Washington and Tokyo support to deploy as a bargaining chip against Beijing… Confrontation with China will directly limit its international strategic space."
In an interview to Anchal Anand of News X in Xiamen on the sidelines of the 9th BRICS summit, Manish Chand, Editor-in-Chief of India and World and India Writes Network, decodes the Xiamen Declaration at the BRICS summit, which for the first time targets terror outfits in Pakistan. He unravels reasons behind China's move to join India and other BRICS countries in backing the strongest-ever BRICS joint declaration on terrorism. Mapping the way ahead for India-China relations, post-Doklam, Chand argues that the Modi-Xi meeting in Xiamen could be a new beginning in fraught relations between the two Asian giants.
Q: Do you perceive of it as a major policy shift when it comes to China?
MC: Definitely. It sets a policy shift and it marks the end of ambivalence and what one may also see as some sort of duplicity which was practiced by China vis-à-vis Pakistan. It is kind of turnaround and a calculated turnaround because what we are seeing significantly is that the summit is happening days after India and China managed to resolve the Doklam crisis. So, it also indicates that they are looking ahead and for that to tackle collectively, jointly the scourge of terrorism, to avoid dissonance on terrorism is absolutely critical.
So what has happened here in Xiamen is a major triumph of Indian diplomacy, because by far it is the strongest BRICS statement on terrorism. For the first time it mentions the three four virulently anti-India terror outfits who are unleashing terror and most importantly on the Chinese soil. We have got to see this in a context. Look at last year's Goa summit, for example, where Prime Minister Narendra Modi launched a blistering attack on Pakistan in his opening address where he branded Pakistan as the mother-ship of terrorism and Indian diplomats and negotiators tried very hard to get the names of these terror outfits inside the joint statement but they could not succeed because the context was different and China was obviously opposed to it.
Q: Could you pinpoint for our audience that what really changed? Perhaps China doesn't want to be seen whether North Korea or Pakistan to be seen as standing with all the bad boys of the world.
MC: It is really hard to pinpoint but one can only speculate. Clearly what it suggests or indicates that there is clearly a rethink by China on the issue of terrorism per se and this ambivalence that I spoke to you about of distinguishing between the so called good and bad terrorist or your terrorist and my terrorist, I think there is a realization on the part of the Chinese leadership that that approach may come back to haunt them.
Q: Do you call it a course correction?
MC: It is a course correction of sorts hopefully because in diplomacy sometimes you can be consistently inconsistent. But we hope that now this kind of robust BRICS solidarity on the issue of counter-terrorism and specifically not making those discriminations which mark the approach earlier is a very big movement forward. And we hope that this spirit remains. Looking ahead my interpretation would be that it indicates some sort of broader India- China understanding post Doklam that we got to enhance our areas of convergence and think anew. So, possibly, it is the beginning of a new India-China connect.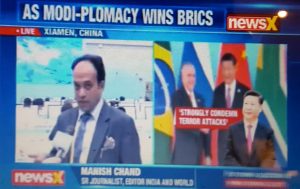 Q: Would you see, considering the fact that tomorrow there may be a bilateral between Prime Minister Modi and Xi Jinping, this understanding actually translating into India picking up the issue of Maulana Masood Azhar being declared as global terrorist at UN by the Indian PM?
MC: Honestly we will keep the pressure on China. India's point, all throughout, has been that lets abandon this segmented approach to terrorism. That is our larger principle position and that will continue to press. But looking ahead to the Modi-Xi meeting I think it will probably be a big picture discussion because as you know India-China relationship underwent severe stress in the last few weeks. 72 days of deadlock and a very belligerent posturing and rhetoric that could have easily escalated into a full blown military conflict. So, I think having resolved this and the point that needs to be emphasized here is the role of the BRICS as a stabilizing factor in India-China relations.
Q: So you would say contentious issues perhaps might just stay and it is going to be more of optics and a forward looking kind of a bilateral discussion?
MC: I think it'll be more than just optics because if you only do optics and then again revert back to this conflict-ridden scenario, that doesn't serve either of these countries.
Q: And last week they were saying that Pakistan and terrorism should not be raised as issues here and BRICS summit is not the appropriate place to do that…
MC: I think we should distinguish between posturing and the real game that is unfolding behind the scene, the real thinking. The thinking to my understanding is that Chinese leadership realises that India stood resolutely firm in its position on Doklam. It was a mind-game of sorts and we refused to blink. So we earned the respect of not just the world but also of the Chinese as well. When you talk about the future of the India- China relation it has to proceed from this understanding and you know significantly Xi Jinping, in one of his BRICS speeches has also said that there will be differences and you we have been talking about the understanding that difference should not turn into disputes.
Looking ahead, I think what we are going to be seeing tomorrow with all that has happened in the past few weeks is a very forward looking future discussion. And what I hear from the sources that possibly there is a larger decision taken by both India and China. The top leadership is to put Doklam behind and start afresh and what we saw on the terrorism front today is an indication of the fact that lets put some of these issues behind and think ahead, widen the areas of convergence, acknowledge that these differences are not going to be resolved overnight but do not allow that to escalate. It will be manageable.
Q: Do you see also in times to come that obviously Chinese position might just become more illogical an untenable that Jaish-e-Mohammad is already declared to be a global terrorist organisation whereas China has been again raising technical holds vis-à-vis Maulana Masood Azhar. So do we see any movement on the ground immediately after this?
MC: You know, for example, nobody expected this thing happening in the Xiamen summit so diplomacy is full of surprises. What we have managed to achieve in the BRICS statement is to get the references to these groups. What it means that somehow it is an acknowledgment by China. We can use that as a kind of a negotiating point that, look you agree to this in Xiamen in BRICS and it is contrary to your stand in the United Nations. So, it gives us that additional leverage.
Q: Would you see this in terms of China trying to fill a global vacuum, trying to become a global leader because if you look at it economically America's policy has been more inward looking after Brexit and you can't achieve that role if you don't stand up, if you don't have a principle stand vis-à-vis terrorism.
MC: Absolutely. This is an important factor that went into Chinese calculation that we have to resolve Doklam because otherwise it would have badly dented China's image of itself as an emerging superpower of sorts. Xi Jinping has spoken about the great Chinese dream and China's ambition of being a responsible stake holder. So, if you continue with this duplicity then it is going to come back and haunt you which is what the Americans have discovered. For far too long they were the hegemon and pretended like one. And as you know, what happened in the Middle East and elsewhere, it has all come back to bite them. China is trying to be a new power. It is trying to proclaim the mantle of the new wave of globalization. China has big dreams and ambitions so it cannot afford to act petty and low and continue with these double standards and equivocation. They need to stop the equivocation if they want to raise their stature.
Q: Can we pin our hopes that tomorrow immediately after the bilateral there is no U-turn? Because the Chinese Foreign Ministry spokesperson takes a U-turn vis-à-vis anything and sides with their all-weather ally Pakistan.
A: Let me strike a note of caution because we are reading too much here. It does not mean anything about China-Pakistan axis. They are doing one of the most ambitious connectivity projects called China Pakistan Economic Corridor and as you know a part of it goes through disputed Jammu and Kashmir. So, those are the big issues. There is no rethink on the China-Pakistan all-weather friendship. I think it would be too ambitious for us to assume that that will happen. But on terrorism there is a rethink. Now, if you say that tomorrow China turns around and says that we did not mean Pakistan then it doesn't mean anything because sometimes you say things for domestic consumption but when you do real diplomacy, you got to lay down some rules.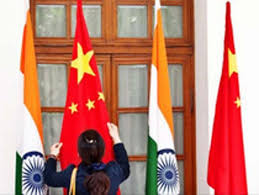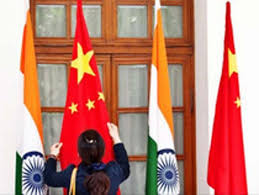 The last time Prime Minister Modi and President Xi met in Astana in June 2017, the outcome was a milestone in the relationship. Will their next meeting at the Xiamen BRICS Summit lead to what Foreign Secretary Jaishankar has described as a new equilibrium?
At Astana, India and China recognized that "their relations are a factor of stability" in a "multipolar world, and at a time of global instability" and that "differences should not become disputes". China's official news agency Xinhua later called for the ancient civilizations to become "cooperative partners", "develop complementary industries and cooperate in protecting common security" for "achieving the dream of an Asian century."
China's keenness for a partnership with India is because demography is its Achilles heel, with the Chinese population aging at an unprecedented pace. China's working age population peaked in 2012, the median age will rise rather abruptly to 49 by 2050, and with national debt at 300 percent of GDP it has only a small window to achieve the 'national dream' of becoming rich before getting old. In contrast, India's working age population will increase till 2050, enabling higher growth rates and eventually overtaking the United States in terms of GDP. For India, the fundamental question is that it cannot be a USD 10 trillion economy without integration into the growing Asian market and benefiting from Chinese investment, given the rise of protectionism in the United States. India-China strategic convergence will need recognition of the Asian century composed of two nodes.
Because of the symbiotic relation between these economic trends, think tanks in China recognize India's role in making timely success of infrastructure based connectivity by enabling the digital economy. The digital economy is expected to be the biggest generator of new market growth opportunities and jobs in the next 30 to 40 years. Knowledge-intensive flows, rather than labour, capital, or resource-intensive flows, already account for half of global flows and are gaining further share. Building on "Digital India" could add a value of about a trillion dollars over the next five years in India, and the experience of operating in a linguistically and culturally diverse environment will be indispensable as global growth shifts to Asian cities.
Global trends support a partnership between India and China in shaping the rules of the emerging Asia-centred order, and such a framework is also best suited for settling the boundary question. The Indian Ocean Naval symposium, promoted by India since 2008, is an example of the two navies continuing to work together on maritime security in the Indian Ocean despite the stand-off between the armies in Doklam.
China is India's largest trading partner and its investment is deepening in India. In partnership, the combined GDP of the Asian giants will soon surpass that of the G7, thus providing the capacity to set the new rules in Asia. In 2050 there will be a global economic triumvirate of the United States, China and India. A re-emerging Asia gains more from a common market, while a declining West benefits from a security focused balance–of-power rivalry in the Asian continent.
Should the re-emergence of China and India be seen through the prism of the rise of the West 200 years ago or a reversal of their cooperative coexistence for 2000 years?
Until the mid-18th century, textiles from India were the largest globally traded commodity, with Chinese silk and porcelain as the most important luxury items. Both only wanted silver in exchange. Contrary to their peaceful co-existence with two-thirds of global wealth in these civilizational states, the West grew rich through monopoly trade, expropriation, war and even military-driven innovation.
President Obama kept out of the China-led Asia Infrastructure Investment Bank in 2016. But President Trump sent a high-level delegation to China's Belt and Road Initiative (BRI) Forum in May 2017, recognizing that new institutions will not be led by the United States. Trump has also withdrawn from the Trans-Pacific Partnership, and his trade policy statement makes clear that "these (new) goals can be best accomplished by focusing on bilateral negotiations rather than multilateral negotiations". As a reaction, the European Union and Japan have announced a free-trade pact without the United States. The China-India backed Regional Comprehensive Economic Partnership, the largest free trade agreement in the world, also excludes the United States. The European Union, Russia, Iran, Australia and Japan back the BRI seeking access to markets, and Japan is mending ties with China. There is widespread challenge to the primacy of the United States and acceptance of China as a global power.
In a multipolar world, countries are gaining in influence more because of the strength of their economy than the might of their military. Emerging economies, both as exporters and importers, now account for 40 per cent of goods flows, with 60 per cent of these going to other emerging economies, most of them in Asia. One-third of the world's economic activity involves cross-border flows. Countries that are more connected within global networks can expect to increase GDP growth from flows up to 40 per cent more than the least connected countries, and that is why, despite misgivings, BRI-enabled connectivity has been widely welcomed in Asia and in the West.
India has to find creative ways of raising its concerns on the BRI, rather than staying away. For example, the United States Navy sails through the South China Sea as 'innocent passage' emphasizing freedom of navigation but skirting the issue of territorial claims. India could work with China to widen the scope of the Kashgar-Gwadar portion of BRI to Chabahar, 72 miles away, in Iran, recognizing the territorial dispute and skirting the issue of sovereignty. In light of China's keenness for partnership in the BRI, India should really 'Act East', not West, for linkages with projects in other South-East Asian countries and with India's connectivity initiatives in Africa.
The future will be extremely challenging for India, needing thought leadership in the new institutions and in the United Nations on revisiting sustainability for late developers, becoming a global knowledge-biotech-cyber power with clear goals and opportunities for business and developing a better understanding of China and Asia.
Courtesy:IDSA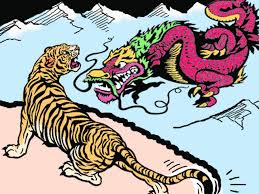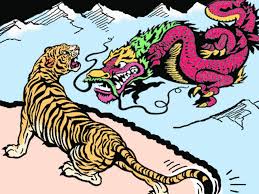 Amidst the standoff on Doklam, China has invoked Panchsheel by saying that India has trampled upon the five principles of peaceful co-existence. In contrast to previous confrontations along the Himalayan border, this time around Beijing appears to have become frustrated with New Delhi's proactive approach. With minimal words in Delhi and maximum deeds at the tri-junction, the elephant has provoked the dragon. The annoyance is evident in Beijing's invocation of the antiquated Panchsheel principles as the basic mode of engagement between the two countries. In a press conference, Chinese Foreign Ministry Spokesperson Geng Shuang said, "it is known to all that in the 1950s, China, India, and Myanmar jointly initiated the Five Principles of Peaceful Coexistence of mutual respect for sovereignty and territorial integrity, mutual non-aggression, non-interference in each other's internal affairs, equality and mutual benefit, and peaceful co-existence… But the Indian side has violated the purposes and principles of the UN Charter and trampled on norms governing international relations, championed by India."1
The Panchsheel agreement or the Five Principles of Peaceful Co-existence was signed in April 1954 between India and China. The Five Principles are: mutual respect for sovereignty and territorial integrity, mutual non-aggression, non-interference in each other's internal affairs, equality and mutual benefit, and peaceful co-existence. Though the original agreement was on trans-border trade and cultural engagement between India and the Tibet region of China, it later expanded to cover the whole gamut of the bilateral relationship.2 As two republics born after the Second World War, Panchsheel was a sensible idea for India and China to disengage from each other's internal affairs and show the rest of the world their belief in unfettered national sovereignty. While India viewed the signing of the five principles and ceding of its extra-territorial rights over Tibet inherited from the British Raj as an opportunity to promulgate its anti-colonial posture, China saw in this expression of Asian solidarity a means to check the growing anti-communist sentiments in the West. By placing these strategic and geopolitical calculations above the principle of 'peaceful co-existence', soon both countries proved that, beyond diplomatic rhetoric, the five principles were immaterial. Beijing was in fact at the forefront of making Panchsheel inapplicable.
Within a few months of agreeing to the five principles, China made its first attempt to infringe upon it. The first notable incident in this regard was its territorial claim over Bara Hoti, which has traditionally been Indian Territory.3 The traditional boundary between India and China in Barahoti (Wu-Je in Chinese) is Tunjun La Pass; the territory situated to the north of the Pass is Chinese and that to the south of it is Indian. It is significant to note that whenever India expressed readiness to recognize the disputed character of the boundary and suggested a resolution through bilateral talks, China blocked such efforts. For instance, during the discussions on Barahoti at Delhi in April 1958, India proposed that "the civil authorities of either country should not attempt to exercise jurisdiction over the Barahoti area until the dispute is finally settled."4 This was, however, rejected by China, which sent its officials to Barahoti on 29 June 1958. Moreover, in the course of the talks, India also proposed that neither side should send troops to the region in dispute. This time around, China accepted the Indian proposal in principle but violated it in practice by sending troops to the region after a mere two months.
Throughout the latter half of the 1950s, Chinese intrusions, claims over territory and construction of roads were continued and supported by the forward movement of the People's Liberation Army (PLA). Some of the instances in this regard were: incursions in the Indian section of Aksai Chin and construction of a road to connect Sinkiang with Tibet, followed by intrusions in Damzan, Nilang, Shipki, Khurnak, Migyitun, Spanggur, and Khinzemane.5 It is a known fact that the entire border between the two Asian giants has not been demarcated formally. So one can support the Chinese claim by denying Indian rights over these territories. However, there are two things which support the Indian case. First, the traditional practice regarding India-China boundary where delimitation has not been done or has proved impossible due to the physical nature of the terrain was to follow either the treaties they had inherited or the customs. Second, China never protested India's exercise of jurisdiction up to the customary boundary in the early years of Independence.6Moreover, when Premier Chou Enlai raised the issue of the eastern border in his talk with Nehru in 1956, he did not mention the dispute over the Western boundary with India.
From 1958 onwards, Chinese territorial claims become more assertive. The military attacks in Longju and Kangla Pass in 1959 and the killing of Indian frontier guards were some of the instances in this regard. These calculated and aggressive moves also exposed the element of hypocrisy in Beijing's interaction with New Delhi. The initiation of the 1962 War was indeed a violation of the principles of peaceful co-existence. Since, however, discussing principles and norms in the context of war may not be inappropriate, probing the peace efforts after the war, in particular the Colombo Peace Proposals, would prove more convincing to explain Chinese deception.
The Colombo Proposals were the result of the Colombo Conference of six non-aligned countries held on 10-12 December 1962 to discuss the India-China border dispute. The plan put forward a few directions which could consolidate the ceasefire and facilitate further negotiation between the two countries. While India agreed to the principles in toto, China showed an inconsistent and contradictory attitude by agreeing to them in principle but with many reservations. Thus, on January 6, 1963, China gave a memorandum to Sri Lankan Prime Minister Bandaranaike accepting the Colombo proposals. However, two days later, it sent a letter with many reservations, which in effect amounted to a rejection of the proposals. The crux of China's reservations centred on 'arbitration and adjudication', which were not at all a concern for the Colombo countries and not a part of their proposals.7 The conference only talked about consolidating the ceasefire and proceeding with negotiations. China's dismissal of the proposals of the Afro-Asian countries exposed its deceitful approach towards peaceful resolution of conflicts, the central pillar of Panchsheel.
These developments in the first decade of Panchsheel determined its future as well. Since then, India-China relations have been driven purely by strategic and geopolitical calculations rather than by faith in peaceful co-existence. It is true that for the last five decades the two countries have not fought any war. This absence of war is primarily an outcome of the evaluation of the high price of war, not their love for peace. Recurring border standoffs and sabre-rattling show the incapacitated status of the principle of peaceful co-existence. This failure of Panchsheel in practice was primarily because of China's hypocrisy towards it.
Here it is significant to note that India's approach towards Panchsheel was not deceitful in any way in the initial years, with Prime Minister Nehru attempting to translate the five principles into reality. This was evident both in Nehru's words and deeds. When proceedings in Parliament became stormy in the latter half of the 1950s because of the perception of Nehru's negligence of developments along the China border, he emphasized that peace is the only way to engage with China. Letters and notes exchanged between the two governments in 1959 regarding the border disputes reveals Nehru's preference for peaceful co-existence. For instance, on 10 September 1959, India proposed the immediate withdrawal of Indian and Chinese forces 40 km from the so-called McMahon Line in the east, and from the line up to which each country exercised actual control in the west.8
Given all this, before selectively invoking historical contexts and postulates, Chinese officials should ask themselves "do we have the right to say this." In the context of the Doklam standoff, peace is undoubtedly the best way to resolve the conflict. However, its application should not be selective and devious.
Courtesy:IDSA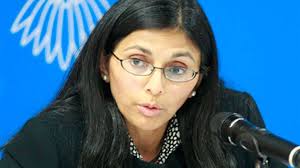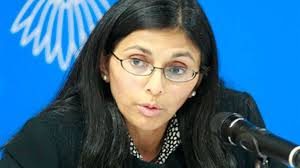 "China, I think, needs to acknowledge the fact that there is growing strategic and security capability across Asia, and certainly India is a force to be reckoned with."
— Former US Assistant Secretary of State for South and Central Asia, Nisha Desai Biswal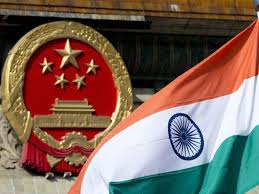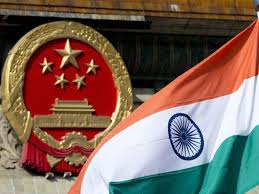 Amid deepening impasse with China on the Doklam standoff, India has decided on a calibrated strategy to explore all diplomatic options to defuse tensions with Asia's most powerful economy and a rising power.
The government and opposition parties spoke in one voice on pursuing the diplomatic course to deescalate tensions and underlined the need for national unity to deal with an increasingly assertive China.
At a meeting hosted by Home Minister Rajnath Singh at his residence in New Delhi on July 14, the government briefed opposition leaders on its decision to send troops to stall the building of a strategic road through the Doklam plateau by Chinese troops in the Bhutanese territory and its options in dealing with China.
In a striking show of national unity, major opposition leaders like Samajwadi Party patriarch Mulayam Yadav and NCP chief Sharad Pawar, both former defence ministers, backed the government's position and strategy in dealing with China.
External Affairs Minister Sushma Swaraj and Foreign Secretary S. Jaishankar briefed the opposition leaders and underlined that the government was acting with restraint in the face of provocative actions by China.
The relations between India and China plummeted to a new low after Indian troops intervened to halt the construction of a sensitive road in the Bhutanese territory by PLA troops nearly a month ago, which is seen by both India and Bhutan as an attempt by China to alter the status quo in the disputed territory.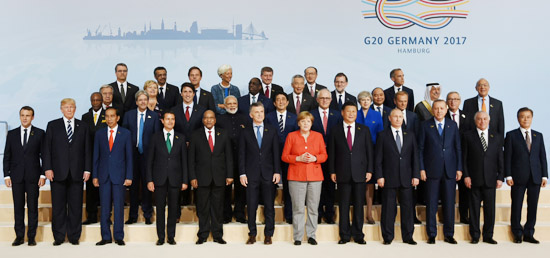 HAMBURG:  Ahead of the BRICS summit in China, India's Prime Minister Narendra Modi underlined that the BRICS grouping should play a pivotal role in combating terrorism, addressing climate change and take the lead in fuelling global economic growth.
Mr Modi was speaking at the meeting of  the  leaders of the five BRICS countries on the sidelines of G20 Summit in Hamburg, Germany. China will host  the  9th BRICS Summit in September in Xiamen.
In his intervention, Mr Modi underscored that the BRICS grouping has been a strong voice and needs to show leadership on terrorism and global economy. He added that G20 should collectively oppose terrorism financing, franchises, safe havens, support and sponsors.
Mr Modi's remarks on terror found support and endorsement from China's President Xi Jinping, a sign from Beijing that despite aggravating border tensions, the accent should be on normalising bilateral relations.
President Xi appreciated India's strong resolve against terrorism and lauded the renewed momentum imparted to the BRICS under India's presidency. Mr Xi also expreesed his admiration for India's soical and economic success and wished India even greater success.
After the BRICS meeting, Mr Modi and Mr Xi had a pull-aside conversation in which they discussed a range of issues, including the prolonged border standoff at the India-China-Bhutan trijunction, which has been marked by fierce rheotorical duelling by the two Asian giants.
The Modi-Xi meeting in Hamburg, marked by warmth and  cordiality, suggests that the two leaders are looking to defuse tensions and steer the troubled relationship onto a positive trajectory.
In his remarks,  Mr Modi also advocated collective voice against the practices of protectionism, especially in the spheres of trade and movement of knowledge and professionals.
The Indian leader  reiterated India's commitment to implementing Paris Agreement in letter and spirit and described its implementation globally as essential to fighting climate change.  He called for expeditious action to establish BRICS rating agency and stated that cooperation on development of Africa should be a priority.