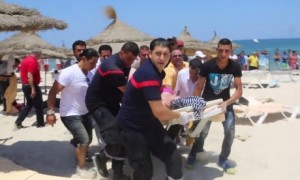 A string of terror attacks struck people in three countries straddling three continents on June 26, renewing the global focus on the spread of international terrorism fuelled by anarchic warped-up ideologies. In three disparate savage strikes in Tunisia, France and Kuwait, terrorists slaughtered 66 people. The sites chosen for assaults – an American-owned chemical plant in France, a mosque in Kuwait and a seaside resort in Tunisia – ensured that dozens of civilians were killed by suicide bombers and underlined the need for concreted global action to tackle this many-headed monster.
The three strikes took place almost at the same time, after the ISIL militants called for many such operations to be carried out during the holy month of Ramazan.
The Islamic State, also known as ISIL or ISIS which recently marked the first anniversary of the establishment of the so-called caliphate, has claimed responsibility for the attacks in Tunisia and Kuwait.
India condemns 'cowardly' attack
The terror attacks have elicited a chorus of global outrage. India promptly condemned the attacks. Prime Minister Narendra Modi termed it as a "cowardly" attack and said the progress of humanity lied in peace and brotherhood instead of hatred and mindless violence.
"My thoughts & prayers are with the families & loved ones of those who lost their lives in the cowardly attacks in France, Kuwait & Tunisia," he said on twitter.
How it Happened
In France, terrorists tried to blow up an American-owned industrial chemical plant, and left behind a decapitated corpse. No militant group has claimed the attack yet. However, it looks like to have been carried out by the ISIL Group, as a beheaded body, alongside flags containing Arabic inscriptions, was found at the site. A van driver was arrested for his links to the Islamic radicals.
In Tunisia, a gunman opened fire at a beach resort, killing 38 tourists, most of them British, until he was shot down by the security forces. Other victims included tourists from Belgium and Germany.
Within just 100 days, it was the second mass slaughter of tourists in a country that banks heavily on tourism. Earlier, the ISIL militants had carried out a gruesome attack on the Bardo Museum on March 18, leaving 24 dead, 20 of them foreign tourists.
In Kuwait, a suicide bomber blew himself up in a Shia mosque in the capital during Friday prayers, killing at least 35 people and wounding hundreds. The attack filled the mosque with smoke and left a trail of blood with people dead and wounded; all scattered on the carpet spread inside the mosque.
Meanwhile, in one of the worst massacre in Syria, ISIL militants have killed 164 civilians in a 24-hour rampage in the Kurdish town of Kobane.