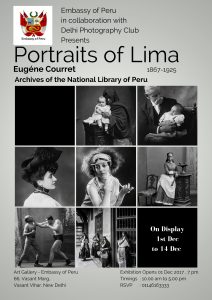 The Art Gallery of the Embassy of Peru in India recently came alive with frames capturing the happening life of 19th century Lima, the Peruvian capital. Organized jointly by the Embassy and the Delhi Photographic Club, the Photo exhibition titled "Retratos de Lima" (Portraits of Lima) showcases selections from the rich archives of Eugéne Courret, a French photographer who settled in the Latin American city in 1860 and documented the teeming life of a busy metropolis through his lens.
Riding on the windfall gains from the exploitation of guano (fertilizer), this coastal city was the hub of business travellers, artists, explorers and people from Europe who wanted to partake of the pleasures of life of "The Pearl of the Pacific", an honour bestowed on Lima by German naturalist Alexander Von Humboldt. Apart from the ordinary life and grandeur of the city, Courret also portrayed the tumultuous years of the Pacific War (1879-1883).
The 42 pictures that are displayed in the exhibition are from the Photographic Archive that belongs to the National Peruvian Library. The efforts of the Indo-Peruvian Friendship Association (INPEFA) and the Delhi Photography Club have been commendable in giving the public an access to these exceptional treasures and encouraging cultural interaction between the peoples of two nations.
While economic and business ties have been a major aspect of India-Peru relations, cultural bonding has also been significant. On the occasion of the 50th anniversary of the establishment of diplomatic relations between the two nations in 2013, a special postal stamp depicting Taj Mahal and Machu Picchu was issued along with an Exhibition of Documents and Photographs celebrating the cordial ties. Although the Indian diaspora is very small in Peru, in recent times this country been a destination of increasing number of India professionals with the entry of more Indian companies.
Under the Cultural Centre that was established in the Peruvian Embassy in New Delhi in May 2017, activities and workshops on dance, music, Rangoli, Ayurveda and yoga are organised on a regular basis.