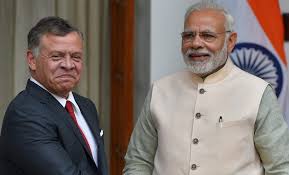 Imparting a new energy to New Delhi's Look West policy, India and Jordan have taken their security cooperation to a new level by signing a defence framework agreement and inked a clutch of agreements in diverse areas.As countries that face the common threat of terrorism and extremism, India and Jordan have also decided to bolster their cooperation in counter-terrorism and deradicalization.
The talks between Prime Minister Narendra Modi and Jordanian King Abdullah II in New Delhi on March 1 have deepened strategic dimension of the burgeoning India-Jordan ties. The major takeaway was the signing of a defence framework agreement that covers areas like training, defence industry, counter-terrorism, military studies, cyber security, military medical services and peace-keeping.
The focus on expanding defence and security ties was evident during the visit of King Abdullah II to the National Security Guards (NSG) headquarters in Manesar where the group's skills in the field of counter-terrorism were displayed. He was also given a presentation on India's indigenous ALH-Dhruv (Advanced Light Helicopters) at the Palam Technical Airport the day before.
Besides defence, the two sides signed agreements in the fields of health, manpower building, cultural exchange, fertilizer, customs, education and media. A visa waiver agreement was also inked. The healthcare agreement includes mutual cooperation in achieving Universal Health Coverage (UHC), advancing the services and IT in health, promoting research, developing the treatment facilities for TB, and regulation of pharmaceuticals and medical devices etc.
Through the fertilizer agreement, a production facility will be set up in Jordan for long-term rock phosphate and fertiliser supplies. Setting up of a Hindi language chair at the University of Jordan and a centre of excellence for providing training to around 3000 Jordanian IT professionals over a period of 5 years were also agreed upon.
Along with the exchange of agreements, India and Jordan reiterated their support for Palestine with Jordan emphasizing India's "very significant" role in West Asia. "We are also looking at closer security cooperation keeping in mind the tremendous experience which Jordan has in the region", said Mr T.S Tirumurti, Secretary (Economic Relations) in the Ministry of External Affairs.
Promoting moderate Islam
One of the key highlights of Jordan's monarch's visit was enhanced cooperation between India and Jordan in promoting moderate Islam and pluralism. This was exemplified at an inter-faith conference in Delhi, which was addressed by PM Modi and King Abdullah-II. "Terrorism has no faith or religion," this was the overarching message emanating from the conference, which was attended by eminent Muslim scholars and intellectuals.In his special address at a conference on "Islamic Heritage: Promoting Understanding and Moderation", Jordan's King Abdullah-II said: "Today's global war on terror is not between religions, it is the fight of moderates against extremism and extremist ideology."
Underlining pluralistic values of India, Mr Modi stressed that the fight against extremism and radicalisation was not against anyone any religion. "Indian democracy is a celebration of age-old pluralism. Every religion found life here, it grew here," he said.