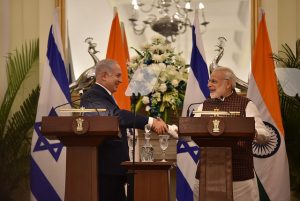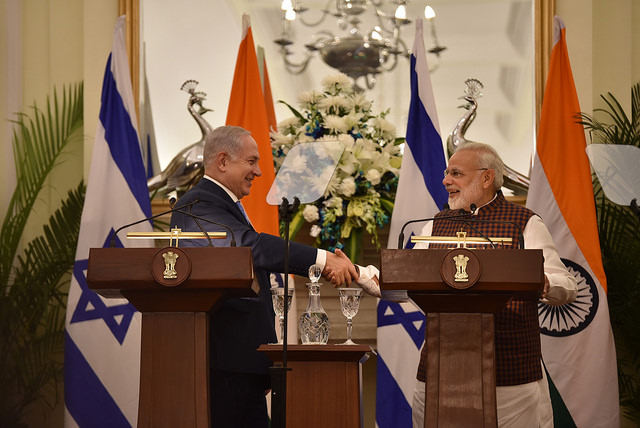 India-Israel relations moved onto a higher trajectory on a crisp wintry afternoon in Delhi as the two countries signed nine pacts in diverse areas and their leaders speaking in one voice about scaling this vital partnership to new heights.
Hailing it as a historic moment in the relationship between India and Israel, India's Prime Minister Narendra Modi and Israeli Prime Minister Benjamin Netanyahu renewed their shared commitment in taking their multi-faceted partnership to a wholly different level by fusing Israel's technological prowess and innovation with India's skills and ingenuity. Speaking at a joint press conference after the exchange of bilateral agreements on January 15, the two leaders talked about their camaraderie and the joint vision of a more robust cooperation in bringing the peoples of the two nations closer.
Personal chemistry
Addressing the Israeli Prime Minister as his "good friend," Mr Modi termed the visit as a "long anticipated moment" that is an appropriate climax to the 25th anniversary of bilateral ties between the two nations. He outlined three important areas of the relationship. Firstly, there is a need to strengthen existing collaborations in agriculture, science and technology and security. Pointing out that the visit of the Israeli leader coincides with the ongoing spring and harvest festivities all around the country, Mr Modi highlighted the prospects of scaling up the centres of cooperation in agriculture. In the area of defence, he urged Israeli defence companies to make use of the liberal FDI regime in India. Secondly, he expressed a strong desire to venture into the "less explored areas of cooperation" like cyber, aviation and cinema. Thirdly, he mentioned the need to create "a constituency of support beyond governments" by enabling the flow of ideas and peoples. He also announced the opening of an Indian cultural centre in Israel.
The famed personal chemistry between PM Modi and Mr Netanyahu was visible as both of them generously praised each other. Mr Modi asserted that both of them have the reputation of being impatient in getting results which drew a smile from the Israeli leader.
Modi a 'rock star'
Praising the Indian PM for revolutionizing and "catapulting the magnificent state into the future", Mr Netanyahu admitted that something different was happening now that has been quite unprecedented in the history of India-Israel relations. Calling PM Modi's visit to Israel last year as "ground-breaking", Mr Netanyahu added in a lighter vein: "I thought I was in a rock concert", given Mr Modi's popularity in Israel.
Expressing his gratitude to India for being the only country where for 2000 years the Jews have never faced anti-Semitism, Mr Netanyahu underscore what strongly bind India and Israel- an ancient past, a vibrant present and seizing together a promising future. Agreeing with Mr Modi on the need to expand the scope of cooperation to areas neglected so far, the Israeli prime minister laid a particular emphasis on revolutionizing agriculture. Acknowledging that as vibrant democracies India and Israel could reap "unprecedented benefits" through greater mutual cooperation, he nevertheless warned against the complacency of taking democracy for granted in a world suffering the menace of terrorism. Addressing PM Modi as "a trusted partner," Mr Netanyahu joked that he would be willing to do yoga anytime Mr Modi wanted. If it is a big stretch, he promised to give his best shot!