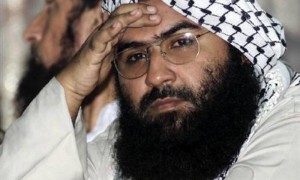 As the foreign secretaries of India and Pakistan met in the Indian capital to make yet another attempt to start comprehensive bilateral dialogue, China has asked New Delhi and Islamabad to establish direct communication to resolve differences on listing Jaish-e-Mohammad (JeM) Chief Masood Azhar on the UN terror roll amid India's decision to deny a visa to a Uighur leader, wanted by Beijing.
Responding to a question on India's talks with China following Beijing's decision to raise a "technical hold" on move by New Delhi for listing the JeM chief on the UN terror register, China's Foreign Ministry spokesperson, Hua Chunying said: "We encourage all parties related to the listing matter of Masood Azhar to have direct communication and work out a solution through serious consultations." Emphasising that China wanted to continue engagement on the subject, she added: "China is willing to continue with its communication with all the relevant parties." This signalled Beijing's intent to stay diplomatically engaged on this subject, and achieve results based on consensus.
According to the spokesperson, China advocated direct talks between New Delhi and Islamabad was anchored in the rules and procedure of the UN 1267 committee, where the Azhar issue had been raised. Ms Hua pointed out that the "committee encourages countries that ask for the listing and countries where individuals or entities covered in the listing come from or live in".
According to analysts, the citation on a provision of international law could help Beijing steer clear of a possible controversy in the future.