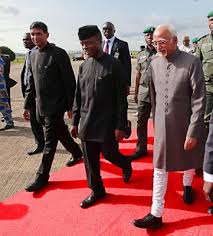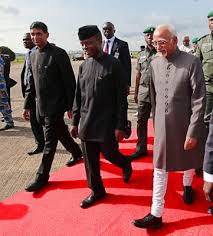 ABOARD AIR INDIA ONE/ABUJA: India is looking to step up its outreach to Organisation of Islamic Cooperation (OIC) countries to muster their support against Pakistan-sponsored terror, with Vice-President Hamid Ansari set to take up the issue with the leaders of Nigeria and Mali. However, even as India ratchets up its ongoing diplomatic campaign to isolate Pakistan in the wake of the Uri terror attack, Mr Ansari sent a subtle but strong message across by underlining that one should not exaggerate the significance of OIC.
Mr Ansari touched down in Abuja on September 26 on a three-day visit to Nigeria, Africa's largest economy and most populous country. Nigeria rolled out the red carpet to welcome Mr Ansari, with Nigeria's vice-president Yemi Osinbajo personally receiving him at the Abuja International Airport. Dancers dressed in colourful attire welcomed the Vice-President, the first high-level visit from India in the last nine years since then Prime Minister Manmohan Singh visited Nigeria in 2007.
Intensifying counter-terror cooperation will be a major priority for the vice-president during his talks in Abuja and Bamako. In both Nigeria and Mali, Mr Ansari will be highlighting the terror attack at the Army camp in Uri and seek their support in India's ongoing campaign to isolate Pakistan for its continued use of terrorism as an instrument of state policy.
"Terrorism is an international phenomenon and comes in different forms and shapes. It may be in one form in India and another in Nigeria or any other country. But wherever there is terrorism, social peace is disturbed. And this hampers social progress and development. So everyone has to fight terrorism," he said.
"The facts of the case are clear. Cross-border terrorism activities are encouraged by state agencies or state agencies- groups sponsored and that is detrimental to peace anywhere in the world," Mr Ansari in a veiled but obvious reference to Pakistan's suspected role in the terror attack in Uri in north Kashmir, which killed 18 Indian soldiers.
But in this process to isolate Pakistan, the influential 57-nation OIC remains a hindrance as it has consistently supported Pakistan on the Kashmir issue and routinely comes out with resolutions endorsing Islamabad's position.
"You talk to OIC members individually and they say they know about it (the issue)," he said in response to a question on whether he will take up the issue of Pakistan-sponsored terrorism with the two OIC states.
Rallying the support of the OIC is proving to be a major diplomatic challenge for India as the 57-nation grouping has been cleverly manipulated by Pakistan for years on the Kashmir issue. India is appalled that the OIC, instead of focusing on real issues concerning the member nations, has become a vehicle for anti-India propaganda for Pakistan, said official sources.
Mr Ansari subtly underscored India's exasperation with the OIC by downgrading its importance, saying it's just another multilateral club. "OIC is a strange kind of organisation where everything is done by consensus. You can't exaggerate its significance. It's another club," said Mr Ansari.
The OIC's posture on the Kashmir issue has been galling for India, with New Delhi sceptical of the grouping's provenance and politics. Home to the world's third largest Muslim population, India has legitimate claims to be a member of the OIC, but its bid to become a member of the OIC was scuttled under pressure from Pakistan.
Against this backdrop, Indian strategists are looking to bypass the OIC and concentrate on individual member states as part of its larger mission to mobilise the world against Pakistan-sponsored terror. This strategy has yielded partial results, with Saudi Arabia, UAE, Qatar and Bahrain condemning the Uri terror attack.