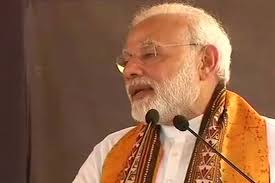 "He was a global citizen then, he is a global citizen now. In many countries that I have visited, I have seen people carrying his values with deep respect. In Afghanistan, everyone knows his story Kabuliwala," the Prime Minister said while speaking of Tagore.
The Prime Minister, Narendra Modi, today visited Santiniketan in West Bengal.
Prime Minister Modi received the Prime Minister of Bangladesh, Sheikh Hasina, at Santiniketan. Paying homage to Gurudev Rabindranath Tagore, the two leaders signed the visitors' book. The two leaders then attended the Convocation of the Visva Bharati University.