TGII India and World
India and World


(A Quarterly Magazine on Global Affairs)
India and World e-book: The China Challenge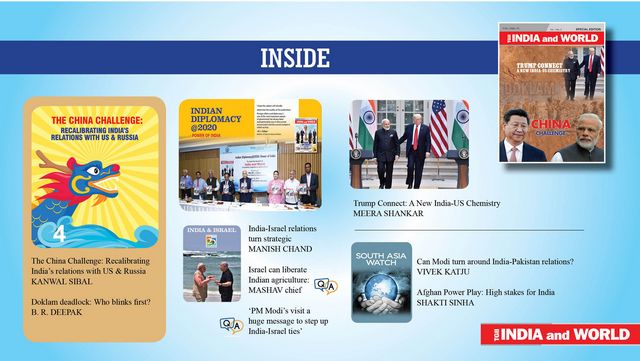 It's a testing time for diplomacy the world over. War-mongering, militant posturing and aggressive nationalism are rearing their ugly heads, posing a formidable challenge to voices of peace, reason and moderation. Against this backdrop, the latest edition of "India and World," analyses the Doklam standoff between India and China and its resolution through diplomacy and dialogue. In this edition of India and World, veteran analysts explore India's options on how to deal with an increasingly assertive power in India's neighbourhood.
Looking ahead, as India reconfigures its diplomatic options to grapple with a host of cross-cutting languages, New Delhi's widening network of external relationships will be crucial to protecting its strategic interests and fructifying its diplomatic aspirations….
Contributors/Contents: The contributors to this edition of the magazine include veteran ex-diplomats and academics, including Amb. Kanwal Sibal, Amb. Vivek Katju, Amb. Meera Shankar, Shakti Sinha and Prof. B.R. Deepak. This edition also has an in-depth feature on PM Modi's visit to Israel and an interview with H.E. Ambassador of Israel. We are also pleased to feature a special section on the panel discussion entitled "Indian Diploamcy@2020," which was held to mark the launch of "India and World" magazine. Minister of State for External Affairs M.J. Akbar had inaugurated the first edition of the magazine in May.
Read India & World for The Long View & Insights: Moving beyond incessant chatter of 24×7 news cycle, India and World has carved a niche in the crowded media landscape for its in-depth analysis and reports, authored by India's eminent foreign policy diplomats and experts…
About TGII India and World
"India and World," is a pioneering magazine focused on India's expanding global engagements and global affairs.  The new quarterly magazine seeks to present India's perspectives on major international issues and debates.
A must-read for anyone interested in global readers, TGII India and World is a unique magazine that blends high-quality content with attractive visual presentation. The articles included in the magazine are authored by well-known experts and prominent authors and are marked by authenticity, solid research and crisp style of writing.
The magazine is published by TGII Media Private Limited, a leading media, publishing, research, and consultancy company, which is better known for its portal India Writes Network (www.indiawrites.org).
For subscription, please write to editor@indiawrites.org, indiaandworld@hotmail.com;
Call + 91-9654980376
Note: the magazine is password protected. Please write to editor@indiawrites.org to gain access.