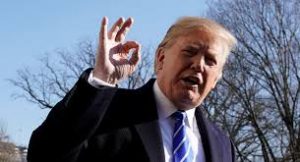 Seoul is proposing to hold high-level talks on January 9 with Pyongyang at the demilitarized zone between the two countries, South Korea's Unification Minister Cho Myoung-gyon said on Tuesday.The minister suggested holding talks at the Panmunjom village after Kim Jong Un expressed hopes that the country's athletes would take part in the upcoming Winter Olympic Games set to take place in South Korea.
Seoul Sincere in Seeking Constructive Talks With Pyongyang
"Trump's confrontational tactics could very well derail the chances for talks," historian and journalist Tim Shorrock said on Tuesday. "His tweet [on Tuesday] morning already expresses the US disinterest in North-South dialogue."Choi's comments offered genuine prospects for constructive talks that could defuse tensions and help steer the Korean peninsula away from the threat of a full-scale war that could rapidly go nuclear, Shorrock, an expert on Korea and Northeast Asia said.
Shorrock recalled that South Korea's new President Moon Jae-in has consistently championed detente with the North and was a consistent supporter of the "Sunshine" policy of systematically improving ties with the North pursued by some previous leaders in Seoul.
The mainstream US media had sought to distort statements coming out of Pyongyang to make it appear that North Korea's leaders were determined on nuclear confrontation and they had ignored Kim Jong Un's clear call to reopen serious constructive talks with the South, Shorrock pointed out.
"It is shameful that the US media has chosen to focus almost solely on Kim's statement that North Korea is now a nuclear power and completely missed his offer to begin a dialogue with South Korea," he said.
US policy on North Korea appeared to be driven by hard-line National Security Adviser H.R. McMaster, an active service US Army lieutenant general who has expressed his determination to prevent North Korea having any nuclear deterrent to protect itself, Shorrock noted."The guy to watch is H.R. McMaster, who seems to be running Trump's Korea policy. He has said that living with a nuclear North Korea is impossible and that deterrence is not an acceptable alternative. That kind of talk leaves only one choice for North Korea — surrender their weapons or war," he said.
Trump Strategy Offers No Hope of Ending Korea Nuclear Impasse
Independent Institute Center for Peace and Freedom Director Ivan Eland agreed that current US policy, spearheaded by Trump's threats, offered no hope of defusing the danger of nuclear conflict in northeast Asia and that they threatened to undermine any new dialogue between North and South Korea."If the two Koreas begin to have better relations, it will probably not be because of the blustering Trump," he said.
US Envoy to UN: No Recognition of Intra-Korean Talks Unless Nuclear Issue Solved
However, Eland expressed skepticism that Kim would be prepared to make even the minimal concessions that South Korea would require to allow the North to participate in the Winter Olympics."Unless Kim Jong Un backs away from his economic and military demands, North Korea's participation in the Olympics seems to be a long shot," he said.The United States will not recognize any possible talks between North Korea and South Korea unless the talks result in the ban of all nuclear weapons on the Korean Peninsula, US Ambassador to the United Nations Nikki Haley said on Tuesday."North Korea can talk to anyone they want, but the United States is not going to recognize it or acknowledge it until they agree to ban the nuclear weapons that they have," Haley told reporters.North Korean leader Kim Jong Un, center, speaks with Pak Pong Ju, right, and Hwang Pyong So, left, during the opening ceremony of the Ryomyong residential area, a collection of more than a dozen apartment buildings, on Thursday, April 13, 2017, in Pyongyang, North Korea.
Moreover, the United States will initiate additional measures against Pyongyang if the North Korea conducts another ballistic missile test, Haley warned during a press briefing on Tuesday."As we hear reports that North Korea might be preparing for another missile test, I hope that does not happen, but if it does we must bring even more measures to bear on the North Korean regime," Haley said.In addition, Washington remains skeptical about the prospects of any talks between North Korea and South Korea and is unlikely to play any role in bilateral dialogue between the two countries, US State Department spokesperson Heather Nauert said on the same day.
Courtesy: Sputnik News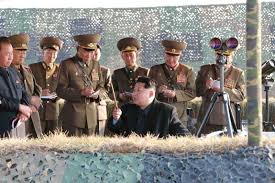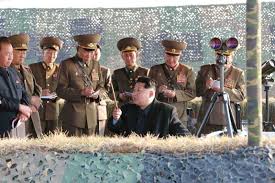 Following a closed-door briefing by South Korea's National Intelligence Service Monday, lawmakers revealed that North Korea may be preparing to for new missile tests by the end of the year.
Lawmakers later told reporters that the test would likely be conducted under the premise of launching a satellite to avoid triggering suspicion.
"The agency is closely following the developments because there is a possibility that North Korea could fire an array of ballistic missiles this year under the name of a satellite launch and peaceful development of space," Yi Wan-young, a member of Seoul's Parliament, said, "…but in fact [North Korea's goal is] to ratchet up its threats against the United States."
Though there hasn't been much of an indication that Pyongyang has been scheming for a test, Yonhap was informed by the spy agency that it all depends on Kim Jong-un's "determination." The agency later emphasized the next test "is possible any time."
According to the NIS, despite reports that the DPRK's Punggye-ri mountain test site is on the verge of collapsing, Pyongyang does have one of its test tunnels still available.
The last time North Korea conducted a test was September 3.In addition to briefing lawmakers on potential testing by its northern neighbor, officials also told politicians that the DPRK was undergoing an inspection of its members in the military's General Political Bureau for the first time in 20 years, Yonhap reported.
The inspection, led by Choe Ryong-hae, the head of North Korea's Organization and Guidance Department, saw the punishment of two top officials from the political unit: Hwang Pyong-so and Kim Won-hong, the political bureau's chief and deputy chief, respectively.
"Under Choe's command, the Organization and Guidance Department is undertaking an inspection of the military politburo for the first time in 20 years, taking issue with their impure attitude toward the party leadership," Kim Byung-kee, another lawmaker, told Reuters.
The South Korean agency did not indicate what type of punishment the two officials were subjected to.
Courtesy:Sputnik News