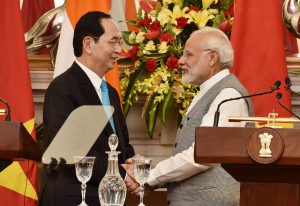 Amid the continuing volatility around South China Sea and China's growing clout, India and Vietnam have decided to deepen their coordination in the Indo-Pacific region and bolster their defence ties to shape an inclusive regional architecture.
Vietnamese President Tran Dai Quang's March 2-4 visit to India and his talks with Prime Minister Narendra Modi have expanded the scope of comprehensive strategic partnership between India and Vietnam, and underscored the pivotal role of India-Vietnam relations in the mutating regional landscape. Two visits by Vietnam's prime minister and president to India within weeks of each other have cemented Hanoi's role as a pivot in New Delhi's Act East policy.
Partnering in Indo-Pacific
The deepening Delhi-Hanoi strategic connect is being deeply resented by China, which suspects the two countries of teaming up to contain Beijing's expansionist ambitions in the region.
In a message aimed at China, India and Vietnam, in a joint statement after talks between their leaders, re-affirmed their support for freedom of navigation in the South China Sea, which is claimed in part and whole by Vietnam, China, the Philippines, Brunei, Malaysia, and Taiwan.
The leaders of India and Vietnam "reiterated the importance of achieving a peaceful and prosperous Indo-Pacific region where sovereignty and international law, freedom of navigation and overflight, sustainable development and a free, fair and open trade and investment system are respected," said the joint statement.
"They emphasised that India and Viet Nam play important roles in safeguarding and strengthening such an open, transparent, inclusive and rules-based regional architecture and in further strengthening of cooperation with ASEAN."
In a defining speech on India-Vietnam relations in Delhi, the Vietnamese president lauded the rise of India and pitched for a bigger role for India in the Indo-Asia-Pacific region.
"We are glad to note that in recent years India's rise has been closely linked with the prosperity and affluence of Asia as a whole. India's peaceful development has always worked as an important and constructive factor to regional peace and stability. With her vast potential and great contributions, India surely deserves a greater role in the Indo-Asia-Pacific region and the world," Vietnam's president said.
This joint messaging by India and Vietnam, coming close on the heels of the special India-ASEAN summit, is designed to caution Beijing against any potential adventurism to tinker with the rules-based architecture. In defiance of Chinese objections, President Tran Dai Quang also exhorted Indian businesses to expand their oil and gas exploration and exploitation activities on land and in the continental shelf and Exclusive Economic Zone (EEZ) of Viet Nam. He has urged them to file concrete proposals for the blocks offered by the Vietnamese side. Giving a new twist to energy cooperation, India and Vietnam have also agreed on collaboration in oil and gas exploration projects in third countries.
Enhancing defence ties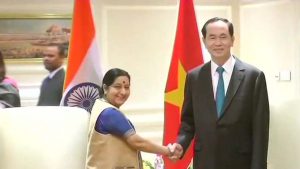 The India-Vietnam talks in Delhi have also imparted an added momentum to growing defence and maritime cooperation between the two countries. The two sides have agreed to expedite the implementation of the US$100 million Line of Credit for building of high-speed patrol boats for the Viet Nam Border Guards and to fast-track signing of a framework agreement on the US$ 500 million Line of Credit for defence industry. Looking ahead, one can expect more joint exercises, port calls of naval and Coast Guard ships, capacity building projects, procurement of equipment and transfer of technology.
New Horizons
Signalling new horizons in their growing relationship, India and Vietnam also signed three pacts in the fields of trade, agriculture and civil nuclear cooperation. The talks between the two leaders focussed on strengthening trade and investment partnership in sectors like oil and gas exploration, renewable energy, agriculture and textiles. Enhanced agricultural cooperation envisages technological transfer and the exchange of technical experts. Seeking to infuse new vitality in their economic ties, India and Vietnam have jointly set bilateral trade target of US$15 billion by 2020.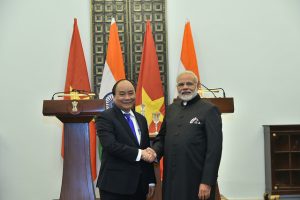 With defence cooperation becoming a key pillar of their partnership, India and Vietnam have decided to engage more effectively in maritime cooperation against the backdrop of growing Chinese assertion in the South China Sea. In a bilateral meeting on January 24, ahead of the India ASEAN Commemorative Summit, India's Prime Minister Narendra Modi and his Vietnamese counterpart Nguyen Xuan Phuc discussed ways to strengthen and expand their defence ties, with a special focus on the disputed waters of the South China Sea where China continue to construct artificial islands claiming historical rights.
In maintaining respect for international law, both sides agreed to uphold the 1982 United Nations Convention on the Law of the Sea and called for an effective and legally-binding Code of Conduct in the East Sea. India will be collaborating with Vietnam in oil and gas exploration in the latter's exclusive zone and continental shelf with a view to increase its presence in Southeast Asia. This energy cooperation is bound to elicit protests from China.
After the talks between their leaders, India and Vietnam signed a pact in the field of information and broadcasting and another agreement between ISRO and the National Remote Sensing Department of Vietnam for setting up a tracking and data reception station and data processing facility in Vietnam.
Besides defence, trade, capacity building, connectivity, technology transfer and people-to-people contacts also figured in the discussions.The two sides also focused on upscaling their economic ties to achieve the trade target of $15 billion by 2020. In this regard, they discussed enhancing airline and maritime connectivity and doing away with trade barriers. The Vietnamese prime minister sought India's assistance in areas like capacity-building and English language improvement, technology transfer and credit supply for national defence. India has assured its support through the Indian Technical and Economic Cooperation Programme, the Mekong–Ganga Cooperation, the Quick Impact Projects and long-term scholarships to Vietnamese students in prestigious Indian universities along with the establishment of vocational training centres in Vietnam.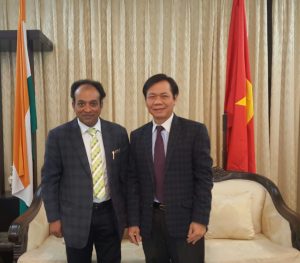 The Special Commemorative Summit is poised to open a new chapter in the history of India-ASEAN relations. With India and ASEAN emerging as the fastest growing region in the world, there are enormous possibilities for expanding and diversifying this mutually energising relationship across the spectrum.
In this interview with Manish Chand, Editor-in-Chief, India and World, Vietnam's Ambassador to India Ton Sinh Thanh argues that given India's close historical and cultural connections and its growing economy, India should play a bigger role in the extended Indo-Pacific region. To fructify this huge potential, enhancing connectivity will be a potential game-changer in taking India-ASEAN strategic partnership to new heights.
Amid the churn in the South China Sea, the Vietnamese envoy also pitches for a real and abiding enforceable code of conduct and argues that the sea of Southeast Asia is an open sea of all countries, including India. 
(Excerpts from the interview)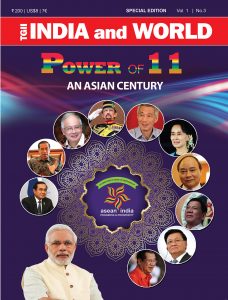 Q) India has invited the leaders of all 10 ASEAN countries as Guests of Honour at the January 26, 2018 Republic Day parade. How do you look at the significance of this unique gesture?
A) This is first time ever India has invited the leaders of all 10 ASEAN nations to the Republic Day parade and celebrations on 26 January as the Chief Guests. It is more special as the India–ASEAN Commemorative Summit 2018 will be held on January 25, with the participation of 10 heads of state or government of all ASEAN countries. This flagship event is considered a milestone in ASEAN–India relations of 25 years of Dialogue Partnership, 15 years of ASEAN-India summit-level and 5 years of Strategic Partnership between ASEAN and India.
The summit will open a new page in the relations between the grouping of 10 countries in the Southeast Asia and the leading power in South Asia. It shows that India highly values the partnership not only with each ASEAN country member but also the whole association. The presence of ASEAN leaders in India also showcases the growing importance of India to ASEAN.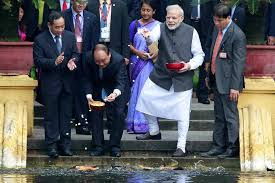 Q) What steps and initiatives are needed to deepen strategic partnership between India and ASEAN? 
A) Strengthening ASEAN-India partnership is a high priority for both sides. It is time for the two sides to realize the agreements signed, particular in connectivity and trade; to speed up the negotiations on RCEP and ratification of the investment liberalization agreement. More regular interactions at all levels between India and ASEAN country members, particularly among business community through trade fairs, B2B interactions, exchanges of tourists, technical cooperation schemes, skills and capacity building should be encouraged.
With the experience of 25 years, India and ASEAN have identified quite clearly what areas to focus on. We also understand what the challenges are. Connectivity is a potential game-changer in bringing India and ASEAN closer. The projects to connect Northeast India to Myanmar and other Southeast Asian countries should be accelerated. There also need to be more air connectivity. There are direct flights between India and some Southeast Asian countries but not all like Vietnam.
The economic cooperation, too, has a lot of potential. India is now a big economy and a big market and Southeast Asian countries are also emerging as major economic centres. Together we are the fastest growing region in the world. This presents enormous possibilities in terms of trade, investment and tourism.
Q) Given the competing power games in the region, how do you look at India's role? Do you think India should play a bigger role in ASEAN? Do you see India as a balancing and stabilizing force in ASEAN and the extended East Asia region?
A) I agree that India should take a greater role in Indo–Pacific Region, including ASEAN region. In doing this, India has some advantages like close historical, cultural and religious connections and the geographical proximity. India shares maritime border and even land border with many ASEAN member countries. Moreover, the relationship between ASEAN and India has been always peaceful, warm and almost free from any problem. India is welcome to engage more actively in the region.
India has a proactive policy towards Southeast Asia and ever since Mr Modi came to power, the interaction has been much more dynamic and diverse, with more projects and initiatives. The role of India in Southeast Asia is important in terms of economic cooperation. Southeast Asian countries need to diversify this economic partnership without being too dependent on one or two partners. In terms of strategic balance, I think India is a strong power in the region.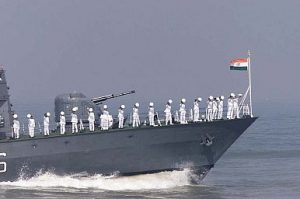 Q) How do you look at the prospects of India-Vietnam cooperation in safeguarding freedom of navigation and promoting maritime security in the region?
A) Vietnam and India have been working closely in the international forums and underscored the importance of maintaining peace, stability, maritime and aviation security, security and freedom of navigation and aviation in South China Sea. They both upheld the principle of settling the disputes in South China Sea through peaceful means in line with international law, including the UN Convention on the Law of the Sea (UNCLOS).
Q) How do you look at China's activities in South China Sea?
A) Everybody knows what is still going on there. That is why it is imperative to have a real and abiding and enforceable code of conduct.  At the same time, the sea of Southeast Asia is an open sea of all countries, including India.  They should play a constructive role to maintain peace, stability, security, safety of navigation and aviation in the region.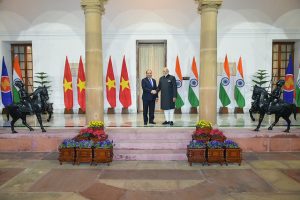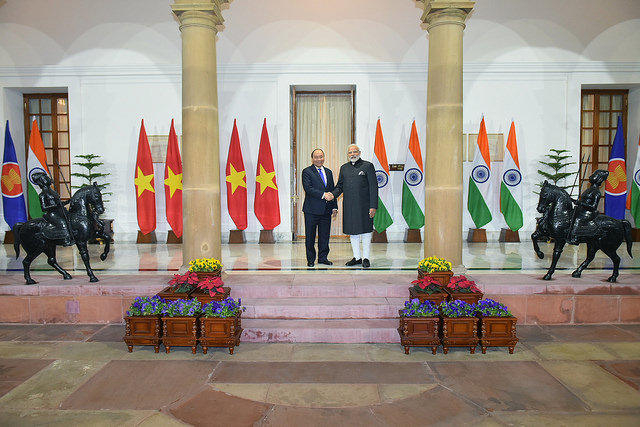 Q) PM Modi's historic visit to Vietnam in September 2016 laid out an ambitious multi-faceted agenda to transform India-Vietnam relations. How do you see then progress in bilateral relations since PM Modi's visit and what's the way ahead for this crucial relationship?
A) The visit by PM Modi to Vietnam in September 2016 marked a significant turning point in India–Vietnam relations. During the visit, our strategic partnership was upgraded to the comprehensive strategic partnership. So far, the two sides have focused on implementing the agreements signed and make progressive strides in trade and defense cooperation. The two countries enjoy a very good political relationship and share views on almost all multilateral issues. The credit lines that India provides Vietnam are being actively implemented by two sides.
I believe that the forthcoming visit to India by our Prime Minister Nguyen Xuan Phuc to attend the India–ASEAN summit 2018 and to be a Chief Guest at Republic Day ceremony as well as the upcoming state visit to India by our President Tran Dai Quang will further consolidate our strategic partnership in a more comprehensive and effective manner.
(To read the full interview, subscribe to India and World magazine. Write to editor@indiawrites.org, indiaandworld@hotmail.com)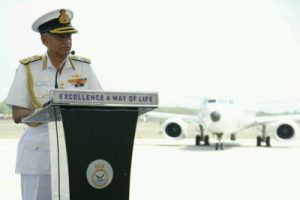 India's Navy Chief Admiral Sunil Lanba is on a five-day visit to Vietnam with an aim to step up defence and security cooperation with the South Asian nation which has emerged as a pivot of India's Act East policy.
Given the fast changing geo-strategic dynamics in the Asia-Pacific region, marked by China's increased assertiveness in the region, the Navy Chief's visit is being watched closely in Beijing.
Given their geographic locations, both India and Vietnam rely heavily on the sea for security and economic activities. The naval forces of the two countries have been cooperating extensively in strengthening maritime security and operational aspects. India has been training Vietnamese sailors on Kilo-class submarines and has recently agreed to assist in the production of patrol boats. Admiral Lanba's visit is expected to further bolster the ties between the Indian Navy and the Vietnam People's Navy. A statement from the Indian Navy on the Naval Chief's visit said: "The visit aims to consolidate cooperation between the Armed Forces of India and Vietnam and also to explore new avenues of defence cooperation."
Growing Ties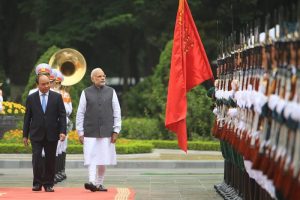 Prime Minister Narendra Modi's landmark visit to Hanoi in September 2016 was transformational and placed the expanding India-Vietnam ties on a new footing. During his visit, the Indian leader pledged $500 million in Lines of Credit for a host of development and defence-related projects in the Southeast Asian nation.
Since the establishment of diplomatic ties between the two countries in 1972, the ties between India and Vietnam have grown into a multifaceted partnership, but with a strong defence component. The two countries elevated their relationship to a strategic partnership in July 2007 during the then Vietnamese Prime Minister Nguyen Tan Dun's visit to New Delhi, which was upgraded to a comprehensive strategic partnership when Prime Minister Narendra Modi visited Hanoi in September 2016.
During his visit, Admiral Lanba will be engaging in talks with Vietnamese Prime Minister Nguyen Xuan Phuc, Defence Minister General Ngo Xuan Lich, Chief of General Staff and Vice Minister of National Defence Van Giang and the Commander-in-Chief of the Vietnam Navy, Rear Admiral Pham Hoai Nam. Admiral Lanba is also expected to visit the National Defence Academy of Vietnam to deliver a talk on the 'Importance of Maritime Power.'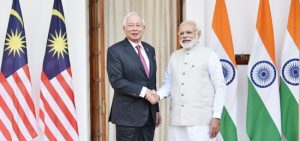 Ushering in a new phase in their reinvigorated partnership as key players in the emerging Asian order, India and Malaysia have signed seven agreements across the spectrum, and vowed to fight terror and radicalization of youth. In a message to China, the two countries decided to work proactively to promote freedom of navigation in the South China Sea, the site of territorial disputes between China and some Southeast Asian countries.
The agreements, some of which relate to recognition of each other's educational degrees and palm oil production research, and the unmistakable focus on security cooperation, which followed talks between India's Prime Minister Narendra Modi and visiting Malaysian Prime Minister Najib Razak in New Delhi on April 1, marked a qualitatively new high in relations between the two countries.
The most important among pacts inked in the presence of the two PMs was the proposed development of a urea and ammonia manufacturing plant in Malaysia and off-take of existing surplus urea from Malaysia to India. The project is expected to cost US$2 billion, with a capacity to produce 2.5 million tonnes per year and meant for catering to India's market.
Malaysian firm MIGHT Technology Nurturing also inked a deal with the Andhra Pradesh Economic Development Board (APEBD) on implementation of the fourth generation Technology Park in the southern Indian state's new capital Amravati, a project that is expected to attract private investments of US$100 million as well as spinning off the involvement of 75 small medium enterprises and generating an estimated 5,500 jobs. Both countries also signed a bilateral air services agreement which would enhance air connectivity.
Uniting against terrorism, IS
Security and strategic partnership were in sharp focus as Mr Najib, who is on a six-day visit to India, and Mr Modi spoke to the media after their talks. The Malaysian leader said this partnership "will be very important for us to fight global terrorism, militancy, extremism, that includes fight against Islamic State." Mr Modi reciprocated by commending Mr Razak's "leadership in countering radicalization and terrorism," which he described "as an inspiration for the entire region." "I deeply appreciate our continuous cooperation with Malaysian government in our joint anti-terrorism efforts," he said.
"Malaysia and India will cooperate to fight the IS [Islamic State] and deal with radicalisation. We will also share our experience of de-radicalisation with India," said Mr Najib. "We plan to hold a major conference on de-radicalisation jointly in near future and we will provide our experience and with our partners to make sure Malaysia and other parts of the world will never be a place in which militancy and extremism will take root."
Batting for freedom of navigation
In a significant outcome, the Malaysian leader backed India's "greater role" in maritime security of Asia-Pacific region. For his part, Mr Modi said, "Prime Minister Najib and I are also conscious of our role and responsibility in promoting economic prosperity, freedom of navigation, and stability in the Asia-Pacific region, especially its Oceans." These remarks acquire an added resonance in view of China's assertive moves in the disputed resource-rich South China Sea.
A joint statement issued after talks between the two PMs asked all countries to respect the United Nations Convention on the Law of the Sea of 1982 in resolving maritime disputes, a clear hint at China.   "They urged all parties to resolve disputes through peaceful means without resorting to threat or use of force and exercise self-restraint in the conduct of activities, and avoid unilateral actions that raise tensions," the statement said. Less than a year ago, China had dismissed an order passed by the Hague-based international tribunal rejecting Beijing's claim over South China Sea.
Business Connect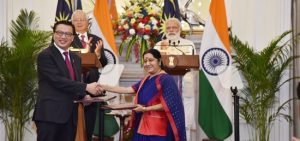 While India has always been looking forward to cement political, economic and strategic ties with Malaysia, a key ASEAN country, as part of promoting its "Act East" policy, relations between the two countries have shown a marked upswing in recent years, in contrast to 22 years between 1981 and 2003 when Mahathir Mohammed was the prime minister of Malaysia. For Indian entrepreneurs, Malaysia can become a key base to do business with other ASEAN countries. Indian investments in Malaysia stand at $2.5 billion.
Separately, a joint statement issued by the India-Malaysia CEOs Forum emphasised the need for visa-free travel for Indians and Malaysians as travel and tourism in both countries contribute to their economic growth. "Additionally, Malaysia should support and champion the introduction of the ASEAN common visa for travellers from outside the region, including India," the statement said.
Above all, the Malaysian leader's visit has imparted a new momentum to strategic partnership between the two countries. "We are leaders in the new emerging order in Asia and the world. Let us continue to work together to build a future based on stability, prosperity and understanding as the centre of the globe moves inexorably to East," said Mr Razak in an article ahead of his visit to India.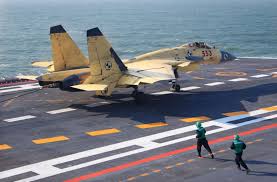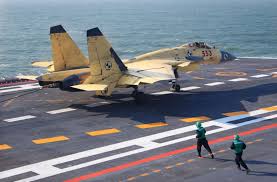 On January 11, 2017, China elucidated its position on Asia Pacific security through its first white paper on its positions and policies on Asia-Pacific security cooperation. One of the key operative dictums included in the white paper, which was immediately flagged by news agencies, was an advice or warning to small and medium countries in the region that they "need not and should not take sides among big countries". However, during the press conference at the release of the white paper, Chinese Deputy Minister for Foreign Affairs Liu Zhenmin clarified that the document was about security cooperation and not security issues. He also said: "The current security structure in the region is not satisfactory, which has led to mistrust among the nations."
Through this white paper, China has proposed a concept of common, comprehensive, cooperative and sustainable security in the Asia Pacific Region.The white paper considers the Asia Pacific region to be stable, although it also recognises multiple destabilising and uncertain factors that exist in the region. The areas of concern include the nuclear issue in the Korean Peninsula, the slow reconciliation process in Afghanistan, terrorism and maritime disputes. The white paper appears to indirectly indicate that the US military deployment is a regional security challenge along with the increasing military preparedness of Japan. There is also recognition of terrorism, transnational crime and natural disaster as non-traditional security threats in the region.
A Concept of Regional Peace with Chinese Characteristics
The white paper presents China's concept of common, comprehensive, cooperative and sustainable development which was proposed by President Xi Jinping at the Fourth Summit of CICA in May 2014. Common security has been defined as respecting and ensuring security for all rather than the security of one country or some countries. Alliances targeted at a third country are not conducive for common security. Comprehensive security has been defined to include traditional and non-traditional dimensions which need to be promoted through a holistic, multipronged, approach aimed at coordinated enhancement of regional security governance by taking into account the historical background and reality. Cooperative security entails the promotion of security through dialogue and promotion. Finally, there needs to be focus on both development and security for sustainable security.
In order to enhance peaceful development in the region, the document outlines China's commitment to fostering security through dialogue and cooperation and describes its six fold policy framework thus:
cooperation on economic development;
seeking common grounds for cooperation with countries in the region while recognising differences;
adherence to multilateralism along with willingness to shoulder regional and global security responsibilities;
promotion of rule setting and improvement of the institutional safeguards for peace and stability;
intensify military exchanges and cooperation; and
proper resolution of differences and disputes.
In its security vision, the document considers old security concepts — based on Cold War mentality, zero sum game and focus on force — as outdated. It seeks exploration of a new path for Asian security through an innovative security vision, improvement in regional systems and strengthening of solidarity and cooperation with transparency and inclusiveness. While describing its relations with other major Asia Pacific countries through the details of ongoing bilateral exchanges and initiatives, China aims for a non-confrontational new model of major country relations with the US; strategic partnership of co-ordination with Russia; closer partnership with India; and strive for closer relations with Japan. China has also identified regional hot spots, which includes the nuclear issue on the Korean peninsula, anti-Ballistic missile deployment in South Korea, Afghanistan, terrorism and maritime security, and has stated its policy position on each of these issues. The white paper also reviews China's participation in major multilateral mechanisms and regional non-traditional security cooperation.
While the core focus of the white paper is on the promotion of peace and stability in the region, China has expressed its unease about the existing regional security order. China's advice to medium and small countries to maintain their neutrality is preceded by the expectation that major countries would "treat the strategic intention of others in objective and rational manner, reject the cold war mentality, respect others' legitimate interest and concern."It also advises against beefing up "a military alliance targeted at a third party."China has stated its opposition to nuclear and missile tests by North Korea and affirmed its commitment towards denuclearisation of the Korean peninsula. However, it has also stated its firm opposition to the deployment of the THAAD anti-ballistic missile system in South Korea, the stated rationale being "we cannot just have the security of one or some countries while leaving the rest insecure, still less should we seek "absolute security" of oneself at the expense of the security of others" [emphasis as in original].Notwithstanding the purported reason for the THAAD deployment being a threat from North Korea, China realises that the anti- ballistic missile system in South Korea can potentially counter Chinese ballistic missiles as well.
Enduring Challenge of Maritime Security
Maritime security in the Asia-Pacific region is a core focus of the white paper and has also been listed among the regional hotspots of security concern. The documents highlights the growing non-traditional security threats (piracy, smuggling, drug trafficking, natural disaster and ecological concern) to maritime security but also recognises that "misunderstandings and lack of mutual trust among some countries about traditional security issues also pose risks to maritime security." Regarding its maritime boundary issue, China maintains that it "has indisputable sovereignty over the Nansha (Spartly) Islands and their adjacent waters" and also asserts that "the Diaoyu (Senkaku) Islands are an integral part of China's territory."At the same time, China hopes that these issues will be resolved through dialogue with ASEAN, relevant state parties and Japan, respectively.
A key concern of China is provocation of regional disputes by "certain countries for their selfish interest", which it "resolutely opposes" and whose action compels China's retaliatory response. This seems to be an indirect reference to the Freedom of Navigation Patrols by the US. China's preference for maritime dispute resolution through bilateral dialogue is unambiguous. In a clear caution against external mediation efforts, the white paper asserts that "no effort to internationalize and judicialize the South China Sea issue will be of any avail for its resolution; it will only make it harder to resolve the issue, and endanger regional peace and stability."On the maritime dispute with Japan, China has "urged Japan to abide by agreements on bilateral relations, properly manage and control disputes and conflicts and avoid creating obstacle to the improvement of bilateral relations."
For the settlement of disputes over territories and maritime rights, China asks the parties concerned to "respect historical facts" and seek a solution through negotiations under procedures of "universally recognised international law" and UNCLOS. China recommends the promotion of rule setting and improvement of the institutional safeguards as an important aspect for peace and stability in the region. In the Chinese view these "rules should not be dictated by any particular country", rather "regional and international rules should be discussed, formulated and observed by all concerned." China considers that at present certain rules and their interpretations are being imposed in the regional context unilaterally by some countries. While there exists no further elaboration, it could be inferred that these concern existing interpretations about the concept of Freedom of Navigation and jurisdictional interpretation of UNCLOS, which has been contested by the United States.
Terrorism and Afghanistan
The white paper recognises terrorism as a severe security and stability challenge in the region. This challenge includes the spread of violent and extremist ideologies, cyber terrorism, infiltration into the region of international terrorist organizations, and the inflow of foreign terrorist fighters. China's cooperation with neighbouring countries in dealing with the threat from the "Eastern Turkistan Islamic Movement" (ETIM) has been highlighted.Recalling counter terrorism collaboration with various countries in the region, China contends that there should not be any "double standard in fighting terrorism which should not be associated with any particular country, ethnicity or religion."On Afghanistan, China believes that only an "Afghan led and Afghan owned" inclusive reconciliation process can provide ultimate solution to the issue.However, China's participation in a meeting on the Afghan issue with Pakistan and Russia, which had excluded Afghanistan, contradicts this policy statement about its faith in an "Afghan led and Afghan owned" solution. This may provide some indication about the Chinese tactical adjustment on Afghanistan and terrorism, notwithstanding the stated policy position in the white paper.
Engagement with Regional Multilateral Forums
The white paper highlights China's involvement in regional multilateral mechanisms and lists its involvement in, and contribution to, all regional forums including ASEAN, ASEAN Plus Three, China-Japan-ROK Cooperation, East Asia Summit (EAS), ASEAN Regional Forum (ARF), ASEAN Defence Ministers Meeting PLUS (ADMM Plus), Lancang-Mekong Cooperation (LMC), Shanghai Cooperation Organisation (SCO), Six Party talks, and the Conference on Interaction and Confidence Building Measure in Asia (CICA). The white paper highlights China's commitment towards pushing forward the development of a regional security mechanism through active security dialogue and cooperation. The white paper mentions the 'Xiangshan Forum' as one of the dialogue forums for enhancing the regional security mechanism. The Shangri La dialogue at Singapore, which has always seen high level participation from China, does not find any mention in the white paper. This could be due to implicit displeasure with Singapore.
Relations with India
The white paper is largely positive about India, which has been recognised among the four major powers in the Asia Pacific. China considers that its strategic partnership with India has further deepened since the signing of the China-India strategic and cooperative partnership for peace and prosperity in 2015. The white paper recounts high level bilateral visits and the frequent interactions between Prime Minister Modi and President Xi. Coordination and collaboration between India and China on various issues, including in the WTO and on Climate Change, has helped to safeguard the common interest of both countries as well as of other developing countries. Relations between the Indian and Chinese militaries has been considered as healthy and stable.
Evolving Views on Regional Security
China's military strategy was published in 2015 as a white paper, which contained its assessment of its national security situation.The regional security environment described in the current document on Asia Pacific security cooperation needs to be compared with the Chinese military strategy published in 2015 in order to assess continuity and changes. Though the broad description of China's external security environment remains the same in both documents, there are, however, some crucial differences.
China's military strategy had clearly identified the US rebalance in the Asia Pacific as a concern along with Japan's increasing military capability. The current white paper maintains this narrative, but omits direct adversarial references to both countries.
China's military strategy had highlighted that in addition to maritime territorial disputes, "certain disputes over land territory are still smoldering." The white paper on Asia Pacific Security Cooperation has listed China's maritime territorial issues but has no references to any land boundary disputes. Curiously there is no mention of Taiwan which was one of the key focus area in its military strategy.
On the hotspots of security concern, China's military strategy was generic and had listed issues such as ethnic, religious, border and territorial disputes. In comparison, the current white is more precise in its description of hotspots – the nuclear issue on Korean Peninsula, Anti- Ballistic Missile issue, Afghanistan, terrorism and maritime security. China has also elucidated its position on each of them with clarity as highlighted earlier.
Maritime security issues have been one of the focal areas of the current white paper. The word 'maritime' occurs 39 times, while the word 'terror' finds 33 mentions. In contrast, China's military strategy had referred to the word 'maritime' just 15 times including in the description of its coping maritime strategies.
Reading Chinese Tea Leaves
China, through its white paper, has attempted to clarify its position on regional security challenges. One of the clearest messages is that the THAAD anti-ballistic missile should not be deployed on the Korean Peninsula. China also conveys its dissatisfaction with the existing rules-setting mechanism in the region as well as global rules and norms. On the freedom of navigation issue, the Chinese view stands in sharp contrast to that of the US, and the statement that rules in the region are being dictated by one country reflects that sentiment. However, there appears to be a duality in the Chinese approach on this issue. On peace and stability, China wants negotiations about rule setting on regional stability to be based on "the spirit of the rule of law" and in accordance with "widely recognised rules of fairness and justice". At the same time, China calls for a dialogue based on "respect of historical facts" and "universally recognized international law and modern maritime law" including UNCLOS for dispute resolution on maritime jurisdiction. The Chinese appeal for setting aside pending disputes for the time being and focusing on cooperation is, in essence, a reiteration of the policy followed since Deng Xiaoping.Through its call for the "rejection of Cold War mentality" and the warning issued to small and medium powers about not taking sides, China aims to shape the regional order in its favour.
China has maintained its strategic ambiguity regarding its jurisdictional rights in the South China Sea. There is no reference to the 'Nine Dash Line' in the white paper. However, it has claimed "indisputable sovereignty over Nansha (Spartly) islands and their adjacent waters." The Chinese advice against efforts to resolve the South China Sea issue through judicial or international arbitration seems to be a response to the arbitration decision of The Hague Tribunal and is aimed at dissuading other interested parties from seeking further judicial interventions.
From the Indian perspective, the white paper seems slightly positive by recognising India as one among four major powers in the region, omitting a reference to the land boundary dispute, and through the assessment about progressive strengthening of stable bilateral relations. Notwithstanding statements about convergence on trade and climate change, a drastic change in the contours of India-China relations seems unlikely considering China's positions on Indian membership of NSG and on declaring Jaish-e-Mohammed chief Masood Azhar as a global terrorist.
Conclusion
The white paper has been released at a time when the US government is under transition and there is still uncertainty about President elect Trump's policy approach towards global security issues in general, and the security environment in the Asia Pacific in particular. However, the emerging contours of the incoming administration indicate a hawkish political approach towards China. The seizure of the US Navy Unmanned Underwater Vehicle (UUV) was termed as a theft by Trump. In his confirmation hearing, Rex Tillerson, Secretary of State Nominee, indicated that if China continues with its effort to change the status quo in the South China Sea through artificial reclamation, its access to these islands could be interfered with.
It appears that through the release of this white paper at this time of uncertainty, China has affirmed its regional ambitions and aims to shape the regional security agenda in the Asia Pacific Region on its stated terms.
Courtesy:IDSA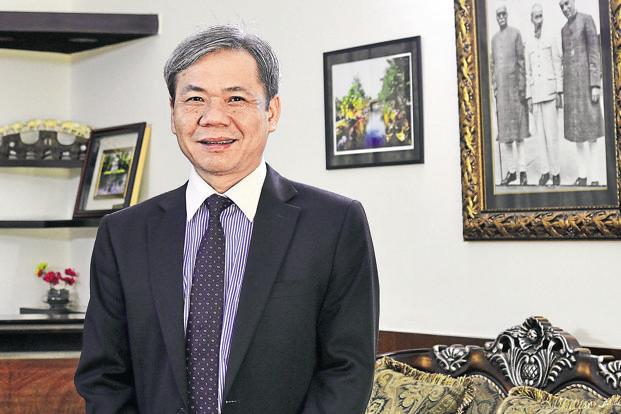 It's a milestone year in India-Vietnam relations as the two strategic partners celebrate the 45th anniversary of the establishment of diplomatic relations. This period has seen a marked acceleration of India-Vietnam relations across the spectrum, including in areas of trade and defence and development. Prime Minister Narendra Modi's visit to Vietnam in September 2015 saw the elevation of bilateral ties to the level of Comprehensive Strategic Partnership. The ongoing churn in South China Sea has imparted an added traction to enhancing strategic cooperation between India and Vietnam.
In this wide-ranging interview with Manish Chand, Editor-in-Chief, India Writes Network, Vietnam's ambassador to India Ton Sinh Thanh outlines a vibrant picture of the trajectory of this crucial relationship and underlines the need for a more active role by India in Southeast Asia and the extended region.  The envoy also underscored that the burgeoning India-Vietnam relations is not targeted at China or any third country and stressed on peaceful resolution of the South China Sea dispute through dialogue.
Q) This year marks the 45th anniversary of the establishment of diplomatic relations between India and Vietnam? How do you look at the special quality of India-Vietnam relations? What are the plans for celebrating this important milestone in the history of India-Vietnam relations?
A) Vietnam and India had thousands years of cultural, religious and commercial interactions. The people of the two countries showed sympathy and support for each other during their struggle for independence. The establishment of diplomatic relations between India and Vietnam in 1972 was the culmination of the Indian support to Vietnam during our resistance against the US aggression. The friendship and cooperation between our two countries have always been strong since then. These relations are freed from any problem and are firmly founded on mutual trust and convergence of strategic interests. In 2007 the two countries upgraded the relationship to Strategic partnership and in 2016 again upgraded it to Comprehensive Strategic Partnership. This is highest level of relations that Vietnam has with other countries.
Q) 2017 also marks the 25th anniversary of India-ASEAN relations. How does Vietnam look at India's role in ASEAN and what are Hanoi's expectations in this regard?
A) Vietnam is currently the coordinator for ASEAN-India relations. We expect India to play an active role as a strong strategic partner of ASEAN. This role is not only very much in line with India's Act East Policy, but is also welcomed by all ASEAN members. Vietnam shall work closely with India to carry many activities to celebrate 25th anniversary of ASEAN-India relations this year.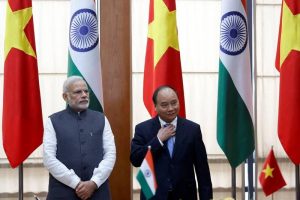 Q) How do you look at the transformation of India's Look East policy into Act East under the Narendra Modi government?
A) This is a really good and timely transformation. It brings a lot of confidence to ASEAN members and inspires them to be more active in promoting a stronger partnership with India.
Q) Prime Minister Modi had a successful visit to Vietnam in September 2016. What are key areas of India-Vietnam relationship which will see concrete progress and headway in days to come?
A) During the visit by Prime Minister Modi to Vietnam in September 2016, the two sides reached many agreements, especially the upgrade of our relationship to Comprehensive Strategic Partnership. We will see a lot of progress in many areas in the days to come. There will more frequent exchange of high level visits to strengthen our political relations and mutual trusts. Defence and Security cooperation will be further enhanced; first of all, to realise the credit line of US$ 500 million declared by PM Modi for Vietnam. Besides some trade promotion activities in an effort to raise the two-way trade, we would expect a direct flight to be opened soon between the two countries. We will also see progress in science & technology, culture-education cooperation between the two countries this year.
Q) In the strategic arena, can you identify focus areas, especially in the area of military sales?
A) We should first of all focus on the economic area, which is an important strategic area as identified by the leaders of the two countries during the visit to Vietnam by PM Modi. This area has huge potential, which has not yet been exploited. We should also continue to focus on other pillars of the Strategic Partnership, namely political relations, defence and security cooperation as well as science-technology and culture-education cooperation.
India-Vietnam ties not targeted at any third country
Q) China suspects that the growing India-Vietnam relationship is targeted at Beijing? Is this apprehension justified?
A) Vietnam advocates an independent foreign policy and good relations with all nations in the world, including China. The growing India-Vietnam relationship is to serve the interests of both countries and for the sake of peace, stability and cooperation in the region. It is not targeted against any third party.
Q) On South China Sea, what's your message to China? How should this contentious issue be resolved? Do you envisage a role for India in this?
A) First of all, we would like to emphasise our earnest aspiration to have good relations with China, our biggest neighbour. We shall do our best to promote our relations with China.
Regarding the the East Sea (South China Sea) issue,  the only major remaining dispute between Vietnam and China, we want to stress that Vietnam has sufficient historical evidence and legal foundation to confirm its sovereignty over Paracel and Spratly Islands. However, we are ready to settle the disputes of these islands by peaceful means, through bilateral and multilateral negotiations in compliance with international law, including the 1982 United Nations Convention on the Law of the Sea, and with respect to diplomatic and legal processes. Pending a solution to the disputes of these islands, all parties concerned should not have any activity to change the status-quo, fully and efficiently executing the "Declaration on the Conduct of Parties in the East Sea (DOC)" and striving together with ASEAN to soon accomplish a "Code of Conduct in the East Sea (COC)". China and Vietnam should also strictly observe the Vietnam–China Agreement on basic principles guiding the settlement of maritime issues.
It is the stake of all nations inside and outside the region, including India which is acting East, to have peace, stability and freedom of navigation in South China Sea. We are looking forward to a more active role and engagement of India in Southeast Asia.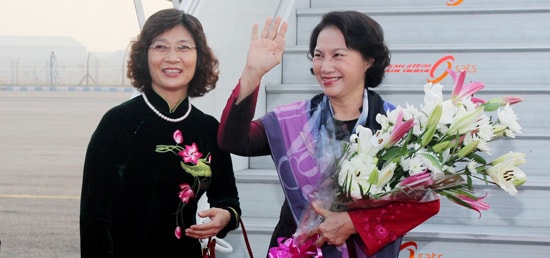 Q) Finally, what's your views on the unfolding Asian renaissance and the role of India-Vietnam relationship in facilitating regional stability and prosperity?
A) The re-emergence of Asia is very clear. It has now the biggest share of global production. Trade among Asian nations has crossed US$ 3000 billion, accounting for more than 53% of its total trade, showing a high degree of interdependence among Asian economies. India's Look East – Act East Policy and especially the participation of India in East Asia Summit process have scaled up in a big way the rise of Asia as well as the regional cooperation.
Vietnam, after more than 30 years of transformation, has improved to a great extent its economic and political status. The comprehensive strategic partnership between our two countries would surely contribute to the rise of Asia and cooperation as well as stability and prosperity in the region.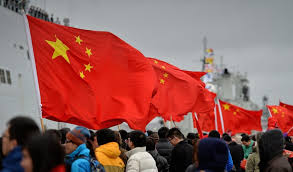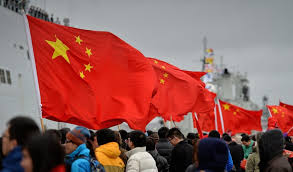 China's maritime assertiveness in the South China Sea (SCS) was on display on December 15, 2016 when a PLA Navy (PLAN) vessel retrieved an unmanned underwater vehicle (UUV) of the US Navy (USN) in international waters about 50 nautical miles (NM) northwest of Subic Bay in the Philippines. The UUV was being operated by USN Ship (USNS) Bowditch which was in the process of recovering the UUV. At the time of the incident, both the ships were within 500 yards distance of each other. Despite radio communication from the USNS Bowditch, the Chinese warship reportedly did not return the UUV and proceeded away with the UUV.The incident created furore in the US with commentators terming the Chinese act as 'theft'.The US registered its diplomatic protest and demanded that the UUV be returned immediately. The Chinese media termed US surveillance as continued provocation.
The Chinese Ministry of National Defence (MND) in a statement gave the following explanation:
'A Chinese naval lifeboat located an unidentified device in the waters of the South China Sea. In order to prevent the device from causing harm to the safety of navigation and personnel of passing vessels, the Chinese naval lifeboat verified and examined the device in a professional and responsible manner. Upon examination, the device was identified as an underwater drone of the United States. The Chinese side had decided to hand over it to the US in an appropriate manner'.
The UUV was returned to the USN destroyer USS Mustin by China on December 20, 2016. The MND on December 21, 2016 stated that 'China has handed over the US underwater drone it captured 'in its waters' to the United States '.The map of the area published by The Washington Post shows the area of incident outside China's proclaimed nine-dash line.No geographical details of the area of the incident were provided by the Chinese authorities. Based on information available in the public domain, the location of the incident seems to be within Philippines' Exclusive Economic Zone (EEZ). In essence, China has no valid jurisdiction to interfere with the oceanographic survey being conducted by the USN ship in the international waters or within EEZ of another country.
Figure- Location of UUV Seizure
The incident has prompted broad speculation about Chinese intent, including whether China was signalling even more expansive claims over the SCS, since the area of incident was even beyond the controversial nine-dash line. The incident has also revived questions about Chinese strategic ambiguity regarding the nature of its jurisdiction over waters enclosed within the nine-dash line, which has since been nullified by The Hague Arbitration Tribunal judgement.
Nine Dash Line: China's Strategic Ambiguity
The Chinese government, through two note verbale submitted in the UN in May 2009, asserted its 'indisputable sovereignty over the islands in the South China Sea and the adjacent waters, and enjoys sovereign rights and jurisdiction over the relevant waters as well as the seabed and subsoil thereof'. Nine line segments (dashes) — encircling waters, islands, and other features of the SCS — were displayed on the map submitted along with the note verbale. As a reiteration of its jurisdictional claim, China submitted another note verbale in 2011 which asserted that 'China's sovereignty and related rights and jurisdiction in the South China Sea are supported by abundant historical and legal evidence'.
As per the UN Commission on the Law of the Sea (UNCLOS), coastal states enjoy varying degree of jurisdictional rights and privileges in different waters, viz, territorial sea, contiguous zone, internal waters, archipelagic waters, international straits, historical waters. China has not clarified about the legal basis or nature of its jurisdiction within nine dash lines through any legislation, proclamation or any other official statement. China has also not published geographic coordinates specifying the location of the dashes.
The above claims of jurisdictional control through the nine-dash line does not form part of China's submissions of records as per UNCLOS. The claim, about its sovereign jurisdiction through historical rights, was submitted as an objection to the continental shelf claims of Vietnam. China had submitted baseline coordinates in compliance with UNCLOS Article 16(2) with respect to mainland and Xisha (Paracel) Islands in SCS with claims of UNCLOS zones viz territorial waters and EEZ in July 1996 and September 2004 respectively which has no reference to nine-dash line.However, its legislative declaration about Maritime Zones has provided a caveat that this legislation does not prejudice its historical rights with no explanation about nature or geography of said historical rights.
At the core of Chinese claims in SCS is a Chinese government map circulated in 1947 drawing an eleven-dash line to indicate the geographical scope of its authority over the SCS. In 1953, two dashes were removed from the eleven-dash line, leaving nine segments that was published as a new map which is cited as Chinese jurisdictional claims.While asserting its indisputable sovereignty over the Islands and the adjacent water enclosed therein, China has maintained strategic ambiguity over geographical limits and scope of sovereign jurisdiction over areas enclosed within the nine-dash lines. China's policy of strategic ambiguity, as it has been euphemistically called, serves its purposes well.
Chinese scholars have defined the nine-dash line as a line to preserve both its title to territory and its historic rights. Analysts note that China seems to have three purported reasons for its nine-dash claims. 'First, it represents China's title rights over island groups that it encloses and signifies sovereignty, sovereign rights, and jurisdiction — in accordance with UNCLOS — over the waters and seabed and subsoil adjacent to those islands and insular features. Second, it preserves Chinese historic rights over the oceanic resources in the waters and on the continental shelf surrounded by the line. Third, it is likely to allow for such residual functionality as to serve as potential maritime delimitation lines'.
The view about the possible rationale of the nine-dash line as a potential negotiation reference was also expressed by the spokesperson of the Ministry of Foreign Affairs in February 2012, when it was stated that no single nation claims sovereignty over the entire SCS and that the dispute was only about the 'islands and adjacent waters'.This had raised hopes in the region that China may moderate its jurisdictional claim to align with legal provisions as per UNCLOS. However, on the contrary, the SCS has seen progressive Chinese assertiveness regarding its jurisdictional claims with reclamation of land, construction of military facilities and enforcement of its rights through use of maritime militia.
Just prior to the decision of UNCLOS arbitration proceedings initiated by the Philippines, the Chinese interlocutor at the Shangri-La Dialogue 2016 had argued that China's ambiguity over nine-dash line was a good thing for all the parties involved.The decision of The Hague Arbitration Tribunal in July 2016 has disallowed Chinese historic claims.The arbitration proceedings were boycotted by China and the decision has not been accepted by it. China, in addition, has also persuaded the Philippines to set aside the arbitration award.
Previous Incidents with USN over Surveillance in EEZ
USN ships have been regularly conducting Freedom of Navigation Patrols (FONOPS) in order to exercise their rights of freedom of navigation. China has always protested these surveillance sorties in accordance with their proclaimed interpretation of jurisdictional rights and coastal state rights over military surveillance within EEZ. Prior to this incident, there have been at least six incidents of interaction between Chinese and American vessels in the international waters of the SCS.In March 2009, USN ships Impeccable and Victorious were harassed by Chinese oceanographic vessels in international waters off Hainan Island. In June 2009, a Chinese submarine fouled the towed array sonar of US warship John McCain. US warship Cowpens nearly collided with one of the escorts of the Chinese aircraft carrier Liaoning in December 2013.
However, all these incidents happened within the EEZ claimed by China.There exists differing interpretation about jurisdictional rights of coastal state within EEZ. Some countries including the US consider the EEZ like the high seas when it comes to foreign militaries conducting surveillance and do not consider requirement of specific permission from the coastal state. China has long taken the position that it has the right to restrict foreign military activities and surveillance within its EEZ. China argues that the coastal state permission must be obtained for a foreign military to conduct surveillance activities within the EEZ. China had justified its action against USN assets in accordance with its restrictive interpretation of UNCLOS provisions.
Creeping Jurisdictional Assertions through Ambiguity
The Chinese official stance towards the extant incident of seizure of USN UUV has been extraordinarily ambiguous. As pointed out earlier, the MND statement of December 18 expressed routine dismay at continued military surveillance by the US with the retrieval being explained as removal of navigational hazards along with the casual assertion about the incident occurring in the Chinese waters with no further details or possessive implications.The Chinese Foreign Ministry also used generic remarks over continued US military surveillance and maintained the safety-of-navigation explanation. The Foreign Ministry spokesperson told reporters that 'the Chinese side is firmly opposed to the frequent appearance of US military aircraft and vessels in waters facing China for close-in reconnaissance and military surveys. We require the US side to stop such activities [emphasis added]'.Some commentators asserted Chinese maritime rights or claims over the area in which the UUV was seized.This assertion was confirmed by the Chinese MND in its statement on December 20, 2016 which noted that the UUV was captured in its waters.
As the USN UUV was seized 50 NM northwest of Subic Bay, the USN vessel was outside THE Philippines territorial water but within its EEZ. The area is also clearly outside the Chinese claim of nine dash-line. The core question then is on what basis China is claiming that the UUV was captured in Chinese waters? It could only be possible if China considers that the disputed Scarborough Shoal has EEZ of 200 NM which will place Chinese EEZ within 50 nautical miles from the coast of Philippines. The UNCLOS Arbitral Tribunal has ruled that the Scarborough Shoal is a rock that entitles its sovereign jurisdiction to only a 12 NM territorial sea and is not entitled for 200 NM EEZ.
The extant assertion of Chinese MND that the UUV capture happened in Chinese waters brings the focus back on strategic ambiguity of China about its maritime claims. Rather than using ambiguity for accommodation or negotiation, China has been strengthening its jurisdictional claims which can be seen through its reclamation efforts to convert erstwhile low tide elevations — viz, Mischief reef, SubiReef and Ferry Cross Reef, into man-made habitable islands. These reclamation efforts in addition to bolstering its military capability in the SCS also strengthen its case for claiming UNCLOS entitled EEZ up to 200 NM since the reclaimed features could be shown as capable of sustaining human habitation. It is pertinent to mention that all other previous incidents/dispute over fishing rights, resources, reclamation of reefs and rocks, and incidents against surveillance had remained within the ambiguous nine-dash line.The phrase 'waters facing China' and the assertion of jurisdictional claim over waters beyond the nine-dash line has been used by the Chinese officials for the first time.
Some commentators have argued that since the capture of the UUV had no legal basis, it could be an act of political signalling. In addition, since the UUV was returned without much delay, the act of seizure may have lacked institutional approval at the highest level.However, these explanations fail to take into account latent assertion of jurisdictional claim in the official statements post incident.
The Chinese approach, so far, clearly indicates its intent of progressive attempt to strengthen its 'creeping' jurisdiction which has been termed by some observers as 'salami slicing strategy' or 'cabbage strategy'.The strategy is being pursued through small but persistent enhancement of territorial jurisdiction claims along with creation of new facts on ground. The incident of UUV capture and related claims about the incident's occurrence in Chinese waters fits in to the established pattern of incremental actions of creeping jurisdiction to change the status quo in its favour through fait accompli.
Courtesy:IDSA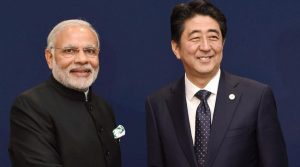 TOKYO: The Tokyo-Delhi connect is set to acquire a deeper strategic dimension with the hoped-for signing of a transformational nuclear deal and a host of initiatives to enhance maritime security cooperation during the November 10-12 visit of India's Prime Minister Narendra Modi to Japan.
It's probably the last foreign visit by Mr Modi in this diplomatic calendar year, but it looks set to be the most significant one, given the growing congruence of strategic and economic interests between Asia's two leading democracies. The visit will be not only closely scanned in New Delhi and Tokyo, but most importantly in Beijing, which continues to nurture containment anxieties and has already red-flagged its concerns over a possible Delhi-Tokyo axis on the South China Sea.
What's on agenda: The Big Deal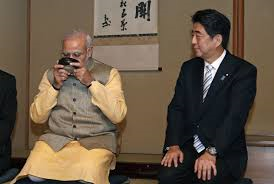 Mr Modi will spend barely 48 hours in Tokyo, but much will be accomplished during his annual summit meeting with his Japanese counterpart Shinzo Abe in Tokyo on November 11. If the latest indications are anything to go by, the visit will see the transformative moment as Japan moves beyond years of strategic vacillation to sign the much-awaited nuclear deal that will pitchfork the India-Japan ties on another plane. The signing of the nuclear deal will transform all key areas of the relationship and bring multiple benefits to both sides, Prof. Srikanth Kondapalli, a long-standing Japan-watcher at Jawaharlal Nehru University in Delhi told India Writes Network.
Given the powerful nuclear lobby and its pacific constitution that emanates from its experience as the only nation to be attacked by atomic weapons, the signing of the nuclear deal will be a major leap of faith for Japan's political-diplomatic establishment and will lock the two countries into a tighter strategic embrace.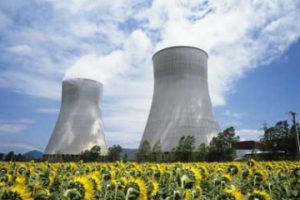 The deal will enable the export of Japanese nuclear technology and equipment to an India hungry for clean energy and will spur the implementation of the India-US civil nuclear deal. It will mean billions of dollars in business for Japanese nuclear giants like Mitsubishi Heavy Industries Ltd. and Hitachi Ltd, which have been severely hit by the post-Fukushima scenario.
US-2: Make in India
Besides the nuclear pact, the other big-ticket deal that will be in spotlight is the closure of tortuous negotiations on the purchase of the US-2 amphibious aircraft by India. Reliable sources disclosed that the deal is ready for signing, with the pricing issue finally settled. If all goes well, the two sides could sign a memorandum of understanding on India procuring 12 amphibious rescue aircraft from Japanese manufacturer ShinMaywa Industries.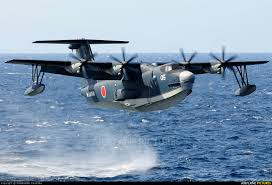 The deal is estimated to be around $1.4 billion. The details of the deal are not clear as there is still uncertainty about whether India will get the civilian version of the aircraft and in what form. Japan's Constitution currently bars the sale of defence weaponry to a foreign country.
If it goes through, this will be the first defence sale deal by Japan in its post-war history, and will signal strong political will by Japan to move beyond the comfort zone to forge a special military and strategic partnership with India. India is insisting that out of 12 aircraft, it wants two of them in fly-away condition and the rest are to be manufactured in India under the Make in India project. Given huge costs involved in co-manufacturing, the Japanese side is weighing its options.
Partnering India's development journey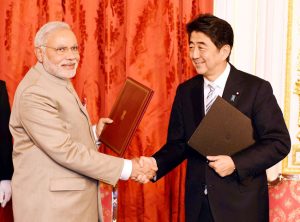 Strategic issues will be high on the agenda, but equally important will be the ongoing thrust on enhancing the quality and quantum of economic partnership. Mr Modi has rightly identified Japan as a top investor and partner in India's ongoing growth story, and will be looking to raise the bar for trade and investment.
The two sides are expected to review progress in implementing projects under the $33 billion fund,  announced by Japan during PM Modi's landmark visit to Tokyo in August, 2014. The second generation economic reforms undertaken by the Modi government, including easing of foreign investment in crucial sectors like defence, insurance, retail and real estate and the passing of the path-breaking GST legislation have given an added shine to the India narrative in Japan. Surveys done by Japan Bank of International Coop (JBIC) have rated India as the most attractive and promising investment destination for Japanese manufacturing companies.
Mr Modi is set to highlight India as an investment destination during his talks with Mr Abe and in his other speeches in Tokyo and Kobe, Osaka. Infrastructure, manufacturing, energy, real estate and e-commerce have been identified as core areas by India for Japanese investment. Japanese conglomerate SoftBank has already unveiled around $20 billion investment in the infrastructure sector in India, including roads, highways, railways, ports and airports. To fix trade imbalance, PM Modi is expected to pitch for Japanese investors to participate in   National Investment and Infrastructure Fund (NIIF) to transform the infrastructure landscape in India.
On fast-track: Bullet Train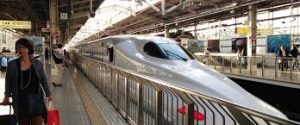 Building on the ongoing success story of the Delhi Metro, one can expect tangible progress in discussions on Japanese funds and assistance for Phase IV of the Metro. With the signing of the agreement on Japan's assistance in the building of the first bullet train in India on the Mumbai-Ahmedabad route during Mr Abe's visit to Delhi last year, India is quite keen to rope in Tokyo as its prime partner in building high-speed train network on other routes.
Sources said that there is a possibility of a pact on Japan's involvement in another bullet train on a different route. Japan's International Cooperation Agency (JICA), for one, is upbeat about funding the second bullet train. Japan would like to win contracts for all other six high-speed corridors identified by India, but this could take time given huge costs involved.
The Chinese Puzzle: Sea of Troubles
Talking of India-Japan relations against the current backdrop of the conflicted regional landscape, China remains a looming shadow. Both India and Japan have denied any gang-up or containment vis-à-vis China, but several planned initiatives in the maritime sphere are set to fuel apprehensions in Beijing about the hidden agenda behind the deepening Tokyo-Delhi connect.
The July verdict by the Hague-based international tribunal and China's rejection of the ruling has whetted anxiety in the region, with India and Japan coming out with near identical statements on the resolution of the dispute through diplomacy and respect for the UNCLOS (UN Convention on Laws of the State).
During Mr Abe's visit to New Delhi, the India-Japan joint statement for the first time contained a pointed paragraph on South China Sea and freedom of navigation. This time around, they can push the envelope by explicitly mentioning the Hague verdict and enjoin on all parties to respect UNCLOS- a formulation that is going to be deeply resented by China. Although both India and Japan are not party to the dispute in South China Sea, China's expansionist ambitions affect both countries as they have long-running territorial disputes with China. Hence, issues relating to South China Sea and maritime security will figure prominently in the Modi-Abe talks in Tokyo.
Another important theme of the summit talks in Tokyo will be in the form of exploratory discussions on Japan's possible role in the Indian Ocean and proactive assistance by Japan in enhancing investments in infrastructure in India's north-eastern states, some of which border China. This Japanese-assisted infrastructure building will spur the integration of the north-east states with ASEAN countries and could provide an alternative to the China-backed One Belt, One Road project, albeit on a much smaller scale.
One can also expect tangible discussions on collaboration in space and in the Ballistic Missile Defence system. Tokyo is keen on acquiring BMD capability and looks at New Delhi as an important partner, especially after India successfully conducted test firing of upgraded anti-ballistic missile system. These disparate but interlinked initiatives will take time to fructify, but they show the soaring ambition of the India-Japan military and strategic partnership, animated by shared threats and goals.
Japan-India Moment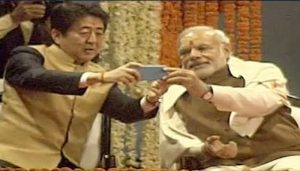 In many ways, the current geo-strategic and geo-economic situation have created a conjunction of India's Japan Moment and Japan's India moment. Mr Modi and Mr Abe, who have famously forged a personal chemistry, are ideal partners to propel this partnership to new heights.
The nuclear issue is the last albatross holding back the full potential of this mutually fecundating relationship, and if the nuclear deal is signed in Tokyo, expect a major upsurge in India-Japan relations across the spectrum and an added ballast to the narrative of an inclusive Asian Century.
(Manish Chand is Founder-Editor of India Writes Network, www.indiawrites.org, an e-magazine-journal focused on international affairs. He is in Tokyo to report on and analyse Prime Minister Narendra Modi's visit to Japan).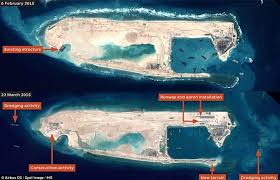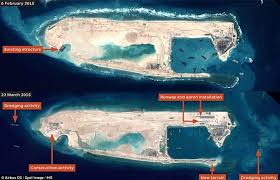 Is China about to reclaim the Scarborough Shoal? It is a question that has absorbed discussions in maritime circles recently. Speculation is growing that China might be planning to build a small permanent structure on Scarborough, located close to the Philippines' coast, in which to base Chinese military personnel — a contingency that might result in a sharp escalation of regional tensions.
The genesis of this conjecture is a recent report in the South China Morning Post quoting "a source familiar with the matter" stating that Beijing was waiting for the completion of the G20 summit next month to start dredging the strategically-placed shoal, which is located close to key sea-lanes in the South China Sea. While China is refraining from any moves that might jeopardise discussions during the G20 summit (where the focus is likely to be on 'regional peace') Beijing is said to be working on a plan to begin reclamation work before the start of the US presidential election in November.
For Beijing, converting the shoal into an artificial island is a good way of emphasising its dominance over the Southeast Asian littorals. In the month since the UN arbitral tribunal gave its verdict rejecting Beijing's historic rights within the nine-dash line, China's military has assiduously built up its military presence in the South China Sea. An increased presence of warships and aircraft in the contested littorals has been complemented with efforts to fortify military structures on the islands. These include refurbished missile sites and reinforced hangers for military aircraft.
China's moves have triggered regional alarm with the US increasing its own naval presence in the region. Vietnam has rushed to position surface-to-air missiles on islands it controls in the South China Sea, and Indonesia and Malaysia have vowed to redouble their efforts to apprehend Chinese fishing boats in their waters.
Why, however, are the US and its Southeast Asian allies treating Scarborough like a sacred 'red-line'?
The answer is simple. Control over this well-located shoal confers on China a vital strategic edge, radically altering the balance of power in the Asia-Pacific. Scarborough's proximity to the coast of the Philippines makes it a significant factor in US naval plans, not least since Manila has a mutual defence treaty with Washington. What's threatening, however, isn't just the prospect of Chinese radars and missiles at Scarborough. Analysts say China may be aiming to set-up a naval support facility, enabling the establishment of a 'strategic triangle' in the South China Sea that would help enforce a Chinese Air Defence Identification Zone and expand China's control over these vital waterways. Reports suggest China's plan to militarise Scarborough is to create the 'third vertex of a triangle of military bases', which would render Chinese threats to the main Philippine island of Luzon more credible.
US Pacific Fleet intelligence also indicates that, in combination with China's seven new islands in the Spratly group, a new naval facility at Scarborough will provide Beijing with the ability to effectively control access to the waters of the South China Sea. The PLA Navy, reports suggest, has been exercising to "prepare for a sudden, cruel and short modern war" in the South China Sea. That China's new islands in the South China Sea, also the site of the PLA's newly instituted Combat Air Patrols, are located in its southern part, has led some to conclude Beijing is planning on reclaiming Scarborough.
The Chinese tactic, apparently, is to swarm the South China Sea's critical littorals and airspace with law-enforcement vessels, fishing boats, and military aircraft in an attempt to demonstrate defiance of the UN tribunal court's verdict. Beijing believes an effective demonstration of military strength would both deter foreign warships from venturing too close to Chinese-controlled waters, as well as signal clearly that China will not be shackled by what it sees as the unlawful outcomes of a bogus arbitration procedure.
It is not surprising then that the number of Chinese maritime security vessels near Scarborough shoal has risen sharply over the past several weeks. Unlike previously, when China has had only two or three naval or coast guard vessels deployed near the shoal, the number of Chinese law enforcement and combat ships has now increased to more than a dozen. In addition, Beijing has been routinely positioning large flotilla of hundreds of fishing vessels around Scarborough Shoal in an action similar to that occurring in the East China Sea. Last week, China sent seven coast guard vessels and over 200 fishing vessels to the waters around Japan's Senkaku Islands. The incursion drew howls of protest from Tokyo, but a nonchalant Beijing brushed the objections aside saying the boats were operating in Chinese waters.
The Chinese strategy, apparently, is to make a play for all of East Asia's contested littorals thereby preventing opponents from combining ranks in the South China Sea. The idea is to keep rival forces off-balance in the South China Sea by undertaking distracting manoeuvres in contiguous theatres such as the East China Sea, even as the Chinese military raises the stakes in their primary theatre of interest. While Beijing is unwilling to get into a full-scale confrontation it hopes to convince adversaries that, if pushed hard in the South China Sea, the Chinese military is prepared to initiate hostilities anywhere.
In light of China's brinkmanship the US has been forced to adopt a cautious approach. While American policymakers are yet to come to terms with their country's reduced leverage in the Asia-Pacific, Washington is cognisant of the threat that China's modernising military presents to peace in the region. Even so, the US has had to contend with mixed messaging from its Southeast Asian allies — particularly the Philippines, where President Rodrigo Duterte's overly conciliatory tone with Beijing has perplexed many regional watchers. Indeed, Duterte's decision to send one of his predecessors, Fidel Ramos, to hold exploratory talks with the Chinese has caused dismay in Washington. The US believes Manila has been too eager to compromise, willing even to concede to Beijing advantages conferred to it by the Arbitral Tribunal.
This does not mean China hasn't given a thought to the costs involved. Despite dominating the narrative in recent times, Beijing realises that an open show of force would be severely detrimental to its interests. Despite its control of major features and islands in the South China Sea, Beijing knows a combined counter-action by the US and its partners in the Asia-Pacific might result in an uncontrollable spiral of violence. In the circumstances, all China must do is to find a way in which its maritime agencies can quietly and efficiently mark its presence in the vital sea spaces while ensuring that Chinese geopolitical interests are not compromised. For many, the key to resolving the South China Sea impasse lies in initiating a dialogue between Washington and Beijing. President Xi has long called for a special relationship between China and the United States that would allow both countries to better manage the conflict. Notwithstanding China's economic interests in Southeast Asia, however, many in Washington are convinced that China will build military facilities that allow its naval and law enforcement ships to bully and intimidate its neighbours. Should China succeed in reclaiming Scarborough Shoal it will be the most significant escalation so far in the tussle for the South China Sea.
Oddly then, reclaiming Scarborough might be Beijing's undoing, because it might provide the spark needed to instigate China's tactical containment in the South China Sea.
Courtesy:ORF