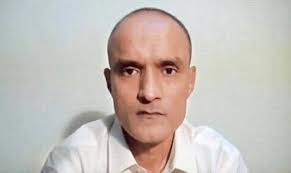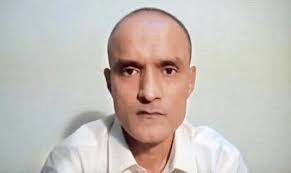 Maintaining its stand that Khulbhushan Yadav, the former Indian Navy officer detained on charges of espionage, is an Indian "spy", Pakistan has denied India consular access to the death row prisoner in its counter-memorial submitted to the International Court of Justice (ICJ).
India has called the death sentence a "farcical process". "We also appealed to ICJ in May as we believe Vienna convention was being violated. We do reiterate our position that Jadhav remains in Pakistan and is facing death sentence given through a farcical process and on concocted charges," Ministry of External Affairs spokesperson Raveesh Kumar said.
"Lack of explanation on how a serving naval commander was operating under secondment to Indian spy agency Research and Analysis Wing (RAW) was travelling under an assumed name leads to only one conclusion that India wanted consular access to the information he had gathered," read the counter memorial submitted by Pakistan.
While India insists that 47-year-old Jadhav was kidnapped from Iran where he was engaged in business post retirement from the Navy, Pakistan has claimed that he was arrested from the troubled Balochistan province on March 3 last year where he allegedly entered from Iran under the name of Hussein Mubarak Patel. Pakistan has long accused India of fanning secessionist forces in Balochistan and believes Jadhav to be working for the Research and Analysis Wing (RAW) of India. Giving consular access would, according to Pakistan, provide India with the opportunity of gathering information from the accused. India has time and again rejected these allegations.
Denying the applicability of the Vienna Convention in this case where a spy is involved and not an ordinary prisoner, Pakistan stated in the ICJ "Only a state which adheres to legitimate actions can request the court to intervene in a matter between two states".
A Pakistani military court had sentenced Jadhav to death charges of espionage and terrorism in April which prompted India to take the matter to the highest judicial body. While the sentence has been put on hold, Pakistan has asserted that sending a spy to fund terrorist activities on its soil gives no ground for India to appeal to the ICJ. It remains to be seen if the ICJ takes the case forward for a hearing or asks both countries to submit more documents. Meanwhile, Pakistan has allowed Jadhav a meeting with his wife on "humanitarian grounds" on December 25. She will be accompanied by an Indian envoy.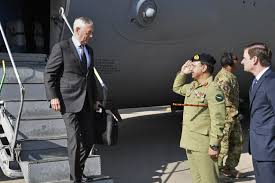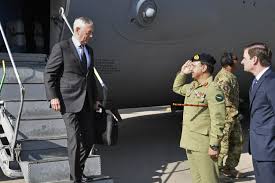 Embracing a more nuanced diplomatic approach in engaging Pakistan in counter-terrorism efforts, US Defence Secretary James Mattis has asked Islamabad to intensify its efforts in rooting out terror from its soil.Mr Mattis met Pakistani Prime Minister Shahid Khaqan Abbasi in Islamabad on December 4 and impressed upon the latter the compelling need to act against terror outfits.
A statement by the Prime Minister's office in Pakistan said, "He [Mattis] emphasised that in view of his long association with Pakistan, he was keenly aware of the sacrifices rendered and the lives lost in Pakistan's fight against terrorism and extremism; and his personal respect and appreciation for the professional abilities of Pakistan's armed forces ".
A day before the defence secretary's visit, CIA director Mike Pompeo warned the Pakistani establishment of strict measures if it fails to tackle terror. "In the absence of the Pakistanis achieving that, we are going to do everything we can to make sure that those safe havens no longer exist," he said at the Reagan National Defence Forum in Simi, California. Mattis has evidently been milder in his engagement with the Pakistani administration this time, underscoring the common objectives and benefits that the US and Pakistan share in a stable Afghanistan and a Pakistan free of terror outfits. He has also assured the Pakistani leader that the US would not allow the use of Afghan bases to direct attacks on Pakistan.
Before his trip, Mr Mattis had said, "We have heard from Pakistan leaders that they do not support terrorism. So I expect to see that sort of action reflected in their policies". He emphasized on engagement rather than arm-twisting tactics in forcing Pakistan to deal with terror. "That's not the way I deal with issues. I believe that we work hard on finding the common ground and then we work together."
The Prime Minister's office in Pakistan reported Mr Abbasi's promise of assistance by conducting intelligence based operations all over the country. "The Prime Minister reiterated that there are no safe heavens in Pakistan and the entire nation was committed to its resolve on eradicating terrorism once and for all in all its forms and manifestations," the statement said. He also mentioned the fact that none other than Pakistan stands the most to gain from a peaceful Afghanistan.
It is to be seen how long this optimism lasts, even as the US administration headed by President Donald Trump is getting frustrated with the lack of concrete action by Pakistan in fighting the Taliban and allied Haqqani network insurgents within its borders.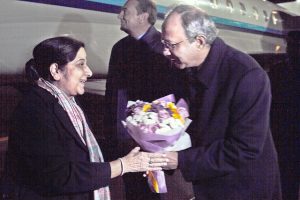 Against the backdrop of the growing scourge of terrorism in the region and the release of 26/11 terror mastermind Hafiz Saeed by a Pakistani court, India's External Affairs Minister Sushma Swaraj is set to press for enhanced counter-terror cooperation at the SCO summit in the Russian city of Sochi.Representing India for the first time since it became a permanent member of the annual SCO (Shanghai Cooperation Organization), Mrs Swaraj is also expected to hold bilateral meetings on the sidelines of the SCO summit in the Russian picturesque city of Sochi. In June this year, India and Pakistan were elevated from being observer nations to full-fledged members of this regional grouping, which is currently dominated by China and Russia.
With regional security and terrorism expected to dominate the talks, it remains to be seen if India raises the issue of the recent release of Hafiz Saeed by a Pakistani court. The situation in the Gulf and Afghanistan are also likely to figure prominently in the talks. India's membership gives it an added leverage to push for more intensive efforts at tackling regional and global terrorism and other security matters."We attach special significance to the SCO in promoting political, economic and people-to-people contacts," external affairs ministry spokesperson Raveesh Kumar said.
The efforts to include India as a permanent member of the bloc had begun in Ufa in July 2015. While Russia was India's main supporter, China had thrown its weight behind Pakistan.  The SCO now has eight full members — India, Kazakhstan, China, Kyrgyzstan, Pakistan, Russia, Tajikistan and Uzbekistan — and six dialogue partners and four observers.
While there is no confirmation yet on whether Ms Swaraj will have bilateral meetings with Chinese Premier Li Keqiang or Pakistan's Prime Minister Shahid Khaqan Abbasi, she will be attending restricted meeting of the heads of delegations on December 1, which will be followed by the preliminary sessions of the SCO.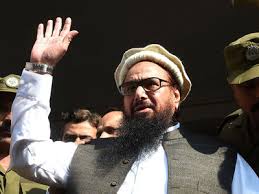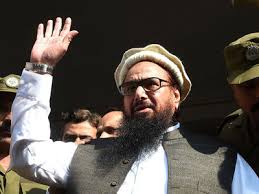 ISLAMABAD/NEW DELHI: Exposing Pakistan's attempts at putting up a semblance of fighting terror on its soil, the Judicial Review Board of Pakistan's Punjab province on November 22 ordered the release of 26/11 mastermind Hafiz Saeed from house arrest rejecting Pakistan government's plea to extend his detention for 60 days. Since January, when the Jamaat-ud Dawah (JuD) chief was first apprehended, the detention was extended four times.
"The government is ordered to release JuD (Jamaat-ud-Dawa chief Hafiz Saeed if he is not wanted in any other case," the board said. "Concept of justice cannot be brutalised and terrorised in the name of fight against terrorism," it ruled.
The release of Saeed comes on the eve of the 9th anniversary of the savage Mumbai terror attacks, which were masterminded by Pakistani terrorists, in alleged connivance with Pakistan's military-intelligence apparatus.
Sensing the US administration's toughened stand on terror, Pakistan had placed Hafiz Saeed and four of his aides under house arrest in January for 90 days. Last month, his four aides were released. Believed to be a front organization of the banned Lashkar–e-Taiba (LeT), the JuD was blacklisted as a foreign terrorist organisation by the US in June 2014. With the US declaring a $10 million bounty on Saeed's head, the Pakistani establishment fears the imposition of international sanctions to be the fallout of such a move.
The judicial board had allowed for a 30-day extension last month and came out with this verdict this time, citing the failure of the government to produce further evidence. Operating behind its charity arm, Falah-e-Insaniat Foundation, the JuD had long enjoyed free reign in Pakistan spewing venom against India.
In a video message released by his party's media team shortly after his release the extremist leader said, "It's because of Kashmir that India is after me, but all her efforts have been in vain and Allah has set me free… This is victory of Pakistan's freedom and God willing Kashmir will also be freed because I'm fighting Kashmir's case".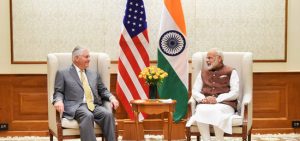 Setting the tone of his maiden official visit to New Delhi, US Secretary of State Rex Tillersonhad expressed last week the US administration's determination to "dramatically deepen ways" to build an ambitious strategic partnership with Indianot just specific to South Asia but also including the Indo-Pacific, with an eye on China's rising assertiveness in the region.In New Delhi on a 36-hour visit, Mr. Tillerson reaffirmed his country's support for India's rise as a regional power and providing further assistance in advancing India's military mordernisation by equipping it with best technologies.Speaking to the media after her extensive talks with the visiting US diplomat on October 25, India's External Affairs Minister Sushma Swaraj was unequivocal in expressing India's stance vis-à-vis terrorism emanating from Pakistan when she said that "America's South Asia policy can succeed only if Pakistan will act decisively against terror groups" operating from its soil. "India and the US discussed that no country in the world should provide safe havens to terror groups. Any country backing terrorism must be made responsible," she said.
Sharing India's concerns on Pak-sponsored terrorism, Mr. Tillerson,who had stopped over in Islamabad and held meetings with Pakistani Prime Minister Shahid Khaqan Abbasi, Foreign MinisterKhwaja Mohammad Asif and Army Chief General QamarJaved Bajwa, before flying into New Delhi, said that "terror safe havens will not be tolerated". "We have extended to Pakistan certain conditions and expectations we have in particular with regard to these organisations and the leaders of these organisations," he said. Mr. Tillerson also expressed concern that these terror groups could pose a threat to Pakistan's own stability. "It is not in anyone's interests that the government of Pakistan be destabilised," he saidadding that India and US, therefore, have a mutually shared interest in working towards containing and eventually eliminating these organisations.
Mr. Tillerson,who had also made an unannounced visit to Kabul as part of his six-nation tour, said that India was crucial for America's Afghan strategy. Unveiling his policy on Afghanistan in August, President Donald Trump had envisaged a bigger role for India in the ongoing peace and reconciliation process in Afghanistan, following which India has been actively engaged in various developmental and infrastructure building projects in Afghanistan.
Among the other important issues that were talking- points during the EAM's meeting with the vising US diplomat was the Indo-US cooperation in the broader Indo-Pacific region and an initiation of "2 plus 2" dialogue beginning early next year. Mr. Tillerson said, "I look forward to further cooperation in the broader Indo-Pacific region as we both promote a rules-based approach to commerce and a transparent and sustainable approach to economic development. We are glad to be joined in this effort by our close mutual partner Japan."
Speaking about concerns over H1B and L1 visas, Ms. Swaraj said that a two-pronged approach is being followed to find a solution to the visa issue so that Indian professionals are not affected adversely.Later in the day Mr. Tillerson called on Prime Minister Narendra Modi and held wide-ranging talks on bolstering the bilateral relationship. "They affirmed that a strengthened India-US partnership is not just of mutual benefit to both countries, but has significant positive impact on the prospects for regional and global stability and prosperity," said a statement from the Prime Minister's Office.
During the talks, both sides expressed the need to step up "cooperation in combating terrorism in all forms and promoting regional stability and security."National Security Adviser Ajit Doval's meeting with the visiting dignitary earlier in the day had also focussed on tackling terrorism and extremism in all forms.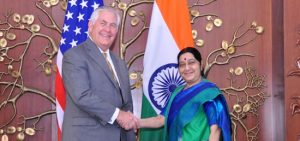 More than two months after US President Donald Trump called out Pakistan for providing "safe haven to agents of chaos, violence and terror," US Secretary of State Rex Tillerson delivered an unequivocal message to Pakistan to dismantle its terror infrastructure or face consequences.In Islamabad, Mr. Tillerson held extensive talks with Pakistan Prime Minister Shahid Khaqan Abbasi, Foreign Minister Khwaja Mohammad Asif and Army Chief General Qamar Javed Bajwa. During the talks, Tillerson said that Pakistan is "so important regionally to our joint goals of providing peace and security to the region and providing opportunity for greater economic relationship," but it was important for Islamabad to keep its commitment on fighting terror.
Assuring his country's continued support, Pakistani PM told Mr. Tillerson: "We have produced results. And we are looking forward to moving ahead with the US and building a tremendous relationship." He added, "The US can rest assured that we are strategic partners in the war against terror and that today Pakistan is fighting the largest war in the world against terror."During his unannounced stopover in Afghanistan, Mr. Tillerson had sent out a clear message to Pakistan that it needed to take a "clear-eyed-view of the situation" and that the US's approach will be based on "whether they take action that we feel is necessary to move the process forward of both creating the opportunity for reconciliation and peace in Afghanistan, but also ensuring a stable future Pakistan."
Mr. Tillerson's tough talk had prompted Pakistan's senate chairman Raza Rabbani to comment that the US diplomat's harsh message "seems like that of a viceroy's before they visit a country."
In an interview to Anchal Anand of News X in Xiamen on the sidelines of the 9th BRICS summit, Manish Chand, Editor-in-Chief of India and World and India Writes Network, decodes the Xiamen Declaration at the BRICS summit, which for the first time targets terror outfits in Pakistan. He unravels reasons behind China's move to join India and other BRICS countries in backing the strongest-ever BRICS joint declaration on terrorism. Mapping the way ahead for India-China relations, post-Doklam, Chand argues that the Modi-Xi meeting in Xiamen could be a new beginning in fraught relations between the two Asian giants.
Q: Do you perceive of it as a major policy shift when it comes to China?
MC: Definitely. It sets a policy shift and it marks the end of ambivalence and what one may also see as some sort of duplicity which was practiced by China vis-à-vis Pakistan. It is kind of turnaround and a calculated turnaround because what we are seeing significantly is that the summit is happening days after India and China managed to resolve the Doklam crisis. So, it also indicates that they are looking ahead and for that to tackle collectively, jointly the scourge of terrorism, to avoid dissonance on terrorism is absolutely critical.
So what has happened here in Xiamen is a major triumph of Indian diplomacy, because by far it is the strongest BRICS statement on terrorism. For the first time it mentions the three four virulently anti-India terror outfits who are unleashing terror and most importantly on the Chinese soil. We have got to see this in a context. Look at last year's Goa summit, for example, where Prime Minister Narendra Modi launched a blistering attack on Pakistan in his opening address where he branded Pakistan as the mother-ship of terrorism and Indian diplomats and negotiators tried very hard to get the names of these terror outfits inside the joint statement but they could not succeed because the context was different and China was obviously opposed to it.
Q: Could you pinpoint for our audience that what really changed? Perhaps China doesn't want to be seen whether North Korea or Pakistan to be seen as standing with all the bad boys of the world.
MC: It is really hard to pinpoint but one can only speculate. Clearly what it suggests or indicates that there is clearly a rethink by China on the issue of terrorism per se and this ambivalence that I spoke to you about of distinguishing between the so called good and bad terrorist or your terrorist and my terrorist, I think there is a realization on the part of the Chinese leadership that that approach may come back to haunt them.
Q: Do you call it a course correction?
MC: It is a course correction of sorts hopefully because in diplomacy sometimes you can be consistently inconsistent. But we hope that now this kind of robust BRICS solidarity on the issue of counter-terrorism and specifically not making those discriminations which mark the approach earlier is a very big movement forward. And we hope that this spirit remains. Looking ahead my interpretation would be that it indicates some sort of broader India- China understanding post Doklam that we got to enhance our areas of convergence and think anew. So, possibly, it is the beginning of a new India-China connect.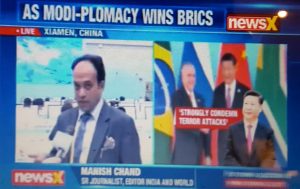 Q: Would you see, considering the fact that tomorrow there may be a bilateral between Prime Minister Modi and Xi Jinping, this understanding actually translating into India picking up the issue of Maulana Masood Azhar being declared as global terrorist at UN by the Indian PM?
MC: Honestly we will keep the pressure on China. India's point, all throughout, has been that lets abandon this segmented approach to terrorism. That is our larger principle position and that will continue to press. But looking ahead to the Modi-Xi meeting I think it will probably be a big picture discussion because as you know India-China relationship underwent severe stress in the last few weeks. 72 days of deadlock and a very belligerent posturing and rhetoric that could have easily escalated into a full blown military conflict. So, I think having resolved this and the point that needs to be emphasized here is the role of the BRICS as a stabilizing factor in India-China relations.
Q: So you would say contentious issues perhaps might just stay and it is going to be more of optics and a forward looking kind of a bilateral discussion?
MC: I think it'll be more than just optics because if you only do optics and then again revert back to this conflict-ridden scenario, that doesn't serve either of these countries.
Q: And last week they were saying that Pakistan and terrorism should not be raised as issues here and BRICS summit is not the appropriate place to do that…
MC: I think we should distinguish between posturing and the real game that is unfolding behind the scene, the real thinking. The thinking to my understanding is that Chinese leadership realises that India stood resolutely firm in its position on Doklam. It was a mind-game of sorts and we refused to blink. So we earned the respect of not just the world but also of the Chinese as well. When you talk about the future of the India- China relation it has to proceed from this understanding and you know significantly Xi Jinping, in one of his BRICS speeches has also said that there will be differences and you we have been talking about the understanding that difference should not turn into disputes.
Looking ahead, I think what we are going to be seeing tomorrow with all that has happened in the past few weeks is a very forward looking future discussion. And what I hear from the sources that possibly there is a larger decision taken by both India and China. The top leadership is to put Doklam behind and start afresh and what we saw on the terrorism front today is an indication of the fact that lets put some of these issues behind and think ahead, widen the areas of convergence, acknowledge that these differences are not going to be resolved overnight but do not allow that to escalate. It will be manageable.
Q: Do you see also in times to come that obviously Chinese position might just become more illogical an untenable that Jaish-e-Mohammad is already declared to be a global terrorist organisation whereas China has been again raising technical holds vis-à-vis Maulana Masood Azhar. So do we see any movement on the ground immediately after this?
MC: You know, for example, nobody expected this thing happening in the Xiamen summit so diplomacy is full of surprises. What we have managed to achieve in the BRICS statement is to get the references to these groups. What it means that somehow it is an acknowledgment by China. We can use that as a kind of a negotiating point that, look you agree to this in Xiamen in BRICS and it is contrary to your stand in the United Nations. So, it gives us that additional leverage.
Q: Would you see this in terms of China trying to fill a global vacuum, trying to become a global leader because if you look at it economically America's policy has been more inward looking after Brexit and you can't achieve that role if you don't stand up, if you don't have a principle stand vis-à-vis terrorism.
MC: Absolutely. This is an important factor that went into Chinese calculation that we have to resolve Doklam because otherwise it would have badly dented China's image of itself as an emerging superpower of sorts. Xi Jinping has spoken about the great Chinese dream and China's ambition of being a responsible stake holder. So, if you continue with this duplicity then it is going to come back and haunt you which is what the Americans have discovered. For far too long they were the hegemon and pretended like one. And as you know, what happened in the Middle East and elsewhere, it has all come back to bite them. China is trying to be a new power. It is trying to proclaim the mantle of the new wave of globalization. China has big dreams and ambitions so it cannot afford to act petty and low and continue with these double standards and equivocation. They need to stop the equivocation if they want to raise their stature.
Q: Can we pin our hopes that tomorrow immediately after the bilateral there is no U-turn? Because the Chinese Foreign Ministry spokesperson takes a U-turn vis-à-vis anything and sides with their all-weather ally Pakistan.
A: Let me strike a note of caution because we are reading too much here. It does not mean anything about China-Pakistan axis. They are doing one of the most ambitious connectivity projects called China Pakistan Economic Corridor and as you know a part of it goes through disputed Jammu and Kashmir. So, those are the big issues. There is no rethink on the China-Pakistan all-weather friendship. I think it would be too ambitious for us to assume that that will happen. But on terrorism there is a rethink. Now, if you say that tomorrow China turns around and says that we did not mean Pakistan then it doesn't mean anything because sometimes you say things for domestic consumption but when you do real diplomacy, you got to lay down some rules.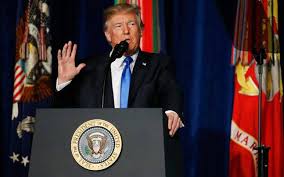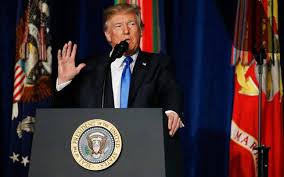 "We can no longer be silent about Pakistan's safe havens, 9/11, the worst terrorist attack in our history, was planned and directed from Afghanistan because that country was ruled by a government that gave comfort and shelter to terrorists,Pakistan will have to change, A hasty withdrawal of army would create a vacuum for terrorists, including ISIS and Al Qaeda, would instantly fill just as happened before Sept. 11.Pakistan will have to change ,the country receives billions in US aid but continues to harbour militants.We can no longer be silent about Pakistan's safe havens for terrorist organizations, the Taliban and other groups that pose a threat to the region and beyond.The Pakistani people have suffered greatly from terrorism and extremism. We recognize those contributions and those sacrifices… But Pakistan has also sheltered the same organizations that try every single day to kill our people. We have been paying Pakistan billions and billions of dollars. At the same time they are housing the very terrorists that we are fighting.But that will have to change. And that will change immediately. No partnership can survive a country's harboring of militants and terrorists who target US service members and officials. It is time for Pakistan to demonstrate its commitment to civilization, order and to peace."
US President Donald Trump address to the nation over US' war policy on Afghanistan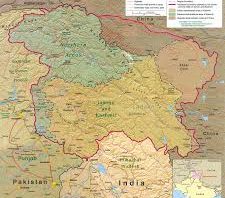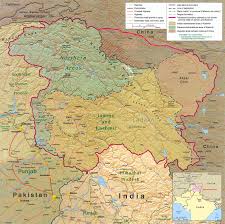 "As far as the Kashmir issue is concerned, you know that the government's position has been very consistent and clear. We are ready, we have been ready to have dialogue with Pakistan… That position of addressing all the issues with Pakistan, including Jammu and Kashmir, in a bilateral framework has not changed."
Gopal Baglay (official spokesperson) said in his weekly media briefing on July 13,2017.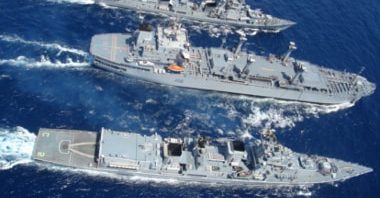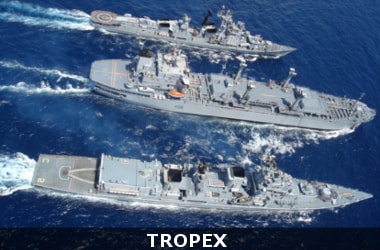 With China and Pakistan on mind, the Indian Navy's annual combat readiness (TROPEX 17) was conducted in the Arabian Sea off the coast of Goa from   January 24 to February 23, 2017. The month-long exercise saw the participation of over 45 ships of the Western and Eastern Naval Commands of the Indian Navy, including the aircraft carrier INS Vikramaditya, five submarines including the nuclear-powered Chakra, 50 Naval aircraft, 11 ships from the Coast Guard, troops from the Army and 20 aircraft from the Air Force including Su 30s, Jaguars and AWACS.
The largest military exercise, in complete coordination with the Army and Air Force, was conducted in phases to test the various facets of war-fighting and joint combat capabilities of the armed forces to respond to given threat situations.  The exercise witnessed various weapon firings by ships, submarines and aircraft from both the Indian Navy and Air Force. This year's edition of TROPEX included the conduct of large scale 'Out of Area Contingency' in island territory, which saw the participation of all three services and their special forces. TROPEX 2017 culminated with Tactical Phase conducted over 10 days, and saw intense action by both the opposing forces. The interaction of the forces helped validate operational war fighting concepts and provided valuable lessons to sharpen combat skills.
TROPEX 2017 assumes great significance in the backdrop of current security scenario, an official statement said without naming any country.
However, security experts opine that TROPEX exercises look at threats posed by the Pakistan Air Force and Navy as well as the growing assertiveness of China, which has sent nuclear and conventional submarines, warships and fleet-replenishment ships in the Indian Ocean, causing concerns in India.