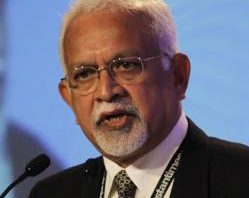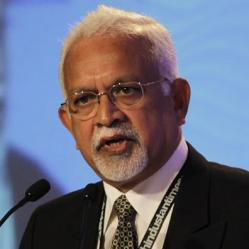 After more than ten weeks of posturing and charged rhetoric during the face-off at Doklam plateau in Bhutan, India and China have signaled their intention to start afresh and improve their relationship. This was reflected in the meeting between Prime Minister Narendra Modi and Chinese President Xi Jinping on the margins of the BRICS summit in Xiamen on September 5, when they decided to take a forward looking approach to the bilateral relationship.
In an interview with Soumya Nair for India Writes Network, former diplomat M.K. Bhadrakumar talks about India's options in dealing with a rising China and the course of India-China relationship, post-Doklam.
(Excerpts from the interview)
Q) Do you think post-Doklam, China is sincere about rebooting ties with India?
A) The Chinese have consistently held the line that they are interested in taking the relationship forward despite the standoff at Doklam, and I don't think there is any change in that. The relationship has been degraded to an extent, but it has not been derailed. The BRICS cannot be seen as a turning point as such because there are several running themes in the relationship. The factors that have brought about a certain downhill in the relationship have taken place over a period of time.
 Q) How do you see China's post-BRICS balancing act with Pakistan?
 A) There is nothing much to read into it. Pakistan is an extremely important country for China. We have to understand that it is not an India-centric relationship any more. With China-Pakistan Economic Corridor coming into the picture, the relationship has acquired a global significance. China has been actively seeking alternate energy routes to alleviate what (former Chinese president) Hu Jintao once called the Malacca Dilemma and Gwadar provides a perfect gateway for China to access the world market. For a trading nation that imports most of its oil from abroad, routes that pass through territories which are not under American influence are strategically very important to China. So it would be naïve to think that there could be any kind of change in its policy of dealing with Pakistan. China's expression of support matters a lot to Pakistan, especially at a time when it has been under a lot of pressure from Trump.
Q) What should be India's engagement with China, given the changed dynamics in the last few years, and at a time when China appears to be looking at taking up a leadership role in a globalized world?
A) I don't think China is interested in that sort of a global hegemony. Multipolarity is something that suits them admirably at this time. India's influence is ultimately circumscribed by the fact that it is not a great globalizer. India is not a serious driver of growth of the world economy, not even of the regional economy.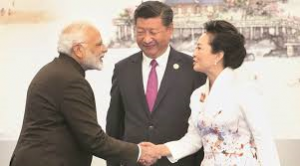 This is not a situation where the rise of China is going to be contested or if anyone is going to try to contain it. Even the United States, the only country which probably has the capability to pretend that it can sustain a containment strategy, is switching to a mode of engagement as the US-China interdependence is such that any kind of confrontation will lead to a high degree of turbulence in the world economy. China is the driver of growth for most of the Southeast Asian economies, so they are not interested in the business of confronting China.
I think it is important for India to go back to a mindset of competitive cooperation instead of having a sense of rivalry vis-à-vis China which has permeated the current discourse in India. A "muscular diplomacy," buoyed by nationalistic posturing, will only end up hurting us. The sense of rivalry is completely unrealistic because China does not see India as a rival. And it is smart enough not to get embroiled in a war with India. China has a GDP which is five times that of ours and it has Comprehensive National Power that has, by and large, completely outstripped India. A notion that we are going to catch up with China is a false one. It cannot happen because in every two years or so China is adding one Indian economy to its own.
Today our top priority should really be development. It does not make sense to talk of rivalry when 400 to 500 million people are still below poverty line. We need to create jobs and unless you can go at a rate of creating something like 2-2.5 million jobs in a year, you are going to be in a serious trouble in a matter of five to ten years. You have only two sectors to address that — the manufacturing sector and the infrastructure sector — which can create big jobs and this where engagement with China is of great importance.
Vietnam is an ideal case in point. It has fought a war with China, has a serious border issue with China and it is also a very nationalistic country in the region. But there is a very intense strategic communication between the two Communist Party leadership and they have an economic partnership which is flourishing. The Vietnamese will not shut down on any opportunity where they can speed up their growth rate with help from Chinese engagement. If India chips in to do something for them, they will not refuse that too.
Even in the case of OBOR, instead of blindly boycotting it, we should have become a part of it and influenced it in directions which suited our interests. Now all South Asian countries are in it. Nepal is currently signing up new agreements as part of the Belt and Road Initiative. I don't know how long you can prevent Bhutan from doing it too. The sense of rivalry is becoming a sense of liability for us.
Q) In his latest book, How India Sees the World, Shyam Saran argues that we are neither in a China-centric Asia, nor in a world destined to become China-centric. In another chapter, he evokes Kautilyan principles saying how "it is necessary to first build India's comprehensive national power" and then to "seek to align with other powerful states to counter the main adversary".
A) There are things which will come our way only if we really have the economic resilience and Comprehensive National Power. Without that happening, what Shyam Saran has said is very pedantic. We neither have the capacity to implement what we are saying, nor the capacity to influence others.
Deng Xiaoping once advised his people to keep their head under the parapet till their internal issues are sorted out. We are far from that situation today. That question is actually for day after tomorrow, not for today. By the time we are capable of making people listen to us, China would have galloped away. That is where I actually differ from Shyam Saran. Then it'll be a different ball game. I don't want to prophesy where the world is heading, but it will be a different paradigm anyway. What is of utmost priority for India today is to focus on our development agenda. If we do not prioritize development, then we are not going to get anywhere. All this will just become a day dream.
In an interview to Anchal Anand of News X in Xiamen on the sidelines of the 9th BRICS summit, Manish Chand, Editor-in-Chief of India and World and India Writes Network, decodes the Xiamen Declaration at the BRICS summit, which for the first time targets terror outfits in Pakistan. He unravels reasons behind China's move to join India and other BRICS countries in backing the strongest-ever BRICS joint declaration on terrorism. Mapping the way ahead for India-China relations, post-Doklam, Chand argues that the Modi-Xi meeting in Xiamen could be a new beginning in fraught relations between the two Asian giants.
Q: Do you perceive of it as a major policy shift when it comes to China?
MC: Definitely. It sets a policy shift and it marks the end of ambivalence and what one may also see as some sort of duplicity which was practiced by China vis-à-vis Pakistan. It is kind of turnaround and a calculated turnaround because what we are seeing significantly is that the summit is happening days after India and China managed to resolve the Doklam crisis. So, it also indicates that they are looking ahead and for that to tackle collectively, jointly the scourge of terrorism, to avoid dissonance on terrorism is absolutely critical.
So what has happened here in Xiamen is a major triumph of Indian diplomacy, because by far it is the strongest BRICS statement on terrorism. For the first time it mentions the three four virulently anti-India terror outfits who are unleashing terror and most importantly on the Chinese soil. We have got to see this in a context. Look at last year's Goa summit, for example, where Prime Minister Narendra Modi launched a blistering attack on Pakistan in his opening address where he branded Pakistan as the mother-ship of terrorism and Indian diplomats and negotiators tried very hard to get the names of these terror outfits inside the joint statement but they could not succeed because the context was different and China was obviously opposed to it.
Q: Could you pinpoint for our audience that what really changed? Perhaps China doesn't want to be seen whether North Korea or Pakistan to be seen as standing with all the bad boys of the world.
MC: It is really hard to pinpoint but one can only speculate. Clearly what it suggests or indicates that there is clearly a rethink by China on the issue of terrorism per se and this ambivalence that I spoke to you about of distinguishing between the so called good and bad terrorist or your terrorist and my terrorist, I think there is a realization on the part of the Chinese leadership that that approach may come back to haunt them.
Q: Do you call it a course correction?
MC: It is a course correction of sorts hopefully because in diplomacy sometimes you can be consistently inconsistent. But we hope that now this kind of robust BRICS solidarity on the issue of counter-terrorism and specifically not making those discriminations which mark the approach earlier is a very big movement forward. And we hope that this spirit remains. Looking ahead my interpretation would be that it indicates some sort of broader India- China understanding post Doklam that we got to enhance our areas of convergence and think anew. So, possibly, it is the beginning of a new India-China connect.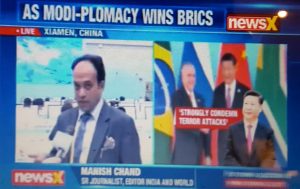 Q: Would you see, considering the fact that tomorrow there may be a bilateral between Prime Minister Modi and Xi Jinping, this understanding actually translating into India picking up the issue of Maulana Masood Azhar being declared as global terrorist at UN by the Indian PM?
MC: Honestly we will keep the pressure on China. India's point, all throughout, has been that lets abandon this segmented approach to terrorism. That is our larger principle position and that will continue to press. But looking ahead to the Modi-Xi meeting I think it will probably be a big picture discussion because as you know India-China relationship underwent severe stress in the last few weeks. 72 days of deadlock and a very belligerent posturing and rhetoric that could have easily escalated into a full blown military conflict. So, I think having resolved this and the point that needs to be emphasized here is the role of the BRICS as a stabilizing factor in India-China relations.
Q: So you would say contentious issues perhaps might just stay and it is going to be more of optics and a forward looking kind of a bilateral discussion?
MC: I think it'll be more than just optics because if you only do optics and then again revert back to this conflict-ridden scenario, that doesn't serve either of these countries.
Q: And last week they were saying that Pakistan and terrorism should not be raised as issues here and BRICS summit is not the appropriate place to do that…
MC: I think we should distinguish between posturing and the real game that is unfolding behind the scene, the real thinking. The thinking to my understanding is that Chinese leadership realises that India stood resolutely firm in its position on Doklam. It was a mind-game of sorts and we refused to blink. So we earned the respect of not just the world but also of the Chinese as well. When you talk about the future of the India- China relation it has to proceed from this understanding and you know significantly Xi Jinping, in one of his BRICS speeches has also said that there will be differences and you we have been talking about the understanding that difference should not turn into disputes.
Looking ahead, I think what we are going to be seeing tomorrow with all that has happened in the past few weeks is a very forward looking future discussion. And what I hear from the sources that possibly there is a larger decision taken by both India and China. The top leadership is to put Doklam behind and start afresh and what we saw on the terrorism front today is an indication of the fact that lets put some of these issues behind and think ahead, widen the areas of convergence, acknowledge that these differences are not going to be resolved overnight but do not allow that to escalate. It will be manageable.
Q: Do you see also in times to come that obviously Chinese position might just become more illogical an untenable that Jaish-e-Mohammad is already declared to be a global terrorist organisation whereas China has been again raising technical holds vis-à-vis Maulana Masood Azhar. So do we see any movement on the ground immediately after this?
MC: You know, for example, nobody expected this thing happening in the Xiamen summit so diplomacy is full of surprises. What we have managed to achieve in the BRICS statement is to get the references to these groups. What it means that somehow it is an acknowledgment by China. We can use that as a kind of a negotiating point that, look you agree to this in Xiamen in BRICS and it is contrary to your stand in the United Nations. So, it gives us that additional leverage.
Q: Would you see this in terms of China trying to fill a global vacuum, trying to become a global leader because if you look at it economically America's policy has been more inward looking after Brexit and you can't achieve that role if you don't stand up, if you don't have a principle stand vis-à-vis terrorism.
MC: Absolutely. This is an important factor that went into Chinese calculation that we have to resolve Doklam because otherwise it would have badly dented China's image of itself as an emerging superpower of sorts. Xi Jinping has spoken about the great Chinese dream and China's ambition of being a responsible stake holder. So, if you continue with this duplicity then it is going to come back and haunt you which is what the Americans have discovered. For far too long they were the hegemon and pretended like one. And as you know, what happened in the Middle East and elsewhere, it has all come back to bite them. China is trying to be a new power. It is trying to proclaim the mantle of the new wave of globalization. China has big dreams and ambitions so it cannot afford to act petty and low and continue with these double standards and equivocation. They need to stop the equivocation if they want to raise their stature.
Q: Can we pin our hopes that tomorrow immediately after the bilateral there is no U-turn? Because the Chinese Foreign Ministry spokesperson takes a U-turn vis-à-vis anything and sides with their all-weather ally Pakistan.
A: Let me strike a note of caution because we are reading too much here. It does not mean anything about China-Pakistan axis. They are doing one of the most ambitious connectivity projects called China Pakistan Economic Corridor and as you know a part of it goes through disputed Jammu and Kashmir. So, those are the big issues. There is no rethink on the China-Pakistan all-weather friendship. I think it would be too ambitious for us to assume that that will happen. But on terrorism there is a rethink. Now, if you say that tomorrow China turns around and says that we did not mean Pakistan then it doesn't mean anything because sometimes you say things for domestic consumption but when you do real diplomacy, you got to lay down some rules.