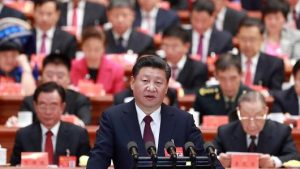 The 19th National Congress of the Communist Party of China was concluded in October. In the meeting, Comrade Xi Jinping, General Secretary of the CPC Central Committee and President of the People's Republic of China (PRC), reviewed the achievements of the past five years and charted a new course for China's future political, economic, cultural and social development. President Xi's report pointed out the right direction for developing China-India economic and trade relationship. In the future, following the principles of the 19th National Congress of the Communist Party of China, we will use three "keys" to unlock the potential of balanced and mutually beneficial China- India economic and trade cooperation in the "new era".
Major Trading Partners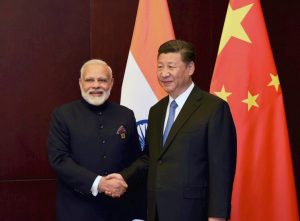 First, build key relationships – to become trading partners based on equality and mutual benefit. As mentioned in the report of the 19th CPC National Congress, China remains firm in its commitment to building a community with a shared future for mankind and forging a new form of international relations featuring mutual respect, fairness, justice, and win-win cooperation. These are core principles China adhere to in attaining peaceful development and participatory global governance. China and India are good neighbours, friends and trading partners.
Since 2014, after President Xi visited India, the two leaders have met more than 10 times on various occasions, reached an important consensus and charted the right direction for China-India economic and trade cooperation. In the BRICS Xiamen Summit this September, President Xi stressed the importance of "the dragon and elephant dancing together" and underlined the imperative of avoiding conflicts. Prime Minister Modi also emphasized that with good bilateral relationship, 1 plus 1 could equal 11. To achieve this, we should further our practical cooperation and utilize intergovernmental and inter-corporate cooperation mechanisms to improve our economic strength and competitiveness.
With the economic and trade mechanisms like JEG, SED and China-India Financial Dialogue playing more important roles, our strategic synergy will be enhanced, trade and investment will be facilitated, bilateral trade will be more balanced and massive project cooperation will be more active. All these will lead to a spectacular future for our economic development. Meanwhile, we should also strengthen our cooperation and coordination in WTO, RCEP and other multilateral mechanisms to promote globalization and protect the overall interests of developing countries and foster more inclusive, equal and mutually beneficial economic and trade relations.
Promoting Balanced Trade
Second, focus on key issues- to build a more balanced trade structure. The 19th CPC National Congress stressed that China would pursue open, innovative, and inclusive development that benefits all, that China would not close its door to the world but would only become more open. For a long time, the imbalanced trade between China and India has been a stubborn obstacle, holding back our economic and trade relations. I'm very happy to see that with joint efforts from both sides, our trade volume may exceed $80 billion this year, reaching a five-year high. More importantly, China's import from India has increased more than 20% while export to India remains nearly the same.
In 2018, China will host the first China International Import Exposition. This is the first large scale import themed exposition and an innovation in international trade development. We welcome the Indian businesses to showcase Indian products at the expo, along with goods from all over the world. We believe this will open new channels for Indian goods reaching Chinese families. We will work on expanding our cross-border trade, import more agricultural products from India, and promote build-to-order business models. We hope to finish FTA to enhance the level and scale of our trade, increase our import from India, opening our market wider and achieve more balanced trade with India.
Scaling up investment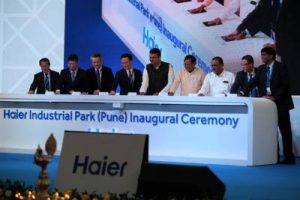 Third, develop key areas-to build a mutually beneficial investment system. As emphasised in the 19th CPC National Congress report, China would give equal importance to "bringing in" and "going global," following the principle of achieving shared growth through discussion and collaboration; and be more open and cooperative to enhance innovation capacity. With these efforts, we hope to break new grounds in opening China further through links running eastward and westward, across land and over sea. China has always made outbound investments to create mutual benefits. As statistics show, from 2012 to 2016, Chinese corporations have paid more than $13.7 million in taxes, created over one million jobs, and made contributions to host nations and the world economy.
In recent years, many economic and trade agreements in industrial park and cooperation on production capacity have been signed between China and India, establishing great platforms for investment cooperation. A group of famous Chinese corporations like Alibaba, Fosun, SAIC Motor and China Fortune Land Development have come to invest in India. These corporations not only provided funding and technical support for "Make in India" and "Start-up India" and reduced trade deficit between the two countries, but also provided jobs and tax revenue for their host states. They are highly recognized by the state governments. On November 16, I attended the Haier's Industrial Park(Pune)Inaugural Ceremony. During the event, I had an in-depth discussion with Maharashtra Chief Minister Devendra Fadnavis. He praised the progress Haier has made in Maharashtra and called it a great epitome of foreign enterprises participating "Make in India".
This year, in the World Bank's Ease of Doing Business Index, India's ranking jumped from 130th to 100th, making one of the biggest improvements among all the countries. This will further encourage Chinese corporations to invest more in India on this trend, we should work harder to optimize investment environment, push forward the revision of bilateral agreements like investment protection agreement and agreement for the avoidance of double taxation. This will create a better investment environment for corporations, regulate Chinese corporation's investment in India and realize the social responsibilities of the corporations. Moreover, we should encourage Indian corporations to invest in China in areas with comparative advantages, like pharmacy and IT. In this way, we can create a friendly, complementary and mutually beneficial two-way investment system.
The Way Ahead: New Horizons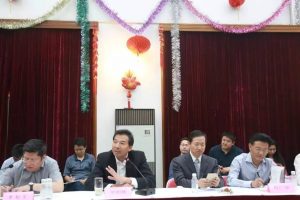 As an ancient Chinese poem goes, a thousand sails pass by the shipwreck, ten thousand saplings shoot up beyond the withered tree — new things come to the fore while old things perish. As China's Ambassador Luo Zhaohui said time and time again, China-India relations cannot afford to wander, stall or go backwards.
We need to move in the right direction and implement the consensus our leaders reached at the Xiamen Summit. We should focus on cooperation instead of differences and solve problems to create a more health bilateral relationship. I believe, with the guidance of our leaders and the guiding principles of the 19th National Congress of the Communist Party of China, India-China economic and trade cooperation will bring real benefits to our governments, business communities and ordinary people. It will become the bedrock and anchor of our bilateral relationship. With the development of this relationship, the day when "China and India speak in one voice, and the world listens" will come soon.
(Li Baijun is Economic and Commercial Counsellor of Chinese Embassy in India)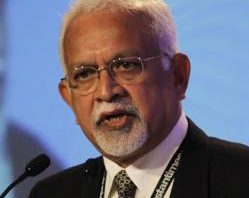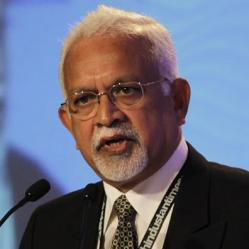 After more than ten weeks of posturing and charged rhetoric during the face-off at Doklam plateau in Bhutan, India and China have signaled their intention to start afresh and improve their relationship. This was reflected in the meeting between Prime Minister Narendra Modi and Chinese President Xi Jinping on the margins of the BRICS summit in Xiamen on September 5, when they decided to take a forward looking approach to the bilateral relationship.
In an interview with Soumya Nair for India Writes Network, former diplomat M.K. Bhadrakumar talks about India's options in dealing with a rising China and the course of India-China relationship, post-Doklam.
(Excerpts from the interview)
Q) Do you think post-Doklam, China is sincere about rebooting ties with India?
A) The Chinese have consistently held the line that they are interested in taking the relationship forward despite the standoff at Doklam, and I don't think there is any change in that. The relationship has been degraded to an extent, but it has not been derailed. The BRICS cannot be seen as a turning point as such because there are several running themes in the relationship. The factors that have brought about a certain downhill in the relationship have taken place over a period of time.
 Q) How do you see China's post-BRICS balancing act with Pakistan?
 A) There is nothing much to read into it. Pakistan is an extremely important country for China. We have to understand that it is not an India-centric relationship any more. With China-Pakistan Economic Corridor coming into the picture, the relationship has acquired a global significance. China has been actively seeking alternate energy routes to alleviate what (former Chinese president) Hu Jintao once called the Malacca Dilemma and Gwadar provides a perfect gateway for China to access the world market. For a trading nation that imports most of its oil from abroad, routes that pass through territories which are not under American influence are strategically very important to China. So it would be naïve to think that there could be any kind of change in its policy of dealing with Pakistan. China's expression of support matters a lot to Pakistan, especially at a time when it has been under a lot of pressure from Trump.
Q) What should be India's engagement with China, given the changed dynamics in the last few years, and at a time when China appears to be looking at taking up a leadership role in a globalized world?
A) I don't think China is interested in that sort of a global hegemony. Multipolarity is something that suits them admirably at this time. India's influence is ultimately circumscribed by the fact that it is not a great globalizer. India is not a serious driver of growth of the world economy, not even of the regional economy.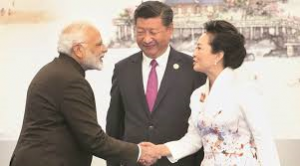 This is not a situation where the rise of China is going to be contested or if anyone is going to try to contain it. Even the United States, the only country which probably has the capability to pretend that it can sustain a containment strategy, is switching to a mode of engagement as the US-China interdependence is such that any kind of confrontation will lead to a high degree of turbulence in the world economy. China is the driver of growth for most of the Southeast Asian economies, so they are not interested in the business of confronting China.
I think it is important for India to go back to a mindset of competitive cooperation instead of having a sense of rivalry vis-à-vis China which has permeated the current discourse in India. A "muscular diplomacy," buoyed by nationalistic posturing, will only end up hurting us. The sense of rivalry is completely unrealistic because China does not see India as a rival. And it is smart enough not to get embroiled in a war with India. China has a GDP which is five times that of ours and it has Comprehensive National Power that has, by and large, completely outstripped India. A notion that we are going to catch up with China is a false one. It cannot happen because in every two years or so China is adding one Indian economy to its own.
Today our top priority should really be development. It does not make sense to talk of rivalry when 400 to 500 million people are still below poverty line. We need to create jobs and unless you can go at a rate of creating something like 2-2.5 million jobs in a year, you are going to be in a serious trouble in a matter of five to ten years. You have only two sectors to address that — the manufacturing sector and the infrastructure sector — which can create big jobs and this where engagement with China is of great importance.
Vietnam is an ideal case in point. It has fought a war with China, has a serious border issue with China and it is also a very nationalistic country in the region. But there is a very intense strategic communication between the two Communist Party leadership and they have an economic partnership which is flourishing. The Vietnamese will not shut down on any opportunity where they can speed up their growth rate with help from Chinese engagement. If India chips in to do something for them, they will not refuse that too.
Even in the case of OBOR, instead of blindly boycotting it, we should have become a part of it and influenced it in directions which suited our interests. Now all South Asian countries are in it. Nepal is currently signing up new agreements as part of the Belt and Road Initiative. I don't know how long you can prevent Bhutan from doing it too. The sense of rivalry is becoming a sense of liability for us.
Q) In his latest book, How India Sees the World, Shyam Saran argues that we are neither in a China-centric Asia, nor in a world destined to become China-centric. In another chapter, he evokes Kautilyan principles saying how "it is necessary to first build India's comprehensive national power" and then to "seek to align with other powerful states to counter the main adversary".
A) There are things which will come our way only if we really have the economic resilience and Comprehensive National Power. Without that happening, what Shyam Saran has said is very pedantic. We neither have the capacity to implement what we are saying, nor the capacity to influence others.
Deng Xiaoping once advised his people to keep their head under the parapet till their internal issues are sorted out. We are far from that situation today. That question is actually for day after tomorrow, not for today. By the time we are capable of making people listen to us, China would have galloped away. That is where I actually differ from Shyam Saran. Then it'll be a different ball game. I don't want to prophesy where the world is heading, but it will be a different paradigm anyway. What is of utmost priority for India today is to focus on our development agenda. If we do not prioritize development, then we are not going to get anywhere. All this will just become a day dream.