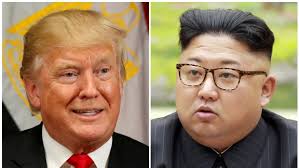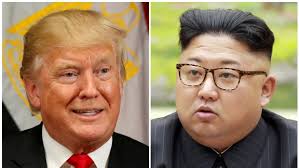 For the first time since 2015, North Korea and South Korea have agreed to hold official talks to defuse mounting tensions between them. This comes ahead of the upcoming Winter Olympics in South Korea and shortly after the US and South Korea decided to delay a joint military exercise.South Korea's Unification Minister Cho Myoung-gyon confirmed that the talks are to be held on January 9 in Panmunjom, a border truce village. In his New Year address, North Korean leader Kim Jong Un expressed his interest in resuming talks with it's neighbour and participating in the Winter Olympics to be held in Pyeongchang, a calculated response perhaps to US President Donald Trump and South Korean President Moon Jae-in's announcement to reschedule the military drills after the Olympics.
While the representatives from both sides are yet to be confirmed, North Korea has demanded that further negotiations concerning the proposed meeting be carried out via documented exchanges.
Cautious optimism
Mr Trump was quick to pat himself on the back. "Does anybody really believe that talks and dialogue would be going on between North and South Korea right now if I wasn't firm, strong and willing to commit our total 'might' against the North," he tweeted. Observers and analysts, however, believe that it is a clever ploy by North Korea to drive a diplomatic divide between the US and South Korea. North Korean efforts are directed against making America a necessary participant in the future peace talks."The fact that North Korea wants to talk to South Korea makes me cautiously optimistic, but I don't have high expectations," said Jung Pak, a former US intelligence official. "We need to be careful about not blowing this out of proportion.""We need to be very cautious about our expectations given North Korea's long history of effectively using these talks to drive a wedge between South Korea and its partners, and to push for concessions Seoul couldn't possibly accept," said Mintaro Oba, a former Obama State Department official who worked on North Korean affairs.
While South Korea remains firm on its denuclearization demand, North Korea has not made its nuclear proliferation conditional to these talks. The Kim regime will look at ways to stall the joint military exercises in the Korean Peninsula and secure economic assistance, sanctions relief or a bribe in exchange for the promise of not disrupting the Olympics.
Showing promising signs of reconciliation after stepping away from a military standoff in August, North Korea and South Korea have decided to extend the high-level talks to ease animosity.
While no major developments were expected from the last day of the meetings between vice-ministerial officials in Kaesong, where the discussions stretched late into the night on December 11, the two sides decided to extend the talks. People on both sides find the talks meaningful because they keep alive an atmosphere of dialogue something the rivals have often failed to do in the wake of conflict.
"The South and North had comprehensive discussions on pending issues and thoughtfully exchanged their views," Seoul's Unification Ministry spokesman Jeong Joon-Hee said, after the talks. However, the issues that were  discussed were not revealed by the spokesman.
"Improving relations with Seoul is a priority for young North Korean leader Kim Jong Un, who likely wants tangible diplomatic and economic achievements before a convention of the ruling Workers' Party in May, said Koh Yu-hwan, a North Korea expert at Seoul's Dongguk University."