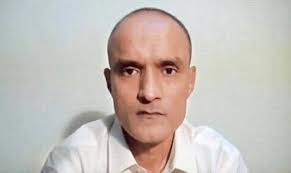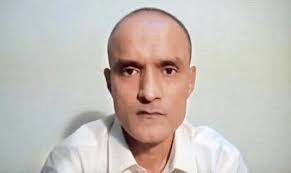 Maintaining its stand that Khulbhushan Yadav, the former Indian Navy officer detained on charges of espionage, is an Indian "spy", Pakistan has denied India consular access to the death row prisoner in its counter-memorial submitted to the International Court of Justice (ICJ).
India has called the death sentence a "farcical process". "We also appealed to ICJ in May as we believe Vienna convention was being violated. We do reiterate our position that Jadhav remains in Pakistan and is facing death sentence given through a farcical process and on concocted charges," Ministry of External Affairs spokesperson Raveesh Kumar said.
"Lack of explanation on how a serving naval commander was operating under secondment to Indian spy agency Research and Analysis Wing (RAW) was travelling under an assumed name leads to only one conclusion that India wanted consular access to the information he had gathered," read the counter memorial submitted by Pakistan.
While India insists that 47-year-old Jadhav was kidnapped from Iran where he was engaged in business post retirement from the Navy, Pakistan has claimed that he was arrested from the troubled Balochistan province on March 3 last year where he allegedly entered from Iran under the name of Hussein Mubarak Patel. Pakistan has long accused India of fanning secessionist forces in Balochistan and believes Jadhav to be working for the Research and Analysis Wing (RAW) of India. Giving consular access would, according to Pakistan, provide India with the opportunity of gathering information from the accused. India has time and again rejected these allegations.
Denying the applicability of the Vienna Convention in this case where a spy is involved and not an ordinary prisoner, Pakistan stated in the ICJ "Only a state which adheres to legitimate actions can request the court to intervene in a matter between two states".
A Pakistani military court had sentenced Jadhav to death charges of espionage and terrorism in April which prompted India to take the matter to the highest judicial body. While the sentence has been put on hold, Pakistan has asserted that sending a spy to fund terrorist activities on its soil gives no ground for India to appeal to the ICJ. It remains to be seen if the ICJ takes the case forward for a hearing or asks both countries to submit more documents. Meanwhile, Pakistan has allowed Jadhav a meeting with his wife on "humanitarian grounds" on December 25. She will be accompanied by an Indian envoy.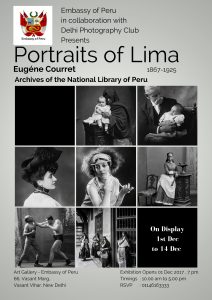 The Art Gallery of the Embassy of Peru in India recently came alive with frames capturing the happening life of 19th century Lima, the Peruvian capital. Organized jointly by the Embassy and the Delhi Photographic Club, the Photo exhibition titled "Retratos de Lima" (Portraits of Lima) showcases selections from the rich archives of Eugéne Courret, a French photographer who settled in the Latin American city in 1860 and documented the teeming life of a busy metropolis through his lens.
Riding on the windfall gains from the exploitation of guano (fertilizer), this coastal city was the hub of business travellers, artists, explorers and people from Europe who wanted to partake of the pleasures of life of "The Pearl of the Pacific", an honour bestowed on Lima by German naturalist Alexander Von Humboldt. Apart from the ordinary life and grandeur of the city, Courret also portrayed the tumultuous years of the Pacific War (1879-1883).
The 42 pictures that are displayed in the exhibition are from the Photographic Archive that belongs to the National Peruvian Library. The efforts of the Indo-Peruvian Friendship Association (INPEFA) and the Delhi Photography Club have been commendable in giving the public an access to these exceptional treasures and encouraging cultural interaction between the peoples of two nations.
While economic and business ties have been a major aspect of India-Peru relations, cultural bonding has also been significant. On the occasion of the 50th anniversary of the establishment of diplomatic relations between the two nations in 2013, a special postal stamp depicting Taj Mahal and Machu Picchu was issued along with an Exhibition of Documents and Photographs celebrating the cordial ties. Although the Indian diaspora is very small in Peru, in recent times this country been a destination of increasing number of India professionals with the entry of more Indian companies.
Under the Cultural Centre that was established in the Peruvian Embassy in New Delhi in May 2017, activities and workshops on dance, music, Rangoli, Ayurveda and yoga are organised on a regular basis.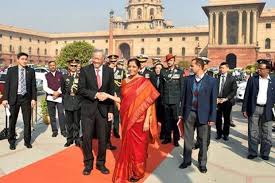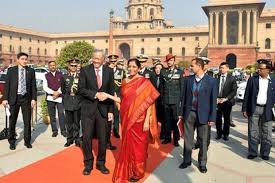 Amid China's growing assertion in the maritime space, India and Singapore have concluded a crucial pact on enhancing naval cooperation. The bilateral Agreement for Navy Cooperation, signed on November 29, is aimed at expanding India-Singapore cooperation in ensuring freedom of navigation, right of passage and over-flight, unimpeded commerce and access to resources and fighting a host of other security challenges.India's Defence Minister Nirmala Sitharaman and her Singaporean counterpart Ng Eng Hen held talks in New Delhi to finalise the deals.
The agreements come at an important moment when India is trying to assert its presence in the Indian Ocean amidst increasing Chinese forays in the maritime space."The conclusion of the India-Singapore Bilateral Agreement for Navy Cooperation…will lead to increased cooperation in maritime security, joint exercises, temporary deployments from each other's naval facilities and mutual logistics support," India's Defence Ministry said in a statement.
In a joint press conference after their meeting, the ministers expressed their commitment to bolstering India-Singapore defence partnership. "India and Singapore remain strongly committed to tackle the transnational security threats," Ms Sitharaman said. "I not only support but I would also encourage the Indian Navy to visit the Changi naval base more often. The bilateral naval agreement has provision for mutual logistical support," Dr. Ng said.
Strategic Connect
Singapore has been India's major partner in ASEAN and has played an important role in spurring India's engagement with Southeast Asia. Apart from the naval agreement, the two sides signed the revised Defence Cooperation Agreement relationship between the Singapore Armed Forces and the Indian Armed Forces. There was also a renewal of the air force agreement earlier this year.The talks included discussions on Singapore's proposal to expand the Code of Unplanned Encounters at Sea to all ADMM (ASEAN Defence Ministers' Meeting)-Plus countries and to put in place the procedures of air encounters between military aircrafts.
Access to port facilities was an important aspect of the discussions. Refuelling and berthing facilities at the Singapore port will be critical in expanding the reach of Indian warships and aircraft east of the Malacca Strait, a crucial point of China's energy supplies. The Indian Navy has a permanent deployment of a frontline warship at the mouth of the Malacca strait to keep an eye on the increasing Chinese movements in the Indian Ocean as part of its mission-based deployment.
India's assistance to Singapore will include live firing drills in the Andaman Sea. The two countries are also expected to renew the bilateral army pact, under which facilities are provided to Singapore for exercises of mechanized forces at Babina and artillery at Deolali ranges, and the when it ends next year.These agreements will deepen strategic content of India's Act East Policy, which seeks to enhance India's economic and defence cooperation with ASEAN countries like Singapore, Vietnam, Myanmar, Malaysia and Indonesia to curtail Chinese influence.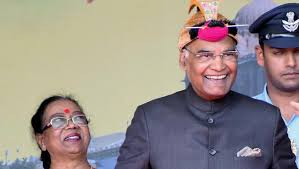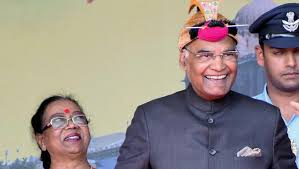 Ahead of the visit by China's Foreign Minister Wang Yi to India, China has renewed its claims over Arunachal Pradesh. The visits by Indian leaders to Arunachal Pradesh, which is claimed in entirety by Beijing, has consistently elicited protests from China, and this time it was not different when President Ram Nath Kovind visited India's easternmost state."Before the border issue is resolved, both sides should jointly work hard to protect the peace and tranquillity of the border region. China resolutely opposes Indian leaders' activities in disputed regions", Chinese Foreign Ministry spokesperson Lu Kang said in a media briefing. Calling it a "crucial moment" in India-China relations, Beijing has warned the Indian establishment against any attempt to complicate matters. "The Chinese government (has) never acknowledged the so-called Arunachal Pradesh", Mr Lu added.
In his speech to the state assembly, President Kovind glowingly described Arunachal as "the jewel in the crown" of India's northeast and outlined the initiatives undertaken by the government to improve connectivity by advancing the state's transport links. India has consistently maintained that Arunachal Pradesh is an integral part of India and therefore it sees the visits by Indian leaders as perfectly legitimate.In April this year China expressed unhappiness with India's decision to host Tibetan spiritual leader Dalai Lama in the region. More recently, while there was a friendly exchange between India's Defence Minister Nirmala Sitharaman and Chinese soldiers during her visit to Sikkim, China was quick to object to her visit to the border district of Anjaw in Arunachal Pradesh.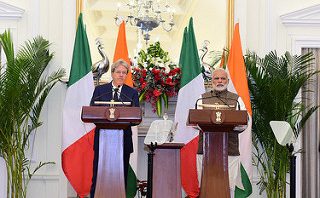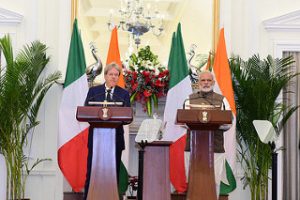 Resetting their bilateral ties on an upward trajectory after a prolonged chill following the Marines incident, India and Italy have decided to enhance counter-terror cooperation and upscale their economic relationship.
The first visit by an Italian prime minister in a decade by Paolo Gentiloni October 30 ended a hiatus of 10 years and firmed up a template for accelerating India-Italy partnership across the spectrum.  Mr Gentiloni's visit marks significant step forward since the two countries were embroiled in a crisis involving two Italian marines accused of killing two Indian fishermen in sea in 2012. The visit paves the way for a series of high-level Italian delegations that are scheduled to visit India in the coming days.
While the joint statement by the two countries emphasized convergence on a number of international issues like terrorism, climate change, UN reforms and non-proliferation efforts, there was a careful avoidance of the international legal dispute of the marines' case. India's deepening ties with the European Union has necessitated a close cooperation with the member states who are looking at India for political support at a time when the credibility of the EU has been challenged by secessionist forces.
Both the leaders expressed the need to widen the trade ties between the two large economies, taking it much beyond the current figure of USD 8.8 billion. While Mr. Modi called upon the Italian industry to explore India's untapped business opportunities in the infrastructure, food processing, renewable energy, and high-tech manufacturing sectors, the Italian PM invited Indian business interest in Italy's textile, automotive, leather, machinery and chemical sectors. The "Make in India" initiative has been a popular selling point of India's engagement with its foreign partners and Mr. Gentiloni expressed his commitment to the initiative by highlighting the role of 628 Italian companies with an investment of over $2.4 billion providing employment to over 23,000 people in India. An 'Indo-Italian High Level Forum on Design' is to be established focussing on industrial design, auto design, architecture, interior design, and fashion. Its first meeting has been scheduled for March 2018. Mr Modi also sought Italy's cooperation in the government's launch of the Smart Cities programme and in areas like food processing, pharma and infrastructure.
Six MoUs were signed by the two countries in renewable energy sector, trade, investment, agriculture, railway safety and culture. On terrorism, both countries agreed to boost the consultation mechanism by exchanging assessments and information and training and capacity building on a regular basis. Italy's successful de-radicalization programme is a lesson for India and the rest of Europe grappling with the treat of rising extremist forces.
The two countries also decided to deepen the cultural ties and people-to-people contact to reinforce their growing partnership. Educational engagement, investment in science and technology and space research and conservation efforts will be explored in the joint partnership plans.
(Pritha Mahanti contributed inputs for this article)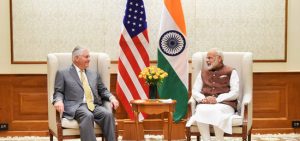 Setting the tone of his maiden official visit to New Delhi, US Secretary of State Rex Tillersonhad expressed last week the US administration's determination to "dramatically deepen ways" to build an ambitious strategic partnership with Indianot just specific to South Asia but also including the Indo-Pacific, with an eye on China's rising assertiveness in the region.In New Delhi on a 36-hour visit, Mr. Tillerson reaffirmed his country's support for India's rise as a regional power and providing further assistance in advancing India's military mordernisation by equipping it with best technologies.Speaking to the media after her extensive talks with the visiting US diplomat on October 25, India's External Affairs Minister Sushma Swaraj was unequivocal in expressing India's stance vis-à-vis terrorism emanating from Pakistan when she said that "America's South Asia policy can succeed only if Pakistan will act decisively against terror groups" operating from its soil. "India and the US discussed that no country in the world should provide safe havens to terror groups. Any country backing terrorism must be made responsible," she said.
Sharing India's concerns on Pak-sponsored terrorism, Mr. Tillerson,who had stopped over in Islamabad and held meetings with Pakistani Prime Minister Shahid Khaqan Abbasi, Foreign MinisterKhwaja Mohammad Asif and Army Chief General QamarJaved Bajwa, before flying into New Delhi, said that "terror safe havens will not be tolerated". "We have extended to Pakistan certain conditions and expectations we have in particular with regard to these organisations and the leaders of these organisations," he said. Mr. Tillerson also expressed concern that these terror groups could pose a threat to Pakistan's own stability. "It is not in anyone's interests that the government of Pakistan be destabilised," he saidadding that India and US, therefore, have a mutually shared interest in working towards containing and eventually eliminating these organisations.
Mr. Tillerson,who had also made an unannounced visit to Kabul as part of his six-nation tour, said that India was crucial for America's Afghan strategy. Unveiling his policy on Afghanistan in August, President Donald Trump had envisaged a bigger role for India in the ongoing peace and reconciliation process in Afghanistan, following which India has been actively engaged in various developmental and infrastructure building projects in Afghanistan.
Among the other important issues that were talking- points during the EAM's meeting with the vising US diplomat was the Indo-US cooperation in the broader Indo-Pacific region and an initiation of "2 plus 2" dialogue beginning early next year. Mr. Tillerson said, "I look forward to further cooperation in the broader Indo-Pacific region as we both promote a rules-based approach to commerce and a transparent and sustainable approach to economic development. We are glad to be joined in this effort by our close mutual partner Japan."
Speaking about concerns over H1B and L1 visas, Ms. Swaraj said that a two-pronged approach is being followed to find a solution to the visa issue so that Indian professionals are not affected adversely.Later in the day Mr. Tillerson called on Prime Minister Narendra Modi and held wide-ranging talks on bolstering the bilateral relationship. "They affirmed that a strengthened India-US partnership is not just of mutual benefit to both countries, but has significant positive impact on the prospects for regional and global stability and prosperity," said a statement from the Prime Minister's Office.
During the talks, both sides expressed the need to step up "cooperation in combating terrorism in all forms and promoting regional stability and security."National Security Adviser Ajit Doval's meeting with the visiting dignitary earlier in the day had also focussed on tackling terrorism and extremism in all forms.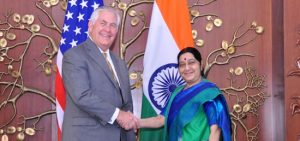 More than two months after US President Donald Trump called out Pakistan for providing "safe haven to agents of chaos, violence and terror," US Secretary of State Rex Tillerson delivered an unequivocal message to Pakistan to dismantle its terror infrastructure or face consequences.In Islamabad, Mr. Tillerson held extensive talks with Pakistan Prime Minister Shahid Khaqan Abbasi, Foreign Minister Khwaja Mohammad Asif and Army Chief General Qamar Javed Bajwa. During the talks, Tillerson said that Pakistan is "so important regionally to our joint goals of providing peace and security to the region and providing opportunity for greater economic relationship," but it was important for Islamabad to keep its commitment on fighting terror.
Assuring his country's continued support, Pakistani PM told Mr. Tillerson: "We have produced results. And we are looking forward to moving ahead with the US and building a tremendous relationship." He added, "The US can rest assured that we are strategic partners in the war against terror and that today Pakistan is fighting the largest war in the world against terror."During his unannounced stopover in Afghanistan, Mr. Tillerson had sent out a clear message to Pakistan that it needed to take a "clear-eyed-view of the situation" and that the US's approach will be based on "whether they take action that we feel is necessary to move the process forward of both creating the opportunity for reconciliation and peace in Afghanistan, but also ensuring a stable future Pakistan."
Mr. Tillerson's tough talk had prompted Pakistan's senate chairman Raza Rabbani to comment that the US diplomat's harsh message "seems like that of a viceroy's before they visit a country."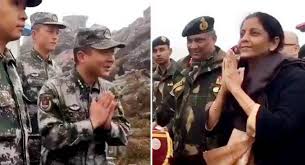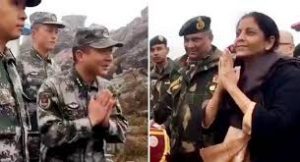 Namaste, Ni Hao! It's time for bonhomie and friendly gestures between India and China, who are trying to put the bitterness of the Doklam standoff behind. India's Defence Minister Nirmala Sitharaman's visit to Nathu La in Sikkim and her informal interaction with the Chinese troops across the border has been hailed in China as a warming signal for better India-China relations.
A video clip showing Ms. Sitharaman teaching the meaning of 'namaste' to the People's Liberation Army soldiers has gone viral with several Chinese media groups sharing it widely as a positive gesture from the Indian side. "Do you know what 'Namaste' means?," Mrs Sitharaman is seen asking in the clip to which one Chinese soldier responds saying: "Namaste means nice to meet you" before greeting her with a "Ni hao" in Chinese. Soon after the exchange of greetings, Ms. Sitharaman tweeted saying, "Acknowledged a row of Chinese soldiers from across the fence who were taking pictures on my reaching Nathu La." Nathu La border post is around 30 km from Doklam where the two countries were engaged in a prolonged 73-day standoff.
Speaking to The Global Times, Qian Feng, an expert at the Chinese Association for South Asian Studies, said, "It sent a goodwill signal towards mending bilateral ties and putting relations back on track toward normality." Many analysts and social media users from both the countries have hailed the exchange as a goodwill gesture citing the need for rebuilding trust, especially at a time when there has been a lot of bad blood between the two countries following the Doklam standoff.
In an editorial in The Global Times, the mouthpiece of the CPC, welcomed Ms Sitharaman's "friendly interactions with Chinese soldiers," but at the same time termed her border inspection as an "aggressive posture" and cautioned New Delhi to exercise restraint."New Delhi needs to exercise restraint. It can only strengthen military infrastructure on its own soil when and where international law permits. It should consider deepening strategic security communication with China, which can enhance mutual trust between China and India," said the Global Times in an editorial entitled, 'Sitharaman greeting sends warm signal'.
Sitharaman's traditional Namaste greeting to the Chinese soldiers sent another signal to the public that might not erase the first impression but may at least balance things out," Global Times wrote in an editorial titled."This is a realistic and responsible attitude for the country and its people. Both before and after the Dokalam crisis, the Chinese government hopes for border peace with the broad support of the Chinese people. But Indian society's understanding of their country's border policy seems ambiguous and chaotic. Some Indians believe New Delhi will take tough measures to crush Beijing's will," the influential Chinese publication said.
The hawkish publication also cautioned India against forming alliances with US and Japan. "Indians must overcome the paranoia that suggests their country is strategically thwarted and threatened by Beijing. New Delhi also needs to give up its pursuit of Washington and Tokyo support to deploy as a bargaining chip against Beijing… Confrontation with China will directly limit its international strategic space."
 The birth of a publication is always a reason for celebration.  The birth of a publication at a time when the print media is under some strain is a cause for even greater celebration.
Foreign affairs and diplomacy are two of the most important aspects of government, have always been, particularly now in the current environment and context in which we live. Let me begin with a question that is immediate. What has happened in the last three years that is a significant change with the past? The first articulation of our foreign policy was made in March 1946 at the Asian Relations Conference and it is also an indication of how seriously the first Prime Minister Jawaharlal Nehru took foreign policy. He had already begun, in a sense, the concept of multilateralism, established it with that conference, at a time when the post-war world was still searching for some way forward. At a time when colonisation still seemed one power that the world would not easily get rid of.
Now, it's only in hindsight that we can say that 1947 was a seminal year because, in a real way, Europe's colonial power began with Britain's success in India and it also ended with Britain's collapse in India.
After the British lost their raj, it was only a matter of time before colonialism all across the world collapsed. But in 1946, certainly the spirit of Lord [Satyendra] Sinha was more prevalent. As a law member, he'd famously remarked about Mahatma Gandhi that: "I don't understand what this man in a dhoti is doing, the British are going to be around here for 400 years."
That was the prevalent wisdom and that was a prevalent assessment.  He wasn't far off from what conventional thinking in 1917 suggested and yet, when Gandhiji started, the Empire could not survive more than 30 years. The reason was that a man had come who mobilised the will of the people against an elite. Previously, all the colonial powers had to do was to confront and defeat local elites in order to establish their expansion. They never had to deal really with the people.
Need for India-Centric Foreign Policy
Compared to those years, if I had to define the difference, it would be this: India has always had a world policy or a foreign policy, but I think now large parts of the world have an India policy and they have had to recognise that an India policy cannot be confused with the South Asia policy or a Southeast Asia policy or an Asian policy. That you have to now find a way of engagement with India, which is India-centric, India- specific. We, on our side, have – thanks to the impetus given by Prime Minister Modi – expanded the horizon of engagement very, very vastly in the last three years and those parts of the world which were essentially or basically off the radar, have now been brought into the compass of India's foreign policy.
This has been read by some as a sign of assertiveness.  I don't believe it is a sign of assertiveness.  It is simply a recognition of reality.
But one of the reasons why India's expanding engagement has not attracted what might be called an adverse consequence is because, essentially, and on principle, our engagement is benign. It is not malign.  It is an engagement built on the basis which the Prime Minister himself repeats.  It may be a well-known phrase in India that the world is a family, it may be well known to us, but for the rest of the world it is not that well known and when he says it, he says it.
It is also a sense that we actually mean what we say and the most important aspect of our approach is that we treat every nation as an equal, every nation as a sovereign. Obviously, everybody is not equal in either economic power or in military power, but everybody is sovereign and this recognition and this importance is now building the platform for a shared worldview, from which we hope will emerge a shared prosperity.
 Dealing with terror threat
The biggest challenge to any search for prosperity comes from conflict, comes from war. The reason why terrorism is very high on the radar, or on our agenda, is not simply because terrorism is a very major threat to our country. Of course, we suffer it.  We know what we have to go through.  We know that the security of our nation and the security of every Indian is a primary responsibility and something that we have faced and we will face and we will fight and we will defeat.  But it is also because terrorism is one of those phenomena which is affecting almost every country in the world.
We must not be so naive as to believe that terrorists do not have political, or even what might be called serious, objectives. It is not simply a random use of violence for the sake of creating chaos. There is an objective, and the first objective of terrorism is to challenge the nation state.
The nation state, for a variety of historical reasons, over the last 100 years, has become the principal building block of an architecture of world's stability.  Maybe I will not be so optimistic as to say world peace, because we can't see too much of it, but certainly of world stability. The nation state is a basis for it, and people who advocate that the nation state be reorganised around, or communities be reorganised around faith-based space, are challenging the nation state.
The second, and this is I think as grave a threat, and is interlinked, is the use of fear in order to destabilise plural societies that have achieved internal cohesion, an internal peace; and to split people through suspicion, through fear. In the sense that the images you see on the internet of a man wielding a knife at somebody's neck has more potential destabilising force than the actual number of people who were killed — horrifying, horrible and, however, unacceptable and brutal as actual deaths are – because the fear is the weapon. Fear is the key and we can see the impact of fear on societies and nations which acquired an internal cohesion after long effort.
But it is the what I call the benign aspect, or the positive aspect, of our thinking. One of the great successes of our foreign policy is our ability to work across binaries. Everyone sitting here will know exactly what I mean without enumeration, that even where regions, where people, are in conflict with one another, we are able to maintain relationships across regional antagonisms. That is not a fact which should be underestimated and that again, is a tribute to the values that found and shape our thinking. This is particularly important at a time of flux and a time of turbulence.
Flux & Turbulence
Now turbulence is not something that is happening only in the areas which are visibly within the conflict zone. Turbulence and flux are also happening in countries and regions where we take stability and peace for granted. I don't mean to compare, but just look at some obvious facts which show you the nature of the stir, the nature of the churn, that is going on across the world.
India First, Indians First
One is often asked what do we do as diplomats and as a foreign policy team. The answer is not too difficult. Let's take a very regular question asked, I think, by everybody, which is: Are you a pro Mr X or you are anti Mr X? My answer is very simple. It's not our job to be pro Mr X or anti Mr X. Our job is to be pro-India. Once we have got that clarity, then it makes our function that much easier. But for that, you need clarity, and therefore, when we discuss Indian diplomacy, it is very, very important to stress that Indians comes first and diplomacy comes later. It is Indian first. It is India first, and then later on, what serves the national interest must take priority.
Quest for Prosperity
With the best of intentions, in the past, sometimes ideology tended to diffuse such clarity. But at least this time, the national interest has precedence both in the day-to-day tactical challenges, and in the strategic vision.
Having said that, I presume, we still might have to go around to answering a collateral question: What is the national interest? It is the will of the people. Very good, now what is the will of the people? That is something any successful government must first define, because the will of the people in a democracy shapes what governance is all about. If I had to define the will of the people in the first quarter of the 21st century, I would say that the yearning for prosperity, economic growth,  for India's place at the high table of the 21st century, would be perhaps the dominant urge of the Indian people. That this is a century when India shall find itself again, after whatever may have happened in the past.
The past actually gets blurred against the challenges of the present and the future. So if that desire for prosperity is the basic desire of the people (which I had no doubt it is), then prosperity itself has to be redefined, because each word we use needs to be defined.
Prosperity, as far as we are concerned, is not an end in itself, growth is not an end in itself. Unless the first and largest fruits of growth go to those who need it most, that means the poorest of the poor, growth by itself will not bring us prosperity. Because prosperity has to be the elimination of poverty.
Without the elimination of poverty, we're not prosperous. We have transferred the wealth of the nation to perhaps a marginally growing elite and that cannot be the purpose of the nation. It is the complete eradication of poverty, and taking the poorest and improving their quality of life to one which we can talk about with pride.  There is no point blaming the past. There is no point saying that the British did this and the British did that. The British left 70 years ago, 70 years is long enough time.
I know there are people in the discourse who keep saying, "Oh, in 1950, 70 per cent  of India was below the poverty line and today, the figure is only 30 per cent. We can take extraordinary false comfort from that figure. It is like all of us here have had three meals and haven't had a fourth meal only because the doctor says it's bad for you. It is very easy to take false comfort from such statistics.
But, if you are among the people who are still within that 30 per cent, you are asking a different question, which is, if it took you 70 years to come down from 70 to 30, is it going to take you 70 more years to come from 30 to zero? They do not have 70 years to wait. They do not.
This is where domestic policy and foreign policy mesh. You see a very strong element of our foreign policy is meshing of the economic objectives, with geopolitical objectives. You can see once again, in every aspect, the Prime Minister taking the lead in putting this right at the top and forefront of the agenda.
Friends & Enemies
Finally, diplomacy. I don't need to describe diplomacy to a room full of diplomats, except to remind all of us that democracy is the art of managing friends and dealing with foes. And which of the two is more difficult? I'm not prepared to suggest because the management of friends deals with nuance, expectations. Sometimes even with the best of friends, a national interest may not coincide, and we have to yet find space for one and other, particularly if we believe that cooperative nationalism is the path to prosperity. Actually, dealing with the foe is often dealing with somebody who is one-dimensional and, therefore, black is black and white is white. But the shades and nuances of dealing with friends is actually far more exciting for professional diplomats than sometimes handling the objectives of a hostile element.
Peace or Peace talks?
Finally, I must say, the most important aspect of our engagement is language. If we do not know what precisely each word we use means, whether the meaning I have for that word is also the meaning that I have conveyed, and the meaning that has reached the other, sometimes the whole purpose of diplomacy can get defeated. So, the importance of the word. I'll give you one example. When anyone asks for peace talks, it does not necessarily mean that that country is asking for peace and we have to calibrate the difference. Do you want peace or do you want peace talks as an excuse for a position that may be hypocritical? Reactions will be based on the larger assessment of what precisely you mean.
So, my friends,  do remember that very often, when we use words, it helps to find out what precisely you mean by them. But also remember that one of the greatest weapons of diplomacy is something that many people are not familiar with. It's called silence.
(This is the text of the keynote address by Minister of State for External Affairs M.J. Akbar at the launch of India and World magazine at India International Centre in New Delhi on May 19, 2017)
In an interview to Anchal Anand of News X in Xiamen on the sidelines of the 9th BRICS summit, Manish Chand, Editor-in-Chief of India and World and India Writes Network, decodes the Xiamen Declaration at the BRICS summit, which for the first time targets terror outfits in Pakistan. He unravels reasons behind China's move to join India and other BRICS countries in backing the strongest-ever BRICS joint declaration on terrorism. Mapping the way ahead for India-China relations, post-Doklam, Chand argues that the Modi-Xi meeting in Xiamen could be a new beginning in fraught relations between the two Asian giants.
Q: Do you perceive of it as a major policy shift when it comes to China?
MC: Definitely. It sets a policy shift and it marks the end of ambivalence and what one may also see as some sort of duplicity which was practiced by China vis-à-vis Pakistan. It is kind of turnaround and a calculated turnaround because what we are seeing significantly is that the summit is happening days after India and China managed to resolve the Doklam crisis. So, it also indicates that they are looking ahead and for that to tackle collectively, jointly the scourge of terrorism, to avoid dissonance on terrorism is absolutely critical.
So what has happened here in Xiamen is a major triumph of Indian diplomacy, because by far it is the strongest BRICS statement on terrorism. For the first time it mentions the three four virulently anti-India terror outfits who are unleashing terror and most importantly on the Chinese soil. We have got to see this in a context. Look at last year's Goa summit, for example, where Prime Minister Narendra Modi launched a blistering attack on Pakistan in his opening address where he branded Pakistan as the mother-ship of terrorism and Indian diplomats and negotiators tried very hard to get the names of these terror outfits inside the joint statement but they could not succeed because the context was different and China was obviously opposed to it.
Q: Could you pinpoint for our audience that what really changed? Perhaps China doesn't want to be seen whether North Korea or Pakistan to be seen as standing with all the bad boys of the world.
MC: It is really hard to pinpoint but one can only speculate. Clearly what it suggests or indicates that there is clearly a rethink by China on the issue of terrorism per se and this ambivalence that I spoke to you about of distinguishing between the so called good and bad terrorist or your terrorist and my terrorist, I think there is a realization on the part of the Chinese leadership that that approach may come back to haunt them.
Q: Do you call it a course correction?
MC: It is a course correction of sorts hopefully because in diplomacy sometimes you can be consistently inconsistent. But we hope that now this kind of robust BRICS solidarity on the issue of counter-terrorism and specifically not making those discriminations which mark the approach earlier is a very big movement forward. And we hope that this spirit remains. Looking ahead my interpretation would be that it indicates some sort of broader India- China understanding post Doklam that we got to enhance our areas of convergence and think anew. So, possibly, it is the beginning of a new India-China connect.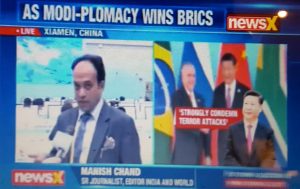 Q: Would you see, considering the fact that tomorrow there may be a bilateral between Prime Minister Modi and Xi Jinping, this understanding actually translating into India picking up the issue of Maulana Masood Azhar being declared as global terrorist at UN by the Indian PM?
MC: Honestly we will keep the pressure on China. India's point, all throughout, has been that lets abandon this segmented approach to terrorism. That is our larger principle position and that will continue to press. But looking ahead to the Modi-Xi meeting I think it will probably be a big picture discussion because as you know India-China relationship underwent severe stress in the last few weeks. 72 days of deadlock and a very belligerent posturing and rhetoric that could have easily escalated into a full blown military conflict. So, I think having resolved this and the point that needs to be emphasized here is the role of the BRICS as a stabilizing factor in India-China relations.
Q: So you would say contentious issues perhaps might just stay and it is going to be more of optics and a forward looking kind of a bilateral discussion?
MC: I think it'll be more than just optics because if you only do optics and then again revert back to this conflict-ridden scenario, that doesn't serve either of these countries.
Q: And last week they were saying that Pakistan and terrorism should not be raised as issues here and BRICS summit is not the appropriate place to do that…
MC: I think we should distinguish between posturing and the real game that is unfolding behind the scene, the real thinking. The thinking to my understanding is that Chinese leadership realises that India stood resolutely firm in its position on Doklam. It was a mind-game of sorts and we refused to blink. So we earned the respect of not just the world but also of the Chinese as well. When you talk about the future of the India- China relation it has to proceed from this understanding and you know significantly Xi Jinping, in one of his BRICS speeches has also said that there will be differences and you we have been talking about the understanding that difference should not turn into disputes.
Looking ahead, I think what we are going to be seeing tomorrow with all that has happened in the past few weeks is a very forward looking future discussion. And what I hear from the sources that possibly there is a larger decision taken by both India and China. The top leadership is to put Doklam behind and start afresh and what we saw on the terrorism front today is an indication of the fact that lets put some of these issues behind and think ahead, widen the areas of convergence, acknowledge that these differences are not going to be resolved overnight but do not allow that to escalate. It will be manageable.
Q: Do you see also in times to come that obviously Chinese position might just become more illogical an untenable that Jaish-e-Mohammad is already declared to be a global terrorist organisation whereas China has been again raising technical holds vis-à-vis Maulana Masood Azhar. So do we see any movement on the ground immediately after this?
MC: You know, for example, nobody expected this thing happening in the Xiamen summit so diplomacy is full of surprises. What we have managed to achieve in the BRICS statement is to get the references to these groups. What it means that somehow it is an acknowledgment by China. We can use that as a kind of a negotiating point that, look you agree to this in Xiamen in BRICS and it is contrary to your stand in the United Nations. So, it gives us that additional leverage.
Q: Would you see this in terms of China trying to fill a global vacuum, trying to become a global leader because if you look at it economically America's policy has been more inward looking after Brexit and you can't achieve that role if you don't stand up, if you don't have a principle stand vis-à-vis terrorism.
MC: Absolutely. This is an important factor that went into Chinese calculation that we have to resolve Doklam because otherwise it would have badly dented China's image of itself as an emerging superpower of sorts. Xi Jinping has spoken about the great Chinese dream and China's ambition of being a responsible stake holder. So, if you continue with this duplicity then it is going to come back and haunt you which is what the Americans have discovered. For far too long they were the hegemon and pretended like one. And as you know, what happened in the Middle East and elsewhere, it has all come back to bite them. China is trying to be a new power. It is trying to proclaim the mantle of the new wave of globalization. China has big dreams and ambitions so it cannot afford to act petty and low and continue with these double standards and equivocation. They need to stop the equivocation if they want to raise their stature.
Q: Can we pin our hopes that tomorrow immediately after the bilateral there is no U-turn? Because the Chinese Foreign Ministry spokesperson takes a U-turn vis-à-vis anything and sides with their all-weather ally Pakistan.
A: Let me strike a note of caution because we are reading too much here. It does not mean anything about China-Pakistan axis. They are doing one of the most ambitious connectivity projects called China Pakistan Economic Corridor and as you know a part of it goes through disputed Jammu and Kashmir. So, those are the big issues. There is no rethink on the China-Pakistan all-weather friendship. I think it would be too ambitious for us to assume that that will happen. But on terrorism there is a rethink. Now, if you say that tomorrow China turns around and says that we did not mean Pakistan then it doesn't mean anything because sometimes you say things for domestic consumption but when you do real diplomacy, you got to lay down some rules.