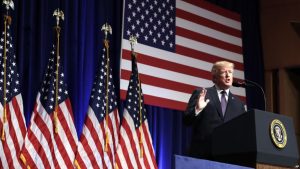 In US President Donald Trump's newly-unveiled National Security Strategy (NSS), India is toasted as a leading global power, with Washington flaunting its love for New Delhi and deepening strategic and economic ties with this emerging power.  Russia and China are painted as rivals and the US' top national security threats, which threaten to "challenge American power, influence, and interests, attempting to erode American security and prosperity."
If there is one country which has come out shining in Trump's "America First" NSS, unveiled in Washington on December 18, it's India, the world's most populous democracy and the fastest growing major economy. Seeking to bolster India's rise, the NSS also backs India's concerns obliquely on the China-led One Belt One Road project and asks Pakistan to take "decisive action" against terror groups operating from its territory.
Clearly, there is a lot to rejoice for India, but the prospects of adversarial relations with Russia and China presage a conflicted international geopolitical landscape which New Delhi will have to tread cautiously.
US bats for India's leadership role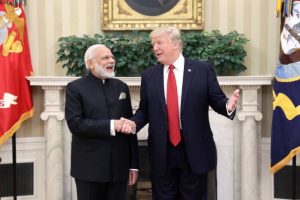 Going by the NSS, and the AfPak policy unveiled by Trump a few months ago, India is the US' preferred partner in the global arena, which in Washington's calculation will promote America's larger strategic design.
"We welcome India's emergence as a leading global power and stronger strategic and defence partner," said the 2017 NSS. "We will expand our defence and security cooperation with India, a Major Defence Partner of the United States, and support India's growing relationships throughout the region," the NSS said.
"We will deepen our strategic partnership with India and support its leadership role in Indian Ocean security and throughout the broader region," according to the NSS.
Message to Pakistan: It's time to act
India's diplomatic-strategic establishment is set to applaud Washington's renewed reminder to Islamabad to intensify its counter-terrorism efforts. The message from NSS to Pakistan is stern: It's time to walk the talk on terror since no partnership can survive a country's support for militants and terrorists who target a partner's own service members and officials.
"We will insist that Pakistan take decisive action against militant and terrorist groups operating from its soil," it said.
"We seek an American presence in the region proportionate to threats to the homeland and our allies. We seek a Pakistan that is not engaged in destabilising behaviour and a stable and self-reliant Afghanistan," the NSS said.
India should also welcome Trump's exhortation to Pakistan "to continue demonstrating that it is a responsible steward of its nuclear assets," but should be a little wary of Washington's apprehensions about "an Indo-Pakistani military conflict" leading to "a nuclear exchange," as Islamabad may exploit to seek American interventionism in the Kashmir dispute.
The US interests in the region, according to NSS, include countering terrorist threats that impact the security of the US homeland and its allies, preventing cross-border terrorism that raises the prospect of military and nuclear tensions, and preventing nuclear weapons, technology, and materials from falling into the hands of terrorists.
Checkmating China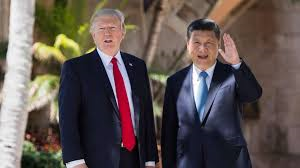 Against the backdrop of China's expanding footprints in the South Asian countries, the NSS has underlined that the US "will help South Asian nations maintain their sovereignty as China increases its influence in the region". This is seen as an expression of the US' unease with the OBOR and China's attempt to acquire preponderant influence in Sri Lanka and the Maldives, which are deeply resented by New Delhi.
Quad games & India's balancing act
The NSS formulation hints at a calibrated China containment strategy in which India is being enlisted as a proactive partner. Shaping a balanced regional order and curbing China's assertiveness align with New Delhi's larger strategic goals, but given its own delicate relationship with China and extensive economic ties New Delhi will have to do a delicate diplomatic juggling act to avoid the impression of joining the US-led China containment design, which has been reinforced by the launch of the Quadrilateral dialogue among leading maritime democracies of the region, including India, US, Japan and Australia. The NSS gives the game away as it stresses that the US will seek to increase quadrilateral cooperation with Japan, Australia, and India.
(Manish Chand is Editor-in-Chief of India and World, a pioneering magazine focused on global affairs, and India Writes Network, www.indiawrites.org)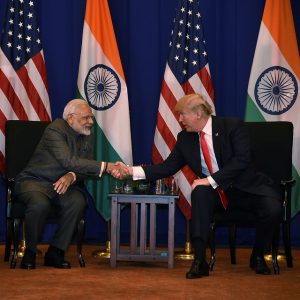 MANILA: With the new geostrategic alphabet of Quadrilateral shaping up as a backdrop, India's Prime Minister Narendra Modi met US President Donald Trump at a glitzy hotel in Manila to map an ambitious agenda for enhanced India-US strategic partnership in the Indo-Pacific region.
The Modi-Trump meeting is easily the show-stealer at the ASEAN summit in Manila as the region, specially China, will be watching closely how the world's two largest democracies plan to deepen their connect in this strategically located region.
With paparazzi frenziedly clicking away, a beaming Mr Modi, with Mr Trump seated by his side at the Sofitel Plaza hotel, struck an upbeat note on the future of India-US relationship, which has acquired a new bounce under the Trump presidency.
In his opening remarks before he began talks with Mr Trump, Mr Modi spoke about deepening and expanding India-US relations and underlined that the two countries can work together not just bilaterally, but on an entire spectrum of cross-cutting issues for the benefit of the region, the world and the mankind.
He lauded Mr Trump for speaking glowingly and hopefully about India-US relations at various for and stressed that India will try to live up to high expectations placed on this strategic partnership.
The two leaders are expected to discuss a host of bilateral, regional and global issues, but the focus will be on their joint plans to forge bilateral maritime cooperation and the quadrilateral dialogue between India, Japan, the US and Australia.
From being a problematic and contested proposal a decade ago, the notion of Quadrilateral dialogue among leading maritime democracies of the region has gathered pace in the last few days, and translated into the first meeting of officials of the quad nations in Manila on November 12.
(Manish Chand is CEO and Editor-in-Chief of India Writes Network and India and World, a pioneering magazine focused on international affairs. He is in Manila for the 31st ASEAN and related summits)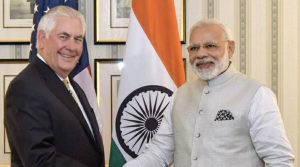 Ahead of his maiden visit to India, US Secretary of State Rex Tillerson has projected the US as the reliable partner India needs and positioned New Delhi and Washington as two "two bookends of stability" in the Indo-Pacific region which is being challenged by China's "irresponsible" rise.
Courting India ahead of his first official visit to New Delhi next week, Mr Tillerson projected an upbeat trajectory of the India-US relations that have been on an upswing ever since President Donald Trump assumed office earlier this year. In a defining foreign policy speech at an American think tank, Center for Strategic and International Studies, Mr. Tillerson said that the US is "determined to dramatically deepen ways" to build an "ambitious partnership" with India, particularly with an eye on the Indo-Pacific region and China, which will have "far-reaching implications for the next 100 years."
Outlining his administration's India policy and echoing Mr. Trump's oft expressed "true friend" sentiment towards India, he said, "In this period of uncertainty and angst, India needs a reliable partner on the world stage. The United States is that partner."
Mr. Tillerson's speech focussed on the centrality of the Indo-Pacific region in the 21st century and the importance of stepping up collaboration with India so that the two nations can "serve as the eastern and western beacons of the Indo-Pacific". "We need to collaborate with India… so that it does not become a region of disorder, conflict, and predatory economics," said the top US diplomat taking a jab at China's growing activities in the region.
Comparing India and China: What's cooking?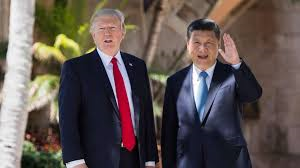 "The very international order that has benefited India's rise — and that of many others — is increasingly under strain. China, while rising alongside India, has done so less responsibly, at times undermining the international, rules-based order even as countries like India operate within a framework that protects other nations' sovereignty," he said calling out China's provocative actions in the South China Sea.
Answering a question on predatory economics that countries need to be alert about, Mr. Tillerson elaborated: "We have watched the activities and actions of others in the region, in particular China, and the financing mechanisms it brings to many of these countries which result in saddling them with enormous levels of debt." He also signalled that a quiet conversation had already begun with countries in the region to create alternative financing mechanisms. "We will not be able to compete with the kind of terms that China offers, but countries have to decide: What are they willing to pay to secure their sovereignty and their future control of their economies? And we've had those discussions with them," he said, in a veiled reference to China's ambitious One Belt, One Road project.
Underscoring how the United States and India are increasingly global partners with growing strategic convergence, Mr. Tillerson said that "Indians and Americans don't just share an affinity for democracy. We share a vision of the future." While Mr. Tillerson will be travelling to South Asia to push his administration's new policy, President Trump will embark on a whirlwind trip to Japan, China, South Korea besides Southeast Asian countries like Vietnam and Philippines next month.
Will India play the game?
Going by Mr Tillerson's comments, it would appear that the US is pushing for a renewed China containment strategy, with India as a key balancer against China's assertiveness. Should India offer to be part of this strategy? Opinion is divided among India's strategic establishment. Meera Shankar, India's former ambassador to the US, has struck a note of caution. "It's a culmination of the trend of strengthening strategic partnerships in the region by the US to balance China," Mrs Shankar told India Writes Network. "A stronger India will ipso facto act as a balancer, without getting into overt containment strategy," she said. The US should help to bolster India's rise and capabilities, she said.
 US-Pakistan: Uneasy partnership
Mr. Tillerson will also be travelling to Pakistan and a few other countries in the region during his upcoming visit to South Asia. Talking about Pakistan, he said, "Pakistan, too, is an important US partner in South Asia. Our relationships in the region stand on their own merits." However, he added that Washington expects Islamabad to take more decisive steps against terror groups within its borders. Pakistan has been at the receiving end of the US administration's ire in the last few months when Mr. Trump laid out his Afghanistan strategy and pulled up Islamabad for not doing enough to rein in terrorist groups operating from its territory even as he envisaged a greater role for India in Afghanistan.
Tillerson's India Mantra (In His Own Words)

Our nations (India–US) are two bookends of stability – on either side of the globe – standing for greater security and prosperity for our citizens and people around the world.
The United States seeks constructive relations with China, but we will not shrink from China's challenges to the rules-based order and where China subverts the sovereignty of neighbouring countries and disadvantages the US and our friends.
India and the United States should be in the business of equipping other countries to defend their sovereignty, build greater connectivity, and have a louder voice in a regional architecture that promotes their interests and develops their economies.
India can also serve as a clear example of a diverse, dynamic, and pluralistic country to others – a flourishing democracy in the age of global terrorism. The sub-continent is the birthplace of four of the world's major religions.
We expect Pakistan to take decisive action against terrorist groups based within their own borders that threaten their own people and the broader region. In doing so, Pakistan furthers stability and peace for itself and its neighbours, and improves its own international standing.
When our (India-US) militaries conduct joint exercises, we send a powerful message as to our commitment to protecting the global commons and defending our people.
It is time we act on our vision of a free and open Indo-Pacific, supported and protected by two strong pillars of democracy – the United States and India.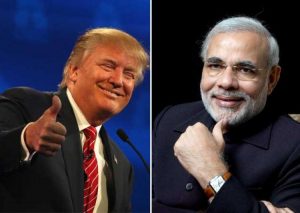 This is not because of the absence of any outstanding issues between the two countries. There are a number of areas of mutual interest and common concern. These include advancing defence and strategic cooperation, trade surplus/deficit, international terrorism – issues on which Trump has expressed strong opinions in the past, although not specifically with respect to India-US relations.
The environment in In contrast to Prime Minister Modi's previous visit to Washington for meeting President Obama, which was high profile in character with lots of advance publicity and hype, his forthcoming trip to the US to meet President Trump is being projected as business-like with very little hype. Almost all, if not all, of the analysts' expectations on the outcome of the meeting are low to modest and not without reason either.
 These talks will be held is also different. Earlier, one of the primary motivations for the US to strengthen strategic cooperation was the long-term prospect of India emerging as a major economic and military power and the need for crafting a viable Asian security architecture given the uncertainties about the evolution of China's long term goals. In contrast, the Trump administration – largely reflecting the President's ideology – is more concerned with short term results and gains for the US. Hence the US withdrawal from the Paris Convention, abandonment of the TPP, calls for renegotiation of NAFTA, demands on NATO members to increase spending, etc. Given this, the long term projections of India emerging as a major power after a couple of decades is not likely to play a major role in Trump's approach towards India.
Further, much of the earlier advances in India-US strategic cooperation was directed primarily by the non-White House executive branch – primarily senior level political and career officers in the bureaucracy. Unfortunately, at the present moment, much of this bureaucracy at senior levels is understaffed with many of the appointees either still to be named or confirmed by the Senate. This is likely to seriously affect any new proposals being advanced either in the forthcoming talks or in the near future.
For example, the National Defence Authorization Act 2017, which formally named India as a Major Defence Partner, had required the Executive to "designate an individual within the Executive branch who has experience in defense acquisition and technology – among other things – to reinforce and ensure, through interagency policy coordination, the success of the Framework for the United States-India Defense Relationship." Even nearly six months after the passage of the NDAA, no such person has been designated by the Trump Administration. The position of the Department of Defense (DoD) lead for the Defence Technology and Trade Initiative (DTTI) – the major vehicle for advancing India-US defence cooperation, was initially held by the then Deputy Secretary of Defense Ashton Carter. After Carter became Defense Secretary, the then Under Secretary of Defense (Acquisition, Technology & Logistics) Frank Kendall, who had worked closely with Carter and was already working many of the DTTI actions, became the DoD lead. That position is currently vacant after the departure of Kendall, when the new administration took office. As of now, there is no one in a position to be designated as the DoD lead for DTTI. In addition, NDAA 2017 had required the executive to submit to Congress a report on how the United States is supporting its defence relationship with India. That report, which was required to be submitted before June 23, 2017, is yet to be submitted.
For these reasons, there is unlikely to be any new initiatives from the Modi-Trump meeting on the defence cooperation front. It is not even clear whether some sort of a pro forma statement about the reported Tata-Lockheed agreement for joint production of F-16s may be made, given that there is no report of any notification having been made – a mandatory requirement under US law – to the US Congress about any such programme.
On the trade front as well, there is not much reason to be optimistic. Trump is known to be exercised about the trade deficit the US has with many countries including China, European Union, Japan, South Korea, Mexico and India. There is, however, a unique aspect as far as India is concerned. While the US suffers a trade deficit in goods with all these others countries, it enjoys a trade surplus in the services sector with each of them. But in the case of India, the US trade deficit spans both the goods and services sectors. Further, the US trade deficit in services is driven primarily by the deficit in the Information sector and principally because of outsourcing and H1B visas. Therefore, it is unlikely that Indian complaints on this issue will be addressed by Trump.
The Indian urban myth about US unfairness on H1B visas with respect to India cannot be sustained on the basis of the available data. All the latest data – in respect of H1B petitions approved, H1B visas issued, H1B admissions into the US – show that, far from being at a disadvantage, India has gained substantially at the expense of other countries. Between FY2011 and FY2016, the number of H1B visas issued to Indians increased from 129,314 to 180,057. Moreover, the Indian share in such visas increased from 56.1 to 70.4 per cent. In the current year, the share is even higher at more than 75 per cent. In respect of approved H1B petitions, the number increased from 156,317 in FY2011 to 195,247 in FY2015, with the Indian share increasing from 58.0 to 70.8 per cent. And the number of H1B admitted into the US increased from 147,290 in FY2011 to 253,377 in 2015, with the Indian share increasing from 29.8 to 47.1 per cent. Given all this, it is extremely unlikely that Indian complaints about the unfairness of H1B visas will fall on receptive ears in the current administration.
However, on the issue of international terrorism, there may be some common ground. Given Trump's strong views on this subject, Modi may find some common ground on the issue of Pakistan's sponsorship of international terrorism in India and Afghanistan. Further, there are reports suggesting that the Trump administration is reviewing its policies towards Pakistan. While this is a positive development from the Indian perspective, it is quite possible that Trump may ask India to increase its footprint in Afghanistan with some military presence there.
On climate change, given Trump's views on the subject, it is highly unlikely that Modi will be able to influence him on his decision to withdraw from Paris Convention.
Under normal circumstances, and given the earlier statements of Candidate Trump, India's approach towards Russia may have found some resonance with Trump. However, given the current US discourse and agitation about Russian interference in the electoral process, there is unlikely to be much support for India's views on Russia. Similarly, while China will figure in the talks in a general context, there is little chance of any convergence.
All in all, while there will not be any setbacks on the India-US strategic cooperation front, there is unlikely to be any new initiatives. This may not be an unwelcome outcome given the erratic character of Trump's policies.
Courtesy:IDSA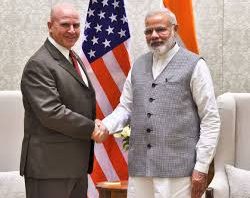 The recent visit of the newly appointed US National Security Adviser, General McMaster, to South Asia was the first high-level visit by a senior figure in the Trump administration to the region. The Trump administration's regional priorities has been reflected in the pattern of high-level visits in recent weeks: Vice President Pence has visited South Korea, Japan, Indonesia and Australia; US Defence Secretary, having visited Japan and South Korea, is currently visiting Saudi Arabia, Qatar, Israel, Egypt and Djibouti whilst Secretary of State Rex W. Tillerson, having visited Japan, South Korea and China, went on to visit Western Europe and Russia.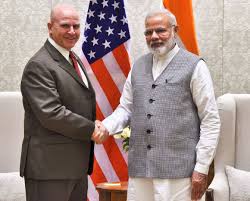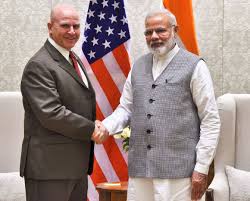 These high-level visits are not only significant for the new US administration to make 'spot' assessments, but also for indications of its emerging policies towards the regions concerned; thus, they also give a specific direction to the turn of unfolding events. For the same reasons, the US NSA's visit evoked considerable interest amongst observers, both regional and international. As the pattern of visits has shown, the new administration's interest is intensively focused on North Korean, with the US and the Chinese presidents being personally involved, the US NSA also issued a stark warning to North Korea during his stay in Kabul. Yet, the pace is picking up in Southwest Asia also as evident in the use, on the eve of his visit, of the most destructive non-nuclear bomb in the US armoury against the ISIS group in Afghanistan – a faction of the TTP (Tehrik-e-Taliban Pakistan) called 'Wilayet-e-Khorasan'; the 'direct' impact of this bombing has been of the reported killing of 13 Indians, out of a total of 21, who had surreptitiously gone to Afghanistan from Kerala. 
This inter-agency delegation, led by General McMaster, included the new National Security Council Director for South Asia, Lisa Curtis, who has recently co-authored a policy recommendation paper by the Hudson Institute, Washington, advocating punitive action against Pakistan, including declaration of individuals – or, even, Pakistan itself as extreme measure – as sponsors of terrorism for lack of cooperation for supporting the Taliban who have shown no inclination to enter into peace negotiations with Afghan government. 
Unravelling Afghan conundrum
There has been some speculation in the US media that the NSA's visit to the region was planned at short notice. The US declined a Russian invitation to regional consultations on Afghanistan on April 14, which were attended by senior representatives from India, Afghanistan, China, Iran, Kazakhstan, Kyrgyzstan, Pakistan, Russia, Tajikistan, Turkmenistan and Uzbekistan: US considered these to be "a unilateral Russian attempt to assert influence in the region that (it) felt wasn't constructive at this time". On the same date, a trilateral meeting at the level of foreign ministers between Russia, Syria and Iran took place in Moscow in which they condemned the US missile attacks on the Syrian air field as "a gross violation of international law". In contrast with cooperation between the two countries at the time of the installation of the Karzai government, their strategic interests are divergent, reflecting their 'global' contestation,  in the Af-Pak region where new alignments are emerging with Pakistan, Iran and, even, China coming closer to Russia.
Russia has rejected the US' accusations of weapon supplies to the Taliban. There is also deepening distrust between the Afghan leadership and Russia over the latter's overtures to the Taliban. At the same time, the current US commander in Afghanistan, General Nicholson, describing the current military situation in Afghanistan as stalemate in his Congressional testimony, has asked for several thousand more troops to bolster the Operation Resolute Support for its mandated task of providing training to the 300,000-strong Afghan army and to carry out operations against the Al Qaeda and the ISIS. During his discussions with the Afghan President, the latter put the blame squarely on Pakistan. General McMaster, in an interview to a local TV channel, stated that those who refused to talk to Afghanistan government need to be defeated on the "battlefield". Referring specifically to Pakistan, he stated that it is "in their interest to go after these groups less selectively than they have done in the past… Best way to pursue their interests in Afghanistan and elsewhere is through use of diplomacy" (emphasis added). According to Pakistan's 'Dawn' newspaper, McMaster also said in that interview that those perpetuating violence in Afghanistan "ought to be exposed and held accountable".
Stern message to Pakistan
From Kabul, he travelled to Islamabad for meetings with the leadership, including Prime Minister, the Army Chief, the Pakistani NSA and others. The US embassy, in its statement, stated that the US NSA stressed "the need to confront terrorism in all its forms" – which the Pakistani military spokesperson, immediately, dismissed as "political rhetoric". According to the Pakistani official statements, Prime Minister Nawaz Sharif expressed readiness to work with the international community to explore ways to resolve the Afghan crisis. He also talked about the Kashmir issue, while referring to the US President's reported willingness to help India and Pakistan to resolve their differences, particularly in Jammu and Kashmir.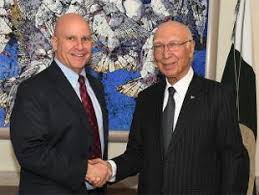 Following the meeting between him and the Army Chief, the Pakistan military's press release, in an apparent reference to his Kabul interview, stated, "Pakistan itself a victim of state sponsored terrorism, strongly rejects allegations of employing proxies from its soil. US NSA acknowledged Pakistan Army's efforts in eliminating terrorism and infrastructure, assuring US support to bring peace and stability in the region and globally." The Pakistan Army's officially released video clip of the meeting shows a tense atmosphere at this meeting.
The shifting geopolitics in Southwest Asia could be behind the terse public messaging on the part of the Pakistan military. It could also be their calculation that an increased number of US troops in Afghanistan would imply greater US dependence on the supply routes via Pakistan; the tense relations with Russia might also mean increased difficulty in using the alternate northern supply route. The use of the largest non-nuclear bomb in the adjacent Nangarhar province against the 'Wilayet-e-Khorasan' terrorists was a signal not just to Russia but also to Pakistan because of their hostility to the latter. The Congressional requests for funding for Pakistan by the present administration have not shown any reduction from the previous years although the president has the authority to withhold funding if Pakistan does not cooperate in cracking down on terrorists inimical to US operations in Afghanistan.
India agenda
In New Delhi, General McMaster's meeting with Prime Minister Narendra Modi was preceded by extensive delegation-level discussions with his Indian counterpart. The Prime Minister's office stated that the two sides discussed how to effectively address the challenge of terrorism and to advance regional peace, security and stability, the regional scope of which covered Afghanistan, West Asia and North Korea. The US embassy's press release stated that the bilateral talks "emphasise the importance of US-India strategic relationship and reaffirmed India's designation as a major defence partner."
The new US administration's approach, from the public messaging point of view, shows a new determination to get to the brass tacks and the anxiety in Islamabad is palpable. Whilst 'spot' assessment has been done by the new NSA with considerable personal military experience in Afghanistan, there are fresh strategic alignments in the region and Islamabad still feels that it has some cards to play. As Afghanistan faces security uncertainty, including periodic exchange of artillery shells between the Afghan and Pakistani armies, and political fragility with presidential elections due in two years' time, the question still remains as to how much deeper the new US administration intends to get involved there as it thinks through its global priorities. And, this is where the anxieties of the Indian leadership lie.
(Yogendra Kumar is the author of Diplomatic Dimension of Maritime Challenges for India in the 21st Century. A former diplomat, he had served as Ambassador of India to the Philippines and held important postings in key capitals. The views expressed in this column are solely those of the author)
Looking to fulfil one of his major election promises, US President Donald Trump has signed an executive order to revamp a temporary visa programme that allows foreign workers, mostly Indian IT professionals, to find jobs in the US, a move that is set to hit the Indian IT sector.
Riding on his rallying cry of "Buy America, Hire America," Mr Trump visited a manufacturing firm in Kenosha, Wisconsin, a state he snatched from Democrat rival Hillary Clinton in the presidential election last year, before putting his signature on the order that would seek to address alleged abuses in the H-1B visas which are used largely by the tech industry. H-1B visas allow 65,000 workers and another 20,000 graduate student workers each year. Most of the visas are awarded to technology outsourcing firms which, critics say, exploit holes to fill lower-level IT jobs with foreign workers, often on lower wages.  Mr Trump's executive order asks government departments to introduce reforms to ensure that H-1B visas are awarded to the "most skilled or highest paid applicants", a White House official told reporters in Washington.
"Right now, widespread abuse in our immigration system is allowing American workers of all backgrounds to be replaced by workers brought in from other countries to fill the same job for, sometimes, less pay. This will stop," Mr Trump told an audience in Wisconsin, clearly having on mind the working class which voted for him in droves. He said the order sets in motion the first steps to initiate "long-overdue" reforms to end "visa abuses". He said the awarding of the visa would be changed from the lottery-based system to merit-based criteria.
"Right now, H-1B visas are awarded in a totally random lottery, and that's wrong. Instead, they should be given to the most skilled and highest-paid applicants, and they should never, ever be used to replace Americans," the US president. He added that "no one can compete with American workers when they're given a fair and level playing field, which has not happened for decades."
The executive order also declares that American projects should be made with American goods. "No longer are we going to allow foreign countries to cheat our producers and our workers out of federal contracts. Everyone in my administration will be expected to enforce every last 'Buy American' provision on behalf of the American worker and we are going to investigate every single trade deal that undermines these provisions," he said.
A  White House statement said H-1B visas are supposed to bring the highest skilled and paid labour to the US. According to studies, however, 80 per cent of the approved applications were for the two lowest wage levels allowed. "Currently, companies routinely abuse the H-1B visa programme by replacing American workers with lower paid foreign workers," it said.
The Associated Chambers of Commerce cautions the Indian IT industry to brace for taking a hit by Mr Trump's signing the executive order pointing out that nearly 86 per cent of H-1B visas issued for workers in computer space go to Indians. This number is expected to dip to 60 per cent or even less, an ASSOCHAM study says. The curbs on H1B visa regime will push up the costs for Indian IT firms, it says as the rising value of Rupee is also putting pressure on the profit margins of technology export firms. This may mean that "chances of layoffs are real," said ASSOCHAM Secretary General D. S Rawat.
US National Security Adviser H. R. McMaster is known for his plain-speak. And he did precisely that by sending out a tough message to Pakistan for its sponsorship of cross-border terror, ahead of his visit to New Delhi during which he focused on expanding counter-terror and defence cooperation with India.
In New Delhi, Lieutenant General McMaster held a series of meetings with the top leadership, including Prime Minister Narendra Modi, National Security Advisor Ajit Doval, and Foreign Secretary Subrahmanyam Jaishankar. "NSA McMaster emphasized the importance of the U.S.-India strategic relationship and reaffirmed India's designation as a Major Defense Partner," said a statement from the US embassy. "The two sides discussed a range of bilateral and regional issues, including their shared interest in increasing defense and counterterrorism cooperation."
In Kabul, just before he reached Islamabad, McMaster had some blunt talk for Pakistan. "As all of us have hoped for many, many years, we have hoped that Pakistani leaders will understand that it is in their interest to go after (militant) groups less selectively than they have in the past and the best way to pursue their interest in Afghanistan and elsewhere is through diplomacy and not through the use of proxies that engage in violence," Mr McMaster told an Afghan news channel in Kabul.
What is equally significant is that he nudged Pakistan to abandon the path of selectively targeting terrorists, a blunt message which found resonance in both New Delhi.  The US Embassy in Pakistan said as much in a statement that Mr McMaster "stressed the need to confront terrorism in all its forms."
In Islamabad, Mr McMaster held talks with Pakistan's civilian and military top brass, including Prime Minister Nawaz Sharif, Army Chief Gen Qamar Javed Bajwa, Special Adviser to the Prime Minister Sartaj Aziz, and his Pakistani counterpart Nasser Khan Janjua, on a range of bilateral and regional issues. A statement from Pakistan Prime Minister Nawaz Sharif's office said he "reiterated his firm conviction on sustained dialogue and meaningful engagement as the only way forward to resolve all outstanding issues between India and Pakistan, including the Kashmir dispute" and that "he welcomed President Trump's willingness to help India and Pakistan resolve their differences particularly on Kashmir." While US President Donald Trump has at times spoken about helping India and Pakistan to live in peace, US Ambassador to the UN Nikki Haley had recently said the president could play a pro-active role between the two countries. New Delhi, has, however, consistently rejected American or any other third party mediation in matters involving India and Pakistan.
The tone and tenor of Mr McMaster's tough-talking in Kabul against Pakistan was a tad different from the previous Barack Obama administration's path of strategic patience with Pakistan. He underlined that Washington's response to Pakistan's duplicity on terrorism will be more action-oriented, with less restraint. It is not without reason that his visit to Afghanistan and Pakistan came within days of the US using its most lethal non-nuclear bomb, the Mother of All Bombs", in Nangarhar province of eastern Afghanistan that left nearly 100 suspected terrorists, including an Indian member of Islamic State, dead.
McMaster's was the first visit by a top member of President Donald Trump's administration to the region and his trip to Kabul and Islamabad was watched for clues as to Washington's future course of action in the region. Pakistan has since long been benefitting from American economic aid running into billions of dollars even while targeting some terror groups and looking away from activities of others outfits like Lashkar-e-Taiba and Jaish-e-Mohammed that target India. The American NSA's team to Afghanistan and Pakistan included Lisa Curtis, the National Security Council's senior director for South Asia, who recently co-authored a paper calling on the US to stop treating Pakistan as an ally and instead to "focus on diplomatically isolating" it if it continues to support terror groups.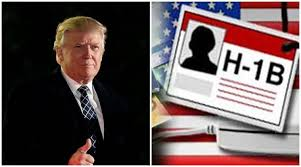 In a fraught move for India, the US Department of Homeland Security has announced that it would crack down on fraudulent use of H-1B visas, used by employers to bring in specialised foreign workers temporarily to meet the crisis of skilled employees in America. H1B work visas are most sought after by Indian firms and professionals, mostly in IT sector. On April 3, the US Citizenship and Immigration Services (USCIS) said in a statement that it has started taking in applications for H1B visas – 65,000 in the general category and 20,000 for those applicants having higher education from US universities — for the fiscal year 2018.
US President Donald Trump, who rode to victory on the "America First" campaign theme, had promised to end the lottery system for H1B visas, which gives each applicant an equal chance at 65,000 positions each year in favour of a system that prioritised workers who are highly skilled and would be highly paid in the United States. Trump had also accused Indian IT companies in the past of taking away lower-level jobs even when Americans are available to do the same job. But the lottery programme opened on April 3 without any change. This means the Trump administration had fallen short of upending the system, but keeps its word given to Indian officials of reforming the system.
Implications for India
What are the implications for the Homeland Security's announcement for India? India, which is one of the biggest beneficiaries of H-1B visa, does not at present have much to be concerned as experts say that the new announcement falls short of President Donald Trump's campaign promises to upend the programme, which might have resulted in loss of thousands of jobs for prospective Indian employees. An estimated 150,000 Indian nationals were issued employment-based visas, including 126,000 H-1B job permits, by the previous Barack Obama administration in 2016.
However, the USCIS said it will undertake a more targeted approach while conducting site visits so as to prevent the abuse of the system by employers. "Too many American workers who are as qualified, willing and deserving to work in these fields have been ignored or unfairly disadvantaged. Protecting American workers by combating fraud in our employment-based immigration programs is a priority for the USCIS," the statement said.
The talk of overhaul of H-1B visa by the Trump administration had caused anxiety in India and New Delhi had earlier said it had conveyed its concerns to Washington. In March this year, Commerce Minister Nirmala Sitharaman said in the Lok Sabha that the US has conveyed to India about not making any major changes in the H1B programme. "So, the fear that all of us were seeing through the media here about the H1B visa has, at least for the year 2018, not proven correct," she had said. India's Foreign Secretary S Jaishankar had met top officials of the Trump administration last month and discussed the issue.
(Pallab Bhattachrya contributed inputs to this article)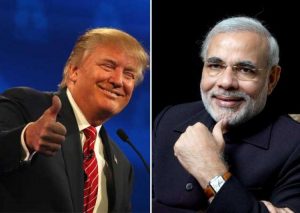 It promises to be the big-ticket diplomatic meeting of the year for Prime Minister Narendra Modi. The dates are not out yet, but the White House has already struck an upbeat note, saying US President Donald Trump looks forward to hosting the Indian leader.
"President Trump has said he looks forward to hosting Prime Minister Modi in Washington later this year," a White House statement said on March 29, following a telephonic conversation initiated by Mr Trump the day before to congratulate Mr Modi on the Bharatiya Janata Party's sweeping victory in elections to legislatures in four Indian states, including the country's most populous state, Uttar Pradesh. "President Trump also expressed support for the Prime Minister's economic reform agenda and emphasized his great respect for the people of India," said the statement.
Although Mr Modi and Mr Trump may have a brief meeting on the sidelines of the G20 summit of the world's major and emerging economies in Germany in July this year, it will be the Indian prime minister's first bilateral visit to the US after the change of guard in Washington in January this year. In the run up to that bilateral meeting, senior Indian and US officials have met since Mr Trump's election. National Security Adviser Ajit Doval met his American counterpart H R McMaster and Defence Secretary James Mattis in Washington last week.
External Affairs Minister Sushma Swaraj and Secretary of State Rex Tillersen had a telephonic conversation, and Foreign Secretary S Jaishankar interacted with the top US diplomat during a visit to the US earlier in March. Mr Jaishankar, who was accompanied by Commerce Secretary Rita Teotia, also met Mr McMaster and Mr Trump's top adviser on international economic affairs Kenneth Juster, Commerce Secretary Wilbur Ross and Secretary for Homeland Security John Kelly.
Despite some dissonance over the H-1B visa issue, Indian officials are quite optimistic about sustaining the momentum in India-US relations, which scaled new heights over the last decade.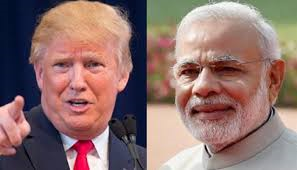 The success in recent state elections in India has bolstered the global profile of India's Prime Minister Narendra Modi, with many world leaders, including US President Donald Trump congratulating the 66-year-old Indian leader. Mr Trump called up Mr Modi on March 27 and congratulated him on the Bharatiya Janata Party's success in recent state elections, including the landslide victory in Uttar Pradesh, the Indian state whose population surpasses that of the combined population of Britain, France and Germany.
White House Press Secretary Sean Spicer briefed the media in Washington from a read-out on the phone call Mr Trump made to Mr Modi on March 27. This was the third telephonic contact between the two leaders – the first two being soon after Trump's US presidential poll victory in November last year and the second after his formal swearing-in in January this year.
Mr Spicer did not disclose if any other substantive issue was discussed by the two leaders and said that he would return with a detailed read-out.
Underlining India's keenness to sustain the momentum in ties with the US built up during the presidency of George Bush and Barack Obama, India's Foreign Secretary S. Jaishankar and National Security Advisor Ajit Doval made back-to-back visits to Washington.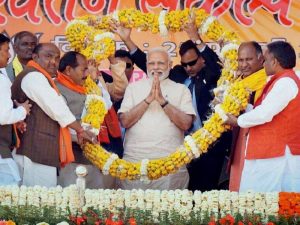 Helmed by Mr Modi, the BJP stormed to power in Uttar Pradesh earlier this month, winning 312 of the state's 403 legislative assembly seats. The party also swept the neighbouring Uttarakhand state and managed to form governments in Goa and Manipur states even after finishing behind the Congress party in overall seat tally.
The elections in the five states had turned into a virtual referendum on Mr Modi's popularity following his controversial decision to demonetise Rs. 500 and Rs. 1,000 currency notes in a bid to flush out black money from India's financial system, largely run on cash.
Mr Trump and Mr Modi had last spoken to each other in January when they discussed the security situation in South and Central Asia. India and the United States will "stand shoulder to shoulder" to fight global terrorism, the White House had said after that interaction.
Signifying his commitment to sustain momentum in India-US relations, President Trump had called Prime Minister Modi even before he spoke with the leaders of many of US' key allies. During one of the previous telephonic conversations, both the leaders invited each other to their respective countries and indicated their desire to expand counter-terror cooperation and intensify economic cooperation.