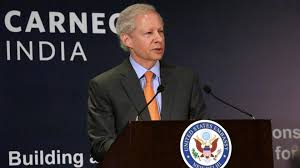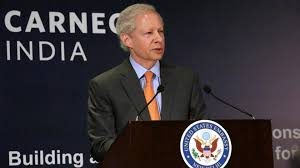 Amidst shifting geopolitical equations in the Asia-Pacific region, US Ambassador to India Kenneth Juster has called for forging a robust strategic economic partnership with India and pitched for enhanced defence collaboration across the spectrum.In a defining speech on India-US relations, organised by Carnegie India and the US Embassy in New Delhi, Mr Juster projected the growing importance of India-US ties and the need to "build upon this foundation in a flexible but purposive manner".The US ambassador's big-picture presentation of India-US relations comes ahead of a likely meeting later this month between India's Prime Minister Narendra Modi and US President Donald Trump on the sidelines of the World Economic Forum in the Swiss resort of Davos.
Economic ties through strategic lens
Proposing a Free Trade Agreement with India in future, the ambassador pointed out that India could be an alternative for US companies exiting China. He also assured that US President Trump's call of "America first" and Indian Prime Minister Modi's "Make in India" initiatives are not "incompatible" since mutually beneficial investment in each other's markets increases the prospects of economic interaction and a robust trade leading to the technological collaboration and creation of jobs. While India-US trade has grown from $20 billion in 2001 to $115 billion in 2016, the trade deficit in favour of India stands at $30 billion and many US companies are unhappy with the protective barriers put in place by India.
"Increased heft in our economic relationship would necessarily provide a broader and deeper, long-term U.S. commitment to India and the Indo-Pacific region. This would complement our growing defence and counter-terrorism partnership, and moderate any policy differences that might arise along the way," he said.
Scaling up military ties
As India-US defence partnership continues to evolve, the ambassador expressed the US' willingness to post military liaison officers at each other's combatant commands. Under the Logistics Exchange Memorandum of Agreement (LEMOA) that both countries had signed two years back their militaries have access to the designated military facilities on either side for the purpose of refuelling and replenishment.On the question of Afghanistan, Mr Juster clarified the importance of Pakistan in bringing peace to the country but also firmly declared that the US in no way would tolerate cross-border terrorism or safe havens to terror outfits.
Affirming the US support for India's bid for membership of Nuclear Suppliers Group (NSG), the ambassador welcomed India's entry to the Missile Technology Control Regime (MTCR) and Wassenaar Arrangements and expected India to join the Australia Group on chemical and biological weapons. With India's growing defence needs, the US seeks to go beyond its role as a supplier and hopes to assist India in building indigenous defence base and capabilities."With that in mind, perhaps in the next year, we can announce major agreements enabling cooperation in areas such as intelligence, surveillance, and reconnaissance platforms; fighter aircraft production; and the co-development of next generation systems, including a Future Vertical Lift platform or Advanced Technology Ground Combat Vehicles," he said.
The path-breaking India-US nuclear deal that transformed the two countries from estranged democracies into engaged democracies in the summer of 2005 looks set to inch closer to fruition during the forthcoming visit of US President Barack Obama to India.
With barely days to go before Obama touches down in Delhi on a historic three-day visit on January 25 – the first time an American president will be coming in as the guest of honour at the country's Republic Day celebrations – senior officials of both sides are locked into intense last-ditch negotiations to resolve festering issues related to India's civil nuclear liability regime.
Resolving liability impasse
The inter-agency contact group that was set up in September 2014 after the talks between India's Prime Minister Narendra Modi and President Obama to fast-track the implementation of the nuclear deal has already met twice in New Delhi and Vienna. The contact group is holding another meeting to clinch a deal that could provide greater clarity on the suppliers' liability in case of nuclear accident and pave the way for the setting up of nuclear reactors by US companies in India. India has already offered sites for two nuclear reactors each to American nuclear power giants GE Hitachi and Westinghouse in Andhra Pradesh and Gujarat respectively, but they are yet to take off due to the US companies' reservations about India's civil nuclear regime. The American companies contend that India's civil nuclear law, in its present form, exposes them to unlimited liability. To break the impasse over differing perceptions of the liability regime, the two sides are exploring a mid-way formula which could involve India setting up a nuclear insurance "pool" to compensate suppliers in case of a nuclear accident. Officials of Westinghouse, the US nuclear giant owned by the Toshiba group, have some reservations about this formula as they feel that it could still saddle them with substantive liability in case of an atomic accident.
New energy and synergy
Technical quibbles aside, what has fuelled optimism about the implementation of the nuclear deal is the new energy and synergy in the India-US relations, which have been epitomised by President Obama accepting Mr Modi's invitation to visit India within months of the latter's visit to Washington in September last year. This is the first time two-way visits between the leaders of the two countries have happened within months, signifying a new vibrant phase in the India-US relationship which had drifted and stagnated during the last couple of years of the Manmohan Singh government.
It's economics, stupid!
The larger context of Obama's visit also needs underlining: the US economy has bounced back, and the India growth story has got a new shine under a reform-minded prime minister. Enthused by second-generation reforms undertaken by the Modi government, global investors are looking afresh at India as a land of opportunity and US companies clearly will not like to miss emerging opportunities in Asia's third largest economy. Both IMF and World Bank are now cheerleading for India, and have projected in their latest reports that the Indian growth rate will outpace that of China by 2016-17.
10 years of India-US nuclear deal
In this ambience of renewed optimism, the world's oldest and largest democracies are expected to raise the bar for their multifarious relationship that straddles diverse areas and encompasses over 30 bilateral dialogue mechanisms. Transforming the economic relationship will be critical to this process of deepening the India-US strategic partnership. 2015 could be another milestone in the journey of the India-US nuclear deal as it marks the 10th anniversary of the trailblazing deal that was firmed up in the summer of 2005 and brought India back into the global nuclear fold in 2008 with the Nuclear Suppliers Group granting a waiver to India to resume nuclear commerce.
The forthcoming visit is also expected to see President Obama reiterating Washington's intention to get India as a member into top four global nuclear clubs, including the Nuclear Suppliers Group (NSG), the Missile Technology Control Regime (MTCR), the Wassenaar Arrangement and the Australia Group.
India's Prime Minister Narendra Modi described his visit to the US as "very successful and satisfactory." From his speech at the UNGA to receiving a rock star reception at the Madison Square Garden, to his meeting with some of the world's most powerful CEOs, Mr Modi's trip to the US exuded a rare energy and created quite a splash.
Relations between the two largest democracies in the world have often been sour and despite having common values, the Indo-US relations have been marked by mistrust, instead of cooperation, leading to the term 'estranged democracies'.  Recent years have seen India and the US move from the mistrust that once characterised their relations to a growing recognition that each is crucial to the other's interests.  Yet, the relationship has not lived up to its potential, owing to a series of incidents and irritants.
Distractions like the underperformance of the Indian economy have slowed down trade and investment flows, and structural reforms.  Unresolved issues, including the stalled Trans-Pacific Partnership, WTO trade facilitation, intellectual property rights, and the failure of the civil nuclear agreement has reduced the economic content of the relationship. Key developments emerged from Mr Modi's visit, including the US commitment to aid in the development of smart cities in India, and a pledge of $41 billion investments by the US-India Business Council.  However, while the two countries might achieve new breakthroughs in the economic sphere, the story of geopolitics is more challenging.
The Indo-US relations were strained during the Cold War, with their respective conflicting aims for hegemony and autonomy, resulting in divergent interests. For years, the contradictory positions of both states, the US on non-proliferation and India on the discriminatory NPT, continued to hamper their relations. The different power positions that India and the US occupied in the global hierarchy led them to adopt differing worldviews.
Currently, the interests of both states seem to be converging, such as the stability of Afghanistan, economic objectives, non-proliferation, Islamist fundamentalism, climate change, defence cooperation, and UN peacekeeping operations.  Perhaps, as analyst Sreeram Chaulia states, where India and the US converge more so than ever is on the issue of China, where India is viewed as "a democratic and pluralistic alternative to an authoritarian and aggressive China". India has imported more than $10 billion of American defense equipment and it conducts more joint military exercises with the US than any other country.
Yet, despite having seemingly convergent strategic interests, owing to their distinct historical trends, both countries still continue to have divergent standpoints and methods.
The issue of Pakistan is a longstanding irritant hampering the relationship.  India's own suffering at the hands of militant Islam for decades, coupled with its democratic nature, made it a natural ally in the post 9/11 environment.  Yet, for India, terrorism emanates mainly from Pakistan, which the US has chosen as an ally in the War on Terror.  Owing to its realpolitik relationship with Pakistan, the US has not committed to fighting terror camps in Pakistan, and while imposing sanctions on Iran, Syria and even Russia, has never done so on Pakistan.  Indeed, Mr Modi, during his visit, mentioned double standards in the fight against terrorism, with nations overlooking the issue when it emanates from allied states.  Thus, although terrorism is a key challenge for both states, both have different perspectives.
During his visit at the CFR, PM Modi stated, "in an inevitably interdependent world, India would come together with other countries regardless of political differences to fight terrorism".  Yet, it has refrained from participating in the US-led international coalition against the Islamic State in Syria and Iraq.  In accordance with its rise in the international system, India is increasingly being expected to take a stance on international issues.  The US wants India to play a more proactive role in the world, and to that effect, supports a more muscular Indian foreign policy.  However, India differs in its position.  This is hardly based on its Nehruvian Cold War mentality of nonalignment but espouses more pragmatic considerations, including the unwillingness to partake in Western adventures unless a direct and existential threat to its security exists, and the lack of economic and military capacity to take such action.  India's considered refusal to condemn Russian expansionism in Ukraine, and support Western sanctions, is another indicator of this.  Of course, India's historically close relations with Russia need to be kept in mind here.
Iran is another irritant, with the US concerned about New Delhi's closeness to Tehran.  The US has in the past compelled India to modify its policy towards Iran, but this is inimical to India's interests.  America has its misgivings about Iran, but Iran is vital to India's energy needs, and India has a centuries old civilizational history and deep cultural ties with Iran, including a large domestic Shia population.
As demonstrated above, in many of America's key foreign policy challenges in the world, India differs in perspective and position.  As Professor Pant states, while India and the US might get along bilaterally, they have had issues getting along multilaterally.  Even where they converge as they do on the issue of Afghanistan, their ways differ, with India contributing over $2 billion for humanitarian assistance and infrastructure.
The pressures of globalisation and economic interdependence have generated compulsions, prospects and incentives for cooperation between states.  For the time being, economics continues to trump geopolitics and dictate the shape of the bilateral.  But whether the two countries are indeed 'natural allies' remains to be seen.  President Obama hasn't paid much attention to India as his predecessor President Bush, and is preoccupied with tackling major international challenges like the Islamic State.  Mr Modi himself comes with a sense of wounded history, having been denied a US visa on account of his supposed complicity in the 2002 Gujarat riots.
While both leaders are charismatic and good practitioners of diplomacy, the two countries need to transcend irritants from hijacking the relationship, especially given the radically changing international landscape including an increasingly assertive and expansionist China, and the threat of Islamist fundamentalism.  The natural strengths in the relationship are evident — both countries function on the same values of openness and democratic institutions, with a focus on economics, and strong people-to-people ties.  They should capitalise on these strengths, and realise that some of India's own foreign policy interests will collide with its goal of cultivating a strong relationship with the US and vice versa.  But the relationship can grow if both sides respect the other's position and place, and acknowledges the other's interests.  The US must understand the complexity and history of India's relations with Iran, Russia, and China, and be sensitive to the fact that India's strategic interests trump its alleged global obligations.  These strategic differences do not speak for the fundamental character of the relationship.
The most important aspect of the relationship is the American recognition that India's success and transformation towards a more prosperous society is in America's interest, and India's emergence as a major and prosperous power requires a closer relationship with the US both in the security and economic realms. As Senator McCain states, "Ultimately, this strategic partnership is about India and the US placing a long-term bet on one another – a bet that each of us should be confident can offer a big return."  The countries might have divergent perspectives, but their visions and commitment to a liberal international world order, and a rising Asia that is stable with no single power exercising disproportionate influence, do not conflict.  This should be the dominant idea taking the relationship forward, as it did during the civil nuclear agreement, after which this central story line got blurred.
(Shairee Malhotra is a Mumbai-based analyst. She has worked as a researcher at Gateway House: Indian Council on Global
Relations)