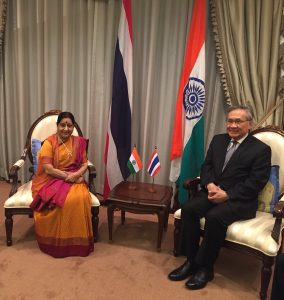 It's the Act East season in India. Ahead of the India-ASEAN summit in Delhi which will mark the silver jubilee of this burgeoning partnership, India's External Affairs Minister Sushma Swaraj has embarked on a three-nation tour of Southeast Asian countries, including Thailand, Indonesia and Singapore.
The minister's ASEAN trip will focus on deepening political, defence and economic ties with these countries that are dynamic economies and have a significant Indian-origin population.
Swaraj reached Bangkok, the first stop of her tour, on January 4 where she held wide-ranging talks with her Thai counterpart Don Pramudwinai. Issues relating to connectivity, security and cultural cooperation figured prominently in the talks. Thailand will be the coordinator country for India-ASEAN relations in 2018.
Indonesia will be her next stop, where she will co-chair the 5th meeting of India-Indonesia Joint Commission with her Indonesian counterpart, Ms. Retno Marsudi. They will also jointly inaugurate the second meeting of ASEAN-India Network of Think Tanks. Recently, the 'India Culture Week' concluded at the central public square in Bandung on December 31 with a grand Indian music and dance performance that was attended by more than 3,000 local citizens and art lovers in Bandung.
The highlight of her Singapore visit will be the Regional Pravasi Bharatiya Divas (PBD) of ASEAN countries. Themed "Ancient Route, New Journey: Diaspora in the Dynamic ASEAN-India Partnership", the two-day conference will see top leaders and businessmen discuss issues like start-ups, cyber security and disruptive technologies in manufacturing. Writers' and film festival, art and photo exhibition, along with Ayurveda and yoga workshops, will also be major attractions.
In a unique gesture, India has invited the leaders of all 10 ASEAN countries to participate in the Republic Day celebrations, which underscores the growing salience of the region in India's foreign policy calculus.
Connectivity, business, anti-terrorism and maritime security have been key themes dominating India-ASEAN dialogues in recent times. The centrality of ASEAN in New Delhi's Act East policy was the focus in Prime Minister Narendra Modi's address at the ASEAN-India and East Asia Summits held in November in Manila and was also demonstrated at the ASEAN India Connectivity Summit (AICS) that India hosted in December. Amid China's growing assertions in the region, ASEAN countries are increasingly looking at India to play a bigger role in shaping an inclusive regional architecture.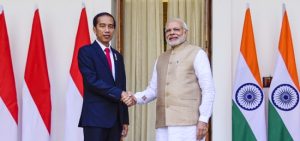 With an eye on China, India and Indonesia, Asia's most populous democracies and emerging powers, have firmed up a blueprint for enhancing maritime cooperation and resolved to jointly combat terror. In a calculated move that is set to antagonise Beijing, India has backed Indonesia on the latter's escalating dispute with China on territorial claims in South China Sea.
The talks between Prime Minister Narendra Modi and Indonesia's President Joko Widodo in New Delhi on December 12 have culminated in an ambitious joint statement to upscale strategic partnership, with concrete plans for expanding bilateral defence and maritime cooperation. The first visit by Jokowi, as the Indonesian president is popularly known in his country, to India has been closely watched in China, which looks at India's attempts to forge closer strategic ties with ASEAN countries as part of its calibrated containment strategy.
Managing China Challenge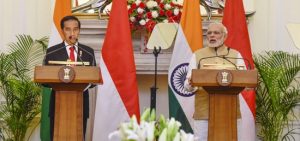 India and Indonesia, fellow-travellers in the Non-Aligned Movement and now dynamic emerging economies, are striving to modernise their relationship in the context of the new geo-strategic realities and flux in the region. China was the elephant in the room when PM Modi and his Indonesian counterpart held talks in the Indian capital as both India and Indonesia count China as their largest trading partner, but have unease about Beijing's hegemonistic intentions. Managing the China challenge without getting into the containment trap is a shared concern for both countries.
The relations between India and Indonesia, despite having shared concerns and interests, remain underleveraged for a host of reasons. That's why Mr Widodo's maiden visit to India was significant as it addresses the diplomacy deficit and could lead to a return visit by Mr Modi to Jakarta soon. In his joint media interaction in Delhi, Mr Modi placed the India-Indonesia relations in the larger context of emerging realties of the 21st century. "Indonesia is one of India's most valued partners in our Act East Policy. It is the largest economy in South East Asia. And, India is one of the fastest growing large economies in the world. As two large democracies and major emerging economies, we have shared economic and strategic interests. We also face common concerns and challenges. My extensive conversation with President today focused on the full range of our cooperation," said the Indian leader.
Maritime Concord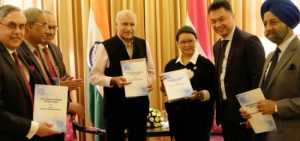 The talks rightly prioritised expanding defence and security cooperation as a core priority to actualise the full potential of this sub-optimal relationship. "As two important maritime nations that are also neighbours, we agreed to cooperate to ensure the safety and security of the sea lanes, in disaster response and environmental protection," said Mr Modi.
In the backdrop of China's rejection of the Hague tribunal's verdict on the South China Sea, the concord between New Delhi and Jakarta on the primacy of the United Nations Convention on the Law of the Sea (UNCLOS) was significant as the two democracies exhorted Beijing (without specifically naming it) to abide by a rules-based international order, specially in the maritime domain. "…they urged all parties to resolve disputes through peaceful means, without resorting to threat or use of force and exercise self-restraint in the conduct of activities, and avoid unilateral actions that raise tensions," said the joint statement issued at the end of the talks between the leaders of India and Indonesia.
"Both Leaders agreed to conclude a Memorandum of Understanding on Maritime Cooperation between Indonesia and India in order to further strengthen and accelerate maritime cooperation inter alia in maritime safety and security, and promotion of maritime industries, as one of the important pillars towards enhancing the bilateral relationship," said a separate statement by India and Indonesia on maritime cooperation.
Uniting against Terrorism
Another important takeaway from the latest round of high-profile engagement between the leaders of India and Indonesia was a convergence of positions on terrorism that thrives on sanctuaries provided by states with vested interests. While China has been dithering on India's appeal to support the designation of Masood Azhar, the prime suspect in the Pathankot and Uri terror attacks, as an international terrorist, Indonesia, the world's most populous Muslim nation, supported implementation of the United Nations Security Council Resolution 1267, which seeks to ban militant groups and their leaders, and other resolutions designating terrorist entities. Jakarta's support for New Delhi underscores growing regional exasperation with the segmented approach to terrorism, with the India-Indonesia joint statement making it clear that here must be "zero tolerance" of acts of terror. "Both leaders discussed the threat from global terrorism and other transnational crimes and resolved to significantly enhance bilateral cooperation in combating terrorism, terror-financing, money-laundering, arms-smuggling, trafficking in human beings and cybercrime," said the joint statement. In a veiled reference to Pakistan, the statement also exhorted all nations to work towards eliminating terrorist safe havens and infrastructure, disrupting terror networks and their financing channels and stopping cross-border terrorism.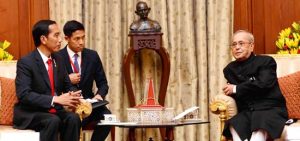 This strategic concord between Asia's emerging economies on issues of terrorism and South China Sea is a signal to China that there is not much room for ambivalence and sent a message to the region that the entire Asian hemisphere benefits from a collective approach to regional security.
Building upon this congruence in the strategic and security areas, India and Indonesia also decided to inject more substance into their growing economic partnership as the two countries decided to boost their economic engagement in the areas of oil and gas, renewable energy, information technology and pharmaceuticals. The launch of a direct flight between Jakarta and Mumbai and the signing of a pact on cooperation in youth affairs and sports and standardisation underlines that the two countries are finally getting serious about broad-basing their strategic partnership by positioning people at the heart of this crucial relationship.
Ahead of the ASEAN summit in Kuala Lumpur, India has denied any counter-balancing of China as it sought to upscale relations with Indonesia, the largest country in ASEAN and a fellow-traveller in Non-Aligned Movement.
India's Vice President Hamid Ansari, who is on a five day visit to Indonesia and Brunei, stressed on the importance, India attaches to deepening and expanding its relations with Indonesia.  Focusing on the common interests, Mr Ansari said: "We have much in common – sharing cultural values, but also developmental objectives give our large youthful populations and their growing aspirations. We also share similar governance challenges and can benefit from sharing our experiences with each other."
Addressing a query on whether India's Act East police is designed to contain China, the vice-president spoke about changing diplomacy in the 21st century. "I don't think we should be in the business of counter-balancing. We develop our own relations on our own momentum. Indonesia is nearly half – or more – of the ASEAN region. It stands on its own. So, the idea of mitigating China's assertiveness is outdated," Mr Ansari stressed.
"Indonesia is the largest ASEAN member and India looks forward to its continued support as we move to increase our engagement with ASEAN member States as part of our Act East policy. We congratulate the Government of Indonesia for successfully organizing 60th Asian African Conference Commemoration in April 2015 and for assuming chairmanship of Indian Ocean Rim Association (IORA) last week," Mr Ansari said.
Elaborating on the increasing common interests between the two countries Mr Ansari said, "We share similar positions on several global and regional issues including climate change and maritime security and freedom of seas in the South China Seas."
Ahead of the global climate summit, India and Indonesia signed a Memorandum of Understanding (MoU) on cooperation in New and Renewable Energy Sector during Mr Ansar's visit. "This cooperation is important as both India and Indonesia have committed themselves to reduce carbon emissions by 35 percent and 29 percent respectively by 2030," said Mr Ansari.
India and Indonesia are expected to sign three MOUs which include a collaboration between the AYUSH Ministry and Bali's Uddiyana University in the field of Ayurveda. Another pertained to the cultural exchange programme. Notes would be exchanged on the Extradition Treaty signed in 2011.
Indonesia is rich in natural resources – it is the largest producer of palm-oil in the world and the largest exporter of thermal coal.
Indonesia's proven natural gas is immense with more likely to be discovered. The country's under water resources of hydrothermal sulphides containing gold, silver, copper, lead and zinc and in its ferro-manganese crusts has been drawing the world's interests in Indonesia.
Nearly ninety percent of the world trade is through sea and around 38 percent of it passes through Southeast Asian straits, of which three belong to Indonesia. India and Indonesia have been working on strengthening maritime cooperation.
Vibrant democracies, emerging powers, and partners in the unfolding Asian resurgence. India-Indonesia relations have a rich past, and is looking to zoom into a rich future, bristling with possibilities. Co-founders and fellow-travellers of the Non-Aligned Movement, India and Indonesia have imparted a contemporary strategic dimension to their multi-faceted relationship. From President Sukarno gracing the first Republic Day celebrations of 1950 to India hosting Indonesia's then President Susilo Bambang Yudhoyono as Chief Guest at the Republic Day celebrations in 2011, the India-Indonesia partnership in the 21st century is acquiring new layers and depth.
The year 2014 saw a change of guard in both New Delhi and Jakarta, propelling self-made politicians from humble backgrounds to the top of the power ladder. The new leaderships in both countries are keen to seize the moment to infuse a new energy and vitality into this robust relationship.
Manish Chand, Editor-in-Chief of India Writes Network (www.indiawrites.org), caught up with   Indonesia's Vice-Minister for Foreign Affairs Dino Patti Djalal in New Delhi for a free-wheeling conversation on the entire gamut of India-Indonesia relations, and much more. In this probing conversation, the suave and eloquent deputy foreign minister shares his views on the future trajectory of India-Indonesia relations, how the two countries can collaborate in areas like pro-poor technologies, a new kind of creative politics emerging in Indonesia and a radical transformation of the image of India from a country ridden with poverty to a country synonymous with enterprise and innovation. India used to be known as a country with a rich past, but now it is seen as a country with a rich future, he says presciently.
(Excerpts from the interview)
Q) India has had a special relationship with Indonesia that harks back to the heyday of the Non-aligned Movement. How do you look at the contemporary dimension of India-Indonesia relationship? Where is it heading?
A) It's a very interesting question. Indonesia and India have a long history of relationships; it's even civilisational, the civilizations of the two countries are interlinked, and the influence of the Indian civilisation is present throughout the archipelago. Also, we were the first nations to announce independence after the World War II. We had a good relationship between President Sukarno and Prime Minister Nehru, but in those days the relationship was shaped during the era of the cold war and non-alignment. I think the challenge today is — how do you rediscover that relationship in the post-cold war and the globalised world order.  These are the questions that challenge us. Definitely, the biggest area is in trade and investment. India is already very strong in Indonesia, in culture. In fact, our most popular form of music, called Dangdut, is inspired by  the Indian music; it is by far the most popular form of music in Indonesia. I think rediscovering and reshaping a 21st century partnership between two of Asia's largest giants is the most urgent diplomatic foreign policy task before our two countries.
Q) You identified trade and investment as the most promising area of bilateral collaboration. We are already doing well in this area, but clearly there is scope for more. But looking at other aspects;  for example, recently there has been an effort to upgrade the defence partnership.  How do you see the strategic dimension of the relationship evolving in the future?
A) There is a very strong potential for that. Indonesia pursues an independent and active foreign policy, which means we cannot get into any alliance with any other country. And India pursues strategic autonomy. In Indonesia, we buy a lot of weapons from the US; we have some co-operation with South Korea to purchase submarines, and also with Spain. Indonesia is now trying to achieve minimum essential force by 2020 — it's a misnomer as when we say minimum, we actually need to acquire a lot of equipment. India is one very potential defence partner, especially in the procurement of arms. You have the technology, and we have the political and strategic trust between India and Indonesia. There is no problem between our two countries, and we have programmes which can be synergised.
Modi and Jokowi: New Synergies
Q)  There is a parallel between the new Indonesian president and India's Prime Minister Narendra Modi. Both leaders come from humble backgrounds – and there are a lot of symmetries in terms of the problems and challenges the two countries face.  Talking about Prime Minister Modi's foreign policy, wherever he has gone, he has spoken about sharing developmental experiences, infrastructure-building and eliminating poverty. Do you see scope for development partnership between India and Indonesia, in terms of sharing experiences in some of these areas?
A) I do see that. The more I stay in India, the more I see how much we are alike. Indonesia and India are similar, not in terms of just the potential, but also in terms of the problems we face like governance issues, ethnic issues, identity issues, and so on. I think one of the areas that we can work on is on pro-poor technology. In Indonesia, we are very interested in how technology can be a driver in making progress in the shortest possible time.  And I know both Indonesia and India have experience in this. We have some pro-poor technology, and in areas of energy and education.
I think the one area where we can work is promoting entrepreneurship. For some reason, in Indonesia and India, capitalism is a dirty world, and it should not be like that. It's changing right now, but the question is how to make the whole population understand that.  In Indonesia, we found the answer, we changed the term capitalism to entrepreneurialism. When the term capitalism changes to entrepreneurialism, suddenly it makes the difference. We went to make entrepreneurialism the new and main socio- economic force in Indonesia.
Q) A new narrative of India is emerging, especially under the new prime minister where policy paralysis seems to be a thing of the past. How do you look at the India growth story in coming days?
A) I think first, there is one rule and it is how the country transforms. I think India will be emblematic of the ingredients of transformation and change.  It is the necessity of leadership. I think in several societies elections are important, but it is the leaders who make policies, who take risks, who change things, And I think Prime Minister Modi's leadership will be critical to where India will be in next 5 to 10 years.
Q) Indonesia is the largest economy in ASEAN. And India has a strategic partnership with ASEAN.  How do you see the India-ASEAN relations evolving? And what's your take on the East Asia architecture?
A) I think India has been a key part of the Indo-Pacific architecture, and has strong relationships in terms of the ASEAN-India partnership. But on the trade side, there is scope for more. For example, India's trade with Singapore is $21 billion, and with Indonesia it's $20 billion, but with others, it's much less, with the Philippines it's almost $2 billion. That's not much given that the Philippines is one of the highest growing economies in Southeast Asia.
In other words, there is lot of scope for greater co-operation. I think it's going to be one of the challenges. In terms of engagement between the business communities of India and the region, much work has to be done.
India's image has changed, Soft Power matters
Q) Has the image of India changed in your country?
A) In Indonesia, we have started to think about India differently: from a country known for its poverty to a country known for its middle class, enterprise and innovation. And that difference in image is huge.  India used to be known as a country with a rich past, but now it is seen as a country with a rich future.  So I am going to be spreading this message throughout the region. That's going to be critical. There is a strong Indian diaspora in Indonesia, and that will also help you with that. There is plenty of soft power in your culture. I like the fact that when Indians when go to a Southeast Asian country, it's not hard  power diplomacy but soft power diplomacy that makes it very easier to accept.
Q) What's the next big step in India-Indonesia relations?  When is the next high-profile diplomatic engagement between the two countries? Can we expect a prime ministerial visit from your country to India soon?
A) Prime Minister Manmohan Singh came to Indonesia last year. It was a very good visit, now we have a new government and you also have a new government. I think we need a high-level visit to boost this relationship. For President Jokowi, it's too early for him, he has been there for only a few weeks. But I believe, one of the first big visits he should make is to India.
A New Kind of Politics
Q) In Indonesia, the power structure has been traditionally top-heavy, dominated by the old elite. President Jokowi's rise to power exemplify a new kind of politics. Do you think a new generation middle-class or self-made politicians is going to emerge in Indonesia?
A) He is the first one to become president outside the political and military elite. He is a complete outsider. So, his rise is a very interesting phenomena in the Indonesian politics. If he is successful, that will give rise to a new kind of politics, and more self-made people will come in the political arena.
In India's transformation, leadership would be important but also in Indonesia and India, the quality of politics will be critical. Which means from your elections, what class of politician are brought to power. In Indonesia our lesson was that although we have a great guy at the top, but if we have a class of politicians who  are not matching that, then democracy will face a setback. It is important to have a good leader at the top, but also an equally good class of politicians in the middle and below.