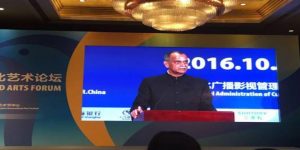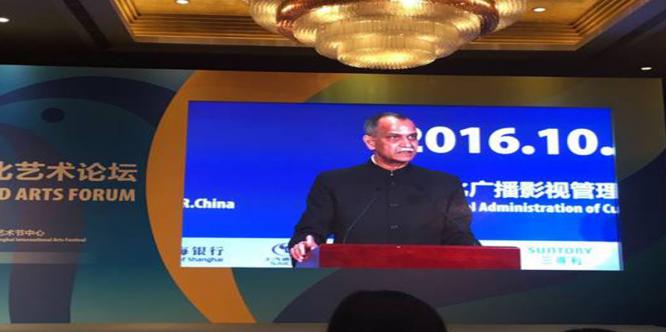 Politics divides, culture connects. Just a couple of days before Chinese President Xi Jinping and Prime Minister Narendra Modi met in Goa to discuss weighty issues such as India's NSG membership, the two Asian giants quietly turned to the magic of films to make their ties hum with positive energy. In Shanghai, a pact was signed between India and China to recreate Raj Kapoor's 1951 classic Awaara into a contemporary Chinese opera.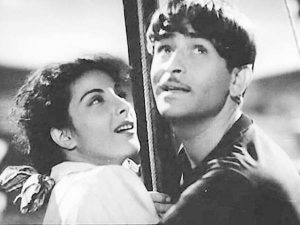 Amarendra Khatua, the new director-general of Indian Council for Cultural Relations (ICCR), who was in Shanghai to deliver the keynote address at the 18th China Shanghai International Arts Festival (CSIAF), struck an upbeat note on long-standing civilisational ties and promoting cultural exchanges in Tier-II and Tier-III cities in India and China. The joint theatrical remake of Awaara, which remains the most popular Indian movie in China, hints at more such collaborative cultural tie-ups India is set to pursue in days to come.
"Cultural diplomacy is poised to play a bigger role in India's foreign policy calculus in days and months to come and promote Brand India," said Khatua, a veteran diplomat  and an accomplished poet who writes and translates in English, Hindi and other Indian languages.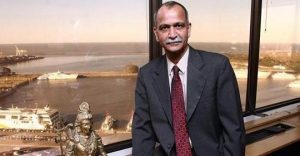 With the Modi government positioning culture at the heart of India's burgeoning diplomatic engagements, Khatua has been given a focused brief. "Both Prime Minister Narendra Modi and EAM Sushma Swaraj want a streamlined, transparent and efficient working of ICCR," he told India Writes Network in an interview at his tastefully done office in Azad Bhavan, the seat of India's cultural diplomacy.
In barely three weeks since he has been at the helm of the ICCR, Khatua is doing precisely this: fixing the system, motivating the bureaucracy and staff, and interacting with a diverse spectrum of performers, musicians, dancers, sculptures and creative professionals.
Focus on Brand India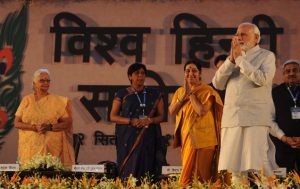 Amid all this frenzy, Khatua is calm and clear about the ICCR's priorities. "The focus will be on promoting and showcasing diaspora linkages, propagation of yoga and ayurveda, including pharmacopeia of Ayurveda," he said.
"ICCR will work closely with territorial divisions of the MEA to organise appropriate cultural activities. In general, there will be a greater involvement of ICCR in diplomatic activities across the spectrum," he said.
"Under the new leadership, we are making efforts to promote 'Brand India' through emphasis on traditional Indian cultural and scientific mores, yoga, Ayurveda, Sanskrit, Vedas, folk arts and culture, Puranic and historic cultural and philosophical linkages between India and the world," he said. The promotion of Hindi and greater cultural footprints in Africa, Latin America and neighbouring countries are important priorities, he added.
The Way Ahead
Looking ahead, Mr Khatua said that the ICCR will be setting up more cultural centres. Currently, there are 26 cultural centres set up by India across continents. "The aim is to have 50 cultural centres in the next 15 years," he said. Another important priority will be to take two-way cultural diplomacy to second and three tier cities, he said.
Khatua, the author of several critically acclaimed collections of poems, including "Garden of Enchanted Stones," is a firm believer in the power of culture to connect nations and peoples. "Promotion of soft power adds up to all our diplomatic initiatives as cultural inputs improve people-to-people contact, continuing interaction, academic and other ideas exchange and brand image," he said.
The last two years have seen culture moving to the centre-stage of India's diplomatic outreach, with Indian cultural values and traditions striking a chord across the world. In a landmark achievement, the UN unanimously adopted a resolution declaring June 21 as the International Yoga Day following an inspirational address by Prime Minister Narendra Modi at the United Nations General Assembly in September 2014. Since then, the Yoga Day has been celebrated with passion and panache across key world capitals.
China and India are not only neighbors but also important rising economies and global powers with a combined population accounting for 35 percent of the world's total. However, the two nations remain largely distant in some respects. A survey about the rise of China conducted in
India in 2013 by the Asian Barometer Survey Organization showed that many Indians lacked knowledge about the growing power to their north. And in recent interviews with Beijing Review, most Chinese respondents expressed stereotypes about India that focused on negative qualities like poor infrastructure and social governance, overlooking India's status as a global leader in information technology and the bio-pharmaceutical industry.
Media observers said a lack of mutual understanding is the root cause of the indifference and even outright ignorance displayed by the peoples of the two countries toward each other.
China-India relations have entered a period of overall accelerated growth. Nonetheless, persistently negative media reports of the two sides are failing to improve the relationship. Some in the media overhype border disputes and political issues while neglecting bilateral economic cooperation and people-to-people exchanges.
At the Second China-India Media Forum on February 1 in Beijing, a platform jointly established by the State Council Information Office of China and the Ministry of External Affairs (MEA) of India to enhance bilateral media exchanges, participants from the mainstream media outlets of both countries addressed these issues. These media representatives held candid and in-depth exchanges on the crux of the problems and the convergence of their interests to provide the general public of both countries with accurate and comprehensive information in order to reduce misunderstandings.
The crux
Most participants of the forum noted that one of the major reasons for the isolation felt by the two sides toward one another is the narrow scope of reporting carried out by either party on the other's country.
Liu Cong, Executive Director of China Central Television News English Channel, said that as the two most important forces in the global multipolarization process, China and India share much common ground. However, she noted, apart from visits and meetings between leaders of the two countries, border disputes comprise the mostly highly covered topics regarding the pair. This narrow focus limits people's knowledge of each other and results in misunderstanding, skepticism and even prejudice, she said.
Swapan Dasgupta, an Indian media veteran with experience working for outlets including The Times of India and most recently India Today, shared a similar view, claiming that most China-related stories are limited to political issues, while cultural topics were underreported.
Manish Chand, Editor in Chief of India Writes, echoed Dasgupta's view by noting that Indian media should break the tradition of always "looking at China-India relations through the security prism," and devote more energy to culture stories.
"Culture is always a missing component in Indian media coverage. The frame of reference while thinking of culture is mostly the West. We speak of Hollywood and its films and actors, but how many people know of Chinese films and directors?" said Chand.
Li Yafang, President of Beijing Review, said that in addition to reports on political and economic events, more stories should show how bilateral relations affect the lives and hearts of average people.
"We should neither intentionally avoid reports on disputes nor neglect bilateral consensus. As media, we should report the facts while giving rational proposals to settle disputes," said Li.
Regarding sensationalism in the media, participants from both sides admitted that the heavy focus on negative stories and disputes stems from the nature of
journalism—recalling the industry phrase, "If it bleeds, it leads."
However, Gao Anming, Deputy Editor in Chief of China Daily, called for media from both countries to attach more importance to their social responsibilities.
Gao said that as an important channel for peoples of different nations to understand one another, it is necessary for the media to strictly observe professional integrity and avoid irrational nationalism.
Dasgupta also stressed that although media cannot change history, it can influence how history is interpreted today.
Representatives from both sides agreed that the reporting of each other's country were deeply influenced by Western media.
Statistics compiled in 2013 showed that there are only four Indian media professionals stationed in China; meanwhile, about a mere dozen Chinese reporters were working full-time in India. This shortage has resulted in a heavy reliance on Western media reports. Chand noted that, like the Chinese media, "The Indian media narrative is often inspired by Western narratives that project India and China as rivals."
"The status quo obviously doesn't live up to the importance of bilateral relations. To present a true China and a true India, it is urgent for media from both countries to devote more reporters to the cause," said Tang Shubiao, Editor in Chief of China Today.
Converging interests
As China-India economic ties deepen rapidly, media from both sides can play a much larger role in promoting the convergence of their interests as well as cooperation.
Currently, China is the largest trading partner of India, with total trade volume in 2014 exceeding $70 billion, while the number was merely $1 billion in 2001. The two countries plan to raise bilateral trade beyond $100 billion in 2015.
China and India—the global manufacturing giant and major service provider, respectively—may complement each other well with their different economic strengths. However, reports on the two countries' economic development and cooperation are still relatively few in number.
Li Yang, a senior journalist with China News Service, said there is great potential to be tapped for business news reporting. Taking the renowned Indian industrial giant Tata Group's China strategy as an example, Li said that increasing reports on each other's business strategies could certainly increase bilateral cooperation.
Atul Aneja from The Hindu said China's 21st Century Maritime Silk Road initiative, currently underreported in the Indian media, could also bring about big opportunities for India's business circle.
Vaidyanathan Iyer, Deputy Editor of Indian Express, said the media can promote the settlement of some economic and trade problems between the two countries.
Liu of CCTV suggested that the Chinese and Indian media be platforms for explaining the rules and regulations in trade, investment, finance, and tax of each other's country. "For example, China has established three free trade zones. What does that mean to foreign investors? What preferential policies can they get in these zones? We can do a lot of coverage on that," Liu said.
Making progress
The launch of the China-India Media Forum was also one of the agreements reached during Chinese Premier Li Keqiang's visit to India in 2013, with the first forum held in New Delhi in September that same year.
Zhou Mingwei, President of China International Publishing Group, a Beijing-based media conglomerate targeting international audiences and the organizer of the event, said as the forum has evolved into a regular platform for exchanges, mutual trust between the media from the two countries is increasing gradually.
Zhou said that the first forum was predominated by arguments and even accusations, whereas the most recent forum focused on settling existing problems.
When addressing the opening ceremony of the forum, Indian Foreign Minister Sushma Swaraj appealed to the media from both sides to converge on common regional and global interests, develop new areas of cooperation and expand strategic communication with the aim of initiating a new century of mutual learning between the two countries and realizing the dream of an "Asian century."
In the statement issued at the end of the second forum, delegates proposed a China-India Media Fund financed by the two countries' leading media organizations to promote journalistic exchanges and hold seminars or conferences. Participants also agreed to increase the numbers of journalists stationed in both countries, while vowing to reduce dependence on news sources from Western countries.
"Initial progress has been made in promoting personnel exchanges and information sharing between Chinese and Indian media organizations," said Zhou at the closing ceremony of the forum. "At the same time, we should be keenly aware that our mutual understanding still falls far short of demand at a time when bilateral ties are thriving. It is imperative that we devote more efforts and greater wisdom to expanding China-India media cooperation."