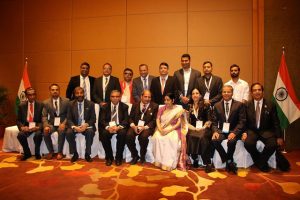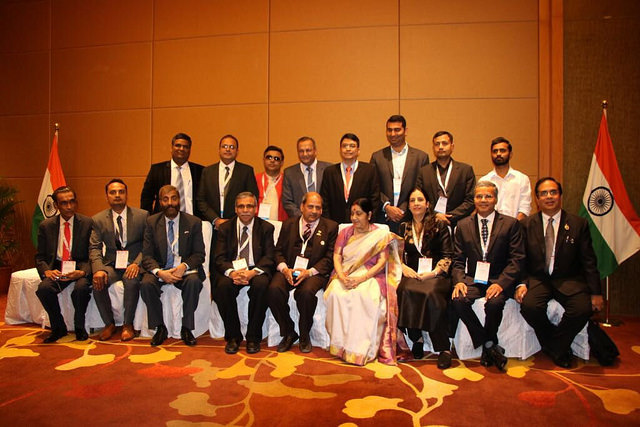 SINGAPORE: The two-day grand celebration of the ASEAN-India Pravasi Bharatiya Divas conference in Singapore saw an intermingling of culture and cuisine of India and Southeast Asia, whose ties go back centuries. Addressing a gathering of around 3000 delegates at the Regional PBD entitled, 'Ancient Route, New Journey: Diaspora in the Dynamic ASEAN-India Partnership," India's External Affairs Minister Sushma Swaraj cheered the role of the Indian diaspora in Singapore in bringing the two regions closer to each other.
"I see the symbols of our ties: on the streets, in life at homes…in the rituals of diverse states, in the symbols and sounds of languages, in the poetry of the dances, in the melody of the music and in the flavours of the food," she said.
"We have immense resources in the form of our diaspora in South-east Asia, to be the bridge for a new journey on an ancient route," she said.
ASEAN countries are home to around 6 million overseas Indians, a fifth the 31 million-strong Indian diaspora, comprising both Indian citizens abroad and Persons of Indian origin.
With India's dialogue partnership with ASEAN now upgraded to a strategic partnership, the diaspora becomes a crucial link.
"Our diaspora provides a platform for a stronger relationship between India and ASEAN countries… India's engagement with the ASEAN region lies in the clarity of the principles that we share. We believe that when all nations adhere to international rules and norms and when we conduct on the basis of sovereign equality and mutual respect, our nations feel secure and our economies prosper," Ms Swaraj said.
Alluding to the presence of Assam chief minister Sarbananda Sonowal at PBD, Mrs Swaraj emphasised the importance of the development of India's Northeast in facilitating better connectivity with the ASEAN region. "Our Northeast region will prosper when it is better connected to Southeast Asia and when the Northeast becomes our bridge to Southeast Asia, we will be closer to realising our hopes for India and ASEAN ties," she said.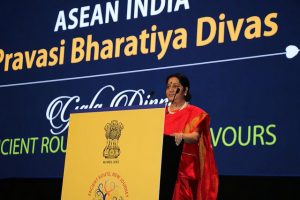 The minister also outlined the need to create skills for the digital age, fighting unemployment, sustainable urbanization programmes, conserving bio-diversity and developing and promoting clean energy.
India's expanding presence in the dynamic island-nation was also highlighted by Singapore's Deputy Prime Minister Teo Chee Hean. "As a civil aviation, trading and financial hub, we are a good base for Indian companies to work from in order to expand to South-east Asia and beyond," he said. There are 8000 Indian companies which are operating in Singapore, almost double the number in 2009.
"Today 16 Indian cities are connected to Singapore, a trilateral highway project from India to Thailand is making progress and we plan to extend this further to connect India with other ASEAN countries," Ms Swaraj said. Representing a quarter of the world's population of 1.8 billion people and a combined GDP of more than USD 4.5 trillion India and ASEAN form a significant power bloc and India's "Act East" policy is geared towards increasing its presence in the region and maximizing the gains from this burgeoning partnership.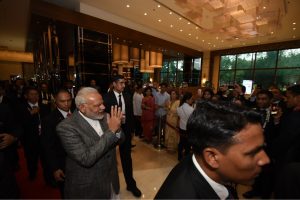 MANILA: It's ASEAN moment in the Philippines capital – sparkling lights, giant Christmas tree and ASEAN emblems splashed all over this bustling metropolis conjure up a festive atmosphere that's in keeping with the 50th anniversary celebrations of this vibrant grouping of 10 Southeast Asian nations. And Philippines' maverick leader Roderigo Duterte has launched a veritable charm offensive as he rolls out the red carpet to welcome a host of world leaders, including US President Donald Trump, India's Prime Minister Narendra Modi and Chinese Premier Li Keqiang, among others, for this defining marker in the history of ASEAN.
Behind bonhomie, serious issues
Celebrations and festivities are in order, but behind all this bonhomie and camaraderie lie a sense of unease and anxiety about festering geopolitical churn in the region. The 31st ASEAN summit in Manila is happening at a time amid competing power games by the US and China to consolidate their influence in the region, and a spate of crises like renewed posturing over the South China Sea and the North Korea nuclear crisis. The rise of virulent Islamic radicalism in the region, as exemplified in the terror siege in Marawi by the Islamic State, has already put security issues on top of the ASEAN agenda.
Manila summit: Stakes for India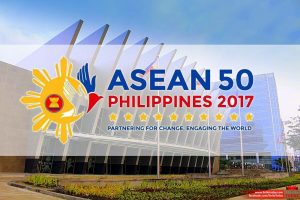 For India, the Manila summit will be an opportunity for Prime Minister Modi to underscore New Delhi's strategic intent to play a bigger role in the region and impart more depth and content to its Act East policy. The India-ASEAN summit, scheduled to be held in Manila on November 14, is expected to impart a fresh momentum to step up the action plan for deepening and diversifying New Delhi's multi-faceted partnership with the ASEAN and East Asia region against the backdrop of the growing salience of the Indo-Pacific in global geopolitical landscape.
PM Modi is expected to invite the leaders of all 10 ASEAN countries for the special India-ASEAN commemorative summit in New Delhi in January 2018. This summit will be a milestone in India's blossoming relations with ASEAN as this is the first time India will be hosting the leaders of all 10 ASEAN countries as Guest of Honour at the annual Republic Day parade.
Sea of Trouble
 On the strategic side, all eyes will be on the message coming out from the ASEAN summit on the South China Sea, where China's suspected expansionist agenda has renewed anxiety about Beijing's intentions and the region's response to it. Ahead of the summit, Mr Duterte has already voiced his concerns and underlined the need for a written code of conduct that will ensure responsible behaviour by China in the disputed water body.
The meeting between Mr Duterte and the Chinese premier will be watched closely as Beijing renews its diplomatic push to build brides with Manila and allays the latter's concerns. In an article published in The Manila Times, Chinese Premier Li Keqiang has outlined a big-picture canvas of China-Philippines relations and stressed that although the two sides have "different views on certain issues," "they returned to the track of appropriately handling the South China issue through dialogue and consultation, this removing the stumbling block in China-Philippines relations." Against this backdrop, PM Modi is expected to make a strong pitch for maintaining and upholding freedom of navigation and keeping sea lanes of communication free from geopolitical rivalries. What Mr Trump says on the South China Sea issue at the Manila summit – he was studiously silent on it during his recent visit to China – will have a profound bearing on how this issue plays out in the future.
Quad Balancer
The larger strategic issue at stake at the Manila summit will be on shaping an inclusive regional architecture in the Indo-Pacific region. In this regard, the first-ever quadrilateral meeting of officials of India, Japan, US and Australia on the Indo-Pacific region in Manila on November 12 is specially significant. The Quadrilateral is widely seen as a coalition of maritime democracies to counter China's expansionist agenda in Beijing. Officially, all the four countries have denied any China containment, but the Quad can be expected to play the role of a pressure group in curbing China's assertive tendencies in the region.
Regional Counter-terror Cooperation
Another important priority for India will be to join hands with ASEAN in curbing the increasing scourge of terrorism in the region. The Marawi terror siege has imparted an added urgency to enhancing regional counter-terror cooperation. One can expect India to back ASEAN-driven initiatives to bolster regional counter-terror infrastructure and capability. In his speech at the India-ASEAN summit, PM Modi could announce his plan to host a conference on de-radicalisation of ASEAN countries to which all member ASEAN countries will be invited. The conference could be held before the end of the year, or before the special India-ASEAN summit in January 2018.
Economic Ties: RCEP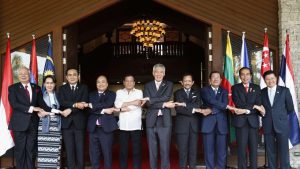 On the economic side, with the Indian economy recovering its growth rate after relative slowdown in the last quarter, India will be pitching for enhanced investment from ASEAN countries. In his speech at ASEAN Business and Investment Summit in Manila on November 13, PM Modi is going to showcase path-breaking economic reforms initiated by his government that has led to enhanced ease of doing business. India's World Bank ranking in ease of doing business recently jumped 40 places. Bilateral trade between India and ASEAN surpassed US$ 71 billion in 2016-17.
In unlocking the potential of India's economic ties with the ASEAN and East Asia region, the Regional Comprehensive Economic Partnership (RCEP) could play an important role. At the RCEP leaders' summit in Manila on November 14, PM Modi is expected to underline India's commitment to RCEP, but at the same time he is expected to emphasise the need for a balanced outcome. India has all-too-real concerns about key provisions in RCEP, especially those relating to services trade and IPRs.
The Way Ahead
Looking ahead, as they celebrate 25 years of multifarious engagement across the spectrum, India and ASEAN will be looking to map new frontiers and raise the bar for this mutually empowering partnership. The message coming from the Manila summit will have a critical bearing on the future of this economically dynamic region and how it handles differences and power games to focus on the larger dream of realising the potential of an Asian Century.
(Manish Chand is CEO and Editor-in-Chief of India Writes Network and India and World, a pioneering magazine focused on international affairs. He is in Manila for the 31st ASEAN and related summits)

BANDAR SERI BEGAWAN: The first vice-presidential visit from India to Brunei has culminated in a template for transforming ties between the two nations, with the energy-rich Southeast Asian country signing a defence pact and pushing for a bigger role for India in ASEAN and the extended region.
The joint plan to impart a strategic dimension to bilateral relations was telescoped in the signing of an important defence cooperation pact, which envisages, among other things, an intensification of joint military exercises and closer cooperation between the defence industries of the two countries.
The pact was signed after delegation-level talks between India's Vice-President Hamid Ansari and Brunei's Crown Prince Haji Al-Muhtadee Billah at the majestic Empire Hotel in Bandar Seri Begawan, the leafy green capital of Brunei, on February 2. Two other pacts on promoting health cooperation and spurring sports and youth exchanges were also signed after the traditional Muslim prayers.
Betting on India: Brunei upbeat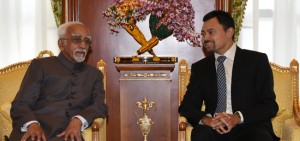 The signing of these pacts is set to infuse a new energy in India's relations with Brunei, which had not loomed large on the country's diplomatic horizon except in the context of around $1 billion oil imports. What's more important is a visible enthusiasm on part of Brunei's rulers about bolstering strategic and economic ties with Asia's second largest economy, which is increasingly being seen by ASEAN as an emerging power of promise and a balancer in the region.
In his interactions with Mr Ansari, Brunei's Sultan Haji Hassanal Bolkiah and Crown Prince, the two most powerful men in the sultanate of Brunei, praised the 11,000-strong Indian community for their hard work and excellence and conveyed the desire to deepen and diversify ties with New Delhi.
"Brunei wants to expand relations with India. They are all praise for Indian professionals, doctors and teachers," said Mr Anil Wadhwa, Secretary (East) and India's seniormost official dealing with the region.
South China Sea: On the same page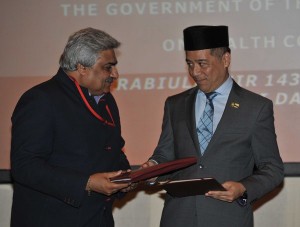 The signing of the defence pact is significant coming as it does amid the flux in the region and festering territorial disputes around South China Sea. With China launching a massive outreach to ASEAN countries, this important step by India signals a more proactive India standing up vigorously for freedom of navigation and defence of global maritime commons. Not surprisingly, South China Sea, which has seen a fresh sparring match between the US and China and increasingly assertive stance by countries like Vietnam, figured prominently in discussions, with the two sides advocating the primacy of international law in resolving the dispute peacefully through dialogue. "Both sides are on the same page (on South China Sea). The issue should be resolved peacefully through dialogue and by adopting code of conduct," Mr Wadhwa said.
"Brunei supports current negotiations on a Code of Conduct. They (Brunei) feel that the issue should not be internationalised beyond a point," said Mr Wadhwa. Unlike other claimants to parts or whole of South China Sea like Vietnam and the Philippines, Brunei has maintained a more moderate posture and reposed faith in the powers of diplomacy to resolve this long-standing dispute.
Against the backdrop of proliferating terror syndicates across West Asia, South Asia and Southeast Asia with incestuous linkages, the two sides also explored prospects of deepening counter-terror cooperation. The discussions focused on misuse of IT and internet for terrorism through attempts at online radicalization by extremist groups.
Besides strategic and trans-national issues, India and Brunei also explored modalities to intensify and diversify their economic cooperation that has been dominated by hydrocarbons. With oil prices plunging to an all-time low, Brunei, which depends on hydrocarbons for more than 90 per cent of its revenues, has been hit badly like other oil-importing countries, and is looking to rope in India as an important partner in its bid to diversify its economy. In this context, the two sides discussed a plan by India to set up a production facility for fertilisers in Brunei by making use of local gas, which will export urea and fertilisers to India. The success of the joint venture in Oman has set a robust precedent for such a project to go ahead. An investment delegation from India would be visiting Brunei soon to explore this proposal, Mr Wadhwa said.
Asian Century: Weaving India-ASEAN win-win web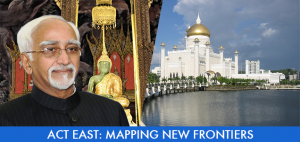 The net takeaway of the vice-president's visit to Brunei is a reinvigoration of strategic and economic ties with Brunei, and placing this relationship in the larger context of the centrality of ASEAN as a driver of the ongoing Asian resurgence. With this trip by Mr Ansari to Brunei, India's prime minister, president, vice-president and foreign minister between them would have visited all ASEAN countries except the Philippines. One can expect India's Act East policy to acquire more depth and content in days to come, as Mr Ansari has said.
Alluding to the upgrade of India-Brunei relations and the metamorphosis of New Delhi's Look East policy into Act East policy under the Narendra Modi government, Mr Ansari underlined that the coming months will see a greater economic integration and cultural familiarity between India and ASEAN countries. He linked up the Act East policy with the promise of an unfolding Asian century. India and Brunei have been neighbours for centuries. "As part of Act East policy, a great deal of activity is underway. This will bring India and Brunei closer and Inia and ASEAN closer," the vice-president said at a reception for the Indian community after the talks.
(Manish Chand is Editor-in-Chief of India Writes Network, www.indiawrites.org, a portal and e-magazine focused on international affairs and the India Story. He is part of the media delegation accompanying Vice-President Hamid Ansari to Brunei and Thailand)