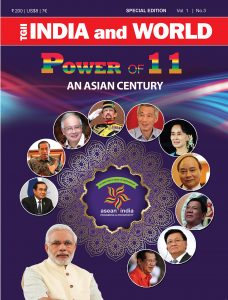 The soaring dream of an Asian Century is poised to acquire new wings as the leaders of India and 10 ASEAN countries participate in a special commemorative summit in New Delhi, marking the silver jubilee anniversary of their multi-faceted partnership. In a captivating spectacle, the 10 ASEAN leaders will also be Guests of Honour at India's Republic Day celebrations on January 26, 2018, the first time the leaders of a region have been bestowed such a singular honour by New Delhi, underscoring the increasing salience of the region in India's foreign policy calculus.
In many ways, it's time for multiple celebrations for India and ASEAN, which are conjoined by "Shared Values, Common Destiny" – the master-theme of the summit, as they toast the 25th anniversary of their dialogue partnership, 15 years of summit-level interaction and 5 years of Strategic Partnership. The intersection of the golden jubilee of the establishment of ASEAN and the silver jubilee of India-ASEAN partnership has only heightened a sense of festivity and pride in what has been achieved so far and what's yet to come.
While celebrations are in order, the silver jubilee anniversary is an apt time for India and ASEAN to retrospect, introspect and map the way ahead for this mutually empowering and enriching partnership that can visibly transform the lives of over 1.8 billion people living in the fastest growing region in the world.
Looking Back
Looking back, it's been an exhilarating journey, with many milestones on the way, starting with the launch of India's 'Look East' policy in 1992 and its transformation into Act East policy in November 2014 under the watch of the Narendra Modi government. The achievements have been substantive and myriad: India-ASEAN trade has multiplied manifold to around $75 billion and the two sides have forged a multi-dimensional strategic partnership which entails proactive cooperation on a range of cross-cutting issues, including terrorism, piracy, global governance, sustainable development and proliferation.
3Cs
Pivoted around the three pillars of Commerce, Connectivity and Culture, India-ASEAN partnership has branched out in diverse areas touching people's lives. The relationship is moving from Government-to-Government (G2G) and Business-to-Business (B2B) to forge a sturdier People-to-People (P2P) bridge. Innovation, Creativity and Entrepreneurship are emerging as new pillars of the multi-hued India-ASEAN partnership. This was reflected in a wide array of events held to celebrate the interlinked destinies and intertwined dreams of the people of the two regions. Ranging from music shows, an art camp and textile exhibitions to a youth summit, start-up fest and dialogue of ideas, these events showcased the widening canvas of the India-ASEAN partnership.
Raising the Bar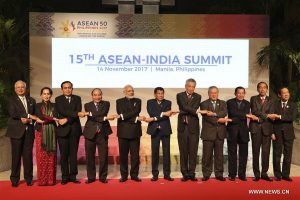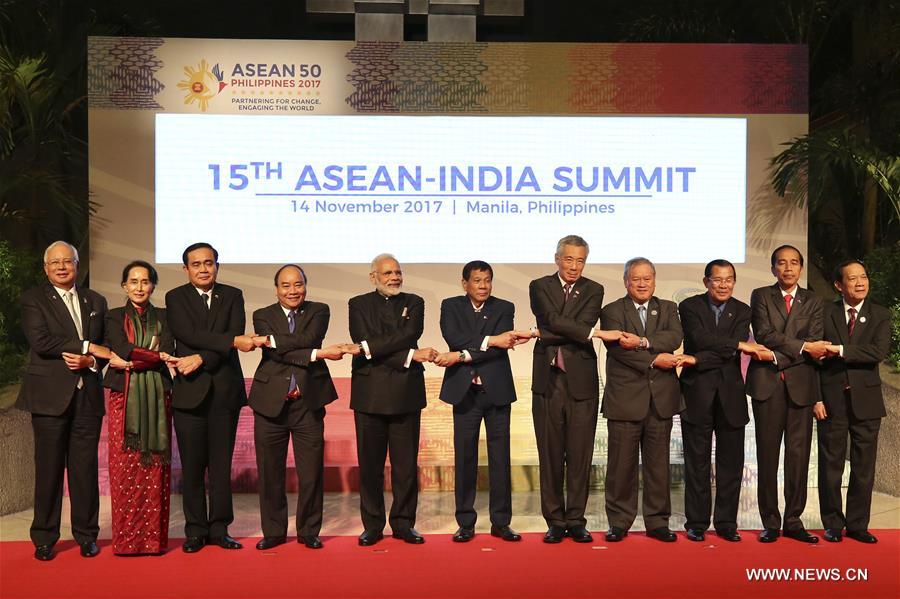 There is, therefore, a lot to rejoice in, but these celebrations need to be sobered by a growing perception of the gap between ringing declarations and delivery and the long journey that still lies ahead to optimise the potential of the India-ASEAN relationship. Against this backdrop of an unfolding narrative of conjoined resurgence of India and ASEAN and the arc of prosperity that underpins this multi-layered relationship, India and World has dedicated a special edition on the burgeoning India-ASEAN partnership which is looking to scale new frontiers in days to come. This special edition of India-ASEAN@25 brings together eminent diplomats, experts and veteran region watchers from India and ASEAN countries to take an imaginative and critical look at shared values that bind India and ASEAN and unfolding opportunities to push the envelope and actualise the common destiny.
To get to the common destiny, there are enormous challenges that the two sides need to address urgently. First and foremost, with the business of diplomacy becoming increasingly business, the overarching thrust will be on deepening and diversifying economic relationship. The signing of an FTA in Goods and services was a milestone, but more needs to be done to optimise this potentially transformational agreement. If recent trends are anything to go by, the two sides need to redouble efforts and make concerted policy changes to leverage their mutual economic upswing to scale up bilateral trade to $200 billion by 2022. In this regard, the India-ASEAN FTA in services need to be ratified promptly by the remaining hold-outs.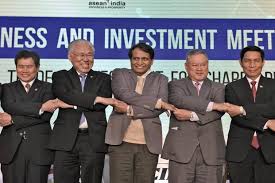 Secondly, major connectivity projects, including the India-Myanmar-Thailand Trilateral Highway and Kaladan Multi-Modal Transit Transport Corridor, need to be fast-tracked to bolster India's credentials as a reliable provider of quality infrastructure and connectivity projects. Enhanced connectivity, in particular, will be a potential game-changer for stimulating economic resurgence of India's Northeast states. Northeast's "geographical location makes it the obvious gateway to India, linking the vast economies of the Indian subcontinent and of today's ASEAN countries," said India's President Ram Nath Kovind at the Northeast Development Summit in November.
Balancing Games
Looking ahead, the real challenge will be, however, in the strategic arena. Amid the mutating geopolitical landscape and shifting equations in the region, marked by the inexorable rise of China and signs of retreat from the US, there is a renewed quest for a credible balancing power in the region. Many years ago, Singapore's elder-statesman Lee Kuan Yew had argued eloquently that India must be "part of the Southeast Asia balance of forces" and "a counterweight [to China] in the Indian Ocean." Now, many key ASEAN countries are looking at India as a balancing power. Can India step up to the plate, and play a bigger role, in partnership with ASEAN, in shaping an open, balanced and inclusive regional order? The appetite is clearly there, but it needs to be backed by a coherent strategic vision of regional security architecture, without getting embroiled in zero sum games and polarising games of containment. In their interview with India and World, the ambassadors of Vietnam and Indonesia have pitched for a bigger role for India amid the evolving geopolitical dynamics in the ASEAN region.
Power of 11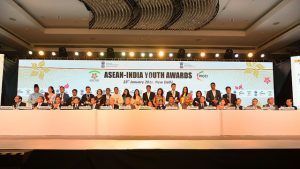 In a recent book, Kishore Mahbubani and Jeffery Sng have glowingly termed "The ASEAN Miracle" as "A Catalyst for Peace." This description can be applied aptly to the blossoming India-ASEAN relations as the 11 countries, bound by convergent interests, and with a combined GDP of over $5 trillion, come together with a renewed sense of mission to shape an ongoing Asian renaissance.
Call it "The Power of 11," if you will. In numerology, the number 11 is called a 'master' number that betokens new beginnings and represents higher ideals, invention, refinement, congruency, balance, fulfilment and vision. Number 11 has a master vibration and should not be reduced to a single number. One may be sceptical of all this mumbo-jumbo, but these ideals show the way as India and ASEAN map the next eleven years of their partnership and beyond by dovetailing their growth story to co-script an action-oriented agenda for fructifying an Asian Century.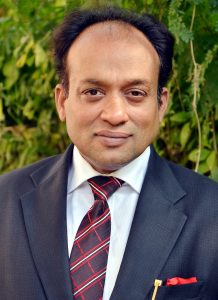 (Manish Chand is Founder-CEO of TGII Media Private Limited, a leading media, publishing and research/consultancy company, and India Writes Network (www.indiawrites.org). He is the publisher and Editor-in-Chief of "India and World," a pioneering magazine focused on international affairs and India's expanding global engagements)  
 — To subscribe to India and World magazine, write to editor@indiawrites.org, indiaandworld@hotmail.com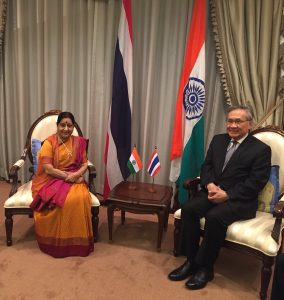 It's the Act East season in India. Ahead of the India-ASEAN summit in Delhi which will mark the silver jubilee of this burgeoning partnership, India's External Affairs Minister Sushma Swaraj has embarked on a three-nation tour of Southeast Asian countries, including Thailand, Indonesia and Singapore.
The minister's ASEAN trip will focus on deepening political, defence and economic ties with these countries that are dynamic economies and have a significant Indian-origin population.
Swaraj reached Bangkok, the first stop of her tour, on January 4 where she held wide-ranging talks with her Thai counterpart Don Pramudwinai. Issues relating to connectivity, security and cultural cooperation figured prominently in the talks. Thailand will be the coordinator country for India-ASEAN relations in 2018.
Indonesia will be her next stop, where she will co-chair the 5th meeting of India-Indonesia Joint Commission with her Indonesian counterpart, Ms. Retno Marsudi. They will also jointly inaugurate the second meeting of ASEAN-India Network of Think Tanks. Recently, the 'India Culture Week' concluded at the central public square in Bandung on December 31 with a grand Indian music and dance performance that was attended by more than 3,000 local citizens and art lovers in Bandung.
The highlight of her Singapore visit will be the Regional Pravasi Bharatiya Divas (PBD) of ASEAN countries. Themed "Ancient Route, New Journey: Diaspora in the Dynamic ASEAN-India Partnership", the two-day conference will see top leaders and businessmen discuss issues like start-ups, cyber security and disruptive technologies in manufacturing. Writers' and film festival, art and photo exhibition, along with Ayurveda and yoga workshops, will also be major attractions.
In a unique gesture, India has invited the leaders of all 10 ASEAN countries to participate in the Republic Day celebrations, which underscores the growing salience of the region in India's foreign policy calculus.
Connectivity, business, anti-terrorism and maritime security have been key themes dominating India-ASEAN dialogues in recent times. The centrality of ASEAN in New Delhi's Act East policy was the focus in Prime Minister Narendra Modi's address at the ASEAN-India and East Asia Summits held in November in Manila and was also demonstrated at the ASEAN India Connectivity Summit (AICS) that India hosted in December. Amid China's growing assertions in the region, ASEAN countries are increasingly looking at India to play a bigger role in shaping an inclusive regional architecture.
Prime Minister Narendra Modi is currently on his first substantive bilateral visit to Southeast Asia. In addition to participating in the 13th ASEAN-India Summit and 10th East Asia Summit (EAS) in Kuala Lumpur (KL) on November 21-22, he will also have bilateral visits to Malaysia and Singapore (Nov 23-24).
Although Modi visited Myanmar last November for the East Asia Summit and came to Singapore in March this year to participate in the funeral of Singapore's iconic leader and statesman Lee Kuan Yew, his current travels are his first wide-ranging and substantial bilateral visits to the ASEAN region, signifying a new vigour in India's Act East policy.
The ASEAN-India Strategic Partnership has acquired further momentum after enunciation of the Act East Policy by PM Modi last year at the 12thASEAN-India Summit in Myanmar. The policy conveyed a clear intent on India's part to scale up its engagement with ASEAN countries in the wider Asia-Pacific Region. India and ASEAN today have 30 Dialogue mechanisms including a summit and seven Ministerial meetings: in External Affairs, Commerce, Tourism, Agriculture, Environment, Renewable Energy, and also Telecommunications.
The latest summit in Kuala Lumpur has renewed the commitment of both Asean and India to work closely in addressing terrorism, human and drug trafficking, cyber crime and piracy along the Malacca Straits.
The core of ASEAN-India Partnership is economic. ASEAN is India's fourth largest trading partner today while India is at number six for ASEAN. Asean has a combined GDP of USD 2.57 trillion with a population of over 623 million and growth rate of 5%.
Bilateral trade was USD 76.52 billion in 2014-15, India's exports being USD 31.8 billion and imports USD 44.7 billion.
Between 2007 and 2015, India invested USD 38.6 billion in ASEAN while ASEAN invested USD 32.4 billion in India. The economic integration process will get a further fillip with the entry into force of the ASEAN-India Agreement on Trade in Services and Investment in 2016.
India is focussed on enhancing connectivity with ASEAN in all its dimensions viz. physical, digital and people-to-people. In this context, the announcement by India of $1 billion soft loan package (lines of credit) for supporting physical and digital projects in ASEAN countries at the November 21 summit underlies India's commitment to promoting connectivity and economic integration in the region.
Why Malaysia matters to India
On November 23, Malaysia will host PM Modi for a bilateral visit, which is expected to impart fresh momentum to New Delhi's relations with Kuala Lumpur. Economic and commercial relations are the mainstay of bilateral relations with Malaysia. It is the third largest trading partner for India within ASEAN. India is the largest trading partner for Malaysia from among countries of the South, excluding China. Both countries implemented the Comprehensive Economic Cooperation Agreement (CECA) in 2011. CECA covers goods, services, investment and other areas of cooperation. An India-Malaysia CEOs Forum, comprising 18 CEOs from both sides, was set up in October 2010 to develop enhanced partnership and cooperation at the business level. This Forum meets regularly.
Bilateral trade between India and Malaysia in 2014 was US$ 13.84 billion (US$ 9.77 billion for Malaysian exports and US$ 4.07 billion for Indian exports). Trade remains significantly imbalanced in favour of Malaysia and below potential.
Malaysia is a key investor in India. It is estimated that, if the Mauritius route is also included, Malaysian investment could be US$ 7 billion. Malaysian FDI in India is primarily focused on Roads and Highways, Telecommunications, Oil & Gas, Power plants, Tourism and Human Resources. Notable among these are investments by Maxis Communications in Aircel, Axiata in IDEA, Khazanah in IDFC and Apollo Hospitals, AirAsia in civil aviation and several others. Malaysian construction companies' largest presence outside Malaysia is in India.
As per Malaysian figures, Indian investment into Malaysia from 1980-2014 is US$ 2.31 billion. At present, there are more than 115 Indian companies including 61 Indian joint ventures, 7 Indian Public Sector Undertakings and 60 Indian IT companies operating in/from Malaysia. Their areas of operation are manufacture of textiles and yarn, drugs and pharmaceuticals, glass containers, automobile associated activities, specialty chemicals, steel furniture, rubber products, services in IT, education, biotechnology and healthcare. Major Indian companies like IRCON, Reliance, Kirloskar, Bajaj, TCS, Mahindra, L&T and Wipro are active in Malaysia.
Out of a total population of 30 million in Malaysia, 2.1 million are of Indian origin constituting the second largest PIO community abroad, next only to USA.
While economic and commercial engagement has increased, there is scope for improvement in security and defence cooperation. Potential in health and education sectors has also remained largely untapped.
A huge reception by the resident Indian community, which has become a standard feature of all Modi visits, will be organised on November 22.
Singapore Connect
It was expected that Modi will avail the first opportunity to visit Singapore because of the range, scope and breadth of our bilateral partnership. Singapore's Prime Minister Lee Hsien Loong congratulated Prime Minister Narendra Modi immediately after his election victory in May 2014 and sent a letter inviting him to visit Singapore at the earliest opportunity.
Singapore's Foreign and Law Minister K Shanmugam was the first Minister from any ASEAN nation to meet the new government in Delhi during his visit to India in June–July 2014. An active calendar of visits from both sides over the last year added momentum to bilateral relations – from India by External Affairs Minister Sushma Swaraj to inaugurate the celebrations of 50 years of establishment of diplomatic relations; chief Ministers of several States and Union Ministers; and visits to India by several senior Ministers from Singapore. The two Prime Ministers met on the sidelines of the East Asia Summit at Nay Pyi Taw on 12 November 2014. To mark the milestone 50 years of relations, Singapore's President Tony Tan Keng Yam undertook a State Visit to India on February 8-11, 2015.
Modi's visit to Singapore assumes an added significance due to celebrations of 50 years of diplomatic relations. The partnership will be upgraded to strategic relationship during Modi's visit. In addition to dynamic and vibrant bilateral ties, Singapore has also been extremely supportive of India's enhanced engagement with the institutional structure and framework of Asean.
Singapore occupies the 10th position overall and third position among Asean countries in terms of bilateral trade. The strength of Indian diaspora in the total population of Singapore of 5.5 million is about 350,000. Bilateral trade is about USD 17 billion. Since the early 1990s, Singaporean companies have been very active in India. Singapore has emerged as the second largest source of Foreign Direct Investment in India with about USD 35.9 billion (April 2000-June 2015) which is 13.9 % of total FDI into India. Indian investments in Singapore are about USD 37 billion.
Concluded in June 2005, the Comprehensive Economic Cooperation Agreement (CECA) with Singapore was the first such agreement to be signed by India with any country. It integrates agreements on trade in goods and services, investment protection, and economic cooperation in fields like education, intellectual property and science & technology. It also provides Mutual Recognition Agreements (MRAs) that eliminates duplicative testing and certification of products in sectors where there are mandatory technical requirements. CECA has been extremely effective in strengthening and deepening bilateral commercial and economic ties.
Singapore is located strategically. It enjoys an enviable status as a financial, aviation and maritime hub. The large two-way flow of investments, presence of a large Indian diaspora and its expertise in urban development and skills sector, make it a very valued partner for India. Singapore supports India's permanent membership of UN Security Council and in all ASEAN led institutions.
5S mantra
Decision to further strengthen defence relationship and focus on the 5S plank will be adopted. The 5S plank consists of scaling up trade and investments, speeding up connectivity, smart cities, skills development, and State focus. Some other MoUs relating to cyber security, culture, training in urban management, etc. will be signed.
PM Modi will articulate his vision of the "Act East Policy" at the Singapore Lecture to policy makers, think-tanks, academics and the diplomatic community where PM of Singapore is likely to be present.
PM will visit the Institute of Technical Education which is actively engaged in skills development, and also address the India-Singapore Economic Convention. Singapore has agreed to set up a Centre of Excellence in ITI in Udaipur in Rajasthan and another one in northeast India to train the trainers and in consultancy projects. An interaction with selected Singapore CEOs, and a gala cultural event with participation of 18,000 members of Indian diaspora are on the cards.
With the Chinese economy slowing down and India emerging as the fastest growing economy and likely to stay in that position for many years to come, Singapore, Malaysia and other Asean countries are looking to bolster economic and commercial bonds with India. The current international configuration offers several exciting opportunities to India to expand its ties with Asean. PM Modi's visits to Malaysia and Singapore will provide a strong impetus to India's relations with these countries as well as with Asean, and contribute significantly to the economic growth and prosperity of the region.
(Ashok Sajjanhar is a former ambassador of India and a commentator on foreign policy issues. This article has been written exclusively for India Writes Network)
The Regional Comprehensive Economic Partnership (RCEP) negotiations between ASEAN and its dialogue partners are likely to extend into 2016 as officials are still working on it. The ASEAN leaders are expected to make an announcement regarding the extension of the deadline to 2016 when they meet at the 27th ASEAN summit in Kuala Lumpur.
"The negotiations had seen "progress" in recent months but certain aspects of the deal required further discussion," Malaysia's International Trade and Industry Minister Datuk Seri Mustapa Mohamed said. ASEAN Trade officials and their dialogue partners met in South Korea to kick-start the deal that looked like hitting a roadblock after three years of negotiations.
Addressing the issue, Mr Mustapa said: "Of course, we want to wait for the announcement by the leaders but although the modalities have been agreed to by all countries, negotiations will likely spill over into 2016." India which is a dialogue partner is also pushing for the RCEP agreement to be negotiated.
The India-ASEAN RCEP will help in enhancing bilateral trade to USD 200 billion by 2022. An RCEP agreement would complement India's existing free trade agreements with ASEAN and other countries.
The RCEP is a major platform in forging closer economic integration by removing barriers to trade and investments in the participating countries. The focus on RCEP follows the recent conclusion of talks on the US-led Trans-Pacific Partnership (TPP) trade deal, involving 12 Pacific Rim countries, including Malaysia.
 Three countries, four multilateral summits, meetings with over 40 leaders of the world, spanning continents and diverse geographies, including Asia, Africa, Europe, North America, South America and Pacific Region. And all this in 10 days! If this sounds like fantastic and humanly impossible, weigh in again. This is India's speed diplomacy cruising along in high gear as Prime Minister Narendra Modi heads on a 10-day overseas tour that's going to underline New Delhi's commitment to multilateralism and its proactive thrust to shape an emerging world order.
Barely five months after he took charge as the leader of the world's largest democracy, Mr Modi has made an impressive debut on the world stage with headline-hogging successful visits to Japan and the US and hosting the leader of China in between these two big-ticket trips. He also surprised the world by his diplomatic masterstroke of inviting the leaders of South Asia at his swearing-in ceremony, a gesture that underscored his neighbours first policy and signalled his political will to build bridges with Pakistan. While open to diplomacy and accommodation, Mr Modi has also drawn red lines with both Pakistan and China, suggesting that while his government is ready to walk the extra mile, others have to create a hospitable terrain and atmosphere so that the leaders can walk, and walk the talk.
Multilateralism: Multiple global challenges
Now, with his three-nation tour that includes three multilateral summits – the India-ASEAN and East Asia Summit in Myanmar (Nov 12-13) and G20 summit in Australia (Nov 15-16), Prime Minister Modi looks poised to display a deft multilateral diplomacy and reaffirm India's commitment to multilateralism that was questioned by many after New Delhi stood globally marginalised following its refusal to play along with the Trade Facilitation Agreement at the WTO. In a departure statement ahead of his trip, PM Modi has summarised some key themes of his longest overseas trip. First, he spoke about multiple global challenges and underscored national development and resurgence as the driving force of India's diplomacy. "These meetings are taking place at a time of multiple global challenges. I look forward to seeking a global environment that supports our aspirations for economic development and a peaceful world." Besides the multilateral summits, Modi is expected to meet a host of leaders for bilateral meetings, including, among others, British Prime Minister David Cameron, French President Francois Hollande, Russian President Vladimir Putin, US President Barack Obama and Chinese Premier Li Keqiang.
Act East: Shaping Regional Architecture

Placing ASEAN at the core of India's Act East policy and the dream of an Asian century, the prime minister spoke about "many challenges as the region spanning the Indian Ocean, continental Asia and Pacific Ocean." In the larger East Asia region which has borne the brunt of Chinese assertiveness, it was a veiled allusion to the region's potential and dynamism degenerating into compulsive feuding and petty rivalries. "At the East Asia Summit, I look forward to discussing with ASEAN and seven global leaders how we can strengthen regional institutions, international norms and regional cooperation in pursuit of peace, stability and prosperity."
G20: Growth and infrastructure
At the G20 summit, Mr Modi pithily encapsulated India's core goals as "global economic growth and stability, stable financial markets and global trading regimes and employment generation." He spoke about India's development priorities and enlisted the global support for accelerating "the creation of next generation infrastructure, which also includes digital infrastructure, and ensure access to clean and affordable energy." With an eye on his domestic constituency, he promised that he would highlight the importance of international cooperation against black money.
On the bilateral track, PM Modi has struck an upbeat note about his four-city, three-day visit to Australia – the first prime ministerial visit from India in nearly three decades. Again, the emphasis was on forging partnerships to promote common economic goals and shared strategic interests.  "A closer strategic partnership with Australia will support India`s economic goals; promote our security interests, including maritime security; and, reinforce our efforts to foster a climate of peace and stability in our extended continental and maritime neighbourhood," he said.
Fiji: Pacific Bonding
Mr Modi ends his 10-day trip with a visit to Fiji, the picturesque Pacific island country that is home to a large Indian diaspora and is trying to refashion itself as a democracy. This will be the first prime ministerial visit from India to Fiji after 33 years. Talking of high-speed diplomacy,  the Modi regime has shown ambition and imagination by leveraging the one-day visit of the prime minister to get the island nation to organise a meeting with leaders and representatives of 12 Pacific Island nations at such a short notice.
By the time Mr Modi returns home, he would have met leaders of most of key developed, developing and emerging countries in the world. This is no PR puffery of India's foreign office, but this is fast-track diplomacy, with skill, focus and panache. The challenge will be to sustain the momentum and build on the initial energy generated in these multi-pronged engagements. As John Chipman, who heads IISS, UK's leading think
tank, says presciently in today's globalised world, it's not so much hard power or soft power that matters, but the speed with which nations act to promote their economic and strategic interests.
Look East. And Act East. It's the flowering of the Asian Dream, and India's burgeoning relations with the 10-nation ASEAN grouping are at the heart of this unfolding Asian resurgence. This win-win synergy and chemistry between India and ASEAN, home to economic vibrancy, innovation and enterprise, will be encapsulated in Prime Minister Narendra Modi's maiden trip to Myanmar November 11-14 to attend his first India-ASEAN summit and the 18-nation East Asia Summit.  The focus will be on pitching this crucial multi-layered relationship with this economically renascent region, which is home to around 600 million people and accounts for $2.5 trillion GDP, onto a higher trajectory.
Three Cs
Commerce, Culture and Creativity are the three pillars of India's robust engagement with ASEAN. In the economic arena, the India-ASEAN relations are poised to scale new frontiers. The two sides are expected to sign an India-ASEAN FTA in services and investments soon. This will complement the FTA in goods which was signed five years ago in 2009 and has led to a quantum jump in bilateral trade, which is hovering around $80 billion.  The two sides are now confident of scaling it up to $100 billion by 2015 and double that volume by 2022. The two-way investments are on an upswing: ASEAN investments in India over the last eight years amounted USD 27.9 billion, and Indian investments in ASEAN reached $32.4 billion.
Milestones
Launched in the early 1990s that intersected with the opening of the Indian economy and executed with vigour by the successive governments in India, the ongoing journey of India-ASEAN relations has seen several milestones. India became a sectoral dialogue partner of ASEAN in 1992, and a full dialogue partner in 1996. In December 2012, the leaders of India and the ASEAN countries gathered in New Delhi to celebrate the 20th anniversary of India's sectoral dialogue partnership with the ASEAN and the 10th anniversary of their annual summits. The summit saw the two sides elevating their ties to the level of a strategic partnership and culminated in the ASEAN-India Vision Statement, which charts the future trajectory of this multi-pronged relationship. India has vigorously backed the ASEAN centrality, the Initiative for ASEAN Integration for Narrowing the Development Gap, the Master Plan on ASEAN Connectivity, and a Drug Free ASEAN by 2015.
Act East
Under the new leadership in Delhi, India's Look East policy has morphed into a proactive Act East policy, which envisages accelerated across-the-board engagement between the two growth poles of a vibrant Asia. This has been reflected in a spate of two-way visits in the first few months of the Modi government. President Pranab Mukherjee went on a landmark visit to Vietnam in September, followed by the visit of Vietnam's prime minister to New Delhi in October. External Affairs Minister Sushma Swaraj chose Myanmar as one of her first few foreign destinations abroad in August, and met a spectrum of ministers from ASEAN countries as well as East Asian countries. She has already visited Vietnam and Singapore and looks set to travel to most of other ASEAN countries in the months ahead. During her visit to Singapore, India's foreign minister articulated the need for an Act East policy forcefully: "Look East is no longer adequate; now we need Act East policy."
Next Steps
Now, with Prime Minister Modi's visit to Myanmar where he is expected to meet most of the leaders of ASEAN countries bilaterally, besides in the India-ASEAN summit format, India-ASEAN relations are headed for a substantive upgrade in both economic and strategic arenas. Looking ahead, the two sides will be exchanging notes on the next steps in their partnership in the form of the 2015-2020 action plan, which is expected to be firmed up and unveiled at the India-ASEAN summit next year. The strategic content of the relationship is set to deepen in days to come as the two sides step up their collaboration across a range of strategic issues, including trans-national terrorism, maritime piracy and nuclear proliferation. Against the backdrop of the churn in the South China Sea, India has consistently pitched for freedom of navigation and has pressed for the resolution of all maritime territorial disputes in accordance with the UN Law of the Seas.
Connectivity
Connectivity, physical, institutional and mental, remains the enduring agenda of the India-ASEAN engagement. India has been in the forefront of pushing a host of trans-national projects that seek to weave the region together in an intricate web of road, rail and maritime links. The completion of the Tamu-Kalewa-Kalemyo sector of the India-Myanmar-Thailand Trilateral Highway is poised to create a new dynamic in India's multi-faceted ties with the region. With the new Indian government focusing with renewed vigour on spurring the economic uplift of India's north-eastern states, the gateway to ASEAN, enhanced connectivity promises to unleash a new prosperity in this region. In the days ahead, enhancing shipping and air connectivity will be major focus areas.
Setting new benchmarks for this blossoming relationship, India has set up an Indian mission to the ASEAN in Jakarta, and has set up an ASEAN-India Centre which is housed in New Delhi. Capacity-building, developmental cooperation, and the burgeoning knowledge partnership are key facets of what experts are calling India's 'Enhanced Look East' policy.  This is reflected in India sharing its expertise in capacity building projects in Southeast Asian countries through the three funds – the $50 million ASEAN-India Cooperation Fund; the $5 million ASEAN-India Green Fund; and the ASEAN-India Science and Technology Fund. India plans to set up four IT Centres in Cambodia, Lao PDR, Myanmar and Vietnam. India is also set to launch a Tracking and Data Reception Centre in Ho Chi Minh City in Vietnam, which would make remote sensing data available from the RESOURCESAT and OCEANSAT for applications in disaster management and mineral exploration for ASEAN countries.
Cultural Connect
While Commerce, Connectivity and Capacity-building continue to propel the India-ASEAN relations to new milestones, Culture and Creativity provide mental and spiritual fodder to nurture this growing engagement. Known in ancient times as Suvarnabhumi, the land of gold, Southeast Asia bears deep impress of the Indian culture. Ramayana and Mahabharata are not just Indian epics, but civilizational memories India shares with many Southeast Asian countries like Indonesia, Thailand and Cambodia. Buddhism forms the spiritual nucleus of India-ASEAN relations as Buddhists from all over the region flock for pilgrimage to revered shrines like Bodh Gaya, the place where Lord Buddha attained enlightenment under the Bodhi tree.
Blending the ancient and the modern, the Nalanda University, an ancient seat of learning, is no longer a dream, but a living reality and has started functioning this year. It was formally inaugurated in September this year by India's External Affairs Minister.
In the end, it's robust people-to-people relations that keep a diplomatic relationship humming with new ideas and initiatives. And rightly, the leaders of India and ASEAN have identified forging a knowledge and culture bridge as the enduring way to fructify the full potential of the relationship. "In the next action plan, the focus will be on people-to-people contacts, increasing the civilisational linkages, making sure that there are enough studies which are conducted on the linkages of the ASEAN countries, on issues like language, religion, traditions, dress, and our traditional crafts," says Anil Wadhwa, secretary (east) in India's external affairs ministry.
Asian Century
With the mind and the heart in the right place, the multi-hued India-ASEAN relations are set to soar high and quicken the realisation of an Asian century. It is in this spirit Prime Minister Modi is expected to renew at the summit in Myanmar India's unflinching support to the creation of an ASEAN Community by 2015. Intertwining collective dreams of 1.8 billion people, India and ASEAN are set to expand an arc of prosperity across the region and script a new narrative of an Asian renaissance.
(Manish Chand is Editor-in-Chief of India Writes Network, www.indiawrites.org, a portal and e-journal focused on international affairs and the India Story)
This article was first published in www.mea.gov.in