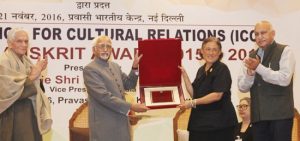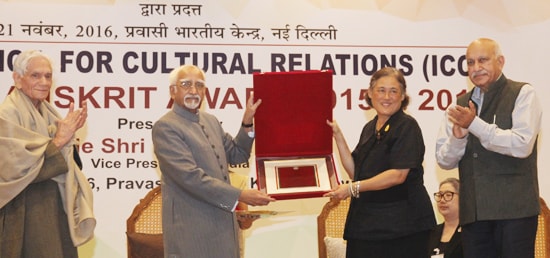 It was a time for Indo-Thai cultural bonding. Sanskrit and sanskriti (culture) blended beautifully as Thailand's Princess Maha Chakri Sirindhorn was conferred the first World Sanskrit Award in the Indian capital on November 21.
"The Thai language is very different from Sanskrit. But culturally it's very similar," the Thai princess said after receiving the first Sanskrit award instituted by the Indian Council for Cultural Relations (ICCR). It's a great honour to receive it from the Vice President of the country. The award included US$ 20,000, a citation and a lapel pin.
Sirindhorn, fondly called by Thais as "Phra Thep" ("princess angel"), has emerged as a top contender for the crown in Thailand after the recent death of the country's beloved monarch. A well-regarded scholar of Sanskrit, the 60-year-old Thai Princess has served as Royal Patron for the World Sanskrit Conference.
Prof. George Cardona, Professor Emeritus, University of Pennsylvania, received the World Sanskrit Award for 2016. Known for his formidable scholarship, Prof Cordona reads, writes and teaches through the Sanskrit medium.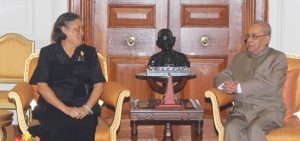 In his speech, Vice-President Hamid Ansari evoked the beauty and depth of the Sanskrit language in which many of India's iconic religious and philosophical texts were written. "Sanskrit is important, and the corpus of scientific, philosophical, sacral, and poetic texts produced in this language is surely one of the richest, contributions to global textual culture ever," said Mr Ansari. He underlined that that the shaping of Indian genius owes much to Sanskrit, not only in the fields of spirituality and religion but also in the fields of art, poetry, and literature as also of science, ethics, and systems of philosophy and knowledge. "Sanskrit encompasses one of the largest literatures of any language, and incorporates the sacred literature of three of the world's major religions," he said.
Minister of State for External Affairs M.J. Akbar underscored the effortless spread of Sanskrit to foreign countries over the years, and cited it as an example of India's soft power. "Sanskrit did not travel with arms and is the first true evidence of what we today call soft power," he said.
Thailand is one of India's key partners in the ASEAN region. The cultural connections between the two countries, exemplified in the Thai princess' passionate love for Sanskrit, are set to complement the burgeoning business and strategic ties. In recent years, culture has acquired greater salience in India's Act East Policy, which seeks to add greater depth to New Delhi's blossoming relations with this dynamic and vibrant region.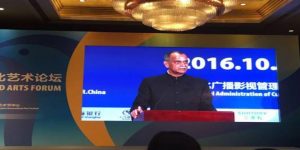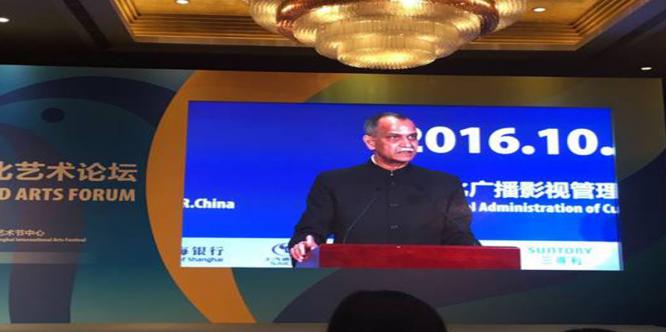 Politics divides, culture connects. Just a couple of days before Chinese President Xi Jinping and Prime Minister Narendra Modi met in Goa to discuss weighty issues such as India's NSG membership, the two Asian giants quietly turned to the magic of films to make their ties hum with positive energy. In Shanghai, a pact was signed between India and China to recreate Raj Kapoor's 1951 classic Awaara into a contemporary Chinese opera.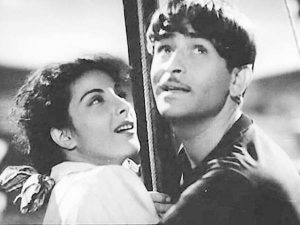 Amarendra Khatua, the new director-general of Indian Council for Cultural Relations (ICCR), who was in Shanghai to deliver the keynote address at the 18th China Shanghai International Arts Festival (CSIAF), struck an upbeat note on long-standing civilisational ties and promoting cultural exchanges in Tier-II and Tier-III cities in India and China. The joint theatrical remake of Awaara, which remains the most popular Indian movie in China, hints at more such collaborative cultural tie-ups India is set to pursue in days to come.
"Cultural diplomacy is poised to play a bigger role in India's foreign policy calculus in days and months to come and promote Brand India," said Khatua, a veteran diplomat  and an accomplished poet who writes and translates in English, Hindi and other Indian languages.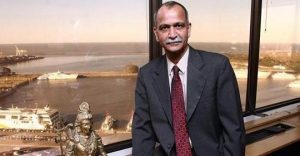 With the Modi government positioning culture at the heart of India's burgeoning diplomatic engagements, Khatua has been given a focused brief. "Both Prime Minister Narendra Modi and EAM Sushma Swaraj want a streamlined, transparent and efficient working of ICCR," he told India Writes Network in an interview at his tastefully done office in Azad Bhavan, the seat of India's cultural diplomacy.
In barely three weeks since he has been at the helm of the ICCR, Khatua is doing precisely this: fixing the system, motivating the bureaucracy and staff, and interacting with a diverse spectrum of performers, musicians, dancers, sculptures and creative professionals.
Focus on Brand India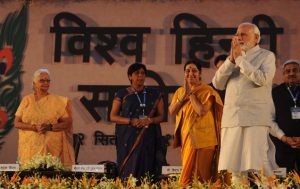 Amid all this frenzy, Khatua is calm and clear about the ICCR's priorities. "The focus will be on promoting and showcasing diaspora linkages, propagation of yoga and ayurveda, including pharmacopeia of Ayurveda," he said.
"ICCR will work closely with territorial divisions of the MEA to organise appropriate cultural activities. In general, there will be a greater involvement of ICCR in diplomatic activities across the spectrum," he said.
"Under the new leadership, we are making efforts to promote 'Brand India' through emphasis on traditional Indian cultural and scientific mores, yoga, Ayurveda, Sanskrit, Vedas, folk arts and culture, Puranic and historic cultural and philosophical linkages between India and the world," he said. The promotion of Hindi and greater cultural footprints in Africa, Latin America and neighbouring countries are important priorities, he added.
The Way Ahead
Looking ahead, Mr Khatua said that the ICCR will be setting up more cultural centres. Currently, there are 26 cultural centres set up by India across continents. "The aim is to have 50 cultural centres in the next 15 years," he said. Another important priority will be to take two-way cultural diplomacy to second and three tier cities, he said.
Khatua, the author of several critically acclaimed collections of poems, including "Garden of Enchanted Stones," is a firm believer in the power of culture to connect nations and peoples. "Promotion of soft power adds up to all our diplomatic initiatives as cultural inputs improve people-to-people contact, continuing interaction, academic and other ideas exchange and brand image," he said.
The last two years have seen culture moving to the centre-stage of India's diplomatic outreach, with Indian cultural values and traditions striking a chord across the world. In a landmark achievement, the UN unanimously adopted a resolution declaring June 21 as the International Yoga Day following an inspirational address by Prime Minister Narendra Modi at the United Nations General Assembly in September 2014. Since then, the Yoga Day has been celebrated with passion and panache across key world capitals.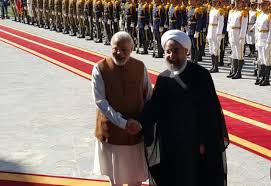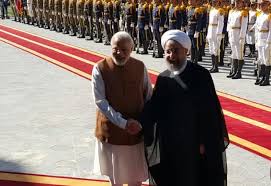 Building on centuries of civilisational connect and shared interests amid a shifting regional geopolitical landscape, Prime Minister Narendra Modi's maiden visit to Tehran (May 22-23) opened a new chapter in India's relations with an emerging power in the West Asia region. Enhancing connectivity and commerce, combined with rejuvenating cultural connections, were the overarching themes that framed the first standalone bilateral visit by an Indian Prime Minister to Iran in over a decade and culminated in a road map for advancing India-Iran relations in the next decades of the 21st century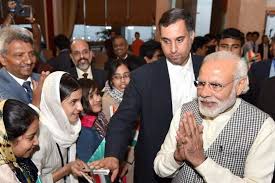 PM Modi's wide-ranging talks with Iranian President Hassan Rouhani and supreme leader Grand Ayatollah Ali Khamenei in Tehran have set the tone for expanding bilateral relations in areas of connectivity and infrastructure, energy partnership and bilateral trade and investment. The talks placed the India-Iran relations in a wider regional perspective and focussed on promoting regular consultations on peace and stability in the region and beyond, and encouraging people-to-people contacts and relations between the two countries. India and Iran signed 12 pacts in diverse areas including connectivity, trade, railways, security and cultural relations. "The agenda and scope of our partnership is truly substantial. The outcomes and agreements signed today open a new chapter in our strategic partnership," said PM Modi at a joint media interaction with the Iranian leader.
The Chabahar moment
The showpiece of PM Modi's maiden visit to Iran was the signing of a raft of agreements pivoted around India's assistance to building of the Chabahar port, a game-changer for spurring connectivity in the region and providing access to the landlocked Afghanistan. "The bilateral agreement to develop the Chabahar port and related infrastructure, and availability of about US$ 500 million from India for this purpose, is an important milestone. This major effort would boost economic growth in the region. We are committed to take steps for early implementation of the agreements signed today," said PM Modi. In yet another milestone, Afghan President Ashraf Ghani joined the Indian PM and President Rouhani in Tehran as the three leaders signed a landmark pact for Trilateral Transport & Transit Corridor. "This can alter the course of region's history. The three-nation pact will strengthen our ability to stand in mutual support against those whose only motto is to maim and kill innocents," he said, placing the deal against the backdrop of rising terrorism in the region.
Economic ties on upswing
Besides connectivity deals that will closely integrate the region in an arc of prosperity, India and Iran unveiled new initiatives to galvanise their economic relationship which is set to acquire a new vitality after the lifting of sanctions following Iran's landmark nuclear deal with P5+1 countries. These include plans by Indian companies to set up plants in sectors such as fertilisers, petrochemicals and metallurgy in Chabahar Free Trade Zone (FTZ) and the setting up of Bilateral Ministerial Task Force to spur Indian investments in Chabahar FTZ. India is poised to play a transformative role in the development of railways in Iran through close collaboration between IRCON and Iran's Construction, Development of Transport and Infrastructure Company (CDTIC).
The economic ties are set for an upswing with the two sides set to step up negotiations for an early conclusion of a Preferential Trade Agreement and Double Taxation Avoidance Agreement and Bilateral Investment. In a boost for Tehran's economic prospects, India backed the accession of Iran to the World Trade Organisation. The opening of a regional office by Confederation of the Indian Industry (CII) will aid in enhancing the quantum of bilateral trade and investment.
India's ongoing participation and investment in the development of oil and gas sector in Iran got a boost with the decision to conclude a commercial agreement for OVL's participation in Farzad B gas block by the third quarter of 2016.
Focus on security 
Another important takeaway was the decision to deepen security and counter-terror cooperation. India and Iran agreed to enhance interaction between defence and security institutions, with special focus on maritime security. Amid the flux and volatility in the West Asia region, the two sides vowed to combat terrorism and radicalism. "India and Iran share a crucial stake in peace, stability and prosperity of the region. We have shared concerns at the spread of forces of instability, radicalism and terror in our region. We have agreed to consult closely and regularly on combating threats of terrorism, radicalism, drug trafficking and cyber-crime," said PM Modi.
Cultural connect
The essence of India-Iran relationship remains an enduring civilisational bonding and this was reflected in the signing of some culture-related pacts. The inking of an MoU between the ICCR and the Islamic Culture and Relations Organisation (ICRO), renewal of cultural exchange programme, setting up of an eminent persons group to explore new avenues of cooperation, establishing a Chair for Hindi language in Tehran University and supporting the Persian language courses in India are set to rejuvenate cultural relations and promote greater people-to-people contacts between the two nations. "India and Iran are not new friends. Our dosti (friendship) is as old as history. Through centuries, our societies have stayed connected through art and architecture, ideas and traditions, and culture and commerce," said PM Modi. This sentiment was heartily reciprocated by Iran's top leadership.
The net takeaway from the Indian Prime Minister's visit to Tehran was the initiation of a set of steps for transformation of India-Iran relations by moving beyond buyer-seller relationship in the energy sector to a comprehensive economic and strategic partnership. PM Modi's visit to Tehran took place barely a couple of months after his trip to Riyadh and signalled New Delhi's strategic design to bolster relationships with major powers in the region.
Only half-a-step
Taking a long-range view, which was reflected in the joint statement, "Civilisational Connect, Contemporary Context," PM Modi summed up the future trajectory of the evolving India-Iran relationship in simple but resonant words: "Our friendship will be a factor of stability in our region." Iconic Persian poet Ghalib said it beautifully in his couplet, quoted by Mr Modi: "Once we make up our mind, the distance between Kaashi and Kaashan is only half a step."
(This article was originally published in India Perspectives)