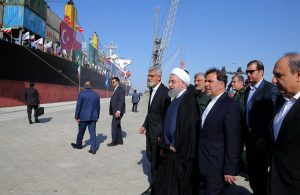 In a transformational move, India has finally succeeded in surmounting the Pakistan barrier to ease its access to the landlocked Afghanistan and Central Asia with the inauguration of the first phase of Chabahar port.
More than a month after India sent its first shipment of wheat to Afghanistan via the Chabahar port in Iran, the first phase of a newly built extension of the $340-million project opened on December 3, opening new strategic and economic possibilities for India.
Iran's President Hasan Rouhani inaugurated the Shahid Beheshti Port that will connect the North South Corridor with the Indian Ocean and the Sea of Oman.
Constructed by a Revolutionary Guard-affiliated company, Khatam al-Anbia, Chabahar has two docks and a capacity of 8.5 million tonnes of cargo annually, from the previous 2.5 million tonnes. Behrouz Aqaee, Director General of Ports and Maritime Organisation in Iran's Sistan and Baluchestan Province, estimated that about 100,000-tonne ships will be able to call at the port after it becomes operational.
India had committed up to $500 million for the development of the port last year with its related road and rail networks and has been asked to oversee the first phase of the port, until the second phase is completed. A state-run Indian company was among the several subcontractors involved in the project.
Triumph for Indian diplomacy
"Clearly, it's a game-changing move for Indian diplomacy in the region that has been hobbled by Pakistan's intransigence in not allowing Indian goods overland access to Afghanistan," said Manish Chand, Editor-in-Chief of India Writes Network and India and World, a pioneering magazine focused on India's expanding global engagements.
"It will have a force-multiplier effect on regional connectivity and deepen India's strategic and economic bonding with the extended neighbourhood," said Mr Chand.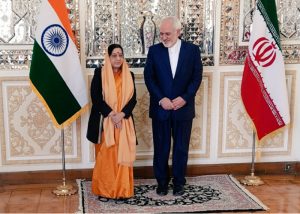 The importance India attaches to the Chabahar port was evident in External Affairs Minister Sushma Swaraj's brief stopover in Tehran on her way back from the SCO summit in Sochi on the eve of the inauguration. Ms Swaraj and her Iranian counterpart Javed Zarif discussed various aspects of the management of the port and issues of mutual interest.
Dismissing speculation around the rivalry with Gwadar port in Pakistan, President Rouhani said, "We should go after positive competition…We welcome other ports in the region, we welcome Gwadar's development."
Minister of State (Shipping) Pon Radhakrishnan represented India at the inauguration of Phase I of the Shahid Beheshti port at Chabahar.
"In the Trilateral meeting with Iranian Transport Minister Dr Abbas Akhoundi and the Afghanistan Trade and Commerce Minister Mr Humayoon Rasaw, the three sides reviewed and positively assessed the progress in the development of Chabahar Port and reiterated their commitment to complete and operationalise the Port at the earliest," said India's external affairs ministry in a statement. The port "would contribute to bilateral and regional trade and economic development and also provide alternate access to landlocked Afghanistan to regional and global markets," said the ministry.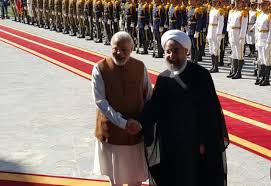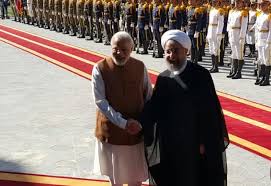 Building on centuries of civilisational connect and shared interests amid a shifting regional geopolitical landscape, Prime Minister Narendra Modi's maiden visit to Tehran (May 22-23) opened a new chapter in India's relations with an emerging power in the West Asia region. Enhancing connectivity and commerce, combined with rejuvenating cultural connections, were the overarching themes that framed the first standalone bilateral visit by an Indian Prime Minister to Iran in over a decade and culminated in a road map for advancing India-Iran relations in the next decades of the 21st century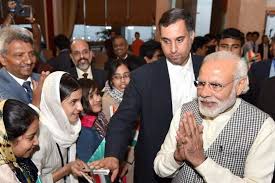 PM Modi's wide-ranging talks with Iranian President Hassan Rouhani and supreme leader Grand Ayatollah Ali Khamenei in Tehran have set the tone for expanding bilateral relations in areas of connectivity and infrastructure, energy partnership and bilateral trade and investment. The talks placed the India-Iran relations in a wider regional perspective and focussed on promoting regular consultations on peace and stability in the region and beyond, and encouraging people-to-people contacts and relations between the two countries. India and Iran signed 12 pacts in diverse areas including connectivity, trade, railways, security and cultural relations. "The agenda and scope of our partnership is truly substantial. The outcomes and agreements signed today open a new chapter in our strategic partnership," said PM Modi at a joint media interaction with the Iranian leader.
The Chabahar moment
The showpiece of PM Modi's maiden visit to Iran was the signing of a raft of agreements pivoted around India's assistance to building of the Chabahar port, a game-changer for spurring connectivity in the region and providing access to the landlocked Afghanistan. "The bilateral agreement to develop the Chabahar port and related infrastructure, and availability of about US$ 500 million from India for this purpose, is an important milestone. This major effort would boost economic growth in the region. We are committed to take steps for early implementation of the agreements signed today," said PM Modi. In yet another milestone, Afghan President Ashraf Ghani joined the Indian PM and President Rouhani in Tehran as the three leaders signed a landmark pact for Trilateral Transport & Transit Corridor. "This can alter the course of region's history. The three-nation pact will strengthen our ability to stand in mutual support against those whose only motto is to maim and kill innocents," he said, placing the deal against the backdrop of rising terrorism in the region.
Economic ties on upswing
Besides connectivity deals that will closely integrate the region in an arc of prosperity, India and Iran unveiled new initiatives to galvanise their economic relationship which is set to acquire a new vitality after the lifting of sanctions following Iran's landmark nuclear deal with P5+1 countries. These include plans by Indian companies to set up plants in sectors such as fertilisers, petrochemicals and metallurgy in Chabahar Free Trade Zone (FTZ) and the setting up of Bilateral Ministerial Task Force to spur Indian investments in Chabahar FTZ. India is poised to play a transformative role in the development of railways in Iran through close collaboration between IRCON and Iran's Construction, Development of Transport and Infrastructure Company (CDTIC).
The economic ties are set for an upswing with the two sides set to step up negotiations for an early conclusion of a Preferential Trade Agreement and Double Taxation Avoidance Agreement and Bilateral Investment. In a boost for Tehran's economic prospects, India backed the accession of Iran to the World Trade Organisation. The opening of a regional office by Confederation of the Indian Industry (CII) will aid in enhancing the quantum of bilateral trade and investment.
India's ongoing participation and investment in the development of oil and gas sector in Iran got a boost with the decision to conclude a commercial agreement for OVL's participation in Farzad B gas block by the third quarter of 2016.
Focus on security 
Another important takeaway was the decision to deepen security and counter-terror cooperation. India and Iran agreed to enhance interaction between defence and security institutions, with special focus on maritime security. Amid the flux and volatility in the West Asia region, the two sides vowed to combat terrorism and radicalism. "India and Iran share a crucial stake in peace, stability and prosperity of the region. We have shared concerns at the spread of forces of instability, radicalism and terror in our region. We have agreed to consult closely and regularly on combating threats of terrorism, radicalism, drug trafficking and cyber-crime," said PM Modi.
Cultural connect
The essence of India-Iran relationship remains an enduring civilisational bonding and this was reflected in the signing of some culture-related pacts. The inking of an MoU between the ICCR and the Islamic Culture and Relations Organisation (ICRO), renewal of cultural exchange programme, setting up of an eminent persons group to explore new avenues of cooperation, establishing a Chair for Hindi language in Tehran University and supporting the Persian language courses in India are set to rejuvenate cultural relations and promote greater people-to-people contacts between the two nations. "India and Iran are not new friends. Our dosti (friendship) is as old as history. Through centuries, our societies have stayed connected through art and architecture, ideas and traditions, and culture and commerce," said PM Modi. This sentiment was heartily reciprocated by Iran's top leadership.
The net takeaway from the Indian Prime Minister's visit to Tehran was the initiation of a set of steps for transformation of India-Iran relations by moving beyond buyer-seller relationship in the energy sector to a comprehensive economic and strategic partnership. PM Modi's visit to Tehran took place barely a couple of months after his trip to Riyadh and signalled New Delhi's strategic design to bolster relationships with major powers in the region.
Only half-a-step
Taking a long-range view, which was reflected in the joint statement, "Civilisational Connect, Contemporary Context," PM Modi summed up the future trajectory of the evolving India-Iran relationship in simple but resonant words: "Our friendship will be a factor of stability in our region." Iconic Persian poet Ghalib said it beautifully in his couplet, quoted by Mr Modi: "Once we make up our mind, the distance between Kaashi and Kaashan is only half a step."
(This article was originally published in India Perspectives)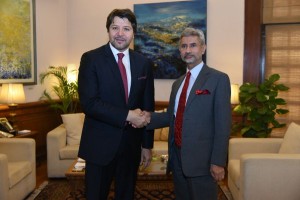 India and Afghanistan reviewed developments relating to the Chabahar port project in Iran, which is strategically important for India as it is eyeing an investment of around Rs 2 lakh crore ($20 billion).
The two countries discussed the latest progress related to the port during a meeting between India's Foreign Secretary S Jaishankar and Deputy Foreign Minister of Afghanistan Hekmat Karzai. Mr Karzai was in India to attend the Heart of Asia conference. The meeting was held on April 26.
The Chabahar port is located in Sistan-Balochistan Province on Iran's southeastern coast. It is strategically significant for India as it will get sea-land access route to Afghanistan bypassing Pakistan. India will also get access to major Afghan cities such as Kabul, Kandahar, Heart and Mazar-e-Sharif once the construction of port is completed.
Why is Chabahar important for India and Afghanistan?
With Afghanistan being a landlocked country it has no access to free waters, and Karachi port in Pakistan is the sole route for Afghanistan through which they can engage in trade with the rest of the world. The Afghan officials have concluded that in cooperation with India, they must go for Iran's southeastern Chabahar port, which can offer a good substitute for Karachi port.
Pakistan has also been hesitant to provide overland transit to Indian goods passing through its territory. India has pledged $20 billion for the project. For the development of the 'South-North transit corridor' and ports, Iran needed foreign investment. It welcomed India's decision to invest in the development of Chabahar port and road and railway construction projects in southern Iran.
India will also benefit significantly from the Chabahar port as it could also gain access to Central Asian countries that are rich in the energy sector.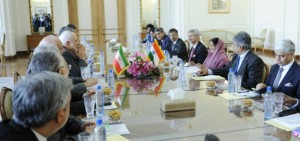 India and Iran have agreed to fast track the crucial Chabahar port project during External Affairs Minister Sushma Swaraj's trip to Iran on April 17. Mrs Swaraj also met Iran's President Hassan Rouhani. "President Rouhani spoke of Chabahar as a defining partnership which has the potential of connecting the entire region. He hoped for closer consultations with India on regional issues especially Afghanistan and the challenge of terrorism," Ministry of External Affairs said in a statement. This is her first visit to the country as Foreign Minister. Her visit comes two weeks after India's Prime Minister Narendra Modi's visit to Saudi Arabia, which is also Iran's regional rival.
The Chabahar port is vital for India's strategic interests and seeks to develop it as a counter to Pakistan's Gwadar port, which was built with Chinese assistance. The Chabahar project had been stuck for several years. The port, which is located in the south east Iran, will allow India to bypass Pakistan to transport goods to Afghanistan and Central Asia through a sea-land route.
India, Afghanistan and Iran have finalised the Chabahar agreement to operationalise the strategic port. "The draft Agreement envisions trilateral cooperation for providing alternative access to seas to Afghanistan, inter alia for Afghanistan's trade with India," India's Ministry of External Affairs said in a statement. "When the Agreement comes into force it will significantly enhance utilization of Chabahar Port, contribute to economic growth of Afghanistan, and facilitate better regional connectivity, including between India and connections to Afghanistan and Central Asia," the statement added.
The Cabinet had cleared the credit and formation of a company in Iran to handle the project in February. The Indian government has proposed to extend a $150 million credit for the development of the port. The visit by Mrs Swaraj is also expected to enhance trade ties between the two countries.
The visit by Mrs Swaraj seeks to balance India's relations between Iran and the Arab world. The visit is also significant with Iran as Tehran is now actively participating in global trade after the sanctions were lifted. Mr Modi is expected to visit Iran later in 2016.
It has been decided that the Chabahar agreement will be signed completing necessary internal procedures in the three countries.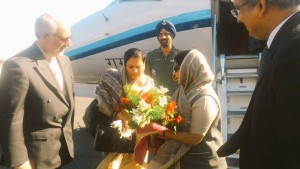 In a delicate balancing act vis-à-vis two major players in the volatile West Asia, India's External Affairs Minister Sushma Swaraj will be in Iran over the weekend, days after Prime Minister Narendra Modi's substantive visit to Saudi Arabia.
Mrs Swaraj will co-chair the India-Iran Joint Commission with her Iranian counterpart Javad Zarif and engage with the top Iranian leadership, including Iranian President Hassan Rouhani.
Betting on Iran Opportunity
The lifting of Western sanctions on Tehran, in the aftermath of the historic Iran-P5+1 deal, has set the stage for rejuvenation and acceleration of India-Iran relations in virtually all areas. Mrs Swaraj's visit is, therefore, timely and will seek to upscale energy and economic ties with an emerging power in the West Asia region. The minister's trip is also likely to set the stage for Prime Minister Narendra Modi's visit to Tehran in the near future.
India has signalled its enthusiasm for harnessing the new Iran opportunity by declaring its ambitious plans to invest up to $20 billion in oil and gas as well as petrochemical and fertiliser projects in the Persian Gulf country. This was conveyed by Petroleum Minister Dharmendra Pradhan during his visit to Tehran last week. Swaraj's visit will focus on fast-tracking the construction of India-aided Chabahar port and providing a strategic dimension to the India-Iran energy partnership. The Chabahar port is strategically crucial for India as it will help it bypass Pakistan and gain access to Central Asia and Afghanistan. The port, once completed, will emerge as the face of the rejuvenated India-Iran partnership in the 21st century.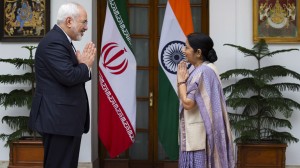 The two sides are also expected to discuss the repayment of nearly $6.5 billion that Indian refiners owe to Iran. India is expected to renew its pitch for rights to develop Farzad-B gas field in the Persian Gulf discovered by OVL.
India-Iran bilateral trade was estimated to be $13.13 billion in 2014-15. There are around 8,000 students from Iran who are studying in India.
No zero sum
The successful visit of Mr Modi in Riyadh where he held wide-ranging discussions with the Saudi monarch and enhanced the 'strategic partnership' has aroused concerns in influential circles in Tehran about India's attitude about expanding relations with Iran. The minister's visit will allay these apprehensions and underline the Modi government's dual-track policy vis-à-vis West Asia, which entails bolstering relations with both Iran and the GCC countries on separate tracks, without letting these relationships become a sort of zero sum game. This balancing act by India was evident during the visits of Mrs Swaraj and President Pranab Mukherjee to Palestine, Israel and Jordan in January 2015 and October 2015 respectively.
The Way Ahead
With the lifting of sanctions against Tehran opening up new vistas for reinvigorating India-Iran relations across the spectrum, there is a marked convergence of interests between the two sides on a host of issues. Iran has accorded India priority status in terms of developing economic relations, and seeks to leverage new opportunities arising in the world's fastest growing economy and an emerging power.   Indian companies are looking at the Iran opportunity anew and are looking to invest in a wide array of areas, including petrochemicals, agriculture, agri-processing, information technology, steel and hotels, tourism as priority areas for investment.
On the strategic side, India and Iran are looking to step up cooperation in stabilising and rebuilding Afghanistan in the transformational decade and beyond. With the shared perceptions on the Taliban, the two sides are expected to firm up counter-terror cooperation plans in the violence-best country. Iran, given its influence over the Syria situation, is also crucial to India to ensure stability in West Asia, home to 8 million-strong Indian diaspora and source of over 60 per cent of India's energy imports. Building on new synergies and opportunities stemming from the lifting of Western sanctions, India is rightfully looking to leverage the full potential of its multi-faceted partnership with Iran.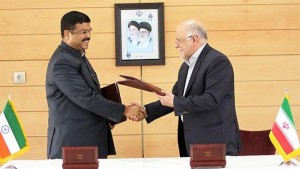 Imparting a fresh momentum to its ties with Iran, India has signalled its willingness to invest $20 billion in the development of Iran's Chabahar port and signed three pacts on crude oil imports, petrochemical complexes and gas field development.
The pacts were signed during the visit of India's Oil Minister Dharmendra Pradhan to Iran from April 9-10.  Iran is India's second largest supplier of oil after Saudi Arabia.
During the visit, Mr Pradhan met his Iranian counterpart Bijan Zanganeh in Tehran on April 9 where the two sides discussed increasing India's import of Iranian oil from its current 350,000 barrels a day. "We hope this number will increase now that sanctions have been lifted," Mr Zanganeh said.  Being the fastest growing economy in the world, India is looking to diversify its oil imports for the country's energy security.  
The big takeaway was progress on India's proposed investment in Chabahar port. India is ready to invest $20 billion in the development of Iran's Chabahar port and has requested it to allocate adequate land in the Chabahar Special Economic Zone (SEZ), state-run Oil and Natural Gas Corp (ONGC) said in a statement on March 10.
"Pradhan conveyed to the Iranian side that Indian companies could invest up to $20 billion and were interested in setting up petrochemical and fertiliser plants, including in the Chabahar SEZ, either through joint venture between Indian and Iranian public sector companies or with private sector partners," the statement said.
"In this regard, he requested Iran to allocate appropriate and adequate land in the SEZ. He also expressed India's interest in setting up a LNG plant and a gas cracker in the Chabahar port," it said.
"Iran and India's energy ties are no longer limited to crude oil imports," Mr Pradhan said. The port which is located in southeastern Iran is strategically significant for India as it would give India access to Central Asia as well as Afghanistan and can bypass Pakistan. So far India has extended over $100 million Line of Credit for the development of Chabahar. 
With a focus on enhancing energy cooperation, Mr Pradhan said that enhanced energy cooperation can bolster Tehran-New Delhi relations. As the sanctions were lifted on Iran, it has been seeking to regain its foothold in the global markets and also sees India as an important player in the region.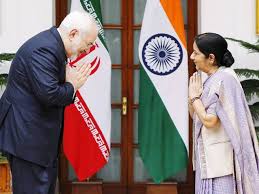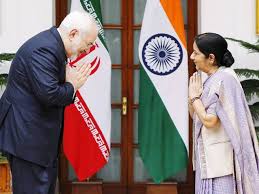 The lifting of sanctions against Iran has set the state for re-energising India-Iran relations, with the two countries stepping up efforts to resolve some issues related to the India-built Chabahar port, a potential game-changer in New Delhi's quest for direct access to Afghanistan and Central Asia.
The 13th round of India-Iran Foreign Office Consultations, chaired by Foreign Secretary S Jaishankar and Ebrahim Rahimpour, Iranian Deputy Minister for Asia and Pacific Affairs, on February 4 discussed an entire spectrum of bilateral and regional issues, including security, energy, and connectivity.  One can see significant movement in bilateral cooperation in areas of connectivity and energy in months ahead.  "Iran is an important economic and security space for us as also amongst most important sources of energy," Vikas Swarup, India's external affairs ministry Spokesperson, said after the talks, summing up the essence of discussions. He underscored that  after the lifting of sanctions against Tehran, New Delhi was looking at "re-energising" ties with its long-standing partner.
In the wake of the sanctions against Iran and pressure from the West, India had reduced imports from Iran, its second largest oil supplier by cutting down purchases from 21.2 million tonnes in 2009-10 to 11 million tonnes in 2013-14. The  imports have been in the same range over the last three years.
Indian firms had been circumspect about investing in Iran due to the sanctions imposed by the US and Europe. The sanctions were deterring New Delhi from claiming rights to invest nearly USD 7 billion in the biggest gas discovery ever made by an Indian firm abroad. However, with the easing of sanctions on Iran, India has once again renewed the pitch for rights to develop 12.8 Trillion cubic feet of gas reserves. The gas discovery took place during ONGC Videsh Ltd's  exploration in 2008.
The Chahabahar port contract is said to be in its final stages of negotiation, with the two countries  hoping for an early conclusion of the contract.
It's payback time for Tehran for New Delhi's solidarity. Signaling an upsurge in its ties with New Delhi, Iran has accorded priority status to India for trade, according to India's apex export body. Acknowledging India's support to Iran during difficult times, when the US and the 28-nation EU bloc had imposed sanctions on it, India was among the three countries that continued to engage with Iran in trade. The other two countries were China and Turkey.
Iran wants to collaborate with these three countries in seven sectors including mining, petrochemicals and food. In 2014-15, India's exports to Iran stood at USD 4.17 billion while the imports amounted to USD 8.95 billion, an increase from USD 1.44 billion and USD 7.61 billion, respectively, during 2006-07. After the sanctions were imposed on Iran in 2006-07, India continued exporting commodities like rice, sugar and soybean, along with textiles, and also imported crude oil from Iran in large quantities. Eventually, India did cut down on imports of crude oil from Iran due to payment difficulties imposed by the US and Western countries during the sanctions regime.
A delegation of the Federation of Indian Export Organisations (FIEO) visited Iran recently. "Iran wants to reinforce its relationship with countries which stood by it during its difficult times. Hence, it is reciprocating by giving preference to them," said Ajay Sahai, director general of FIEO. 

Due to the sanctions imposed on Iran, India could not make payments to Iran for oil imports. India had issued guidelines in early 2015 to allow third country exports of humanitarian goods such as food, medicines and medical equipment to Iran as part of oil payments due to Iran. Iran is looking to cooperate with India in agro processing, information technology, steel, hotels, tourism.
India is also investing around Rs 200,000 crore at the Chabahar port in Iran in an array of infrastructure projects. The Chabahar port would give India access to Afghanistan and is strategically important. The port would give India sea-to-land access to Afghanistan and also act as a gateway to Central Asia for India to secure its interests. India has been looking to increase its engagement with Iran and after the successful completion of the nuclear deal negotiations between Iran and P5+1 countries, India is looking to step up engagement with Iran across the spectrum. Once the sanctions are lifted on Iran around early 2016, it would pave the way for a more concrete engagement between the two countries.
The decision by Iran to accord the priority status to India would further strengthen India's intent to secure opportunities for its businesses and strategic interests in Central Asia.
India's multi-faceted ties with Iran are set to move into a higher trajectory, with a spate of significant outcomes emerging from Iran's Foreign Minister Javad Zarif's day-long visit to New Delhi. The proposals firmed up during the visit will scale up economic ties and transform the buyer-seller relationship to a genuine energy partnership.  
Indian private investors got a shot in the arm with Mr Zarif announcing in New Delhi that Iran is open to Indian private companies investing in the Chabahar Port. Mr Zarif is on his first visit to India after the historic nuclear deal struck between Iran and the P5+1 member countries last month.
"Both India and Iran are eager to engage in this. I believe we will soon start serious work," Mr Zarif said in New Delhi, adding that the two countries already have an agreement in place. The deal to develop the Chabahar Port was signed between India and Iran in May 2015.
Forging energy partnership
India's External Affairs Minister Sushma Swaraj met her Iranian counterpart in New Delhi on August 14 and discussed a host of "forward-looking proposals" that have set the stage for accelerating bilateral relations across the spectrum, which suffered due to a spate of Western sanctions imposed on Tehran to curtail its nuclear programme suspected of developing atomic weapons.
These proposals, among others, included a revamp of the manner in which the Joint Commission will function so that the focus is on energy, infrastructure and trade.
The decades-old energy relationship that was stressed by sanctions look poised for a qualitative transformation from the existing buyer seller relationship to "a genuine energy partnership involving both upstream and downstream."
"We want Iran to regain its share of India's oil imports and we expect Iran to also make efforts to help promote participation of Indian companies," said Vikas Swarup, the spokesperson of India's foreign office, after the talks. India conveyed its expectation that OVL will get an opportunity to on Farzad B gas block.  
Connectivity and Trade
Looking ahead, there will be closer cooperation in areas related to connectivity and infrastructure. Besides Chabahar, India and Iran also agreed to fast-track the International North South Transport Corridor that is poised to be a game-changer in enhancing connectivity across South Asia and Central Asia. India is also set to assist in the development of Iranian railways sector, where Indian companies are both price and technology competitive.
The economic relations are headed for an upswing, with the two sides agreeing to move ahead rapidly on a Preferential Trading Agreement, and setting up of a Business-to-Business platform. India has invited Iranian Minister for Economic Affairs and Finance Mr. Ali Tayebnia for the next Joint Commission Meeting in New Delhi, which will be held in December.
When economic sanctions were imposed on Iran, India had to reduce its oil imports due to financial and logistical difficulties arising out of Western sanctions.
India's cuts of oil imports during the sanctions period got plaudits from the US.  White House Press Secretary Josh Earnest had said that India had made a big sacrifice at its own economic expense to ensure global peace and security.
In 2013-14 India-Iran bilateral trade was USD 15 billion with India importing USD 10.33 billion worth of goods and exporting USD 4.92 billion worth of goods. However, in 2014-15 due to the sanctions imposed on Iran, India struggled to make payments and find insurers for crude oil it imported from Iran.
The Chabahar Port, located in southeastern Iran, is of strategic importance to India as it gives sea to land access to Afghanistan without having to depend on Pakistan to access Afghanistan.  It is also a gateway to Central Asia for India and a part of India's larger strategic plan to deepen its engagement with the region.
(Sridhar Kumaraswamy contributed inputs for this article)