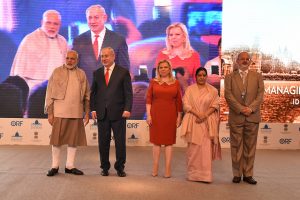 Underlining the civilizational and democratic connects between India and Israel, Benjamin Netanyahu, in his speech at the third edition of the Raisina Dialogue talked about the need to build power in an increasingly insecure world."The weak don't survive. The strong survive. You make peace with the strong. You ally with the strong", he said like a true realist.
The Israeli leader outlined four types of power- military, economic, political and the power of values- that democracies like India and Israel should focus on. Therefore, building submarines, cyber capabilities, science and technology, interceptors are an essential component of the developmental goals.
An alliance of strong and powerful democracies, according to him, would be able to provide a fitting counter to the menace of radical Islam that is the biggest roadblock top peace and prosperity in the world today. "Our way of life is being challenged — most notably, the quest for modernity (and) the quest for innovation (are) being challenged by radical Islam and its terrorist offshoots from a variety of corners," he said. Strengthening security and defence cooperation remains a major agenda in the dialogues during the on-going visit of the Israeli Prime Minister.
Mr Netanyahu had generous compliments for the Indian Prime Minister and his good friend Mr Modi for the economic revolution spearheaded by him especially the tax reforms. He mentioned that he was 'astounded to know' that India had moved up 42 places in the Ease of Doing Business rankings in the past three years. "If you want to have economic power, you must reduce and simplify taxes" Mr Netanyahu said acknowledging the government's roll out of the GST.
On his TajMahal visit earlier in the day the Israeli Prime Minister harped on the democratic qualities that bind the peoples of two nations. "Democracies bind and connect to each other in natural ways. I saw sympathy and friendship of people. When I walked in streets of India, just like in Agra, someone said to me, we are so happy that you are friends with our PM, we are friends with you & Israel".
Also present at the event were Prime Minister Modi and External Affairs Minister SushmaSwaraj. Organized jointly by the Ministry of External Affairs and Observer Research Foundation, the three day foreign policy conference began on January 16 with more than 150 speakers and over 550 delegates participating in it.The theme of this year is "Managing Disruptive Transitions: Ideas, Institutions and Idioms"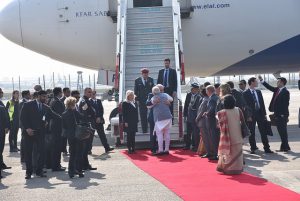 Hugs, personal bonding and effusive sentiments about India-Israel relations marked the first few hours of Israel's Prime Minister Benjamin Netanyahu's maiden trip to India.In a special gesture, India's Prime Minister Narendra Modi went beyond official protocol to personally receive Israeli Prime Minister Benjamin Netanyahu at the Delhi airport. Mr Modi's trademark hug and warm expression of friendship set the tone for six-day visit of the Israeli leader to India. Mr  Netanyahu is leading a delegation of 130 businessmen from 102 Israeli companies and expects to take relations between the two nations together with the Indian leader to "new heights".
"Indian Prime Minister (Narendra) Modi is a close friend of Israel and of mine and I appreciate the fact that he will accompany me on extensive parts of my visit," Prime Minister Netanyahu said just before leaving for New Delhi.After the arrival the leaders headed for a ceremony to rename Teen Murti Chowk in central Delhi as Teen Murti-Haifa Chowk, in memory of the Hyderabad, Jodhpur and Mysore Lancers who carried out a brave assault to liberate the Israeli port city of Haifa during the First World War.
India and Israel are set to scale the relations in diverse areas, including defence, security, innovation to agriculture and water technology cooperation. The two countries are expected to sign a clutch of agreements in areas like oil and gas, renewable energy, amended protocol for airports, cyber-security, and co-production of films and documentaries.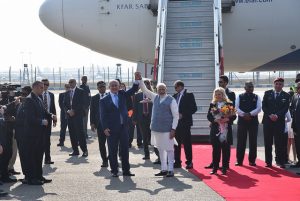 Moving beyond intricate chessboard of geopolitics in West Asia, India and Israel are set to fashion a robust partnership of the future, revolving around technology and innovation during Israeli Prime Minister Benjamin Netanyahu's maiden trip to the Asian country.
Days before Mr Netanyahu's visit, India had voted against the unilateral declaration of Jerusalem by the US in the UN, triggering speculation about New Delhi's commitment to taking the India-Israeli relationship forward. Now these apprehensions have been dispelled as the Israeli leader began his six-day visit to India on January 14, with Prime Minister Narendra Modi personally receiving his "friend" at the airport. Ahead of his visit, Mr Netanyahu had clarified that although he was disappointed, one vote won't affect this relationship of the future.
Setting an upbeat tone for the visit, Mr Netanyahu, who is fond of calling Mr Modi "mere dost" (my friend), described India-Israel relations as "a marriage made in heaven, but consecrated on earth."These warm sentiments, underpinned by a soaring vision of India-Israel relationship, were reaffirmed eloquently during the conversation between the two leaders at the private dinner hosted by Mr Modi at his official residence.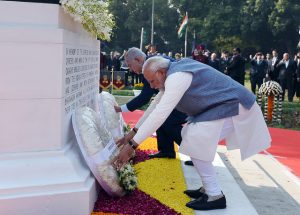 "Together, we will bring the relations between our two countries to new heights," Mr Netanyahu tweeted after his arrival, the first visit by an Israeli prime minister in 14 years.India and Israel are set to sign at least 10 business and industry-related pacts, besides several inter-governmental pacts in diverse areas, including agriculture, technology and innovation.
Innovation will be the guiding framework for the Israeli prime minister's visit and the future of India-Israel relations, said Israeli ambassador to India Daniel Carmon.Israel plans to invest around $68 million over the next four years to upscale cooperation in trade, technology, tourism, agriculture and innovation.
Moving ahead, the overarching thrust of India-Israel relations will be on diversifying a defence and security-focused relationship into a more vibrant and multi-faceted strategic partnership, which will be driven by technology, innovation and start-up ecosystems.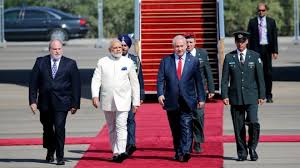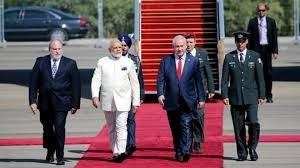 Building on the first-ever visit by an Indian prime minister to the Jewish nation, Israeli Prime Minister Benjamin Netanyahu's six-day trip to India (January 14-19) signals an accelerated transformation and upgrade of India-Israeli partnership. The Israeli leader's first visit to India will focus on diversifying a defence-focused relationship to a more broad-based partnership, driven by technology and innovation.
In this wide-ranging conversation with Manish Chand, Editor-in-Chief, India and World and India Writes Network, Israel's Ambassador to India Daniel Carmon maps the way ahead for this crucial partnership in key sectors of agriculture, water, innovation, technology and start-ups. Echoing Israeli Prime Minister Benjamin Netanyahu's words, the envoy says, "Even the sky is not the limit" for India-Israel relations.   
Q) Looking back and looking ahead, what will be major focus areas that will shape India-Israel relations in months to come?
A) PM Modi's visit to Israel was really the culmination of this surge in relations that we have been witnessing for the last few years. We have seen more visits during these years. Defence ministers, agriculture ministers, science ministers, home affairs ministers are visiting each other.
The President of India's visit to Israel was a really big development, but when it comes to the Prime Minister of India visiting Israel, anyone who knows a bit about India-Israel relations says wow, this has happened! This is not only historical, not only unprecedented, not only is it the first time an Indian PM visited Israel. This is a huge message. A message to India and Israel, to the systems, to the governments, to the ministries, to the practitioners, to the businessmen, to the people.
In India they say that this was one of the most important, if not the most important visit, by Prime Minister Modi outside of India during 2017, but in Israel it definitely was the most important visit. It was appreciated and received as such.
Anyone who reads the joint statement can see some very clear messages. First of all, the two countries have elevated their relationship to the level of a strategic partnership. This is something that is to be not only noted and appreciated, but analyzed and understood again; look back at the last 25 years and what does it mean? What is the message to our own people? What is the message to the world? To other countries? The fact that this visit not only received attention from the media in India more than anywhere else, but also in Europe and the US. Do they do that on any other visit that Prime Minister Modi does anywhere in the world? This really was an unprecedented,landmark visit.
Q) Going forward, what areas of bilateral cooperation will see major progress?
A) I would define them as the ones that are already on our joint table and will be upgraded, and the ones that we have not explored yet. We are talking about a process which received a big boost during Indian PM's visit. For example, it was the first time that a CEOs meet was initiated in which CEOs of very important companies from both sides were represented. They deliberated amongst themselves and signed quite a few MoUs amounting to billions of dollars. They exchanged views on how to do business with each other. They saw the India Innovation Bridge, which was a showcase of eight or nine companies from both sides with solutions to all sorts of challenges. These established companies on both sides committed themselves to a dialogue of CEOs where all sorts of disciplines met. You see defence meeting irrigation. There was one particular company that uses the success story of defence technology, cut and pasted into irrigation. It's an important forum for engagement and the visit will undoubtedly enhance its activity.
On the social side also, there are more exchanges and activities now. We have so many people from India who are visiting Israel. There is more interest from academia and even NGOs are showing interest in India.
There are specific areas of cooperation like water and agriculture, which will be upgraded. The two MoUs were signed in these areas during PM's visit. A water project will be operational within a few weeks, bringing more Israeli technologies under a governmental umbrella from both sides.
We have set up a $40 million India-Israel Industrial R&D and Innovation Fund (I4F),which would encourage entrepreneurs and researchers on both sides to collaborate. $40 million for five years is a big thing. For Israel, it's definitely a big thing!
Another area is agriculture where we are already doing wonders together. The third crucial area would be more engagement in innovation. Innovation Bridge was a good start. Recently, I had a very good conversation with the head of NITI Aayog and his innovation team. It's called the Innovation Mission, where we explored how to use the visit as a platform for more activities. We have set up a $40 million India-Israel Industrial R&D and Innovation Fund (I4F), which would encourage entrepreneurs and researchers on both sides to collaborate. $40 million for five years is a big thing. For Israel, it's definitely a big thing!
Q) How will this fund be operationalized?
A) The MoUs have to be ratified in both countries and it takes a bit of time. The idea is not to have the governments work on those, but rather researchers of both countries should decide on a joint research project and then apply for the fund.
There will be a common board, which will have people from both sides, which will invite and analyze the applications. The Department of Science and Technology (DST), from the Indian side, and GITA (Global Innovation and Technology Alliance) and Innovation Authority from Israel will be involved in this process.Israel is among the top countries that allocates a sizeable percentage of its GDP (around 3.9%) to science and technology, R&D, which is more than any other country in the world. It is probably a part of the success story of the science community in Israel.
There are now three plants in India, which are the result of Indian-Israeli collaboration and are part of 'Make in India.' These will bring employment, modernization and boost the economy.
Q) Israel is famously called The Start-up Nation. How do you look at prospects of collaboration between Indian and Israeli start-ups?
A) We will see more activities with start-ups. The spirit of the Prime Minister's visit opens the door for more activities by helping facilitate Indian companies that are scouting for Israeli start-ups and deciding to grow with them, or are looking for technology transfer companies that each university has in Israel. Israel is a supermarket of ideas and innovations. There are various shelves in this supermarket. In a university, you have a R&D center and a technology transfer company that is the touching point between the university and the industry. There are many channels that have been opened in the last few months. We hope that PM Modi's visit will serve as a catalyst and an accelerator of more collaborations between start-ups in India and Israel.
Q) How do you see Make in India collaboration between India and Israel progressing?
A) I have always stressed that 'Make in India' for Israeli companies is not an easy decision to make because we launched our own "Made in Israel" campaign many years ago. For years we have been buying only Israeli products. Now we have changed. We have evolved and we are much more engaged with the European Union. You see more consumer goods and services that come from abroad. Given this history, this is not an easy decision for Israeli companies to move production lines to India. However, we are flexible to be engaged with Make in India. There are now three plants in India, which are the result of Indian-Israeli collaboration and are part of 'Make in India.' These will bring employment, modernization and boost the economy. Therefore, you have a product researched and developed in Israel, which is being manufactured in India as a joint venture with Israeli companies.
Q) Can you share a few examples?
A) There is a plant that was inaugurated two months ago in Madhya Pradesh and there is a plant in Gurgaon, which are manufacturing as a joint venture. One more plant will be set up in Hyderabad. This is Make in India.
Q) In practical terms, going forward, how will India-Israel strategic partnership manifest in concrete actions on the ground? We already have extensive defence and counter-terror cooperation.
A) It will be more in the areas in which we already excel. A week before the PM's visit, there was a resolution by the Israeli government, which set a roadmap and allocated funds amounting to more than almost 300 million shekels for focus areas in India-Israel partnership. The scope of this resolution is unprecedented despite the fact that Israel has adopted 3-4 resolutions like that in the past few years. This is an instrument and a roadmap that the government has given to its ministries in various sectors – finance, agriculture, science and technology, health. We in the government worked pretty hard on it for a few months. The actual activity will be done by the business sector, and here we are not talking about defence. Defense cooperation will be on a separate track.
Q) The setting up of a CEOs forum was an important step, but given the huge potential in the economic arena bilateral trade at $3-4 billion is still way below the potential. Compared to that, Israel-China bilateral trade is around $13 billion. What more can be done to enhance economic relationship?
A) We'll meet in a year or two and we will see the results of this. We are permanently in the middle of processes. We are still trying to move beyond circumspection and complexes of the past. We didn't have it right during all those years and the lack of visibility was a part of it. But nowadays, we talk about strategic partnership and we have visits. Now, it will become a routine to see our leaders visiting each other. You see thousands of people from India attending conferences on water technology, agriculture, health, smart mobility and cyber security. The Indian people, government, businessmen, entrepreneurs are visiting Israel like never before because they know that they have this supermarket of innovations there and it's good to do business with Israel, and the other way around.
We have very limited connectivity– we should have direct flights so that you don't have to go through Hong Kong or Bangkok. One central part of the visit was to get to know each other better and to deepen this people-to-people connect. Not only did Prime Minister Modi see Israeli capabilities in technology first-hand, but we also had this community event which was so important. The Jewish community or the Israelis of Indian origin are an important bridge between our countries.
To sum up, it's something very deep that is happening between us and this is the success of the visit. And now when we talk about India today in Israel or about Israel in India, things have dramatically changed and they haven't changed in a day or two. It's a culmination of processes. Not only are we celebrating 25 years of diplomatic relations, but something big is happening between us.
Q) Looking ahead, can one expect an acceleration of visits and activities across the spectrum?
A) Across the spectrum – it's a nice way to put it. Parliamentarians, ministers, businessmen. More cultural exchanges, more connectivity and more tourism. It will now become routine. Earlier, there always was something very dramatic or exceptional in anything that had to do with India and Israel. Going forward, even the sky is not the limit!
Now when we talk about India today in Israel or about Israel in India, things have dramatically changed and they haven't changed in a day or two. It's a culmination of processes. Not only are we celebrating 25 years of diplomatic relations, but something big is happening between us.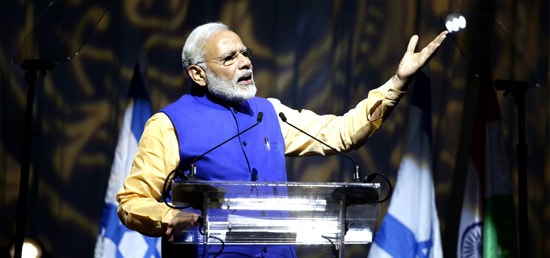 TEL AVIV: Holi and Purim; Diwali and Hanukkah. Connecting with the Indian community in Israel, Prime Minister Narendra Modi enthralled Israelis of Indian origin at a gala function at the Exhibition Ground in Tel Aviv and lauded their spirit of enterprise and acting as the human bridge between India and Israel.
It was vintage Modi show as the Indian leader addressed over 4,000 Jews of Indian origin and inspired them with his eloquent oration about his vision of creating a new India by 2022. Israel is home to around 100,000 Jews of Indian descent.
The Indian leader began his stirring speech by noting that this was the first time that an Indian Prime Minister had come to Israel, and it had taken a long period of 70 years after independence. He profusely thanked Israeli Prime Minister Benjamin Netanyahu for the warm welcome and respect accorded to him throughout his visit.
Alluding to centuries of civilizational relations between India and Israel, Mr Modi underscored that the relationship between India and Israel was underpinned by shared traditions, culture, trust and friendship.
Mr Modi noted impressive technological progress made by Israel, and its long traditions of bravery and martyrdom. He recalled that Indian soldiers had played a key role in the liberation of Haifa during World War and alluded to contributions of the Indian Jewish community, both in India and Israel.
Mr Modi was all praise for the spirit of innovation in Israel, and noted that Israel had made great progress in areas such as geo-thermal power, solar panels, agro-biotechnology and security.
He assured the Indian community in Israel that OCI cards would be given to them, even if they had done compulsory army service in Israel and announced that an Indian Cultural Centre would be set up in Israel.
Alluding to economic reforms undertaken by his government, he mentioned the roll-out of GST, auctioning of natural resources, insurance and banking sector reforms, and skill development, among others. He said the government plans to double income of farmers by 2022. He said the partnership with Israel is key to ushering the second green revolution in India. He added that science, innovation and research would be the foundation of ties between India and Israel in the future.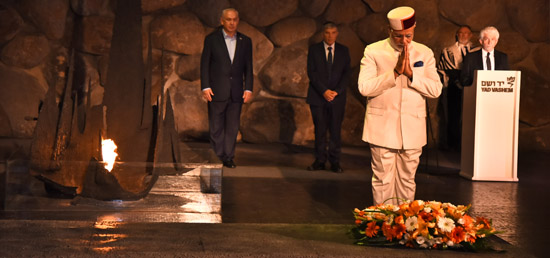 The Prime Minister Narendra Modi presented Prime Minister of Israel Mr. Benjamin Netanyahu replicas of 2 sets of relics from Kerala that are regarded as key artifacts in the long Jewish history in India.
They comprise two different sets of copper plates that are believed to have been inscribed in 9-10th century C.E.
The first set of copper plates is a cherished relic for the Cochini Jews in India. It is regarded as a charter describing the grant of hereditary royal privileges and prerogatives by the Hindu King, Cheraman Perumal (often identified as Bhaskara Ravi Varma) to the Jewish leader Joseph Rabban. According to traditional Jewish accounts, Joseph Rabban was later crowned as the Prince of Shingli, a place in or equated with Cranganore. Cranganore is where Jews enjoyed religious and cultural autonomy for centuries, before they moved to Cochin and other places in Malabar. Local Jews once placed in each coffin a handful of earth from Shingli/Cranganore that was remembered as a holy place & a "second Jerusalem". The replica of these plates was made possible with the cooperation of the Paradesi Synagogue in Mattancherry, Kochi.
The second set of copper plates is believed to be the earliest documentation of the history of Jewish trade with India.These plates describe the grant of land and tax privileges by the local Hindu ruler to a church and oversight of trade in Kollam to West Asian and Indian trading associations. West Asian association included Muslims, Christians, Zoroastrians, as also a group of Jews who signed in Judeo-Persian and possibly also in Arabic and Pahlavi (Middle Persian). The plates bear their signatures that appear to have been cut into the plates by a local workman unfamiliar with the script. The replica of these plates was made possible with the cooperation of Malankara Mar Thoma Syrian Church in Thiruvalla, Kerala.
In addition, Prime Minister also presented PM Netanyahu a Torah scroll donated by the Paradesi Jewish community in Kerala. Handwritten over a hundred years ago, the scroll had been dedicated to the Paradesi Synagogue in Kochi that had been built in 1568. The Torah is enclosed on wooden staves in a wooden case adorned with silver sheets and a metal crown covered in gold sheets in floral ornament style, bearing motifs typical of lamps and decorations of south India.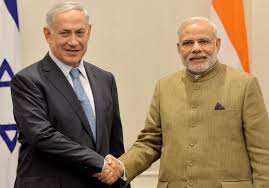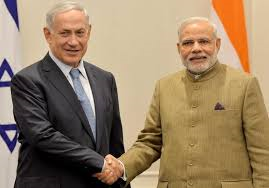 When, not whether? Many observers have pondered over this question regarding a prime ministerial visit to Israel ever since Narendra Modi assumed office. In the light of Modi's admiration for Israel, which he had visited as chief minister of Gujarat in 2008, some expected that the Jewish State would be one of the first foreign visits he would undertake. More than two-and-half years later, however, there are no signs of such a visit occurring. On the first anniversary of the NDA government on 31 May 2015, External Affairs Minister Sushma Swaraj told the media that the Prime Minister "will also be visiting. Israel will also be visited. No dates have been fixed. When we arrive at mutually convenient dates, that too will be finalized." Since then Modi has visited four major countries along the Persian Gulf – the UAE, Saudi Arabia, Iran and Qatar – without any sign of an Israeli visit.
Notwithstanding that, there have been unprecedented high-level contacts with Israel. In May 2014, Prime Minister Benjamin Netanyahu became the first world leader to congratulate Modi on his landslide victory when most Arab leaders stood stunned at the electoral debacle of the UPA. That September, Modi met Netanyahu on the sidelines of the UN General Assembly and both have been exchanging greetings and messages at regular intervals. Modi also met President Reuven Rivlin during the funeral of Lee Kwan Yew in Singapore in March 2015. President Mukherjee visited Israel (along with Jordan and Palestine) in October 2015, and Rivlin made a reciprocal visit in November 2016. There were also other visits between the two countries including visits by Defence Minister Moshe Ya'alon (February 2015), Sushma Swaraj (January 2016), and Home Minister Rajnath Singh (November 2015).
Such regular engagement with Israel comes against the backdrop of Modi's high-visibility political visits to the region. He began with a visit to the UAE (the first by a prime minister since May 1981) in August 2015, travelled to Turkey in November 2015 for the G-20 meeting, and followed these up in 2016 with visits to Saudi Arabia (April), Iran (May) and Qatar (June). Israel is the only other major country in the region that he has not visited.
A pattern is noticeable in Modi's engagements with the Middle East. First and foremost, military-security cooperation occupies a prime place in all bilateral engagements. For example, 17 out of 31 issues that Prime Minister Modi and UAE Crown Prince Sheikh Mohammed bin Zayed Al Nahyan agreed upon pertained to security issues. The same emphasis on security cooperation was also visible in his engagements with Saudi Arabia (nine out of 36 points of agreements), Iran (five out of 12) and Qatar (10 out of 38). Israel would not be different especially when security has been a major area of cooperation since the normalization of relations in January 1992.
Two, unlike in the past, Modi's visits were preceded or followed by reciprocal visits or bilateral meetings in third countries. Since May 2014, Modi has met Saudi leaders at three G-20 summits in Brisbane, Antalya and Hangzhou. The Emirati Crown Prince visited New Delhi in February 2016 and would be the Chief Guest at the Republic Day Celebrations this month. The Qatari emir visited India in March 2015 and its Prime Minister last December. This pattern may recur in the case of Israel as well. A Modi visit to Israel could be followed by a Netanyahu visit to India.
Three, Modi's visits to the region have a pattern. Each has been a stand-alone visit and hence did not take away the primary focus from the country visited. In the past, Indian prime ministers tended to visit more than one country at a time and in the process give political engagements a regional flavour. For example, Indira Gandhi visited Kuwait and UAE in 1981, and in November 2008 Manmohan Singh visited Oman and Qatar. President Mukherjee's visit to Israel in October 2015 was also 'regional' as he visited Jordan and Palestine before reaching Israel. His predecessor Pratibha Patil visited UAE and Syria in November 2010, and even Swaraj visited Palestine during her visit to Israel in January 2016.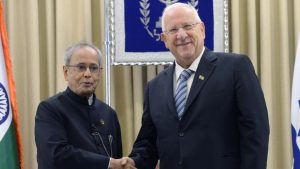 Modi has moved away from this pattern and undertaken stand-alone visits to the region. There is widespread consensus that his visit to Israel would be the crowning moment for the year-long commemoration of the 25th anniversary of bilateral relations. Israel too would expect the same from him, that is, not adding Palestine to his itinerary. This is logical and convincing. The political gains of Modi visiting Palestine are rather limited. Not only does Palestine not offer any economic incentives, even its political advantages have diminished over the years. While there is popular support for the Palestinian cause, its relevance for inter-Arab relations is marginal. Much of the Arab world, especially the erstwhile champions of the Palestinians such as Syria, Iraq and Egypt, are deeply embroiled in domestic upheavals and some are even fighting for their own political legitimacy and territorial integrity. The Palestinian cause is their last priority and they are unlikely to modify their policy towards India due to a stand-alone visit by Modi to Israel.
At best, Modi's 'balancing' visit to Ramallah might temporarily satisfy his domestic critics on the Left who would hail the wisdom of the Nehruvian legacy. But before long they are likely to return to their anti-Modi positions on foreign, domestic and economic policies. Thus, brownie points accruing to Modi through a visit to Palestine are limited, temporary and unattractive.
The only possible justification for a 'balancing' visit would be India's ability to play a meaningful role in bridging Israeli-Palestinian trust deficit and bringing the two parties to the negotiating table. But New Delhi lacks the political will, diplomatic clout and established international acumen to undertake such a role. Even the US, with all its stakes and instruments, has been unable to bridge the gap and India would be well advised to keep away from the quagmire of meddling in the Israel-Palestine conflict.
A standalone visit to Israel will not only be in line with Modi's engagement with the Middle East but would also send a powerful message to the international community that India is no longer apologetic about befriending Israel. To be meaningful, however, Modi has to establish that such a break would serve India's geo-strategic interests and would be more beneficial than a courtesy call on Abbas in Ramallah. This would mean Israel opening up avenues of cooperation that are not available to any other country in the world. In practical terms, that would mean strategic Indian investments in hi-tech industries in Israel including military industry, cyber security, Nano technology, alternative energy, and recycling, and India becoming a partner in technology development and sharing. Sensitive technologies are either stolen or bought, but never shared even among friends. Indian investments would be the easiest and, in the long run, the cheapest way to ensure technology transfers from Israel. Should the visit be premised on such an endeavour, Modi's standalone visit to Israel would be both feasible and likely.
Courtesy:IDSA