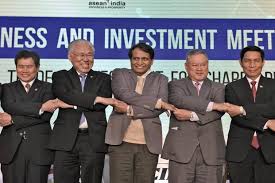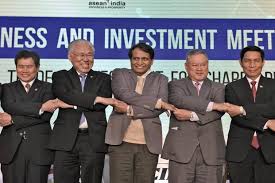 Ahead of the special India-ASEAN commemorative summit, India has underlined the need for a fair and balanced outcome for the Regional Comprehensive Economic Partnership, the largest free trade area which is currently under negotiation between 16 countries.In the run up to the summit on January 25 in New Delhi, India's Commerce and Industry Minister Suresh Prabhu stressed that that India would agree to this mega free trade agreement provided sensitivities and aspirations of all partner countries are adequately addressed.
Speaking at the 'ASEAN-India Business and Investment Meet and Expo' in New Delhi on January 22, Mr Prabhu said: "It is important to address the sensitivity of member countries and their aspirations as negotiations gather momentum. We would all aim to achieve an RCEP that results in the realization of the potential of the three key pillars of RCEP—goods, services, investment—in a manner that is balanced and collectively satisfactory. Keeping this in view, India will be working closely and constructively with all RCEP member countries, particularly Asean, towards early conclusion of negotiations".
Identifying services as the main engine of growth around the world today, the minister stressed that almost two thirds of India's GDP is made up of services and the surplus from service trade helps it to cover its trade deficit to considerable extent. With an eye on facilitating the movement of professionals and skilled workers between the two blocs, India has been demanding a greater liberalization in the services sector as a key component of the RCEP.
Moreover, India objects to the proposal of doing away with the import tariffs due to its fears of a Chinese takeover of the Indian market. With 3.5 billion people and 30 per cent of the world's GDP, the RCEP would be a formidable trade bloc of sixteen countries- 10 ASEAN members, Brunei Darussalam, Cambodia, Indonesia, Laos, Malaysia, Myanmar, the Philippines, Singapore, Thailand and Vietnam, and 5 others, Australia, China, India, Japan, South Korea and New Zealand.
"I believe India will stand with the ASEAN to conclude the RCEP this year….and will not disappoint," said Indonesian Trade Minister Enggartiasto Lukita at the business meet. Indonesia has been a key player in advancing negotiations on the RCEP.
The theme of the ongoing ASEAN-India business meet is 'Promoting Mutual Trade and Investment for Shared Prosperity,' and includes discussions on building small and medium enterprises (SME) ecosystem to enhance entrepreneurial spirit and start-up culture in the region.
The RCEP negotiations, that started in November 2012, covers trade in goods, trade in services, investment, economic and technical cooperation, intellectual property, competition, dispute settlement, e-commerce, (SMEs) and other issues. Aiming for a bilateral trade figure of up to $200 billion by 2022, India and ASEAN will have to negotiate hard for a balanced RCEP.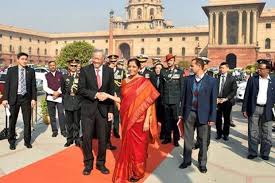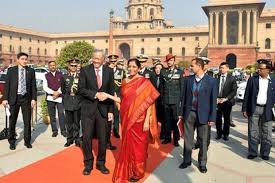 Amid China's growing assertion in the maritime space, India and Singapore have concluded a crucial pact on enhancing naval cooperation. The bilateral Agreement for Navy Cooperation, signed on November 29, is aimed at expanding India-Singapore cooperation in ensuring freedom of navigation, right of passage and over-flight, unimpeded commerce and access to resources and fighting a host of other security challenges.India's Defence Minister Nirmala Sitharaman and her Singaporean counterpart Ng Eng Hen held talks in New Delhi to finalise the deals.
The agreements come at an important moment when India is trying to assert its presence in the Indian Ocean amidst increasing Chinese forays in the maritime space."The conclusion of the India-Singapore Bilateral Agreement for Navy Cooperation…will lead to increased cooperation in maritime security, joint exercises, temporary deployments from each other's naval facilities and mutual logistics support," India's Defence Ministry said in a statement.
In a joint press conference after their meeting, the ministers expressed their commitment to bolstering India-Singapore defence partnership. "India and Singapore remain strongly committed to tackle the transnational security threats," Ms Sitharaman said. "I not only support but I would also encourage the Indian Navy to visit the Changi naval base more often. The bilateral naval agreement has provision for mutual logistical support," Dr. Ng said.
Strategic Connect
Singapore has been India's major partner in ASEAN and has played an important role in spurring India's engagement with Southeast Asia. Apart from the naval agreement, the two sides signed the revised Defence Cooperation Agreement relationship between the Singapore Armed Forces and the Indian Armed Forces. There was also a renewal of the air force agreement earlier this year.The talks included discussions on Singapore's proposal to expand the Code of Unplanned Encounters at Sea to all ADMM (ASEAN Defence Ministers' Meeting)-Plus countries and to put in place the procedures of air encounters between military aircrafts.
Access to port facilities was an important aspect of the discussions. Refuelling and berthing facilities at the Singapore port will be critical in expanding the reach of Indian warships and aircraft east of the Malacca Strait, a crucial point of China's energy supplies. The Indian Navy has a permanent deployment of a frontline warship at the mouth of the Malacca strait to keep an eye on the increasing Chinese movements in the Indian Ocean as part of its mission-based deployment.
India's assistance to Singapore will include live firing drills in the Andaman Sea. The two countries are also expected to renew the bilateral army pact, under which facilities are provided to Singapore for exercises of mechanized forces at Babina and artillery at Deolali ranges, and the when it ends next year.These agreements will deepen strategic content of India's Act East Policy, which seeks to enhance India's economic and defence cooperation with ASEAN countries like Singapore, Vietnam, Myanmar, Malaysia and Indonesia to curtail Chinese influence.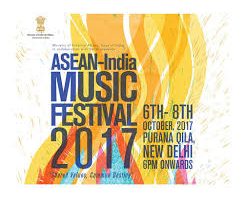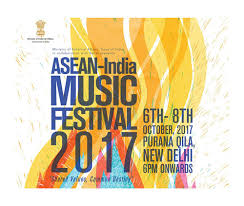 In a world where border walls are becoming the norm and doors are being shut to keep 'the others' out, the ASEAN-India music festival is aiming to do just the opposite – making borders translucent, even irrelevant with the power of music and free flow of ideas.
The first ever edition of the unique festival being organised by India's Ministry of External Affairs, in collaboration with Ministry of Culture and Seher, an NGO, aims to initiate a new musical dialogue to celebrate cultural diversity and foster a spirit of collaboration and ever-more connectedness between India and 10 countries of the Association of Southeast Asian Nations. The three-day festival (Oct 6-8), to be held in New Delhi's iconic 16th century fortress Purana Qila, is part of a series of special events being organised to commemorate 25 historic years of India's dialogue partnership with the ASEAN, themed around 'Shared Values, Common Destiny'.
The musical show will feature a unique roster of emerging and established musicians and bands spanning diverse genres from India and all the ten ASEAN countries. The Ugly Band (Myanmar), Cherpen (Malaysia), Tim De Cotta (Singapore), Kong Southearith (Cambodia), Red Bamboo (Vietnam), L'alphalpha (Indonesia), Nam Fon Indee (Lao PDR), A Band Once (Brunei Darussalam), Asia7 (Thailand) and The Ransom Collective (Philippines) will be presenting an eclectic array of music infused with distinct cultural influences of the Southeast Asian countries, while the Indian side will be represented by the Raghu Dixit Project, Avial, Papon LIVE, Bipul Chettri and the Travelling Band and Shankar-Ehsaan-Loy.
With the commemoration of an important milestone in the India-ASEAN ties, India is looking at strengthening its engagements with the dynamic Southeast Asian bloc, which is celebrating its 50th anniversary this year. At the recently concluded ninth edition of the Delhi Dialogue, aptly themed 'Charting the Course for India – ASEAN Relations for the Next 25 Years', External Affairs Minister Sushma Swaraj underlined that India places a special emphasis to its relations with ASEAN. "We place ASEAN at the heart of our 'Act East Policy' and at the centre of our dream of an Asian century… Our region is witnessing unparalleled dynamism in political, security, economic and demographic terms. This brings immense opportunities for India and ASEAN member countries."
India and ASEAN account for almost a quarter of the world population (1.85 billion) and a combined GDP of $ 3.8 trillion, which makes it one of the largest and most successful trans-regional partnership in the world. India became a full dialogue partner of ASEAN in 1996, four years after it started engaging with the group as a sectoral partner. Thereafter India has engaged extensively with various ASEAN-driven bodies like ASEAN Regional Forum (ARF) and Expanded ASEAN Maritime Forum (EAMF).
Stronger partnership with ASEAN is crucial for India to meet its geostrategic interests in the Asia-Pacific region and to moderate the Chinese assertiveness. But it will have to step up its game to be seen as an important player in the region. Developing a comprehensive long-term strategy, drawing on shared strong historical, maritime and cultural connections, could be a good beginning to infuse new vigour in the burgeoning India-ASEAN partnership.
(Soumya Nair contributed inputs for this article)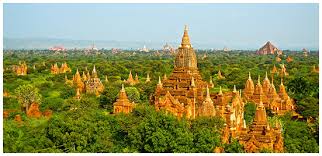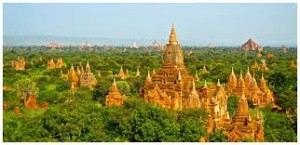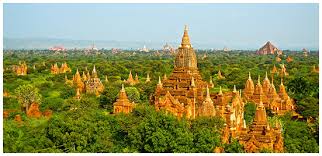 The year 2016 marked a major power transition in Myanmar as democratic forces led by the National League for Democracy (NLD) under Daw Aung Saan Suu Kyi assumed office on March 30. The transition came almost four months after the NLD's victory in the November 2015 election. With this, Myanmar has taken another step forward towards its transition to democracy, a process that was specifically initiated in 2011 under the reformist leadership of President Thein Sein, a former army general.
The electoral success and assumption of office by Daw Suu and her party has resulted in huge expectations, leading to the single-most crucial question: would the five-year term of the government be sufficient to meet all the expectations? The answer lies in the capacity and the capability of the new government to deliver on the promises made to the people; the approach of the new leadership towards resolving several continuing as well as emerging issues of concern, and finally, the future role of the Tatmadaw (the military) in politics and government. The crux of the issue is that Myanmar still has many hurdles to overcome before it completes the journey towards democratic transition.
This backgrounder offers an overview of the two most challenging concerns for Myanmar's democracy – ethnic unrest and economic hardships – and how the new government is planning to address these issues in particular and also more generally the influence of the Tatmadaw in politics.It begins with a brief discussion on the trajectory of Myanmar's transition to democracy. Next, it details the two crucial challenges of ethnic unrest and economic hardships facing Myanmar. And, finally, it draws some relevant references on the changes in Myanmar's relations with the major global powers under Suu Kyi.
A Brief Overview of the Political Transition
The Tatmadaw still wields considerable power in Myanmar. It derives its influence from the instrumental role it had played in Myanmar's struggle for independence. It was again the Tatmadaw that chose the path towards democratic transition. By the early 2000s and during the referendum held on the 2008 Constitution, General Than Shwe's junta made it clear that Myanmar's democratic transition would be a slow but steady process. Than Shwe's so-called road map to democracy was intended to reaffirm the military's role in the government and ensure a measured shift to democracy.
The nominally civilian government under Thein Sein practised restrained democratic values and rules. Thein Sein was definitely considered a successful leader as it was during his leadership that many international sanctions were lifted and Myanmar, for the first time, hosted the ASEAN Summit and related meetings. Under his leadership, Myanmar not only reduced its dependence on China but also made sincere attempts to rejuvenate its relations with other countries in the region.
The 2008 Constitution enables the military to retain a measure of power by reserving 25 per cent of seats in parliament to the Tatmadaw. Besides, Section 436 of the 2008 Constitution gives the military a veto power over constitutional changes/amendments. And Section 59(f) restricts Daw Suu from becoming the president.
The NLD had tried to bring changes in the Constitution twice before coming to power. The first effort was in 2014 when the NLD, along with the 88 Generation, called for a mass signature campaign to bring changes in Section 436. Despite collecting five million signatures, the desired change could not be ensured. In 2015, the NLD again proposed to amend the 2008 Constitution through the amendment committee which was set up by the former speaker U Thura Shwe Mann. The military government blocked that proposal as well. Despite its rejection of revisions to the Constitution, Thein Sein's administration, for the first time, allowed the NLD and Daw Suu to participate in mainstream politics. NLD, in fact, participated in a by-election in 2012 and won a few seats in parliament.
A New Constitution: The Role of Tatmadaw
It was only natural that President U Htin Kyaw spoke about the "emergence of a constitution that will lead to effectuation of a democratic, federal union" in his inaugural speech.While it is not clear from his inaugural speech whether he is suggesting the writing of a new constitution or amending the existing one to complete the transition towards democracy and ensure federalism, one of the NLD's legal advisers, U Ko Ni, and a few Myanmarese political analysts like U Yan Myo Thein believe that the NLD has no option but to call for a national referendum aimed at drafting a new constitution.Their argument sounds logical not only because the NLD, as an opposition, tried, albeit in vain, to amend the constitution twice, but also because drafting a new constitution in line with the political principles held by Daw Suu and her party does not appear to be difficult as they enjoy a simple majority in parliament with 58 per cent of the seats. In fact, the NLD's decisive victory in the election should be enough to foster confidence that the new government will seek to draft a new constitution. Additionally, Daw Suu now shares good relations with some officials who held influential positions in the military-backed government led by Thein Sein, including U Zaw Htay (director in the former president's office, who played a significant role in the present government's transition team) and U Thura Shwe Mann. In fact, before her party acceded to power, Daw Suu had met several representatives of the previous government to discuss various issues including the possibility of her becoming the president.
In fact, the Tatmadaw showed little opposition when the NLD, within a few days of taking charge of the government, freed hundreds of political prisoners, reduced the number of ministries from 36 to 21 and made a special effort to provide Daw Suu Kyi with a special position in the government by creating the post of State Counsellor. Besides, Suu Kyi was also designated as the foreign affairs minister and is expected to play a role 'above the president' as defined by herself.
However, the other side of the coin tells another story. The Tatmadaw still has at least one reason to block the NLD's attempts to either amend the existing constitution or draft a new one, namely, the wish to retain political influence through the legitimate means afforded by the existing constitution. In fact, to do so, the Tatmadaw may raise doubts on the administrative capacity of the non-military government officials who had been made to obey the high ranking army officers for three decades when the State Law and Order Restoration Council (SLORC- 1988-1997) and State Peace and Development Council (SPDC- 1997-2011) ruled the country. During this period, it was repeatedly mentioned that the military needs to administer and govern Burma/Myanmar because of the unpreparedness of the common people to take up the responsibility, which gave a pretext to the military to preserve power for itself through the constitution.
Ethnic Issues
Suu Kyi and the NLD-led government have brought some hope for the ethnic minorities in Myanmar, probably except the Rohingyas whom Daw Suu, like the majority Burmans, considers as 'Bengali' as evident from her actions so far. While the selection of Henry Van Thio, an ethnic Chin, as one of the vice presidents was one of her steps towards giving equal rights and voice to the ethnic minorities, her request to the US Ambassador to Myanmar, Scot Merciel, not to use the word Rohingyas was perhaps a blow to her image of a champion of freedom and democracy.
In order to reduce the frequency and complexity of the decades-old ethnic unrest, President Htin Kyaw and Daw Suu have already come up with a few ideas. During President Thein Sein's regime, despite sincere efforts, only eight armed ethnic groups had signed the nation-wide ceasefire agreement. Thus, the biggest challenge for Suu Kyi would be to bring the rest of the seven armed ethnic groups to the negotiation table.
To kick-start the peace process, Daw Suu has already established the National Reconciliation and Peace Center (NRPC), much on the lines of the former Myanmar Peace Center (MPC) set up by President Thein Sein in November 2012. Suu Kyi is also trying to hold a 21st Century Panglong Conference to re-unite all ethnic groups in Myanmar. After the second meeting of the Union Ceasefire Joint Monitoring Committee (UJMC) on April 27, Suu Kyi declared that the Panglong Conference will be held simultaneously with the final ceasefire agreement with the rest of the armed ethnic groups. To ensure that the NRPC remains accountable to the government and public, Suu Kyi has taken two steps: First, the office of the State Counsellor will be responsible for NRPC's functioning and for that matter the latter will be drawing funds from her office directly. Second, she will form a Civil Society Organisation (CSO) Forum to ensure participation of the CSOs in the peace negotiation process.
Economic Challenges
A country of 51 million people, Myanmar is expected to achieve a real GDP growth of 7.8 per cent in 2016-17, up from 7 per cent in 2014-15.13 Myanmar has three advantages that it needs to exploit: first, its geographic location between India and China; second, its huge youth population which could offer a labour force and, third, abundant natural resources which are already attracting considerable foreign direct investment (FDI). According to some estimates, FDI contributes 4.5 per cent to the country's GDP.
Unfortunately, despite having these favourable conditions, the new government is likely to face enormous economic challenges including a very low GDP per capita, a decaying infrastructure, lack of skilled workers and professionals (due to years of non-investment in the education sector), a high inflation rate, a crumbling revenue and tax system, budget deficit, fragile exchange rate system, agricultural produce shortage, and so on.  In 2014-2015, Myanmar's economy did not grow at the pace originally projected, primarily due to the shortage in supplies caused by heavy floods leading to low agriculture production as well as due to low commodity prices in the external market. This, in turn, led to reduced exports and low levels of investment in different sectors. Consequently, the NLD-led government faces several economic challenges ranging from agricultural reforms, infrastructure building, services, finance, manufacturing, construction and managing natural resources to ensuring proper growth accompanied by well-managed exports, trade and foreign investment.
The agriculture sector of Myanmar requires special mention here. Almost 70 per cent of the country's labour force is employed in the agriculture sector, which contributes almost 34 per cent to the GDP.  Unfortunately, once recognised as the 'rice bowl of Asia', Myanmar's agriculture sector now suffers from myriad problems including lack of land reforms, dearth of an adequate institutional loan system, low investment and low productivity. The electoral manifesto of the NLD had mentioned implementation of land reforms and development of the agriculture sector as priority areas. However, the significant presence of the military elite in the government and the existing bureaucracy which had been working under the leadership of Tatmadaw for five decades may make the job of the NLD a more complicated one.
Economic Diplomacy with US and China and India
Following the US Secretary of State John Kerry's 'milestone' visit to Myanmar in May 2016, US-Myanmar ties are expected to grow.  The US is of course taking a calculated approach and is still keeping an eye on the 'real' transition to democracy. During Kerry's visit, Daw Suu Kyi had categorically stated, "We're not afraid of scrutiny…We believe that if we are going along the right path, all sanctions should be lifted in good time."
Myanmar under the de-facto leadership of Daw Suu may also go a few extra miles to re-develop relations with China, which had seen some difficulties under Thein Sein. A committee under Daw Suu has already sent a green signal to Chinese state-run company, Wanbao, to re-start copper-mining in Monywa, a project that was halted under Thein Sein. China's Foreign Minister Wang Yi was among the first few foreign dignitaries to visit Nay Pyi Taw immediately after the NLD-led government came to power. At a press conference, Mr. Wang Yi appreciated the policy of the new Myanmar government towards China. He also expressed hope for a thrust in Chinese investments in Myanmar which may see a growth up to USD 3.3 Billion in 2016, from USD 56 million in 2014.  For Daw Suu, henceforth, the primary challenge would be to maintain a balance between the West and its allies, on the one hand, and China, on the other, as at this critical juncture of transformation and transition, Myanmar cannot afford to lose the chance of nurturing relations with any major power, which, in turn, is likely to fetch more FDI and trade to Myanmar.
India and Myanmar share parallel trans-national and cross-border day-to-day concerns and it is likely that Suu Kyi's early remembrances from India will help create a re-bonding between the two neighbours in an expressive way. Surprisingly, Suu Kyi has not specifically mentioned anything about India or India-Myanmar relations after her party came to power. However, during a televised interview in October 2015, she spoke about transparency if both countries want to tackle challenges like cross-border infiltration and trafficking.
Conclusion
So far, the electoral victory of the NLD has been seen with a lot of optimism. Definitely, the victory was celebrated as a people's victory. However, the difficulties for the new government are too real to be ignored. How the NLD-led government will manage its relations with the military, the minority ethnic groups and how it will face the daunting economic challenges will define newly democratic Myanmar. Additionally, dealing with the global powers would also require major attention and pragmatism. On a positive note, it can be said that Suu Kyi's constant engagement with the common people of Myanmar as well as with international leaders is expected to further strengthen the NLD Government and help Myanmar chart a new democratic future.
Courtesy:IDSA
Is India planning to install undersea surveillance sensors in the Bay of Bengal? It is a question that has animated discussions in maritime circles recently. A recent report in the Indian media suggests New Delhi is planning to undertake joint projects with Japan and the United States for the defense of its littoral spaces, including one for the installation of a sound surveillance sensors (SOSUS) chain in India's near seas. In an article for a Indian defence magazine in April this year, Prasun Sengupta, a well-known analyst and commentator, surmises that New Delhi is considering Japanese assistance in the construction of an undersea network of seabed-based sensors stretching from the tip of Sumatra right up to Indira Point in the Bay of Bengal to prevent Chinese submarines from approaching Indian exclusive economic zone. According to Sengupta, besides providing funds for the upgrading of naval air bases and construction of new electronic/signals intelligence stations along the Andaman and Nicobar chain of islands, Tokyo plans to finance an undersea optical fiber cable from Chennai to Port Blair. Once completed, this network is likely to be integrated with the existing US-Japan "Fish Hook" SOSUS network meant specifically to monitor People's Liberation Army-Navy (PLAN) submarine activity in the South China Sea and the Indian Ocean Rim.
The starting point for this collaboration is supposed to have been Prime Minister Narendra Modi's visit to Washington last year, when India and the United States agreed to intensify cooperation in maritime security. New Delhi is said to have decided to move forward with its plans to strengthen its near-seas defenses after ASEAN defence ministers at the ASEAN Defense Ministers Meeting-Plus gathering in Lankawi, Malaysia, in March collectively stated their desire for India to play a security role beyond the Indian Ocean.
There is no official confirmation of these developments. However, it is entirely possible China's anti-access/area denial (A2/AD) plans in Southeast Asia may have served as a trigger for an Indian response in the Bay of Bengal. In an article last month, Lyle Goldstein, a well known China specialist, claimed Beijing was in the process of creating an undersea "Great Wall" in the South China Sea by establishing an array of ocean-floor acoustic sensors to detect US submarines. China's hydrophone system is reportedly modeled on the US Navy's SOSUS, meant originally to track Soviet submarines in the mid-1950s. Reports that the PLAN is on the verge of operationalising its sensor chain may have prompted New Delhi to pursue an undersea sensor project in the South Asian littoral.
The more interesting venture, from an Indian perspective, is between Japan and the United States in the wider Pacific. Since the early 2000s, when PLAN submarine patrols are supposed to have turned aggressive, the US Navy and the Japan Maritime Self Defense Force (JMSDF) began setting up a chain of fixed arrays to monitor the movement of Chinese submarines in the East China Sea and South China Sea. This resulted in the establishment of the "Fish Hook Undersea Defense Line" in early 2005, stretching from Japan to Southeast Asia with key nodes at Okinawa, Guam, and Taiwan. The system reportedly consists of two separate networks of hydrophones, one stretching from Okinawa to southern Kyushu, and the other from Okinawa to Taiwan.
In July 2013, Beijing claimed that the United States and Japan had established "very large underwater monitoring systems" at the northern and southern ends of Taiwan. One supposedly stretched from Yonaguni to the Senkaku Islands, while the other covered the Bashi Channel down to the Philippines. In addition, Chinese analysts contended, large numbers of hydrophones had been installed "in Chinese waters" close to China's submarine bases in Qingdao, Xiaopingdao, and Yulin on Hainan Island, even though it wasn't fully clear if these sensors were all operational.
Fewer doubts remain about the efficacy of an older version of the SOSUS in the northeastern Pacific (off the Tsugaru Strait) and the southwestern Pacific (the Tsushima Strait) that Japan and the United States have jointly managed since the days of the Cold War. Analysts aver that Japan's experience with working the system for over six decades has provided Japanese engineers and technicians with the proficiency and professionalism to install sea-based sensors in distant littoral spaces, including in the Indian Ocean.
New Delhi, however, would need to consider the implications of operating sensitive equipment with a foreign partner– especially the sharing of critical sensor data. In the case of the joint Japan-US SOSUS, for instance, while the JMSDF and US Navy personnel jointly manage the JMSDF Oceanographic Observation Centre in Okinawa, all the information is available to the US Pacific Command,as the facility is under the operational control of the US Navy. Needless to say, there are concerns that India may be required to provide its foreign collaborators with a level of informational access with which the Indian navy may not be too comfortable.
Some observers worry that placing undersea sensors around the Andaman and Nicobar islands may ultimately result in deployment of other A2/AD tools that China might find provocative. Japan's activation of a coastal surveillance unit on Yonaguni Island, only 67 miles from the east coast of Taiwan, has been widely perceived to be an A2/AD measure. Reports suggest that Japan's far-flung islands may soon see the placement of mobile anti-ship missile batteries and air-defense systems to bolster A2/AD capabilities.
Against the backdrop of a recent logistical agreement with the United States, and with other foundational pacts like the Communication Interoperability and Security Memorandum Agreement and Basic Exchange and Cooperation Agreement for Geo-Spatial Cooperation in the pipeline, there are concerns that the establishment of an undersea sensor chain around the Andaman and Nicobar islands might be a precursor to the placement of area-denial weapons — a move that Beijing would deem "escalatory."
Inadequate return on investment constitutes another source of worry. The setting up of a listening array, experts aver, goes well beyond the placement of hydrophones on the seabed. A sound surveillance system requires steady economic and human investment, with the careful cultivation of an entire cadre of specialists able to interpret the array's data output. The United States and Japan invested in their system for years before it began producing results. India could seek Japanese assistance in installing a SOSUS but could take years on training specialists and refining the related technologies.
Moreover, undersea sensors produce enormous quantities of raw data that require a dedicated system to sift and sort through. Over the years, the task of organising the data collected has become increasingly unviable. The lack of resources to manage data-collection facilities has led navies to consider a proposal to treat the data as a marketable commodity, by sharing it with environmental scientists and civilian agencies for a price. In order to allow the access of data in real-time,however, the hydrophones have had to be connected online, therebyraising concerns about the possible misuse of data.
Despite such worries, an Indian sound sensor array in the Indian Ocean could prove invaluable. For a country that has a major anti-submarine warfare handicap and a lack of operational submarines, an undersea sensor would be a god-send. India has so far not made any major investments in improving its sub-hunting capabilities. If it can install a deterrence system and operate it with a degree of competence, it could retain its strategic primacy in the Indian Ocean.
Courtesy:ORF
Referring to the changing world order for trade in which countries are becoming defensive about their exports and imports, India's Commerce Minister Nirmala Sitharaman said that India is certainly not aimless when it comes to trade negotiations. "We do have a picture on how to move ahead," Ms Sitharaman said. She was addressing a consultation meeting organised by the MEA think tank, Research and Information System for Developing Countries (RIS). The statement by Ms Sitharaman comes in the backdrop of India's chief economic adviser Arvind Subramanian recently saying that India's trade policy is ambivalent.
Emphasising that India is not an obstructionist in the Regional Comprehensive Economic Partnership (RCEP) negotiations, which comprises 16 countries, Ms Sitharaman said that India will not make any concessions on the offers it has made for opening up goods and services in the agreement and will keep pursuing them. India has been accused of being an obstructionist in the RCEP negotiations by many of the ASEAN countries.
Changing global trade

Focusing on the changing dynamics of global trade, Ms Sitharaman said: "Tariff is not a very powerful tool any longer. Let's understand trade from a non-tariff route…G-20 countries are getting more defensive.  We also have become defensive on steel import duty."
When asked that if there is a need to devalue the rupee to help boost exports since exports have been slipping constantly and the currency is considered overvalued, she said: "At today's juncture, I want the rupee to be devalued". However, she added that China has a certain level of flexibility of liquidity that it can flush into the system.
The commerce ministry said that it is desirable to look at Asia-Pacific Economic Cooperation (APEC), after Finance Minister Arun Jaitley had recently expressed India's interest to join the organisation.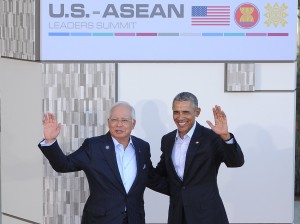 The geopolitical tensions in the disputed South China Sea region was the centre of the focus during the two-day US-ASEAN summit at Sunnylands in California (February 15-16). While the two sides discussed an entire spectrum of issues, including enhancing economic cooperation, security and climate change, the churn in the South China Sea dispute dominated discussions between US President Barack Obama and the leaders of ASEAN countries.
China's growing assertion in the Asia-Pacific has been a major cause of concern for other countries in the region and the US. The summit culminated in a joint statement, with  a renewed  emphasis was on freedom of navigation in the disputed South China Sea region as per the universally recognized principles of international law and the 1982 United Nations Convention of the Law of the Sea (UNCLOS). "The US will continue to fly, sail and operate wherever international law allows, and will support the right of all countries to do the same," US President Barack Obama said.
Addressing the media after the summitm Mr Obama said that the US and ASEAN discussed the need for tangible steps in South China Sea to lower tensions including the halt to further reclamation, new construction and militarisation of disputed areas. "We will continue to help our allies and partners strengthen their maritime capabilities, and we discussed how any disputes between claimants in the region must be resolved peacefully, through legal means, such as the upcoming arbitration ruling under the UN Convention of the Law of the Seas, which the parties are obligated to respect and abide by," Mr Obama said.
The US-ASEAN joint statement  also emphasised on the need to have mutual respect for sovereignty and territorial integrity. "Mutual respect for the sovereignty, territorial integrity, equality and political independence of all nations by firmly upholding the principles and purposes of the Charter of the United Nations, the ASEAN Charter and international law," the joint statement read.
Pivot to Asia
The Obama administration has been working towards rebalancing Asia or better known as the pivot to Asia, which would help it to counter China's suspected hegemonic designs in the region. Mr Obama spoke about the need to have a unified voice so that it can help advance security, opportunity in the Asia-Pacific and also advance human dignity across the world. The signing of the Trans-Pacific Partnership between US and 11 other countries in the Pacific Rim is expected to change the landscape of global trade. The TPP is being seen as crucial for the success of the US Rebalance to Asia. ASEAN has a population of more than 600 million and has a  GDP of around $4.7 trillion.
The summit also focused on improving people-to-people contact and joint projects for fostering innovation. The two sides are set to step up cooperation across a spectrum of global issues such as terrorism and violent extremism, trafficking in persons, drug trafficking. They also agreed to have a shared commitment to  promote security and stability in cyberspace, consistent with norms of responsible state behavior.
(Sridhar Ramaswamy contributed inputs for this article)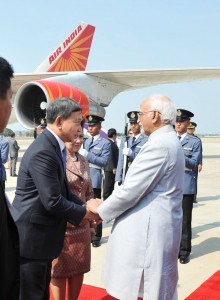 BANGKOK: Seeking to enhance regional integration with Southeast Asia, India's Vice President Hamid underlined the strategic importance of Thailand for India and stressed that the Southeast Asian economy should act as a bridge for India between East Asia and Southeast Asia. "I see a very promising future for our bilateral relations. There is much untapped potential in our relationship and much to rediscover and learn from each other's culture, industry and society," said Mr Ansari.
"With its unique geographic location, Thailand can be a bridge linking South East Asia to East Asia; while India can act as your springboard to West and Central Asia and to Europe."
Addressing the banquet hosted for him in Thailand on February 3,  Mr Ansari appreciated Thailand government's commitment to impart greater momentum to the relations between the two countries.
Focusing on India's 'Act East Policy', Mr Ansari said, "Thailand is an important pillar of this policy and a valued partner. We admire the way Thailand has brought progress to its industrious people by making great strides in socio economic development." Showcasing India's economic prowess, Mr Ansari underscored that India is "a bright spot with the highest economic growth amongst the larger emerging countries."
"There is growing interest from across the world in building partnerships of trade, investment and innovation with India. I would urge the government and business community in Thailand to avail of the opportunities provided by a growing India."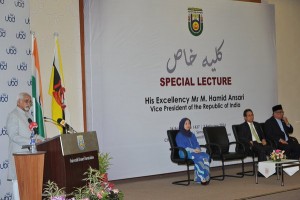 BANDAR SERI BEGAWAN: Showcasing the India growth opportunity, Vice-President Hamid Ansari pitched for transformation of India-Brunei relations and stressed that the government's scheme like Make in India has opened new vistas for investment by ASEAN countries.  Addressing students and faculty at the University of Brunei Darussalam on February 3, Mr Ansari said that as India embarks on a sustained high growth trajectory, its increasing energy requirements offer Brunei an opportunity to enhance export of hydrocarbons to New Delhi.
India, he said, is also keen to work with Brunei in setting up a fertiliser plant that would make use of the hydrocarbon resources available here.
In a speech entitled 'India-Brunei: Partners in Peace and Prosperity,' Mr Ansari said, "The growing Indian economy also provides us with an opportunity to move beyond the typical energy seller-buyer relationship. There is tremendous potential to diversify and do value-addition in the hydrocarbon export chain." He also spoke about how India was "keen to work with Brunei in setting up a fertiliser plant and  how it  would make use of the hydrocarbon resource.
Speaking about the historical and cultural linkages between Brunei and India dating back to the third century, Mr Ansari underlined that it has given the confidence to forge a strong and abiding relationship in modern times.
Thanking Brunei for its assistance to and cooperation with India's space programmes through the Telemetry Tracking and Telecommand Station of ISRO in Brunei, Mr Ansari said,  "The station was a crucial component in India's spectacular success in deploying the Mangalyaan in orbit around Mars".
Pitching the India story, Mr Ansari made a case for attracting investments from Brunei in infrastructure and manufacturing sectors.  Showcasing the government's flagship programmes, he said that it has opened several avenues for profitable investments.  "Our new 'Make in India' initiative opens up new vistas for investments from ASEAN into India," he said. He also spoke about the potential for investors in smart cities, roads and highways, ports, railways, power and urban infrastructure. The India-ASEAN Agreements on Trade in Services and Investment  is expected to bolster the potential for investments by both countries.  Speaking about 'India's Act East Policy', Mr Ansari said, "Enhancing connectivity between India and ASEAN in all its aspects – physical, institutional and people-to-people, is a key strategic priority for us. Our North-Eastern region is our land-bridge to the ASEAN."
Mr Ansari termed his three-day visit to the energy-rich Brunei as a "reaffirmation of the importance that India accords to its ties with Brunei and our keen desire to further deepen and intensify our relations."
Briefing the governors of the Northeast states, External Affairs Minister Sushma Swaraj hosted a session on India's 'Act East Policy' on October 6. The briefing covered all aspects of India's 'Act East Policy' (AEP) with special focus on how it impacted India's Northeastern states.
Ms Swaraj stated that,  "the Northeast is a natural partner in India's 'Act East Policy', being our land bridge to Association for South East Asian Nations (ASEAN), and the Act East Policy is a means to strengthen the stability, economy and prospects of our North Eastern region."
Various cross-border connectivity projects, under implementation or discussion, which would link the Northeast to the wider region including Myanmar, Bangladesh, Thailand and even Cambodia, Lao PDR and Vietnam were discussed. Special focus was on issues of border trade and integrating Northeast along with enhancing capacity building and facilitating greater cultural and people- to- people exchanges.
The meeting of the region's governors came in the wake of a specific recommendation in the Conference of Governors chaired by President Pranab Mukherjee in February.
One of the major projects is the connectivity of India, Myanmar and Thailand. India, Myanmar and Thailand have agreed to facilitate efficient road transport in the sub-region and will help each country in creating an institutional mechanism for integration of South Asia and Southeast Asia. At the Secretary-level talks in Bengaluru in June, a consensus was reached on the text of the pact.
Once implemented, the sub-region will get access to the larger ASEAN market through seamless passenger and cargo movement. India-Myanmar-Thailand road link is of strategic importance and has been designed to bridge economies in the ASEAN and SAARC regions.
The road which connects Moreh in Manipur to Mae Sot in Thailand via Mandalay in Myanmar, will ensure that India's eastern border is opened to a new bus route from Imphal to Mandalay, enabling travellers to board a bus from Manipur's capital to reach Mandalay in just over 14 hours.
The 3200-km road link from Moreh (India) to Mae Sot (Thailand) is expected to be upgraded by 2018. The connectivity of India, Myanmar, Thailand along with the sub-regional connectivity of Bangladesh, Bhutan, India, Nepal (BBIN) via the Northeast is likely to improve intra-regional trade by nearly 60 per cent as well as leverage the strategic importance.