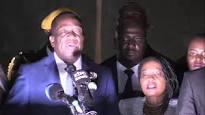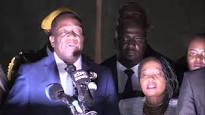 Zimbabwe's long-awaited moment of celebration has finally arrived with the 93-year-old strongman Robert Mugabe announcing his resignation after a reign of 37 years. On November 21 his letter, wherein he expressed his decision to step down from power to allow a peaceful leadership change, was read out by the speaker of the Zimbabwean parliament, Jacob Mudenda. With his announcement, Mr Mugabe has saved himself from the ordeal of an impeachment hearing that had been initiated against him.
Emmerson Mnangagwa, the former vice-president who was fired last week by Mr Mugabe, is expected to take over as the interim president until the national elections next year. It was in November 6 that Mr Mugabe expelled Mr Mnangagwa, in a bid to install his wife Grace as the next president. Mr Mugabe's attempt to arrest the nation's top military commander in the next few days plunged the nation into a political turmoil, with the army taking the old-timer to custody.
Once a revered liberation leader, Mr Mugabe increasingly became a despot, repressing dissenters and enriching allies and coterie. The crackdown on protestors in the 1980s that left thousands of civilians dead remains a shameful scar on his reign. Under him, Zimbabwe descended into economic misery that forced it to lose its currency in 2009. Over the last 15 years, elections were increasingly tarnished by violence against political opponents.
As the nation celebrates the end of a suffocating rule, there are concerns over Mr Mnangagwa's role as the likely successor. He carries a tarnished reputation for being involved in the 1980s crackdown and the rigged elections of 2008. Also significant is the fact that Mr Mugabe's ouster was not a result of a popular mass movement, but rifts within the ruling Zanu-PF party.
British Prime Minister Theresa May expressed her country's support for its former self-governing colony. "The resignation of Robert Mugabe provides Zimbabwe with an opportunity to forge a new path free of the oppression that characterised his rule… In recent days, we have seen the desire of the Zimbabwean people for free and fair elections and the opportunity to rebuild the country's economy under a legitimate government", she said.
(Pritha Mahanti contributed inputs for this article)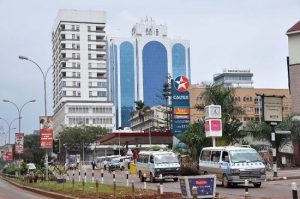 KAMPALA: India is set to accelerate its economic engagement with East Africa, the fastest growing region in the African continent and home to a large Indian diaspora, at a regional business conclave in Kampala.
The two-day India-East Africa business conclave, organised by Confederation of Indian Industries (CII) and EXIM Bank, will be inaugurated by Uganda's President Yoweri Museveni in the Ugandan capital on November 20. India's Commerce Secretary Rita Teotia is leading the high-profile Indian delegation, which includes top investors in Africa like Shobana Kamineni, president, CII and Sanjay Kirloskar, CMD, Kirloskar Brothers Limited. Many ministers from East African countries will be participating in the conclave.
The conclave is expected to culminate in a multi-pronged action plan to intensify Indian investment in focus areas like manufacturing, agriculture and food processing, health, skill development and education.
The CII and EXIM Bank have been holding annual conclaves on project partnership with Africa for the last 11 years. Building on their success, it's now adopting a region-focused approach, and East Africa, with its centuries-old cultural affinities and well-entrenched diaspora networks, is a natural choice.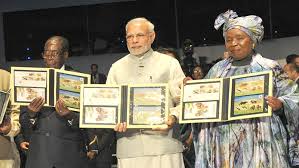 At first sight, it may appear that Prime Minister Narendra Modi's African safari that begins on July 7 is yet another manifestation of his itch to travel. But a closer analysis will reveal that it is an important building block of a larger thrust towards Africa, visible since the government took office in 2014. Significantly, the visit will be the first by an Indian PM to Mozambique since 1982 and the first to Kenya since 1981.
However, we need to look at the visit through the prism of the Modi government's Africa policy which was manifested in the third India-Africa summit in 2015, attended by the leaders of 51 of 54 African nations. Previous summits in 2008 and 2011 had attracted 14-15 heads of state of governments.
In the past two years, India has also welcomed an unprecedented number of African leaders in New Delhi, including the heads of all four states Modi is now visiting. President Jakaya Mrisho Kikwete of Tanzania paid a state visit to New Delhi in June 2015, the Kenyan President Uhuru Kenyatta led his delegation to the 2015 India-Africa summit, President Filipe Nyusi of Mozambique visited India in August 2015 on a state visit and President Jacob Zuma of South Africa was delegation leader for the 2015 India-Africa summit.
The Modi government has been active in using President Pranab Mukherjee and Vice President Hamid Ansari to reach out to Africa as well. The former visited three nations, Ghana, Cote d'Ivorie and Namibia in June while the latter made path-breaking visits to Morocco and Tunisia in May.
Modi's visit to the four Indian Ocean littoral countries has three components — the first related to economy and trade, the second to security and the third to the Indian diaspora.
Exploring opportunities for trade and investment
India has significant relations with all four countries in terms of trade as well as investment of Indian private and public sector companies. ONGC, Tata, Bharti, Mahindra, Essar and almost all Indian pharma majors have a presence there. Indian companies and groups are also involved in oil and gas industry, automobile, textiles, telecommunications, engineering products and medicine. One of the emerging areas of interest is that of floriculture and agriculture, because of the agriculture investment-friendly attitude of many of the states.
For example, Karuturi Global Ltd, originally a floriculture company from  Bengaluru, now owns a vast land bank, the size of Goa in Ethiopia and Kenya where it is involved in floricuture, as well as commercial farming of sugarcane, palm oil and coffee. Indian companies are also interested in moving to Madagascar as well. On the eve of the PM's visit, the Cabinet has approved of an MoU with Mozambique to double the import of pulses to 2,00,000 tonnes by 2020. Africa offers a good option because of its proximity and the availability of land to deal with India's perennial shortage of pulses.
Security ties
Proximity has made India a major destination for students from the region and the government of India does its bit by providing a clutch of scholarships and training programmes for the nationals of these countries. This is something that needs to be stepped up dramatically, along with possibilities of expanding Indian IT education and medical tourism. The key binder for Indian interests is the diaspora which is spread across the Indian Ocean islands of Seychelles, Reunion, Mauritius, as well as the littoral states like Kenya, Tanzania, and South Africa which were part of the British Empire.
There is an unstated Indian goal of incorporating the vast region from India to South Africa as part of its security sphere. New Delhi has had old ties with the Indian Ocean states of Seychelles and Mauritius on the security front. India reportedly also maintains a listening post in Madagascar and Oman. At one level, they are part of India's maritime domain awareness project, but they also link the Indian Ocean states in a closer security framework.
In this context, the outreach to the littoral states like Kenya, Tanzania, Mozambique and South Africa are crucial. India does have naval exercises with the largest regional power, South Africa and its navy conducts regular port visits to these countries, but in the main, its defence ties mainly relate to training. In 2013, it supplied nearly 700 motor vehicles to Tanzania to be used for military and peacekeeping operations. The most intriguing relations are with Mozambique.
In 2003, the Indian Navy deployed its ships off Maputo to provide security for the African Union summit at the invitation of the Mozambican government. This was repeated in 2004 for the World Economic Forum. Since then, the two sides are coming closer on a platform which could see India emerge as a maritime security provider in East Africa and build up a regular naval presence in the strategic Mozambique channel.
Diaspora factor
In fact, a 2012 agreement provides for anti-piracy patrols by the Indian Navy in the Channel and in Mozambican waters. An important catalyst for this was the rise of piracy in the eastern Arabian Sea, following the collapse of the central government in Somalia in the mid-2000s. It is easy to see India's activism as motivated by the inroads China has made in Africa. That would be an error. China has long had its own African policy going back to the 1960s. Its current thrust has been to use Africa's natural resources to its advantage. India, on the other hand, stresses all-round relations which includes business, investment, education and training.
As for security, the region is far more important for India, than for China, especially because of the diaspora. But what is important is that, more often than not, Indian policy arises from requests of the governments rather than any unilateral quest. In other words, India is a trusted security partner. What it now needs to do is to step up its economic game.
Courtesy:ORF