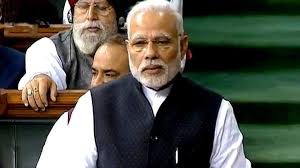 "This is a special occasion – we remember the Quit India movement. Remembering such movements gives us strength as a nation. It is important for the younger generation to know about historical events like the Quit India movement.The Quit India movement marked the rise of a new leadership. They supported Mahatma Gandhi during the movement.The Indian freedom struggle witnessed participation from a wide range of individuals over several years.People followed the clarion call of Mahatma Gandhi of 'Do or Die'"
 Prime Minister Narendra Modi today addressed members of the Lok Sabha during a special Monsoon session,

on the 75th anniversary of the historic Quit India Movement.