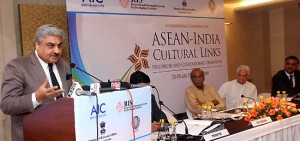 India's Act East policy is not simply strategy and business. Taking a long-range view, New Delhi is planning to pitch multifarious cultural linkages to the fore as it moves to transform and reinvigorate this crucial relationship.
Ahead of the next India-ASEAN summit in Malaysia, India has underlined the importance of bolstering cultural linkages to impart a greater resonance to its burgeoning relationship with this enterprising and vibrant region.
Speaking at an international conference on "ASEAN-India Cultural Links: Historical and Contemporary Dimensions" in New Delhi on July 23, Mr Anil Wadhwa, India's seniormost diplomat handling the region, spoke about ancient cultural linkages that bind India and Southeast Asia.
"India and ASEAN are today at the threshold of a qualitatively more substantive and reinvigorated relationship. As we work to give shape to our Plan of Action for the period 2016 to 2021, setting new goals to move the ASEAN-India Strategic Partnership forward, we not only aim to strengthen the third pillar of our engagement, i.e. the socio-cultural pillar, but also wish to bring it to the forefront of our relationship."
Underscoring the need to blend political, security and economic cooperation with more vigorous cultural and intellectual exchanges, Mr Wadhwa said that "the destinies of South-East Asia and India have been linked, almost inextricably, for the past two millennia."
"As the two sides work to bolster their relationship, especially against the backdrop of India's renewed commitment to ASEAN with its action-driven and result-oriented 'Act East Policy,' we also wish to concurrently stimulate intellectual exchange on the historical and contemporary socio-cultural linkages that bind us, enabling us to acquire a better understanding of our shared heritage and histories."
"We recognise that political-security and economic cooperation between India and ASEAN must go hand in hand with better understanding between our peoples and deeper integration of our societies."
ASEAN has become India's fourth largest trading partner with bilateral trade crossing $80 billion. But more than business, it's culture that accounts for strong bonding between people of India and ASEAN. From the famed Angkor Wat temple in Cambodia and My Som temple complex dedicated to Lord Shiva to the City of Vishnu in Myanmar and performances of Ramayana on Bali beaches, cultural and spiritual connections forged through Buddhism and Hinduism continue to animate India's blossoming relations with ASEAN.
The revival of Nalanda University, the ancient seat of learning, has now become a showpiece project of ASEAN and epitomises age-old cultural and spiritual linkages between India and Southeast Asia region. India has signed pacts with several ASEAN and East Asian countries to make Nalanda University an international knowledge hub.