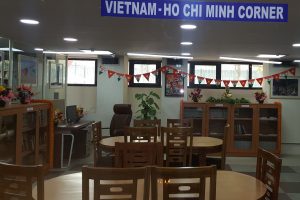 It's a celebration of burgeoning Hanoi-Delhi cultural bonding, which is set to deepen with the setting up of the first-ever Book Corner of Vietnam, named after the iconic leader Ho Chi Minh in a prestigious library in the Indian capital.
The Vietnam-Ho Chi Minh Corner in the Central Secretariat Library in New Delhi was inaugurated recently by Vietnam's Ambassador to India Ton Sinh Thanh and Sujata Prasad, Additional Secretary in the Ministry of Culture.
The event also saw the launch of a book that celebrates Ho Chi Minh's unstinting love for India and his legendary friendship with India's first prime minister, Jawaharlal Nehru. Entitled "Uncle Ho with India," the book comprises accounts of Ho Chi Minh's historic visit to India, and his writings, speeches and messages sent to the government and people of India. During his first visit to India in February 1958, Ho Chi Minh was unabashed about his admiration for the "homeland of one of the most ancient civilizations of the world" where "culture, philosophy and the arts have developed splendidly and have made great contributions to mankind." During 1942-43, while being detained, Ho Chi Minh heard about his friend Nehru's imprisonment, and sent him a moving letter: "From thousands of miles we haven't met. No words of mouth ever spoken, yet we sympathize with each other."
Building Knowledge Bridge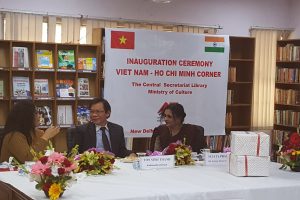 The inauguration of the Vietnam-Ho Chi Minh corner was the last event in a series of activities organized by the Vietnamese embassy to celebrate the 45th anniversary of diplomatic relations between Vietnam and India in 2017.
"But it is not the last of our efforts to bring Vietnam closer to Indian people by providing the Indian readers with valuable resources for better understanding about Vietnam and also how our people and leaders treasure the friendship with India," said the Vietnamese envoy.
"There are books on Vietnam-India relations and notably some of them are about former president Ho Chi Minh, a Vietnamese hero, a freedom fighter of national liberation movement and a great man of culture recognized by UNESCO, who is the great friend of Indian people," he said.
The Vietnam-Ho Chi Minh Corner is a veritable treasure trove of around 1000 1000 book titles in English on different facets of Vietnam, ranging from history, culture, people and religion to political and socio-economic policies, development multifarious and achievements of the emerging ASEAN country.
Initiatives like the Ho Chi Minh corner in a well-known library in the Indian capital are aimed at widening the arc of understanding between the two long-standing friendly countries, which elevated their bilateral ties to the level of Comprehensive Strategic Partnership during the landmark visit of Prime Minister Narendra Modi to Vietnam in September 2016.
Blossoming Ties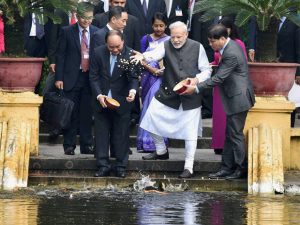 Amid ongoing geopolitical churn in the region, Vietnam has emerged as one of India's key strategic partners in ASEAN. While diplomatic contacts and economic ties are growing rapidly, the India-Vietnam partnership is rooted in centuries-old cultural and civilizational linkages. The ties go back to the ancient Cham civilization when people from Orissa travelled to Vietnam and found a hospitable home there, mingling cultures, customs, language and beliefs. These ancient linkages are now acquiring a new lustre with the Archaeological Survey of India embarking on a conservation and restoration project to refurbish centuries-old Hindu temples at the UNESCO heritage site of My Son in Vietnam. People-to-people contacts are deepening by the day, and will acquire greater momentum with the launch of a direct flight between Delhi and Ho Chi Minh city, which is expected this year.
Blending Buddhism and cultural linkages with an expanding economic and strategic partnership, the India-Vietnam relations are poised to soar high in months to come.
(Manish Chand is Founder & Editor-in-Chief of India and World, a pioneering magazine on international affairs, and India Writes Network)