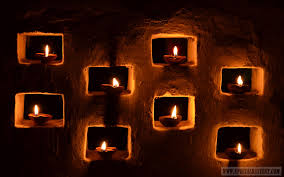 Inner Darkness
primordial, sempiternal, deep
As you sow, so shall you reap.
You think, earthlings, lighting up a few candles
and Diwali diyas, will brighten up your world
Grimed with vanity & greed; Think again…
Let go of dancing phantoms, empty desire
Burn anew, in holy fire.
Look within, let epiphanies sing
Prayers take wing,
Faith illumines nothing and everything.
flower forth lilacs in a bowl of light, shine
transfigured, in Darkness Divine.