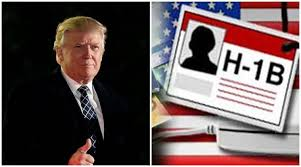 In a fraught move for India, the US Department of Homeland Security has announced that it would crack down on fraudulent use of H-1B visas, used by employers to bring in specialised foreign workers temporarily to meet the crisis of skilled employees in America. H1B work visas are most sought after by Indian firms and professionals, mostly in IT sector. On April 3, the US Citizenship and Immigration Services (USCIS) said in a statement that it has started taking in applications for H1B visas – 65,000 in the general category and 20,000 for those applicants having higher education from US universities — for the fiscal year 2018.
US President Donald Trump, who rode to victory on the "America First" campaign theme, had promised to end the lottery system for H1B visas, which gives each applicant an equal chance at 65,000 positions each year in favour of a system that prioritised workers who are highly skilled and would be highly paid in the United States. Trump had also accused Indian IT companies in the past of taking away lower-level jobs even when Americans are available to do the same job. But the lottery programme opened on April 3 without any change. This means the Trump administration had fallen short of upending the system, but keeps its word given to Indian officials of reforming the system.
Implications for India
What are the implications for the Homeland Security's announcement for India? India, which is one of the biggest beneficiaries of H-1B visa, does not at present have much to be concerned as experts say that the new announcement falls short of President Donald Trump's campaign promises to upend the programme, which might have resulted in loss of thousands of jobs for prospective Indian employees. An estimated 150,000 Indian nationals were issued employment-based visas, including 126,000 H-1B job permits, by the previous Barack Obama administration in 2016.
However, the USCIS said it will undertake a more targeted approach while conducting site visits so as to prevent the abuse of the system by employers. "Too many American workers who are as qualified, willing and deserving to work in these fields have been ignored or unfairly disadvantaged. Protecting American workers by combating fraud in our employment-based immigration programs is a priority for the USCIS," the statement said.
The talk of overhaul of H-1B visa by the Trump administration had caused anxiety in India and New Delhi had earlier said it had conveyed its concerns to Washington. In March this year, Commerce Minister Nirmala Sitharaman said in the Lok Sabha that the US has conveyed to India about not making any major changes in the H1B programme. "So, the fear that all of us were seeing through the media here about the H1B visa has, at least for the year 2018, not proven correct," she had said. India's Foreign Secretary S Jaishankar had met top officials of the Trump administration last month and discussed the issue.
(Pallab Bhattachrya contributed inputs to this article)