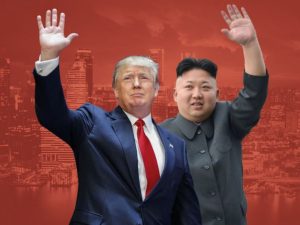 With barely a few hours to go before the much-anticipated summit between US President Donald Trump and North Korea's President Kim Jong Un in Singapore, the international strategic community is abuzz with speculation about what this historic meeting could achieve.
The unusual summit has been touted as a major diplomatic breakthrough as North Korea's leader leaves his bubble in Pyongyang to meet the world's most powerful man, who is also notoriously unpredictable.
There's much speculation on how Kim Jong Un will perform on the international stage as his only few diplomatic meetings have included the recent visit to South Korea to meet South Korean President Moon and to China, an old ally of North Korea.
While North Korea spoke of establishing a new "permanent peace-keeping mechanism" and its state-run news agency hailed a "new era" in relations with the US, Mr Trump has tweeted about how pleased he was to be in Singapore. "Excitement in the air!" he wrote in a tweet.
The extraordinary talks at a luxury hotel on a Singapore island will first witness a session between the two leaders alone, with translators only and then they would proceed further for negotiations. A US official said it was unclear how long the first session would last or what the two leaders will talk about ahead of the second session of negotiations.
Although there is still considerable uncertainty about what a deal between the two leaders would be like, many experts have come up with their own theories. They say that North Korea won't give up a technology that is central to their national identity.
"The greatest risk is if we get a political agreement at this summit and the optics look nice but then it falls apart on the details — maybe not in six months, maybe not in one year but in five years," Michael Kovrig, senior advisor at the International Crisis Group, told CNBC. "That's why we need a clear, step-by-step process that goes action-for-action [and] creates a security environment where the North Koreans are actually willing to take steps and the United States is in a position to monitor and verify those steps."
The outcome of the US-North Korea summit is of crucial importance to the rest of Asia, where Seoul, Tokyo and Beijing will be monitoring the event closely.
As per the conditions set by Pyongyang for denuclearization, the US must agree to the removal of troops from South Korea.
A few experts say that North Korea has more to gain than the US as the reclusive regime in Pyongyang will be freed of economic sanctions and Kim could get to lead his country for decades.
Some experts have indicated that the outcome would be a short and vague statement centered on the "denuclearisation of the Korean peninsula". However, the meeting could set in process a series of dialogues to negotiate the terms and conditions on the denuclearization of the Korean Peninsula.