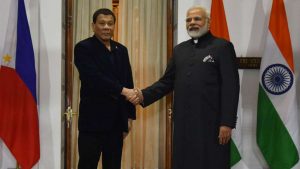 Intertwining India's Act East policy and the Philippines' Build-Build-Build programme, the two countries have decided to build a sturdier investment and infrastructure bridge by promoting greater private sector engagement.  The two countries also decided to scale up their counter-terror and defence cooperation.
India's Prime Minister Narendra Modi and Philippine President Rodrigo Duterte held bilateral talks on a wide gamut of issues in New Delhi on January 24 ahead of the India-ASEAN commemorative Summit.
To upscale economic partnership, an MoU between the Philippines' Board of Investments and Invest India was signed after the talks. The pact is designed to enable direct investment between the two countries through the exchange of practical investment information to enterprises, direct investment opportunities, and creating a support base for companies pursuing those opportunities.
On the trade front, the Philippine president expressed the desire to have more Indian medicines available to Filipino consumers given their better quality and affordability. Moreover, the Philippines is also considering purchasing defence hardware from India like weapons and warships.
Highlighting key takeaways from the Modi-Duterte meeting, Preeti Saran, Secretary (East) in India's Ministry of External Affairs said that cooperation in shipbuilding, offshore oil, pharmaceuticals and infrastructure figured prominently in the talks.
Mrs Saran also underlined that the two sides will be intensifying their counter-terror cooperation, with special focus on combating urban terrorism.
"There was a commitment, in fact, for the Philippines to purchase Indian military hardware… The Prime Minister said they have expertise in ships and other military hardware, so President Duterte manifested that in the same way he has decided to purchase weapons from China and Russia, he will also consider purchasing Indian weapons," said Philippine presidential spokesperson Harry Roque at a press briefing.
India and the Philippines also reviewed the global and regional situation with a focus on deepening India's presence in Southeast Asia. India had provided an assistance of $500,000 in cash for the rehabilitation of the troubled Marawi City last July.